Bedsure Weighted Blanket Review
Do weighted blankets truly replicate the feeling of being hugged? Well, the Bedsure weighted blanket is one of the most popular weighted blankets on the UK market, and as such, we think this one does. But, to make sure that's true – we had to test it. What did we find out about it during our tests and do our findings match the Amazon user reviews? Is this blanket a worthy purchase? Let's find out together!
Who is Bedsure weighted blanket for?
Bedsure weighted blanket stimulates deep pressure touch (DPT) by using much smaller glass beads compared to some other weighted blankets, to trigger the release of hormones that calm the nerves and lead to deeper sleep. As such, this product is ideal for people struggling to fall asleep, or for sleepers that struggle with insomnia, anxiety, and even autism.
At 6.8 kg, this blanket is ideal for sleepers at between 65 and 75 kg, although both slightly heavier and lighter users could still use it. However, it is known that weighted blankets feel best when they're about 10% of our body weight, so if you're under 60 or over 80 kg, you're probably better off looking for another blanket.
Finally, it goes without saying, but this is a weighted blanket for adults – not children.
Add a header to begin generating the table of contents
What do we use this product for?
A glass beads-filled heavy blanket is an excellent choice for many sleepers. Unlike plastic pellets, glass beads are completely silent, so if you're one of the overly sound-sensitive sleepers, you'll be pleased to have this one in your bedroom.
But, of course, this is not all that a weighted blanket such as this one is good for. The weighted Bedsure blanket exerts deep pressure touch, which is a type of therapy that uses firm, hands-on pressure to reduce chronic stress and high levels of anxiety.
But, we could also:
Use it to get the best night sleep
Use it to alleviate anxiety
Use it to help cope with the effects of PTSD
Use it to help cope with restless leg syndrome
Use it to help overcome insomnia
Use it to help with post-surgery recovery.
Does Bedsure weighted blanket come in different versions?
This glass beads-filled heavy blanket is not only available in the 6.8 kg (15 pounds) version. Apart from that one, you can get an 8 kg version of the weighted Bedsure blanket.
Essentially, there's no difference between the two versions of this Bedsure heavy blankets other than the weight itself.
We'll save the in-depth breakdown of the weighted blanket for later, but just know that what you read later, applies to this one, as well, because they're both made in the exact same fashion, only the heavier one comes with more small glass beads.
At 8 kg, this is not a super heavy blanket. It is not ideal for heavyweight sleepers, but if you're somewhere between 75 and 85 kilograms of body weight – this blanket will not only fit your body perfectly, but it'll also help you achieve a full night of baby-like restful sleep.
A good fit for most people
Excellent build quality and durability
Excellent value product.
Might be a bit warm sometimes
Only available in one size
No warranty.
Features you should know about Bedsure weighted blanket
Some would say that this is their "perfect blanket", and that it is "sooooo comfortable", but before we can back up those claims, we have to see what makes this weighted blanket special. To do that, we have to take a look at its features and characteristics.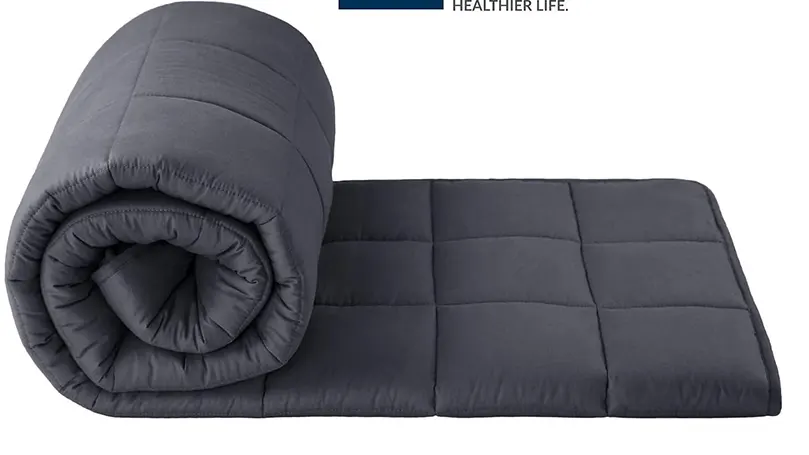 Deep Pressure Touch stimulation
Deep pressure touch (DTP) therapy is used to help reduce arousal levels and anxiety by supporting sensory modulation. Essentially, DTP triggers a calming reflex in the body when the individual is overwhelmed with the sensory input. This is precisely why weighted blankets are considered a "game-changer" for patients struggling with autism, sensory processing disorders, or other mental health issues.
Bedsure achieves this DPT simulation by utilising small glass beads and evenly distributing them across the entire body of the blanket. By doing this, the blanket covers the body comfortably and softly, ensuring that your senses are relaxed, so that you have no trouble falling asleep.
Nowadays, we can see a lot of 7-layer construction weighted blankets. However, that doesn't mean that there are 7 separate layers inside of a blanket. You get a 7-layer construction when you do a cross-section of the weighted blanket, take a look inside and start counting.
In this case, we have two outside layers, both part of the same cotton cover. Then, underneath the cover, we have a brushed microfibre layer on both sides – so that's four. And then, to add up to seven, we have glass beads filling in the middle of the blanket, encased in siliconized fibre filling on both sides.
So, a 7-layer construction is just a 3-layer construction, and a cover.
Extra 2 layers with 90% glass bead and 10% microfibre
The two extra microfiber layer inside of the cover are used to help you experience maximum softness and comfort, as well as simulate DPT.
The extra two layers filled with 90% glass beads 10% microfiber are the heart and soul of this weighted blanket. They're completely silent, they're non-toxic, and if you avoid overly hot nights to use this blanket – they're the perfect temperature, as well.
Speaking of the perfect temperature, the cover of Bedsure weighted blanket is made from 100% pure cotton. To say that this cover is of good quality would be an understatement.
The cotton is smooth and comfortable, naturally hypoallergenic, moisture-wicking, and as thermo-regulating and breathable as it could be. It is also dyed in off-black colour, or better yet dark grey, so we don't really see how it won't fit most bedrooms' aesthetics.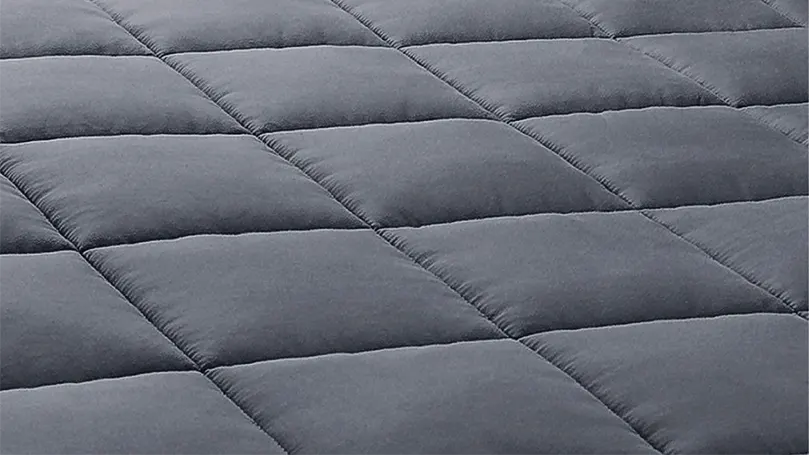 12 durable sewing loops for even weight distribution & durability
Most weighted blankets suffer from the same issues – beads bulging and bunching. Actually, it's not just beads. It's any other filling as well.
To prevent that from happening, the non-toxic, odourless, high-quality glass beads inside of this one are quilted within small square pockets to keep them equally distributed, but that's not all.
You can find the additional 12 durable sewing loops for even weight distribution and durability around the sides of this weighted blanket. These loops can also help you securely attach the blanket cover, and make sure that the blanket stays in place and keep you covered all night long.
Another thing we want to mention is that the glass beads used in this blanket are BPA and lead-free, which unfortunately is not always the case with weighted blankets – especially with affordable weighted blankets such as this one.
Review of Bedsure weighted blanket
Now, let's take a look at the review of the Bedsure weighted blanket.
At first glance, this one looks like any other weighted blanket for adults you can find in the United Kingdom. It's elegantly, yet traditionally designed. Square, quilted pockets hold the fillings in place, and the side straps and loops keep the blanket attached to the blanket cover and from moving around at night. It's soft to the touch, and from the looks of it – it's going to stay that way for a long time.
Both versions of this blanket are 150 x 200 cm, so you should be able to curl up under it, and enjoy the feeling of being hugged all night long. However, you won't get to share this blanket with a partner, at least not without one of you ending up uncovered at one point of the night.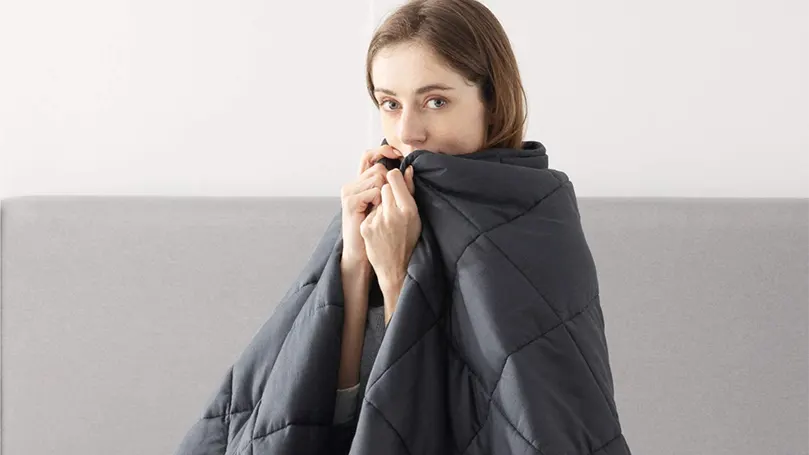 The blanket, as we've already said, is filled with small glass beads, which is not that common for an affordable, budget-friendly blanket such as this one. You're more likely to get plastic pellets at this price point, but fortunately, in this case – you get glass and microfibre. Choice of materials also makes it washing machine-friendly.
The great weight distribution is probably the best thing about this one. The beads won't bunch or clump, no matter how much you move during the night. That alone should help you get in a better mood for sleep, and probably solve your issues staying asleep during the night.
Now, despite being advertised as one of the home solutions to various sleep and mental health issues, a weighted blanket is not a treatment for any of those. It is but a mere aid in your journey to calm, deeper sleep, and should be only treated as such.
Size: 150 x 200 cm
Weight: 6.8, 8 kg
Cover material: Cotton
Fill material: Glass beads; microfibre/
What we like about Bedsure weighted blanket
The 12 sewing loops are truly a game-changer when it comes to weighted blanket security
Simulates the feeling of being hugged without being too snug or heavy
Available in two different versions
One of the best value products in the United Kingdom
With an Amazon discount code, you could strike even a better deal.
Breathable cotton cover.
What we didn't like about Bedsure weighted blanket
Does not come with a warranty
Only available in a single size, and not a great fit for couples
Not the best for sleeping in hot rooms or climates.
What makes this product better than some other similar ones?
Price is far from a determining factor, but compared to some other weighted blankets – the Bedsure heavy blanket is an absolute steal. It has all the upsides of the more expensive products, without having any drawbacks of a cheap, affordable one.
In addition to that, its perfect weight of 6.8 and 8 kg makes it suitable for the vast majority of adults, which makes this product even more appealing.
All in all, we think this one is more than a worthy purchase.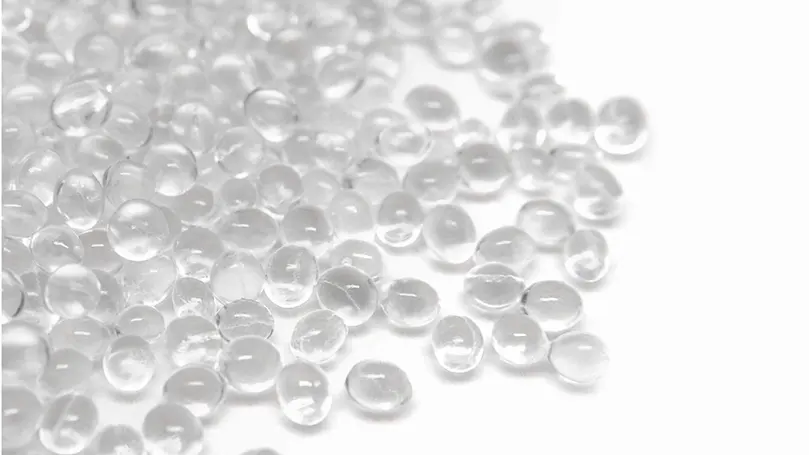 How did we test the product?
As per usual, the testing process started with a simple purchase. We've visited Amazon, found the product, entered our shipping address and ordered the blanket. For us, the delivery was fast and free, but if you're outside of the UK, you better check if certain conditions apply to your case.
Either way, the testing began from the moment packaging carrying our new blanket arrived at the office. First, we've inspected the packaging and the product itself for visible signs of damage, and when we didn't find any – we proceeded with other tests.
The first thing we did was measure the blanket, just to make sure the weight was as advertised. We've also tested and inspected the build quality and durability of the blanket before we moved on to conduct hands-on testing.
Fortunately, anxiety is not something that's present in our office, so we had to focus on things like comfort, breathability, softness, and the feel of a blanket when we were testing it. In our reviews, we try to stay objective as possible, and for that reason, we all took turns testing the blanket, so that when we finally compare our notes and mini-reviews – we get an objective verdict.
FAQs about your Bedsure weighted blanket
Let's wrap things up by answering some FAQs.
Is Bedsure weighted blanket machine-washable?
Yes. If you have a large enough washing machine, you can easily wash this weighted blanket at home.
Is Bedsure weighted blanket good for people with stress, PTSD and insomnia disorders?
Absolutely. This weighted blanket could benefit sleepers dealing with stress, anxiety, PTSD, insomnia, autism, as well as many other problems.
How long does Bedsure weighted blanket last on average?
We'd say this heavy blanket should last you at least 8 years with the only problem being faded colour. With proper care, you could be looking at more than 10.
Is Bedsure weighted blanket good for people with autism?
In theory, yes. But, as we've said, this blanket is merely a helpful tool, so it should be treated as such.