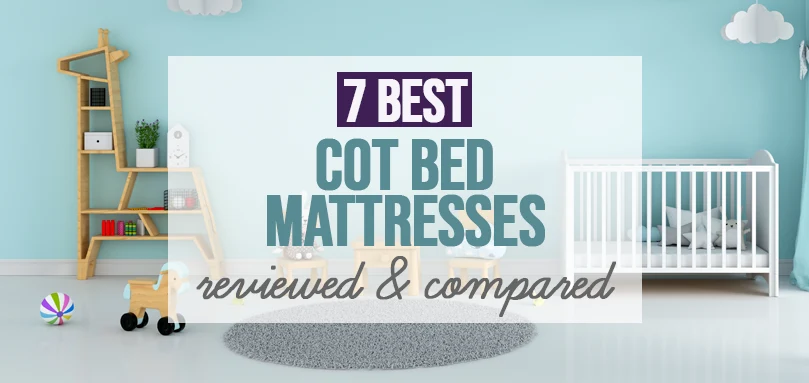 The Best Cot Bed Mattress for Your Baby - Our 7 Picks
Your toddler should sleep like an angel. Here's how to make that happen!
If you're expecting a baby, you must already be thinking about the sleepless nights that await you, right? Well, sure, you won't be sleeping like a baby for a while but that shouldn't stop your little one from sleeping as soundly as it can. Sleep is absolutely paramount for a baby's development and unless you have the absolute best cot bed mattress, you're making it harder on them than it should be.
Now, nobody's saying that finding the perfect cot mattress will be easy, but don't worry – we're here to help! We've gone out and found out what parents have to say on the matter and we've found these 7 mattresses to make your precious little rascal sleep soundly through the night.
IMAGE
PRODUCT
DETAILS

KEY FEATURES:

Size:

140x70 cm

Type:

Polyester fibre

Thickness:

10 cm

View Latest Price

KEY FEATURES:

Size:

140x70, 119x59 & 95x65 cm

Type:

Polyester fibre

Thickness:

3.5, 5, 7.5 & 10 cm

View Latest Price

KEY FEATURES:

Size:

140x70 & 120x60 cm

Type:

Polyester fibre

Thickness:

7, 10 & 13 cm

View Latest Price

KEY FEATURES:

Size:

120x60 cm

Type:

Polyester fibre

Thickness:

13 cm

View Latest Price

KEY FEATURES:

Size:

140x70 & 120x60 cm

Type:

Foam

Thickness:

5, 7.5, 10 & 13 cm

View Latest Price

KEY FEATURES:

Size:

140x70 & 120x60 cm

Type:

Pocket sprung

Thickness:

10 cm

View Latest Price

KEY FEATURES:

Size:

140x70 cm

Type:

Coir, fleece, wool, cotton, natural latex

Thickness:

10 cm

View Latest Price
Features to look for in best cot bed mattress
Naturally, finding the perfect cot mattress isn't only about comfort and easy cleaning. There are a lot more things to consider when buying a cot mattress. Finding the right type and size of the mattress is very important as you want it to perfectly fit the cot bed. In addition to that, you want it to be breathable, hypoallergenic, waterproof and so on. Of course, it can't be soft – but you don't really have to worry about it too much, as almost every cot mattress is firm and supportive.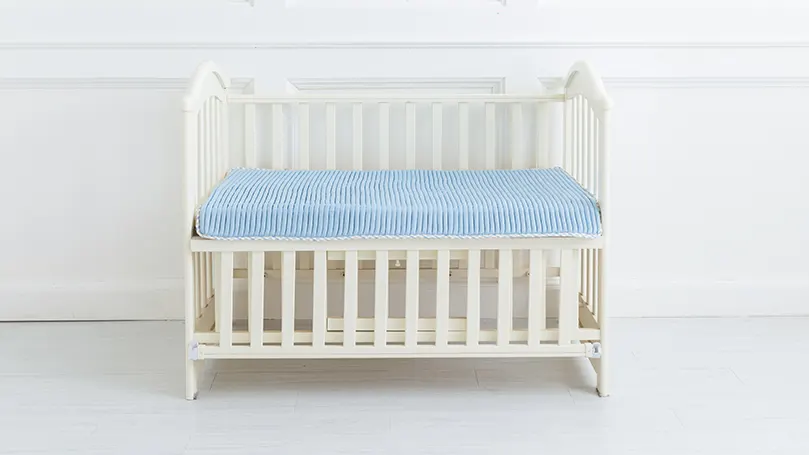 Just like with any other mattress, there are a few types of cot bed mattresses. In this case, you can choose from the foam, standard sprung and pocket sprung mattresses.
Foam cot bed mattresses are cost-effective. They're quite affordable, they're light, but still firm and supportive and just like any other memory foam mattress – they're great in battling dust mites and the rest of the allergens.
Next up, we have eco-friendly, polyester fibre filled cot mattresses. These are the newest addition to the bunch and they're becoming quite comfortable. These ones are kind of memory foam 2.0.
Finally, pocket spring cot bed mattresses are the improved version of the standard sprung. They're made of coils, as well, only this time each individual one is wrapped in cloth and foam for extra support.
When selecting the size of the baby bed mattress, you have to consider the size of the baby bed, as well. The mattress has to be a perfect fit in order to ensure top-notch safety and support, so pay special attention to the size.
Generally, there are two main sizes of cot bed mattresses – 120×60 cm and 140×70 cm, which is also the standard size of the cot bed. However, you can find these mattresses in different sizes as well, for instance, 100×50 cm, although not as common as these two as they're not by the UK standard.
Another thing to consider when it comes to size is the thickness of the mattress. There is no industry standard here, although we wouldn't recommend going lower than 7 cm in thickness.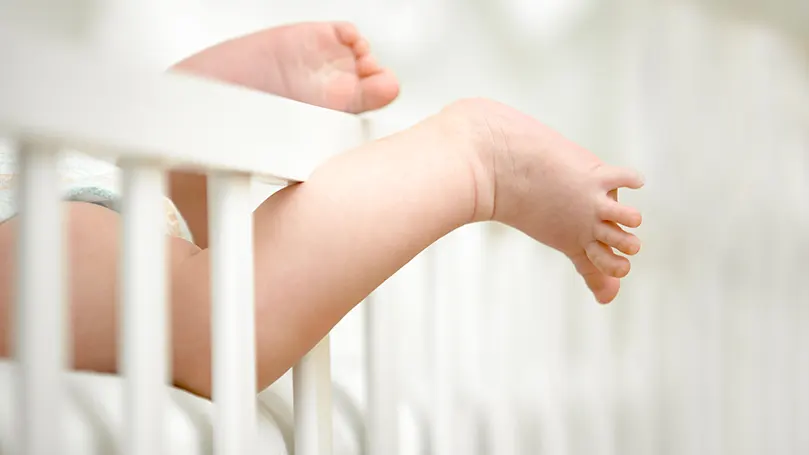 Safety is key when it comes to selecting a cot bed mattress. First of all, as we've mentioned previously, a mattress must be a snug fit, without any gaps bigger than 3 cm. Even those should be filled with towels. A mattress should be firm and supportive, never soft, as that is said to lower the chance of SIDS.
Also, a cot bed must be hypoallergenic and it is recommended that the thickness is at exactly 10 cm. Additionally, the UK's Lullaby Trust advises that every baby should use a brand-new cot mattress. Finally, the mattress must always be clean and dry.
The comfort of the cot mattress is pretty much decided by two factors – thickness and the material. All of the mattresses will be firm, but foam mattresses are known to be a better fit for babies that don't toss and turn during the night. For restless babies, pocket sprung mattresses are a much better fit, as they provide some additional bounciness, which makes it easier for a baby to move around.
Also, for additional comfort, you can use a body pillow to keep your child safe and comfortable. Additional cot mattress covers can also be used to up the comfort a little bit, as well as prolong the life of the mattress.
Tips for buying and using best cot bed mattress
Now that you know all the important features of the best cot bed mattresses, it's time to dig a little deeper. There are a few additional tips and tricks we'd like to share with you – if that's okay with you.
First, make sure there's a removable, waterproof, easily washable cover that comes with a cot bed mattress. For tiny spills and splashes, you can just wipe it clean with warm water and antibacterial spray, but if things get really messy, you can toss in the washing machine and clean it.
In addition to that, don't pay attention to the price. Most cot bed mattresses aren't expensive and just because there is an expensive one – it doesn't mean it's that much better than the rest.
Finally, always get additional, hypoallergenic, waterproof mattress covers. You'll wash them all the time so it's good to have one ready to go, once the original one gets dirty.
A removable, waterproof cover is a must
Don't dwell on the price
Have extra hypoallergenic covers
Finally, we've come to the most important part of the article – the mattresses themselves. In front of you, are the 7 of the best cot bed mattresses on the UK market. All of them are objectively good, so whichever one you end up choosing, we're positive you and your baby are going to enjoy it. Without further ado – let's take a look at our picks!
BEST OVERALL: Kinder Flow Cot Mattress
If you're looking for the absolute best for your child – look no further.
This cot bed mattress is the absolute best your money can buy. We guarantee that this one will be the best money you've ever spent. The price of our winner is in a reasonable range, which pretty much simultaneously makes it the best-value pick as well. Naturally, it's everything you'd want from a cot bed mattress. It's firm, supportive, hypoallergenic, easy to clean and so on. Pretty much an A+ mattress on all counts and you and your baby are absolutely going to adore it.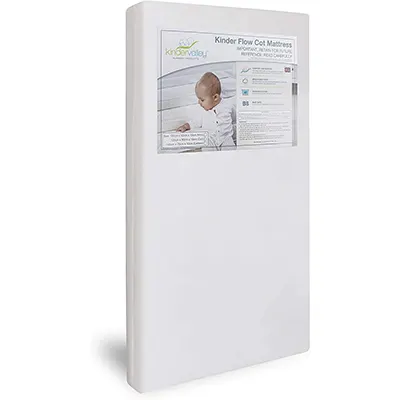 Ideal thickness
Impeccable support
Removable hypoallergenic cover
May be more expensive than some other products in this category
BEST VALUE: Mother Nurture Classic Travel Cot Mattress
If you're looking for a quality mattress for a bargain – this is your best pick!
This cot bed mattress is the definition of a product that is affordable yet high-quality. There's a lot of things about this mattress that scream luxury, even though you can get this one cheaply. Just like the previous model, we have a polyester fibre mattress on our hands, but that doesn't mean that this one doesn't offer as much support as the others on our list do. This is a great cot bed mattress and every parent should be lucky to have it.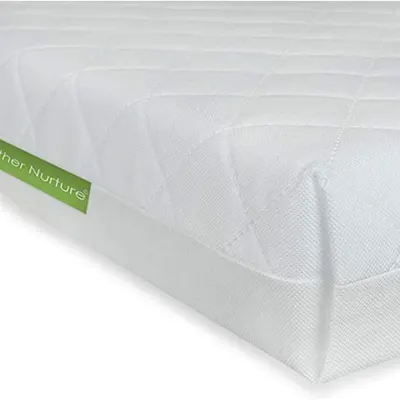 Ideal thickness
Great support
Removable hypoallergenic cover, machine washable at 40°C
Comes in 3 additional non-standard sizes
BEST EASY TO CLEAN: MotherPlus Baby & Toddler Quilted Cover Cot Mattress
A great product that's very easy to keep clean!
We all know that babies have no control over their bladder and they enjoy making a mess of their beds and diapers. Well, when that happens, if you're equipped with this mattress – you don't have to worry about a thing. The cover on this mattress is made from 100% hypoallergenic polyester that prevents any moisture from penetrating through the cover to the mattress core. It's easy to wipe clean or machine wash – whichever you prefer the most. In addition to that, it's quite firm and supportive, not to mention very breathable so your child doesn't get hot during the night.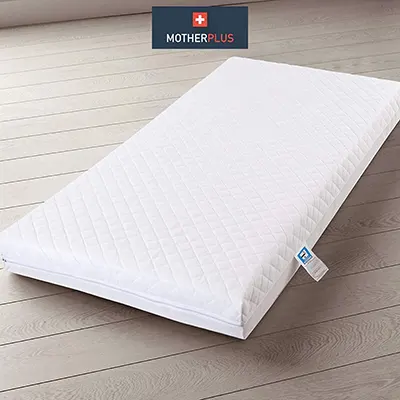 Wide range of thickness
Really easy to clean
Very firm and supportive
The zipper on the removable cover is not hidden
BEST EXTRA THICK: AirComfort Hypoallergenic Ultra Thick Cot Mattress
If you have a really deep cot, you might need a really thick cot mattress!
If you have an active rascal on your hands and you don't want to see them get injured when jumping out of a cot – you might as well make it easier for them. In addition to giving some extra height to future free-runners – this mattress is also very firm and supportive, which is what you want from a cot bed mattress. The core is made out of polyester fibre, which makes it breathable and comfortable and the cover is, of course, hypoallergenic so you don't have to worry about dust mites or anything of sorts.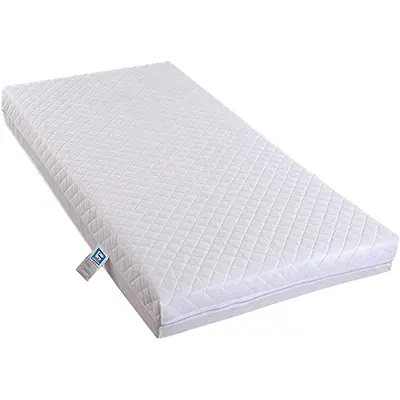 Very firm and supportive
Removable, hypoallergenic cover
Very comfortable
Not available in 140×70 cm
BEST FOAM: iStyle Mode Cot Bed Mattress
A foam cot bed mattress that comes in 8 different sizes!
For our best foam cot bed mattress, we've gone with a simple, white mattress from iStyle. Even though they sound like they're selling Apple products, they're quite handy and experienced when it comes to memory foam. Their "Open Cell" foam structure allows for great airflow and provides good support. Naturally, the cover is removable and machine washable.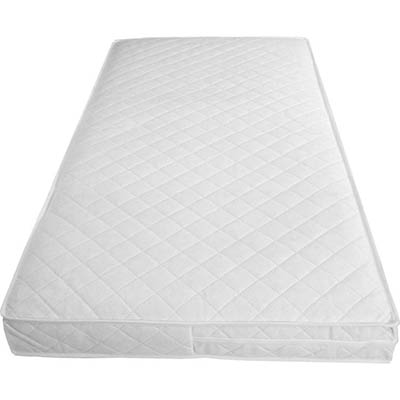 Firm and supportive
Removable, easily washable cover
Comes in 4 different thicknesses
5cm and 7.5 cm thick mattresses aren't the most comfortable
BEST POCKET SPRUNG: First Sleeps Baby Bed Mattress
If you're looking for a pocket sprung mattress and you're willing to spend some extra money – this is the mattress for you!
For our pocket sprung pick we've decided to go with this mattress from First Sleeps. It's a regular, pocket sprung mattress that comes in both, standard UK cot bed mattress sizes. Because its pocket sprung, it offers quality support and adapts to your baby's body in just the right way, providing great comfort as well. It also has this slight bounciness to it, so your baby will be able to turn more easily. Once again, the mattress cover is hypoallergenic, waterproof and removable for easier washing.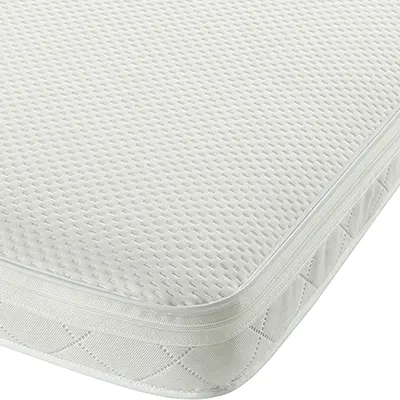 Firm
Removable, hypoallergenic cover
Targeted support and superior comfort
May be more expensive than some other products in this category
BEST NATURAL: The Little Green Sheep Natural Twist Cot Bed Mattress
If you're looking for an organic, all-natural mattress then this one is the right fit for you!
This dual-sided mattress is ideal for children from birth up to the age of 5. It's made out of all-natural materials and if that is something that's important to you then this is the absolute best in that category. One of the sides is very firm, ideal for babies younger than 12 months. The cover is made from cotton, coconut coir, natural latex and hypoallergenic wool, so it's not easier to wipe, but is fairly easy to wash in the washing machine. Since it's natural and suitable for kids from up to 5 years of age – It's also quite heavy.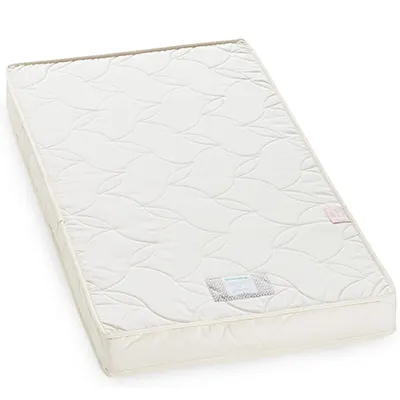 Dual-sided – great for both infants and toddlers
Very supportive
Award-winning mattress
May be more expensive than some other products in this category
The advantages of owning the best cot bed mattress
If you could have your baby sleep beside you in bed, on your top-of-the-line mattress – you probably would. However, you know that's neither safe nor possible. That's why cots are there, so babies can sleep soundly and safely.
The most obvious benefit of owning a quality cot bed mattress is the improved quality of sleep of your new-born. You know how babies are – they cry, eat, poop, sleep and repeat. If you're lucky, they sleep more than they cry.
SIDS is one of the most horrible things that can ever happen. It's a fairly common issue that scares a lot of couples. One of the ways to prevent this horrible thing from ever happening is having a great, firm, supportive mattress for your baby to sleep on.
Finally, a great mattress goes a long way in helping the development process, as babies get to sleep better and longer on a quality mattress and we all know how important sleep is – especially for babies.
Improved sleep quality
Lowers the chance of SIDS
Helps the development process.
FAQs about your new cot bed mattresses
Finally, it's time to discuss some of the most frequently asked questions by first-time parents. We've assembled a couple of the most common questions we have received and decided to answer them, so you don't have to bother researching the answer on your own and focus on your new-born baby instead. Let's take a look at our answers.
What type of cot mattress is best for a new-born baby?
Polyester fibre mattresses are the best for new-borns.
Is a foam or coil mattress better for my baby?
Pocket sprung mattresses are considered more durable and comfortable, so you could say they're the better option.
What thickness should a cot mattress be?
Ideally, the cot mattress your baby will sleep on should be 10 cm thick.
How long should my cot mattress last?
A cot mattress you purchase should last at least 5 years.
How do I clean my cot mattress?
You can wipe the cover with warm water and antibacterial spray or in the washing machine at 60°C.