10 Best Pregnancy Pillows for a Good Maternal Sleep
Night's sleep is especially important in pregnancy, but it is also very challenging to find a comfortable sleeping position. Pregnancy pillows can help you a lot, so we prepared this guide for you to help you find your ideal support pillow in the UK market.
All the women who were pregnant talk about how difficult it was for them to find a comfortable position and sleep for hours without waking up. Especially when the pregnant woman is close to the due date.
Ordinary pillows are usually not very useful in these moments, but fortunately for all pregnant women, there are so-called pregnancy pillows on the market. They are specially made to provide comfort and proper positioning.
While these pillows may not look like something much, these will help you and make your pregnancy time much bearable and easier. Therefore, we made this buyer's guide with the goal of helping you to find the ideal pillow that will keep you comfortable all the time. 
You can read in our guide which factors you need to consider before you decide to buy the best pregnancy pillow, as well as which ones are the best on the market in different categories. Follow our buyer's guide and make your pregnancy period even more comfier with these pregnancy pillows.
Add a header to begin generating the table of contents
IMAGE
PRODUCT
DETAILS

KEY FEATURES:

Type:

U-shape

Material:

60% Cotton, 40% Polyester

Weight:

3 kg

View Latest Price

KEY FEATURES:

Type:

Nursing

Material:

Cotton

Weight:

2 kg

View Latest Price

KEY FEATURES:

Type:

U-shape

Material:

Polyester

Weight:

4 kg

View Latest Price

KEY FEATURES:

Type:

C-shape

Material:

Polyester

Weight:

2.7 kg

View Latest Price

KEY FEATURES:

Type:

Body pillow

Material:

Cotton

Weight:

1.95 kg

View Latest Price

KEY FEATURES:

Type:

Wedge

Material:

Polyester

Weight:

400 gr

View Latest Price

BEST FOR ALL TYPES OF SLEEPERS

BEST FOR ALL TYPES OF SLEEPERS

KEY FEATURES:

Type:

L-shape

Material:

Cotton and polyester

Weight:

1.06 kg

View Latest Price

KEY FEATURES:

Type:

U-shape

Material:

Cotton and hollowfibre

Weight:

2.98 kg

View Latest Price

KEY FEATURES:

Type:

Support

Material:

Microfibre

Weight:

600 gr

View Latest Price
What to consider when buying the best pregnancy pillows
Each pregnancy pillow is designed to support your back and belly and give you a good night's sleep, especially during the second trimester. But, to choose one out of a sea of nursing pillows, you need to know what to consider. It is necessary to pay attention to the next 7 characteristics of pregnancy pillows that we will talk about. Every person's body is different as well as the pregnancy. Also, every person has different requirements and affinities. So consider all those things, because something that is best for the other person may not be best for you too. Therefore, when you start hunting for the best pregnancy pillows, make sure that you don't forget these features.
Pregnancy pillows can be most easily divided into two categories. These two categories are pillows that are as big as your body and those that are smaller, more reminiscent of regular pillows.
A pregnancy pillow that is the size of your body have role to give you complete support and are called C-shaped and U shaped. C-shaped body pillows have shape of letter C and they should surround you and support your spine in the first place. U-shaped pillow has a shape of U letter and the point is that you are nestled in the center of that u shaped pregnancy pillow. Other smaller models other than body pillows vary greatly in shape and you can find whatever you need.
The second thing to consider when buying a pregnancy pillow is a material. The materials and fillings that are used are very important because they affect a lot of things. First of all materials affect comfort and durability, but also on breathability, firmness, whether they can cause allergies and the like.
Polyester materials and fills provide comfort and are very durable. What is also very good about them is that you can choose the level of firmness. Polyester materials are warm and less breathable, so some like it and some don't. Natural materials in combination with others are a very good choice. Memory foam provides great support and pressure relief so it should also be considered. Memory foam is a favorite choice of many stomach sleepers, for example, as memory foam offers a nice contouring attributes.
Whether you want to buy a regular pillow, pregnancy pillow or mattress, your sleep position is a very important factor to consider. Side sleeping is likely your position during the pregnancy. However, each of us has our own way of sleeping, probably from the day we were born. But for women with baby tummies, sleeping on the stomach is practically impossible, especially after the 4th month of pregnancy.
That is why most of them opt for side sleeping and this is the recommendation of all doctors, especially sleeping on the left side. C-shaped and U-shaped pillows are a great choice for side sleepers, and if you sleep on your back, then look for some of the smaller pregnancy pillows that will support your neck and spine. Improper shape of a pregnancy pillow could potentially cause aches and pains so make sure you're using the pillow that offers you enough back support. Providing support to your back will make it easier for the entire body and therefore will help you to achieve a good night's sleep.
Support, both emotional and physical, is something that all women with bayb tummies need. Due to the increased size of their bodies during pregnancy, as well as their weight, it is generally necessary to choose a pregnancy pillow that provides a lot of body support. Full body pillows are an ideal choice, because they provide support to the whole body, and they also create a cozy feeling.
As some people do not like such big pillows because they limit their movement during sleep and find it difficult to move them, then they choose smaller pillows which can also provide a lot of support, especially if they are firm. The only difference is that it will then support only a certain part of the body, not the whole body.
As we have already said, the materials from which the pregnancy pillow is made play the biggest role in how firm the pillow itself will be. A pregnancy pillow made of cotton and polyester is softer, while those made of foam are firmer. Although the firmness of the foam varies, so you can choose exactly the type of foam that suits you.
Whether you choose softer or harder depends solely on your affinities and needs. If you need body support, go with firmer ones. And if you like the cozy feeling given by super soft pillows, then find a soft pregnancy pillow made of cotton, polyester and bamboo fibers.
You will notice how your body changes every single month during pregnancy. In the beginning it will be small changes, and then over time you will have the impression that you are growing significantly day by day. And since you won't be buying a pregnancy pillow every month, you should pay attention to moldability.
Foam is the best material when we talk about moldability. But also consider that polyester is more breathable, and this will play a significant role as the belly grows. You will constantly feel warmth and therefore non-breathable material can make you too hot.
Loft is one of the most important characteristics of any pillow, including the best pregnancy pillows. The loft must be suitable for the sleeping position and body type, otherwise it will put the neck in the wrong position which will lead to many other problems. First of all, back pain, which is something that pregnant women must avoid, because they will definitely encounter back pain to some extent due to gaining weight.
Spine alignment is achieved when the head and neck are placed in a neutral position. For stomach sleepers as well as thinner people the loft should be smaller compared to heavier people and back / side sleepers.
You have probably already encountered the BPA free symbol on various products, both food and many others. This means that a particular product does not contain bisphenol A, an industrial chemical that has been used for over 50 years for some polycarbonate plastics and epoxy resins.
Although BPA is safe in small amounts, according to the FDA and EFSA, you as a pregnant woman should not take any risks. Provide only the best for your baby, and one way you will do this is to choose the best pregnancy pillow that is BPA free.
When buying the best pregnancy pillows, the importance of the cover is often overlooked and only attention is paid to support, comfort, pressure relief and a few other characteristics.  Although all this is very important, the cover is what has contact with our skin and if it is not appropriate it can cause irritation. The covers are made of different materials, most often cotton and polyester.
Which cover you choose depends on whether you are allergic to something, whether you are hot sleepers and what you find comfortable. If you really like the characteristics of a pregnancy pillow, other than the cover, this problem can be solved by using a pillowcase. Also, if the cover is not machine washable, use a pillowcase.
The skin of our face is very sensitive, probably the most sensitive on our body. Acne and pimples can affect anyone if their face is sleeping on a dirty sleep surface. So you need to wash the cover regularly to remove oils, dead skin cells and other dirt.
It is best when the cover machine is washable at least at 40 degrees Celsius, and even better if you can wash it at 60 degrees Celsius. In case it is not machine washable or only dry cleanable, then buy a pillowcase that you will be able to wash regularly.
Tips for buying and using the best pregnancy pillows
After analyzing all these features, you still have to compare prices when shopping for pregnancy pillows. Prices range is from a few tens to a few hundred dollars. The bigger the pregnancy pillow, the more expensive it is usually but you also get the full body support. Of course, the material, the reputation of the manufacturer and so on also have an impact on the price. If you need a pregnancy pillow, we advise you to analyze the price last, and if you want to save, it is better to look for a discount than to buy a cheap one which is not comfortable nor durable. Pregnancy pillow best suits you if you:
Think about your spine and hips when choosing
Think of breathable materials
Think of the U-shaped and C-shaped pregnancy body pillows that give more comfort.
We did homework for you and analyzed which body pregnancy pillow is the winner in each category. They have lived up to expectations in terms of quality and also are made by respectable manufacturers. If you buy them, you will certainly not regret it, but it will make your pregnancy easier and get you optimal night's sleep.
BEST OVERALL: Pharmedoc Pregnancy Pillow U-Shape
Pharmedoc Pregnancy Pillow will help you ease discomfort associated with pregnancy and it is the best pregnancy support pillow!
This pregnancy pillow provides support to your entire body, from neck to knees, so you will wake up completely rested and pain-free every morning. Suitable not only in pregnancy, but this pillow can be used by all types of people, because it helps with sciatica, fibromyalgia, gastric reflux and so on. The pillow has one detachable part, which you can use separately in moments when you don't need a full body pillow. It is very large, so it will suit women who are expecting babies of all heights.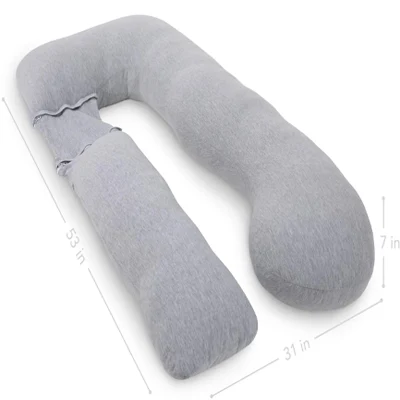 It has a cover that is very easy to remove, and it is also machine-washable, which is very important, because you can easily get it dirty. Over 35,000 positive reviews on Amazon guarantee quality, and you get it all at an affordable price. 
Gives the full support around your body
Helps with sciatica, fibromyalgia, gastric reflux
Great reviews
A cover that you remove and wash in a washing machine.
Not suitable if you don't want full a total body pillow.
BEST VALUE: Bamibi Pregnancy and Nursing Pillow
Bambi Pregnancy support and Nursing Pillow is multifunctional maternity pillow that will also be useful when a child is born.
This pregnancy pillow is the winner in our best value ones category because you not only get a pregnancy pillow, but you also get a nursing pillow, all for less than £ 50. That's a really great offer.
Consisting of two parts that you can use together as a pillow for the entire body or separately, for sleeping or breastfeeding. It has a polyester filling that will provide comfort. It also contains cotton as well as a hidden zip. Hidden zip is a great feature because it will not irritate the baby while you are breastfeeding. And you can also use it to keep your baby sitting in it, so it will be useful to you for years once you buy it. The cover is machine washable.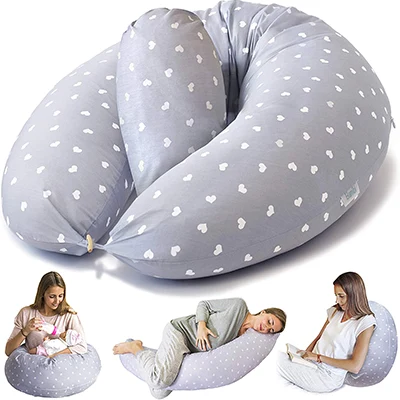 Multifunctional
Great feeding pillow
Machine washable cover.
Some sleepers find it too bulky.
UPGRADE PICK: AngQi 65-inch Full Body Support Pillow
This one is premium U-shaped pregnancy pillow that is designed to support all those who are willing to spend more and fall asleep faster!
Made of premium material, the exterior is made of velvet, while the interior is made of the highest quality polyester that will last you a very long time. You can also use it while watching TV or reading a book, because you can position it however you want. Of course, it is best to use it for sleeping, as it will provide you with comfort and pressure relief. You will wake up feeling completely rested.
Another great feature of this pregnancy pillow is that you can remove and put the filling yourself, thus influencing the firmness of this shaped pillow. The cotton cover is machine washable.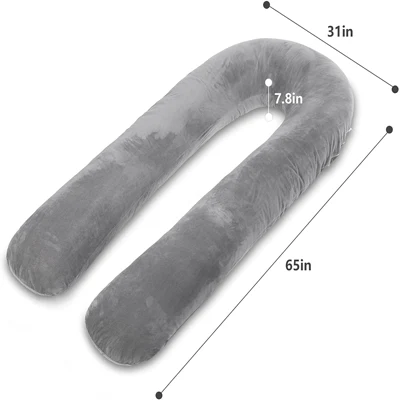 Premium materials
Ergonomical & total body support
Multi-functional.
May be more expensive than some other products in this category.
BEST C-SHAPED: Victostar Pregnancy Pillow C Shaped
Best C shape choice if you find C-shaped design most comfortable for your maternity pillow.
As we have already said, C-shaped and U-shaped are the two main designs when we talk about full body pillows. If you want a C-shaped, the Vicostar pregnancy pillow is a great choice. Useful not only when you sleep, but also when you are resting, and also suitable for breastfeeding once you give birth. Due to its shape, you will not need a few pillows to support you, but this model will give you all that.
It's very long, so you can stretch out when you want. It is very soft, filled with premium materials. Retains its original shape as soon as you get up, so it will last you a long time. One of the best pregnancy pillows of all time!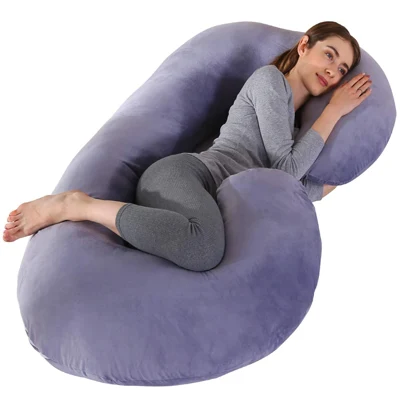 C-shaped
Premium materials
Long
Suitable for nursing.
Not for people who don't like soft pillows.
BEST ORGANIC: Bbhugme Organic Non-Toxic Pregnancy Body Pillow
Recommended by midwifes, Bbhugme pregnancy pillow is ideal for you during pregnancy and after the baby is born.
Bbhugme Organic Non-Toxic Pregnancy Body Pillow is a very good choice for multiple reasons. First of course because it is organic and filled with TOXPROOF certified and food grade expanded polystyrene (EPS) beads, which means you will not be in contact with any harmful chemicals. Outer cover is made of 95% cotton and 5% spandex jersey fabric Standard 100 by Oeko-tex.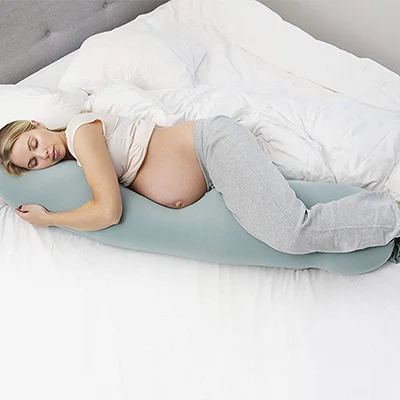 Another reason is that in addition to being suitable during pregnancy, it is also great during the nursing phase, so you will not have to buy a new pillow for that purpose. Scandinavian health professionals participated in the development of this pillow, and it stands out for its support. You will have 5-point support in the places where you need support the most during pregnancy.
Organic u shaped pillow
Great for nursing phase too
5-point back support
Standard 100 by Oeko-Tex.
A bit more expensive when compared to similar products.
BEST LIGHTWEIGHT: LEEYYO Pregnancy Wedge
Not classical body pillow but lightweight wedge which you will be able to move with ease during sleep.
As much as full body pregnancy pillows have a lot of advantages and are a favorite choice, there are still many women who don't like them because they are too bulky. Whenever they need to move during sleep, their pillow is too heavy.
That's why this so-called wedge is a great choice if you want a small pillow that will support your back. This wedge pillow can also be placed next to the belly to hold it.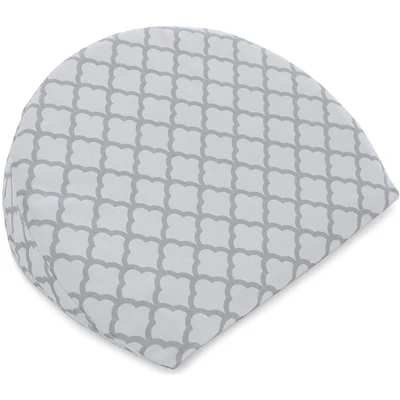 Because it is small, it is very suitable for travel, so you don't have to sacrifice your comfort even in a hotel. Cushion is a machine washable.
Small and light wedge pillow
Provides great pregnancy support
Great for traveling.
Not the first pick if you need comfort.
BEST FOR ALL TYPES OF SLEEPERS: Mamas & Papas Pregnancy Nursing Pillow
Mamas & Papas Pregnancy Nursing Pillow is so versatile because it fits all types of sleepers.
In addition to being suitable for all types of sleepers, this pillow can also be used for various purposes. Side sleeping, resting, bottle-feeding and breast-feeding are some of the most common situations where it is used, but you can also use it in any way you want to improve your comfort. You can wrap it around your body and support your growing tummy! 
The cover can be removed easily and washable, and even if milk or something similar is spilled, you will easily clean it. The cover is made of 100% hypoallergenic cotton, while the filling is 100% polyester.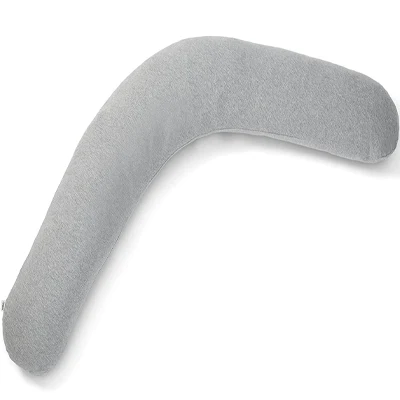 Versatility & multi purpose
Hypoallergenic
Affordable.
Some moms find it too soft.
BEST LARGE: Kally U-Shaped Pregnancy Pillow
If you want a really big body pillow to accommodate your baby bump, this is a great choice for your growing bump!
In addition to the fact that all women who are expecting a baby need comfort, many of them also like the feeling that they are completely tucked into a pillow. If you are one of them, then we recommend this pillow which is very large and completely embraces you. So you will not have to have 5 pillows around you, but this one will give you both support and comfort. Cotton cover is removable and washable.
It is hypoallergenic. In addition to being a pregnancy pillow, many also use it treatment of aches and pains, as well as for recovery after surgery and joint pain.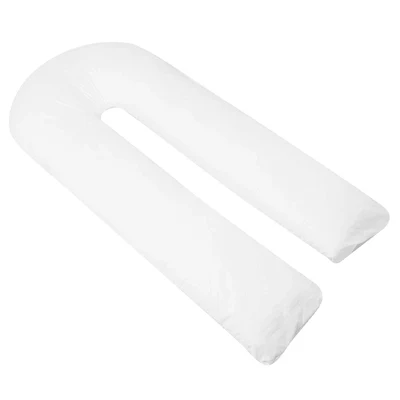 Full body support
Cover that is easily removed
Free return.
A bit heavy for some moms.
BEST CONTOURED: Silentnight V Pillow
It is very good all-around and affordable contour body pillow.
Contour pillow is also called cervical pillow because it has such a design that it primarily supports the head, neck and shoulders, so it is ideal for all back sleepers, but also side sleepers.
It is ideal for all those women in pregnancy who experience neck pain, frozen shoulder, stiffness in the thoracic spine, and even headaches that can be caused by improper neck position.
This shaped pillow is also suitable for baby nursing, and it is made of hypoallergenic material, so you don't have to worry that something will happen to you or your child. It is made in the UK.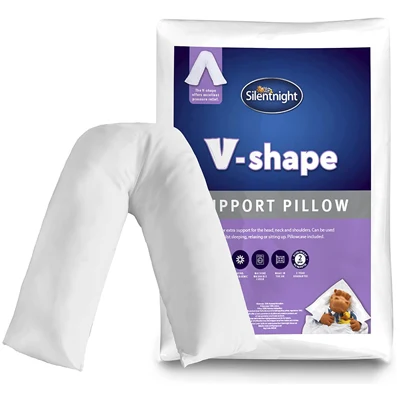 Multi-functional
Hypoallergenic
Made in the UK
Manufacturer's guarantee.
BEST FOR STAYING COOL: Purflo Breathe Pregnancy Pillow
It is very good all-around and affordable contour body pillow.
Contour pillow is also called cervical pillow because it has such a design that it primarily supports the head, neck and shoulders, so it is ideal for all back sleepers, but also side sleepers.
It is ideal for all those women in pregnancy who experience neck pain, frozen shoulder, stiffness in the thoracic spine, and even headaches that can be caused by improper neck position.
This shaped pillow is also suitable for baby nursing, and it is made of hypoallergenic material, so you don't have to worry that something will happen to you or your child. It is made in the UK.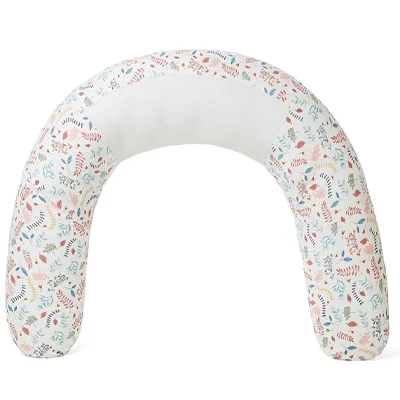 Support
Great for baby nursing
Removable cover
Breathable.
You may need time to get used to it.
The Advantages of owning the best pregnancy pillows
Everyone needs a comfortable pillow, but it is especially necessary for women are expecting a baby who face various types of problems. These problems are insomnia, inability to adjust to a comfortable position, joint pain, headaches and much more.
When you shop for the best pregnancy pillows, all these problems will disappear or be significantly reduced. That is why this is a very smart investment, because they provide a lot, and most models are not expensive at all.
All women that are having babies can understand what we are talking about and how much buying a pillow like this will make the period before childbirth easier. These are the months when a woman should rest as well as possible so that the baby in her womb can progress and also so that the woman is ready for everything that awaits her once the baby arrives.
    Comfortable sleeping even in the late stages of pregnancy
    Provides relief for neck, shoulders, hips and other parts of the body
    Sleeping in the proper position for both you and your baby.
FAQs about best pregnancy pillows
Some of the most frequently asked questions related to pregnancy pillows are about when to start using them, which is the best type, and whether you are allowed to sleep on your right side during pregnancy. We will answer these three questions in the FAQ section.
When should I start using a pregnancy pillow?
You can use start using it whenever you want, but it is recommended around 20 weeks of pregnancy.
Which is better: U-shaped or C-shaped pregnancy pillow?
Both are great, so one that suits your more is better one for you.
How should I clean my pregnancy pillows?
The majority of pregnancy pillows should have a removable cover that you take off and wash in a washing machine. However, read the instructions for every body pillow to make sure you don't damage it.