The Best Travel Pillow: Travel with Comfort Everywhere
Are headaches and neck pain bothering you when you travel? Well, no more. These travel pillows will make you feel great again.
Who doesn't like to travel? Well, probably nobody, but the road can become quite cumbersome if you can't sleep and your neck and head hurt. When napping in a plane, for example, you may try leaning against your arm or the window but none of it feels even remotely comfortable. If this scenario feels all too familiar, maybe it's time to consider getting a travel pillow.
Now, you may not know this – but there are a lot of different options out there and if you're not quite certain what it is that you're looking for, it can become quite overwhelming trying to find the best travel pillow for your next adventure.
But don't worry – we're here to help. We've gone out and did a little research, so you don't have to, and we have found what we feel are the best travel pillows on the UK market. So, strap yourself in (travel pun alert) and let's get started!
Add a header to begin generating the table of contents
IMAGE
PRODUCT
DETAILS

KEY FEATURES:

Material:

Memory foam

Size:

25x29x15 cm

● Not Inflatable

View Latest Price

KEY FEATURES:

Material:

Memory foam

Size:

31x29x10 cm

● Not inflatable

View Latest Price

KEY FEATURES:

Material:

Memory foam

Size:

30x26x18 cm

● Not inflatable

View Latest Price

KEY FEATURES:

Material:

Microbead

Size:

22x20x5 cm

● Not inflatable

View Latest Price

KEY FEATURES:

Material:

Fleece/Polyester

Size:

19x19x9.5 cm

● Not inflatable

View Latest Price

KEY FEATURES:

Material:

PVC Flocking Fabric

Size:

50x30x30 cm

● Inflatable

View Latest Price

KEY FEATURES:

Material:

Rayon

Size:

25x16x16 cm

● Not Inflatable

View Latest Price
Features to look for in the best travel pillow
Finding the right travel pillow can be quite overwhelming. The number of types and styles alone is enough to make even the most experienced shoppers think twice before deciding. However, we've decided to make it easier for you and showcase the most important features to look for when you're searching for the perfect travel pillow. Let's take a look at those features.
When it comes to sizes of travel pillows, you'll soon realize there is no industry standard. Sure, most of them are quite similar in size, as most of our heads and necks are similar in size. However, travel pillows vastly differ in size and weight and which one will you choose is entirely based on your preference and travel style.
Naturally, the size of the travel pillow is important mainly because of comfort, but these pillows are used on the go, so you have to consider their carrying size, as well. Inflatable pillows are fairly easy to carry, but the microbead pillow can get quite bulky and unless you plan on carrying it around your neck from the start – you want to reorganize your luggage.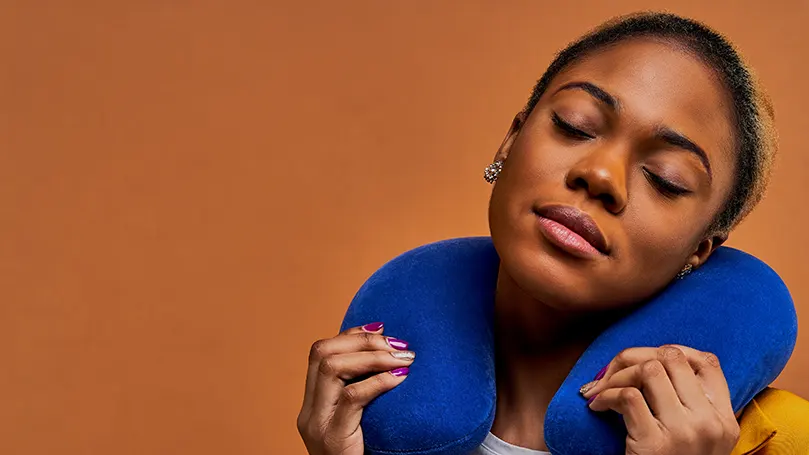 Similar to sizes, travel pillows come in various shapes as well. In general, most travel pillows are U-shaped and are designed to be snuggle around your neck, offering much-needed support for your neck or head in the sitting position.
However, there are a few other shapes, as well. V-shaped neck pillows are also a thing. Then, pillows that can twist and shape-shift also exist. You can find U-shaped pillows with hoodies, J- shaped ones, hourglass-shaped ones and so on. You can even find regular, cushion-shaped neck support travel pillows or even full-body and infinity travel pillows.
This, as well, can be overwhelming, but the variety is necessary to find the perfect level of comfort.
When it comes to the weight of these pillows, you can see how important it is that they're lightweight. They're sitting on your shoulders, snuggled around your neck and even if they were over a pound, pound and a half – they would quickly become uncomfortable.
In general, most travel pillows are under a pound in weight, with a few notable exceptions like infinity pillows. The average weight of a travel pillow would be around 200 grams, though the standard range is anywhere between 100 and 300 grams.
Another thing to consider is portability and how the weight would affect that. Even though you may not care about the extra 300 grams in your backpack – airport security just might.
Just like with any other pillow, the firmness level will affect the comfort and supportiveness of the product. However, in most cases, you won't find any indication of the firmness level of a pillow anywhere on the packaging or the product. However, there's a neat trick you can use to guess how firm the pillow actually is.
Basically, inflatable pillows are pretty firm when inflated properly, but the firmness can be somewhat adjusted by the amount of air inside of a pillow. Memory foam pillow on the other hand hit that perfect balance between comfort and support. And finally, if you're looking for a more plush, cushiony feel – you'd choose a microbead travel pillow instead.
Inflatable vs. not Inflatable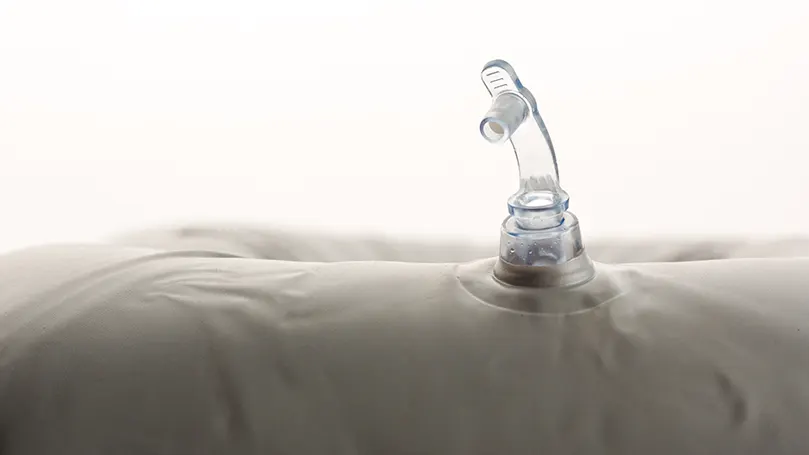 Generally speaking, travel pillows are divided into two categories – inflatable and non-inflatable. We don't have to point out the main difference between the two, as it is pretty self-explanatory judging by the name.
These two groups are quite distinguishable from one another. For instance, non-inflatable travel pillows are much harder to store and carry than their counterparts are. They can't be blown out and put into a pocket. Also, they're in general quite firmer, as we learned a few moments ago and they're usually made from the same material.
Non-inflatables, on the other hand, come in a wide variety of materials, which makes it a lot easier for you to find the one that fits your needs the best. You can search for optimal comfort, supportiveness or temperature regulation.
A common myth about travel pillows is that they can get very hot, very fast. Now, that's not entirely true. Every pillow gets hot as they assume your body temperature. Travel pillow does the exact same thing. However, they're often used in not-so-ideal sleeping conditions, which can, in return, make for a hotter sleeping experience.
However, as is the case with regular pillows, there's a solution to this issue. Selecting the pillow made from quality materials that allow for great breathability will affect how hot or chilly the pillow feels. For instance, memory foam pillows aren't the greatest option if you get hot while you sleep, but it's not the worst either. You can always improvise with a pillow cover if you want.
Tips for buying and using best travel pillow
In addition to knowing all the basic and key features and characteristics of travel pillows, we thought we'd share a few tips on buying and using these pillows. We won't focus as much on features, as much as we will on actual tips on how to avoid confusion and make the best pick based on your preferences.
The first tip we have for you is to not pay attention to the price. In a world of travel pillows, price isn't a reliable factor. All of these, cost pretty much the same and just because one is more expensive than the other does not mean it's better.
Another thing to check before you buy a pillow is whether it is machine washable or not. Most come with a removable, washable cover, but be sure to inform yourself on how to clean the pillow.
Finally, your sleeping position will greatly impact whether you find a pillow comfortable or not. For instance, back sleepers usually enjoy U-shaped travel pillows as they offer the best neck support when they lean back.
So, to sum it all up.
Price doesn't really matter.
Make sure it's machine washable.
Choose the shape based on your sleeping position.
Here we are – our top picks for the best travel pillows that you can buy! Before we begin, we'd like to say that we feel comfortable that you'd enjoy every one of these, if you do decide to give any of them a try. We've done our best to stay objective and present you only with the best UK travel pillow market has to offer. Let's check out our picks!
BEST OVERALL: FYLINA Memory Foam Travel Pillow
Probably one of the best travel pillows you will ever rest your head on!
For our top pick, our champion, we've decided to with FYLINA memory foam travel pillow, one of the best rated and popular products in the travelling community. As you can tell from the name, it's made out of memory foam, which makes it very supportive, but still comfortable. It's kind of U-shaped, but not quite. It still wraps around your neck, but the unique design offers much more support and comfort. Since it's not inflatable, it does come with a carrying case and a sleep mask – which is a nice bonus!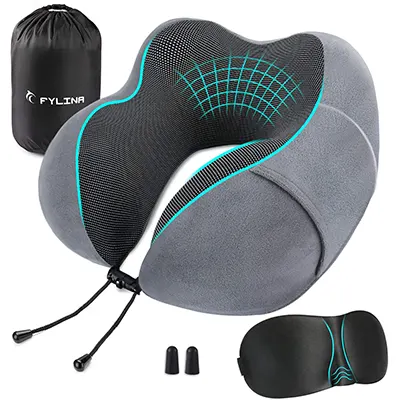 Incredible support due to ergonomic design
Very comfortable
Very portable for a non-inflatable pillow
BEST VALUE: Aidapt Memory Foam Neck Cushion
If you're in the market for something traditional, yet affordable – this is the pillow for you!
If you're looking for the best absolute deal on a travel pillow, but you aren't willing to sacrifice quality and comfort – we'd suggest you try this one out. It looks like a regular, inflatable travel pillow that you'd buy in front of a bus from a local salesman, but instead of it being a piece of inflatable rubbish – you get a nice, firm, memory foam travel pillow. It offers great support, it's quite comfortable and it wraps around your neck nicely. It comes in a few colours, you can choose the one you like the most to match your style.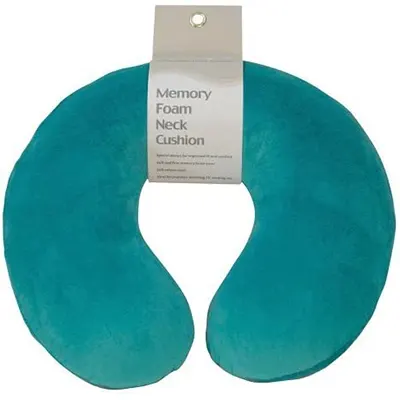 Traditional design
Quite comfortable
Easy to clean
Velour cover can get quite hot
BEST FOR NECK SUPPORT: SNUGL Travel Pillow
A travel pillow for those leaning off to the side and in need of extra support!
SNUGL Travel Pillow is arguably one of the best pillows on the market and the only reason it's not our top pick is because it doesn't come with an eye cover and the one from FYLINA does. All jokes aside – this is a wonderful travelling companion. It's light, easily portable for a non-inflatable and it offers arguably the best neck support out of all the ones we've tested. It also comes with a travelling case and a pretty cool one if we might add. It comes in five different colours and two adjustable sizes, so, we're pretty sure you'd be able to find the perfect one for yourself.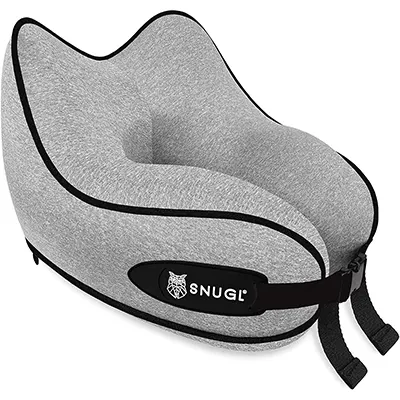 Unparalleled support
Very comfortable and breathable
Adjustable for best fit
It can get hot after some time
BEST FOR KIDS: Trunki Kids Travel Neck Pillow
If you're in the market for something equally colourful and comfortable for your little ones – look no further!
Trunki has always been known for their amazing products and they've delivered once again. If you have kids under the age of four and you want to get them a travel pillow – you should absolutely get them this one. Trunki Kids comes in 7 different colours, or better yet characters, all of them similar, but slightly different in size. They're incredibly comfortable and plush, thanks to microbead filling, but they still offer more than enough support for your little ones thanks to ergonomic design. They come with two magnets holding the front of the pillow together for additional neck support.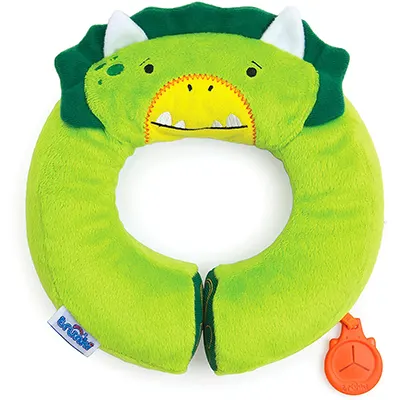 Ergonomic design and great neck support
Snug fit for additional comfort
Very light
BEST FOR SIDE SLEEPERS: Trtl Soft Pillow
A great choice for those in need of extra support once they lean to the side!
The ergonomic design of this pillow is pretty much guaranteed to have you actually feel rested once you wake up from a nap in an upright position. Trtl Soft Pillow manages to strike a perfect balance between comfort and wonderful support and alignment thanks to the great design. In addition to that, it's super soft and cushiony, so you won't have any problems sleeping for a few hours at a time. it comes in few colours and it pretty much looks like a scarf once you put it on, so, bonus points for style! Naturally, since it's made of fleece and polyester – it's machine washable.
Great support
Very comfortable and breathable
Very light
Not ideal if you like to move and adjust as you sleep
BEST INFLATABLE: AirGoods Travel Pillow
If you're looking for an easily portable travel pillow that can pretty much do anything – this is the one for you!
This travel pillow is for those who can't really get comfortable in the seat and need some additional comfort. AirGoods travel pillow is quite bulky, which makes it ideal if you want to just lean forward, grab onto something and sleep that way. It's uniquely designed to keep your body aligned as much as possible and have you feeling comfortable as you snuggle with your travel buddy. Another benefit of this unique design is that it can double as a body pillow if you're in need of some extra support. Finally, there's a neat pocket in the pillow where you can rest your phone so you can enjoy a movie or a TV show while you relax.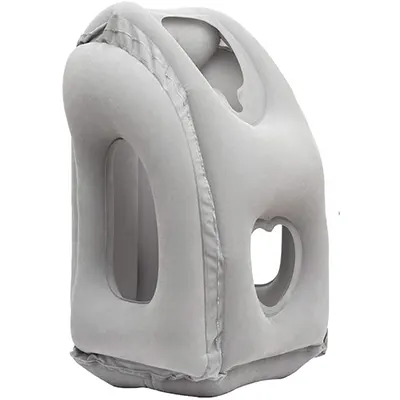 Can double as a body pillow
Quite comfortable
Very portable
BEST INFINITY: Huzi Infinity Pillow
If you're in the mood for a pillow that can do it all – choose an infinity pillow!
To call Huzi infinity pillow just a travel pillow would be an insult to it. This puppy can do pretty much do it all. It can muffle the outside noise if you wrap it around your head, it can support your back and neck simultaneously, you can rest your arms in it or you can just wrap it around your neck like a scarf and have some major chin and neck support. It's also quite comfortable due to the material build and great design and even when you sleep for hours at a time – it really doesn't get hot. To top it all off – it's machine washable in its entirety.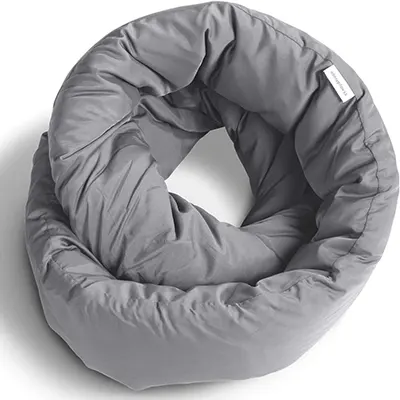 Very versatile
Quite comfortable
Machine washable
The advantages of owning the best travel pillow
The advantages of owning the best travel pillow extend far from just being able to take a nap in an airplane or a bus. For such a simple product, there's more to it than it meets the eye.
First of all, a quality neck pillow prevents neck fatigue and pain. When we fall asleep in an uncomfortable position, our head tends to lean in one direction. Without the proper support that travel pillow provides you with, you'd wake up feeling stiff and sore from hyperextending your neck.
Additionally, they can be quite beneficial when it comes to snoring. Keeping your neck straight allows for better airflow since your airways aren't obstructed, thus preventing sleep apnea and snoring.
On top of all that – most of the travel pillows are really easy to wash and maintain, especially if they come with a removable cover. A removable cover makes it a lot easier to keep clean.
Proper neck support and fatigue prevention
Alleviates snoring
Easy maintenance.
FAQs about your new travel pillow
Finally, it wouldn't be a complete buyer's guide if we wouldn't touch on some of the frequently asked questions. Now that we've gone over our picks and the important features of travel pillows, it's time to answer some of the burning questions you might ask before you decide to buy one of these. Let's answer some FAQs!
How long will my travel pillows last?
Travel pillows usually last around 2 or 3 years, but it all depends on the quality of the pillow and how often you use it.
How do I wash my travel pillows?
You can wash your travel pillow by hand or in the washing machine in lukewarm water and a slow-washing cycle. For more info, see our guide on washing pillows.
What is the ideal size of a travel pillow?
There's no one-size-fits-all travel pillow, so whichever one you find the most comfortable is the ideal sized travel pillow.