The Best Waterproof Mattress Protector: Top Picks in 2022
A mattress protector is something that will protect your mattress, without changing the feeling you have while lying on the mattress and that is why it is something that everyone should consider buying.
You paid a few hundred dollars, and maybe even a few thousand for your new mattress. So why then would you risk spilling something on it or damaging it in any other way when you can buy a mattress protector?
It is best to have waterproof protectors because then you are absolutely sure that your bed is protected. The best waterproof mattress protector guarantees that you can enjoy tea or a glass of wine before bed in bed, if that is what you love, without worrying that something might happen. Also, if you have problem with bed bugs, mattress protector can be your ally in fight against bed bugs.
IMAGE
PRODUCT
DETAILS

KEY FEATURES:

- Polyurethane cover

- Microfiber filling

- Machine washable

View Latest Price

KEY FEATURES:

- Affordable

- Breathable

- Antibacterial

View Latest Price

KEY FEATURES:

- Temperature regulating

- Doesn't cause skin irritation nor allergies

- Machine washable

View Latest Price

KEY FEATURES:

- Top quality cotton

- Hypoallergenic

- Machine washable

View Latest Price

KEY FEATURES:

- 360-degree zipper

- Durable

- Antibacterial

View Latest Price

KEY FEATURES:

- Anti-allergenic

- Polycotton cover

- Machine washable

View Latest Price

KEY FEATURES:

- Top quality

- Comfortable

- Special technology against microorganisms

View Latest Price
What to consider when buying the best waterproof mattress protector
There is a lot of waterproof mattress protector on the market, which means that not everyone will like the same models. For example, each person has different expectations from them. In that case, pay attention to a few key factors that can influence your decision.
Based on them, it will be easier for you to decide which one suits you best. In the end, choosing the ideal product comes down to your personal preferences, sleeping style and product characteristics. We will explain in some detail a few individual factors that need to be considered.
Size is usually the first factor that people consider when buying this product. Of course, this is quite understandable since it usually depends on the type of bed you have. The good news is that there are many sizes and you will surely find the one that suits you best.
So, it can be big enough to cover the whole mattress or it can cover it in half. Make this decision in accordance with the level of protection you want to achieve. We must not forget about the depth, because if the product must have deep enough corners to fit properly with the mattress.
A fitted sheet vs full encasement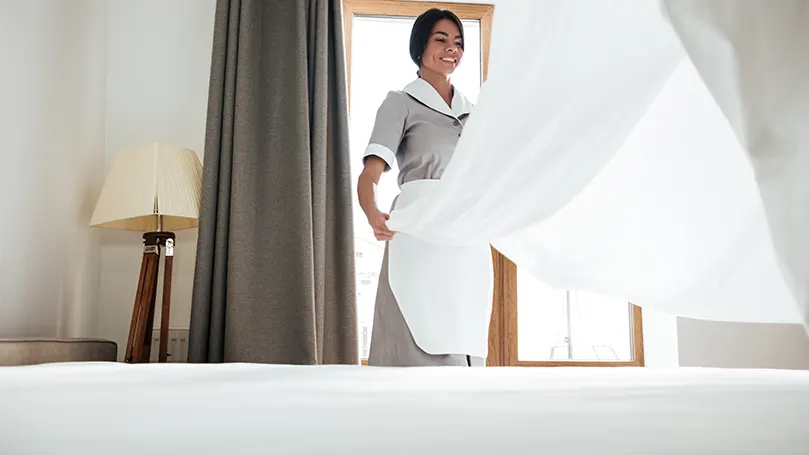 When shopping it is very important to distinguish a fitted sheet and a full encasement. The first will lie comfortably on the mattress while the second type should cover it completely. Either way, these are technically two different things. They can change the feel of the bed a lot.
For example, when it comes to a fitted sheet, you will get some cushioning. On the other hand, the second category generally does not affect this feeling. Depending on what suits you best, these options are available as waterproof mattress protector categories.
The two most common options are polyurethane and vinyl. We have to admit that in most cases the winner is polyurethane. So, fabrics are the first thing that affects the waterproof rating. Other natural materials such as cotton, linen and others are considered very durable for everyday use. Their main feature is breathability, but they are also soft to the touch.
This is why they need stronger waterproof layering. On the other hand, polyester is currently the best option since it absorbs the least. The secret of this material is in the synthetic fiber, which is also very elastic.
Although natural fabrics need a stronger waterproof layer, they are still often chosen over synthetic ones. This is precisely because of their advantages such as soft touch, breathability, etc. It is very ungrateful to choose between better protection and a better feeling, but it still depends on the personal needs of the person. Either way, there is a lot of material.
In that case, you will surely come across one that suits you perfectly. For example, natural materials such as cotton also protect against allergens. On the other hand, materials such as bamboo regulate temperatures. Vinyl has proven to be a great choice in the case of bed bugs, but it provides a very uncomfortable feeling.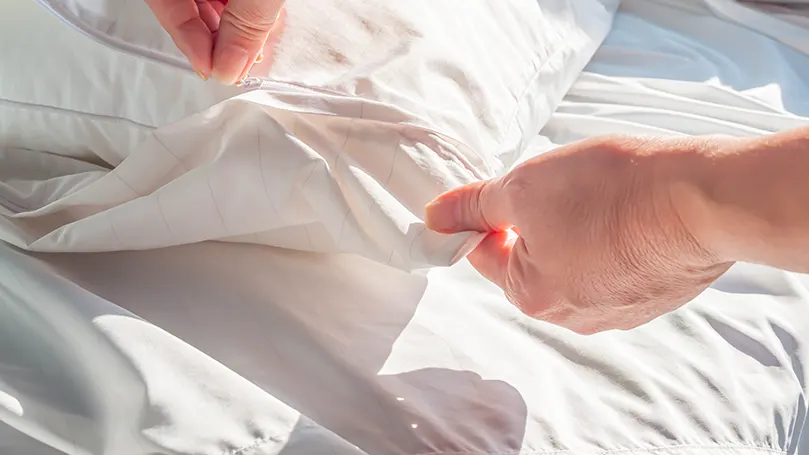 Several styles are available to you. There is an option to install a sheet, but also another that involves completely closing your mattress. They are called encasements. Basically each style has its advantages and disadvantages. For example, encasements may protect the entire bed, but they are harder to put on and take off. Others are easier to use, but have much weaker protection.
So, the encasements are fastened with a zipper and cover the upper, lower and side part completely. Fitted covers are among the most sought-after options among customers and they stretch over the mattress. Pads with elastic straps cover the top of the mattress and elastic bands at the corners are used for this purpose.
Manufacturers generally will not specify the firmness and thickness of the waterproof mattress protector. And the reason is that they are actually quite thin. This will make it easier for you to determine how much your bed will change. This will also affect its performance, durability and level of protection.
If the material is slightly thicker, it will last longer. However, this can mean that some will keep you warm at night while others will keep you cool. It is important that the protector does not affect the strength of the mattress. No matter how thin they are, some can further soften the base.
Since we are talking about the best waterproof mattress protector then the waterproof rating was the first thing we paid attention to. We have analysed other characteristics too, and also divided the best waterproof mattress protectors into different categories, so you will find the best bamboo, the best cotton, then the ideal option for those with allergies and so on.
BEST OVERALL: Fine Bedding Quilted Luxury Cotton Mattress Protector
If you want a luxurious mattress protector, which is also waterproof and very functional, look no further.
Quilted Luxury Waterproof mattress protector will provide you with everything you are looking for from a mattress protector, maybe even more. It is waterproof thanks to the cover made of polyurethane and polyester laminated.
Therefore, you will not have to worry about spilling something in bed, and also that layer is a barrier that dust mites and bed bugs cannot pass. The filling is made of microfiber, to further enhance the comfort of your mattress.
It looks very luxurious thanks to polyester cover. You can wash it in the washing machine and use tumble dry.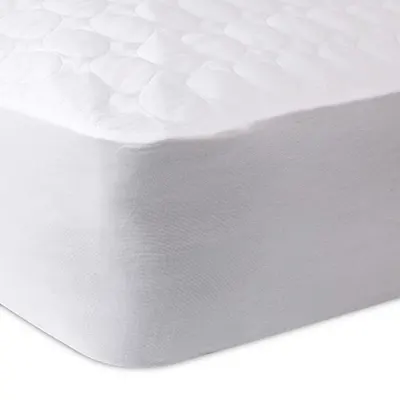 Polyurethane cover
Microfiber filling
Luxurious
Machine washable
4 size available
More expensive than average one
BEST VALUE: IMFAA Water & Moisture Proof Terry Towel Mattress Protector
If you want to buy a mattress protector with very little money, IMFAA Mattress Protector will give you a lot in return.
Many people, especially those who do not have a new mattress, do not want to give a larger amount of money for a mattress protector. But they still want to have one, because they need it for different reasons.
Then this model is a great choice because in that price range you will not find better. It is waterproof, breathable, antibacterial, hypoallergenic and so on. It has all the features you need. The manufacturer even guarantees that you will be cool in summer and warm in winter.
It is available in 6 different sizes, so there is the right size for each type of bed.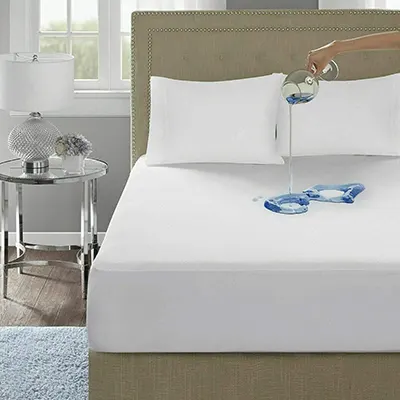 Cheap
Breathable
Antibacterial
Hypoallergenic
6 sizes available
BEST BAMBOO: Panda Bamboo Mattress Protector
Panda Bamboo Mattress Protector should be bought by all those who have skin irritation from other materials and allergies.
The choice of bamboo mattress protector is primarily a great choice for all those who irritate polyester and other materials, as for those who have eczema. But that's not all. Bamboo is an ethical option because producing bamboo is not harmful to the environment and is also a vegan option.
When we talk about the characteristics of this model whose manufacturer is Panda, which clearly associates you with bamboo, we are talking about a great model that is waterproof, breathable and will protect your mattress for a long time from harmful impacts.
Can be washed in the washing machine, bamboo fibres will not be damaged.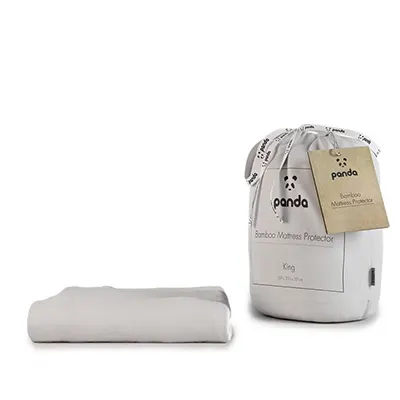 Bamboo is great material
Vegan-friendly
Doesn't cause skin irritation nor allergies
Machine washable
Bamboo can have temporary odour
BEST COTTON: Dreameasy Luxury Pure Cotton Mattress Protector
This high-quality cotton mattress protector will provide you with comfort as well as mattress protection.
Experiences of many customers say that cotton is the most pleasant material for contact with skin. That is why all those who do not use a bedding over a protector want to buy one that is made of cotton.
Dreameasy has produced a very luxurious mattress protector made of 100% pure, 200 thread count cotton of top quality. It has hypoallergenic properties, and being made of a natural material such as cotton will not adversely affect the protection properties.
The machine is washable and you should wash at 40 ° C because if you use higher temperatures, you can damage it.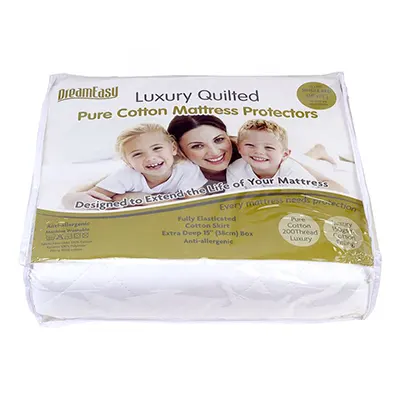 Top quality cotton
Hypoallergenic
Machine washable
Comfortable
BEST ZIPPERED: Utopia Bedding Premium Zippered Waterproof Mattress Encasement
Utopia Bedding has once again given us a premium product that will suit you if you want zippered one.
Utopia Bedding is a well-known manufacturer when it comes to pillows, bed sheets, mattress pads, protectors and so on. This Premium Zippered Waterproof Mattress Encasement is no exception. We are talking about a very high-quality product that, in addition to being waterproof, will also protect you from bed bugs and dust mites.
It is made of polyester, which guarantees durability. It's very stretchable, and the zipper is there to make sure it never slips off the bed while you sleep. The zipper is 360 degree which means you will put it on your mattress very easily.
It has antibacterial properties, and you can wash it in the washing machine to always make sure it is 100% clean.
360-degree zipper
Durable
Antibacterial
Bed bugs protection
Buyers complained about the unusual sizes
BEST HYPOALLERGENIC: Harwoods Quilted Anti Allergenic Mattress Protector
Harwoods Quilted Anti Allergenic Mattress Protector is preferred option for all allergy-sufferers
Harwoods has produced a top-quality quilted mattress protector that will be perfect especially for all those who have allergic reactions to dust mites and the like. These problems are especially great in the spring, when people suffering from allergies have significantly impaired sleep.
The cover is made of polycotton, while hollowfibre is used for filling. The mattress will completely protect you, as well as your mattress. It is very deep, so you will be able to easily fit it on a mattress of any depth.
The machine washable is up to 40 ° C and after that you can use a tumble dryer to dry it.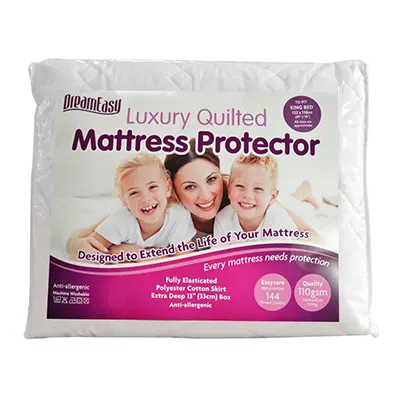 Anti-allergenic
Polycotton cover
Machine washable
Affordable
BEST COOLING: The Simba Performance Mattress Protector
This fully breathable mattress protector by Simba will cool you during hot days.
Customers say that many models of mattress protectors are very good in their primary function, but that they make their sleep too hot. That is why The Simba has launched this product to help you protect your mattress, and at the same time to give you a pleasant sleeping experience when the days are warm.
Made of 200 thread count cotton, it also has a fill, so it is very comfortable. Special patented technology prevents unpleasant odors and kills bacteria.
The airflow is undisturbed and that is why it will always be cool when you sleep on this mattress protector. It is an ideal fit for this company's mattresses, but you will easily fit it on any mattress.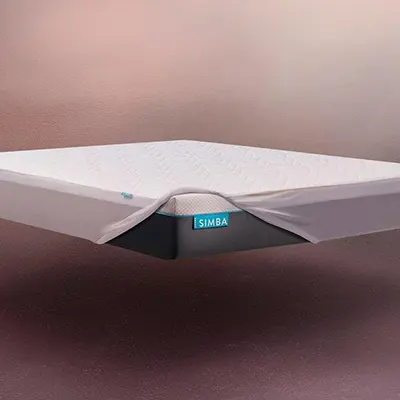 Cooling
Top quality
Special technology against microorganisms
Comfortable
FAQs about your new waterproof mattress protectors
There are plenty of universal manufacturer recommendations. It would be a recommendation to wash the protector immediately as soon as you take it out of the package or something similar. However, you may have some doubts when it comes to the way you wash, the reaction of the fabric or something else. In case some things are still not clear enough for you, look for the answer among some frequently asked questions.
Can I protect my mattress from urine with a mattress protector?
The protector is intended for this and similar situations such as sweat, drool, spills, dust mites, allergens, etc.
How often should I change my mattress protector?
The mattress protector should be washed every two months or more often if something spilled on it.
How long will my new mattress protector last?
Service life of a mattress protector mostly depends on the quality of the material, and a good quality one should last at least three years.
Will my new mattress protector make me sweat at night?
This will depend on the breathability of the plastic membrane that coats your waterproof mattress protector.