Dormeo Aloe Vera Deluxe Mattress Review - The Best Hypoallergenic UK Mattress
Dormeo Memory Aloe Vera mattress is designed to combine the natural healing and rejuvenating properties of Aloe Vera with next generation pressure relieving materials to create the best night's sleep possible. Whether that's just a bold statement or actual truth – we don't know. But, we're about to find out together!
Who is Dormeo Aloe Vera mattress for?
Dormeo is known for their extensive range of products. They offer everything from budget-friendly to luxurious, premium-priced products. Aloe Vera memory foam mattress falls somewhere in the middle, but if your timing is good – you can get this mattress for more than a competitive price. As such, Dormeo Aloe Vera mattress is pretty much for everyone – from the price standpoint. But, due to Aloe Vera-infused properties, we can safely say that this is the best hypoallergenic mattress in the UK at the moment.
As for the performance and features, this is a medium-firm memory foam mattress that is most suited towards back and side sleepers, although lightweight stomach sleepers could also very comfortably spend the night with this one.
What do we use this product for?
The main selling point of the Aloe Vera memory foam mattress lies in the healing and rejuvenating properties of the Aloe Vera enriched cover. Aloe Vera is known for its natural ability to hydrate, soothe and rejuvenate the skin. In addition to that, Aloe Vera is also naturally anti-microbial and antiseptic, so this mattress should also provide you with a dust mite and an allergen-free sleeping experience.
On that note, here's what else you can use this mattress for: 
      Use it to get a restful, great night's sleep
      Use it to combat dust mites and other common household allergens
      Use it to relieve pressure from core areas, muscles and joints
      Use it to properly align your spin and wake up soreness and pain-free.
Does Dormeo Aloe Vera mattress come in other versions?
The Aloe Vera memory foam mattress is also available in Plus Dormeo Aloe Vera Plus Memory Foam Mattress and Dormeo Aloe Vera Deluxe Memory Foam Mattress versions.
The main difference between the Classic, Plus and Deluxe versions lies in the thickness of the two memory foam layers. The Classic, as we've already said, comes with a 12 cm thick support layer, the Aloe Vera Plus comes with a 14 cm thick support Ecocell layer, and the Deluxe version sports the deepest support layer out of all three, all well as the double the memory foam for support (double memory foam compared to the Classic), standing at 16 cm tall. 
3 cm of high quality memory foam
Extra soft.
Some sleepers may find it too soft.
Furthermore, the Classic is the "firmest" of the two, offering medium-firm support and comfort. The Aloe Vera Plus is a medium memory foam mattress, and finally, the Aloe Vera Deluxe mattress, the most luxurious mattress of the three, is a medium-soft mattress.
2 cm of high quality memory foam.
Not for sleepers who want a bit firmer mattress.
Features you should know about Dormeo Aloe Vera mattress
Now, allow us to break Dormeo Aloe Vera memory foam mattress down for you, and tell you a few words about its unique features.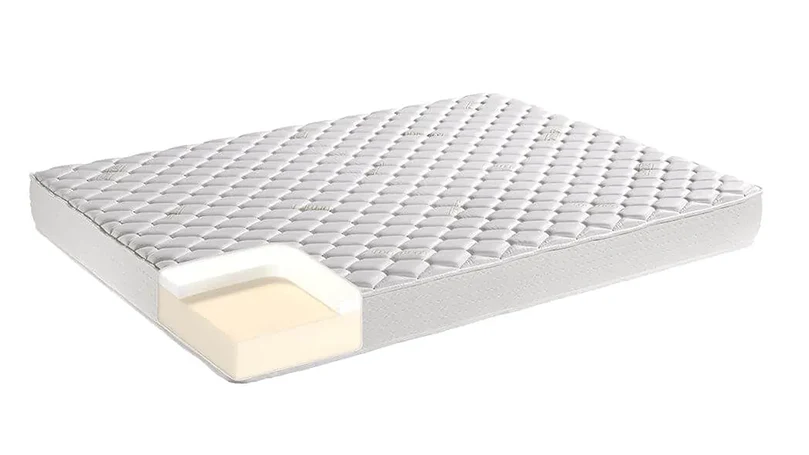 2cm of Memory foam layer sewn in cover
Dormeo Aloe Vera memory mattress is an all-foam mattress, but where this one takes it a step further is by sewing in an additional 2 cm of high-quality memory foam directly into the cover. This pressure-relieving material originally designed for NASA, cleverly moulds to every contour of your body, delivering you restful and supportive night's sleep imaginable. This makes for a more comfortable sleeping experience by limiting motion transfer, improving pressure and pain-relieving properties. And, as Dormeo claims, it increases blood circulation and aids muscle regeneration whilst you sleep. 
However, what this also does is make the cover non-removable or machine-washable, so you would be trading comfort for maintenance in this case.
As we've said, the cover of this memory foam mattress is enriched with Aloe Vera extract – hence the name. Used for thousands of years – Aloe Vera is nature's wonder plant, famous for its natural ability to boost the body's defence systems, it also hydrates, soothes and rejuvenates the skin. Aloe Vera is also naturally antibiotic, anti-dust mite, anti-microbial and antiseptic which helps you to enjoy healthy and rejuvenating sleep.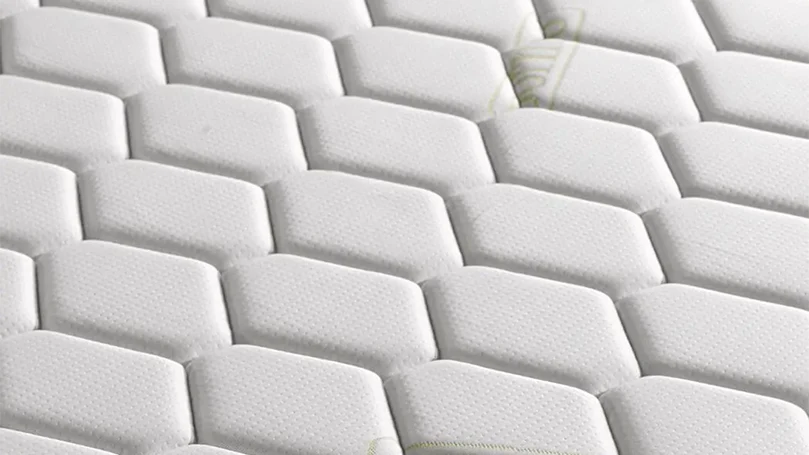 Therefore, this luxurious Florentine stitched fabric cover with Aloe Vera allows for a great number of things, but most importantly, Aloe Vera- infused, cover offers soothing anti-bacterial protection. It also allows this mattress to be gentle and friendly towards our skin while at the same time being equally hostile to mould, bacteria, dust mites or other common household allergens.
15 years of warranty & 60 night trial period
To attest to its longevity and durability, Dormeo Aloe Vera memory foam mattress comes with a 15-year warranty and a 60-night trial period. 
The latter, 60-night trial period gives you more than enough time to test out the mattress and see whether it works for you or not. And, the 15-year warranty covers all manufacturing defects during the 15-year period. Although fortunately, judging by the quality of this mattress, we don't see you having to resort to it.
Review of Dormeo Aloe Vera mattress
Now, for Dormeo Aloe Vera mattress review – let's start with the overall look, design and build quality. This is a 14 cm thick, or better yet, thin mattress. At 14 cm, this one won't be satisfying enough for heavyweight sleepers or the ones that prefer an extra level of contouring. As far as design goes, it's fine, we don't have any complaints, and the overall build quality (materials used, stitching, seams) is more than satisfying. 
As we've already said, this is a medium-firm mattress, and since it's double memory foam layers, we'd have to say side sleepers are the ones that will probably enjoy it the most. It is quite pressure and pain-relieving, and it offers excellent motion isolation. However, since it is only 14 cm deep, and not too firm, we wouldn't really say this one is ideal for couples.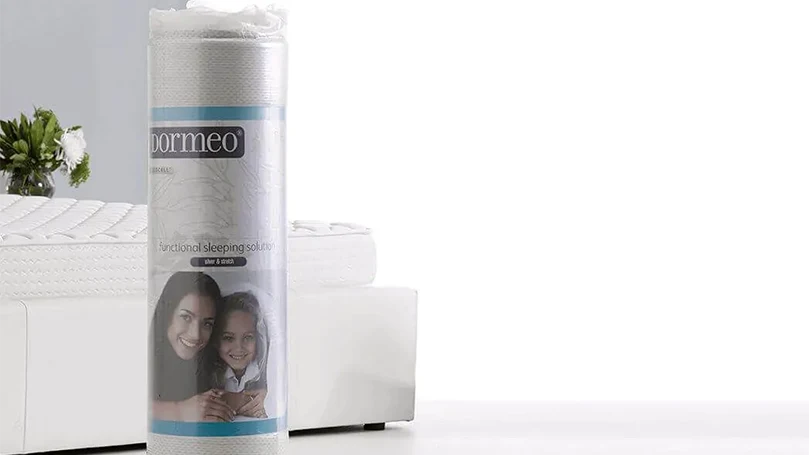 As far as breathability goes, it's as good as you would expect it to be from an all-foam mattress. It's okay, but if you sleep hot, sleeping on this mattress during the summer won't be too pleasant. Due to some minor breathability issues, as well as limited depth, we'd say that this one could really benefit from a mattress.
But, on a more positive note, this mattress is not only hypoallergenic, but it's actually antibacterial and anti-microbial due to Aloe Vera extract used in the soothing cover, which makes this one ideal for sleepers struggling with allergies.
Finally, the mattress is quite durable for such a thin form factor, which is to be expected since it comes with a 15-year warranty. 
      Type: Memory foam
      Firmness: 5.5/10
      Depth: 14 cm
      Size: Single, Double, King, Super King.
Durable and long-lasting
Antibacterial and anti-microbial
Pressure and pain-relieving
Motion isolating.
Thin
Non-removable cover
Minor breathability issues
Initial off-gassing.
Things that convinced us to buy Dormeo Aloe Vera Deluxe mattress
When on sale, this is one of the best value-for-money products you can buy
Thanks to Aloe Vera, this mattress is a perfect fit for allergy sufferers and sleepers dealing with respiratory issues
Quite pressure and pain-relieving, as well as motion isolating
Despite being thin, due to high-quality foam, this promises to be a very long-lasting and durable mattress.
Things we didn't like in Dormeo Aloe Vera Deluxe mattress
Initial off-gassing and minor overheating issues – common memory foam mattress problems
We would've liked to see a removable cover
Due to insufficient depth, this one could really benefit from a mattress.
Check the alternatives to Dormeo Aloe Vera Deluxe mattress
Since there are some obvious drawbacks to this sprung orthopaedic Signature Platinum 2000, we thought we might offer you an alternative choice. Let's check them out!
Silentnight Miracoil Luxury Mattress
Silentnight Miracoil Luxury is an open-coil firmer mattress, rated at 7.5 out of 10 on the firmness scale. As such, it is a good choice for back and stomach sleepers, although we did find that side sleepers might find it a bit too sturdy for their liking.
The support you get out of this one is great. The mattress gives you that lying on-top-of-it-feeling, with just enough of a "give" to cradle your hips and other core areas. In addition to great support, what you can also expect of this mattress is excellent breathability, as well as solid motion isolation.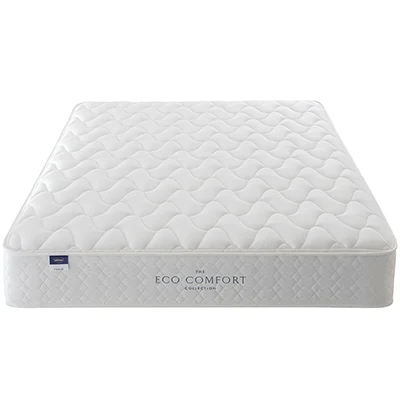 Very supportive
Cool and breathable
Hypoallergenic. 
Possible sinkage issues
Durability and longevity could be an issue
Not quite suitable for side sleepers.
Summerby Sleep No.1 Mattress
Summerby Sleep No.1 is a very affordable, budget-friendly hybrid. It combines memory foam and open coil springs to provide you with suitable soft comfort and decent support. By suitable and decent, we mean good enough considering the price.
This is certainly one of the most affordable mattresses on the market, and as such, you shouldn't really expect much from it. It's soft, it's breathable, but its not-so-long lifespan and not-the-greatest quality make it a mattress that's suitable only for children or guest bedrooms.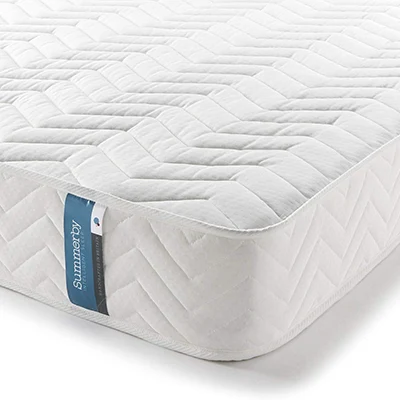 Incredibly affordable
3-year warranty
Surprisingly breathable.
Not good enough for everyday use
Too soft for heavy and stomach sleepers
Short-lived.
Consider Panda Mattress Topper if you are buying Dormeo Aloe Vera mattress
Panda mattress topper manages to bring you soft comfort and more than solid support all in one package, which is not something that's easily done. Panda achieves this by using a 5 cm thick "block" of memory foam, encased in a high-quality cover that is soft, smooth and cool to the touch. 
Also, due to the two-way "security" system, the Panda topper won't move around at night. It comes with both an anti-slip base and four elastic corner straps. In addition to being secure, this foam topper is quite cool and breathable, unless you sleep in a really hot room, in which case there really isn't much any piece of bedding could do.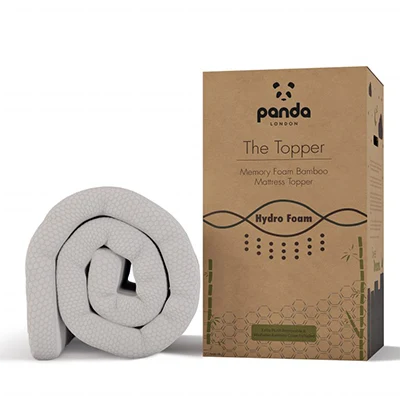 High-quality, detail-oriented cover
Hypoallergenic and resistant to dust mites
Very comfortable and surprisingly supportive.
Initial off-gassing
It might be too soft for some sleepers
Slight overheating issues.
What makes this product better than some other similar ones?
Dormeo Aloe Vera is an excellent value product when on sale, which we've already said, but at full price – is it really worth it? Well, it depends. 
The Dormeo Aloe Vera brings a lot to the table. As we've said, it's comfy and supportive, but on top of all that – it's antibacterial. That's taking it a step further than being simply hypoallergenic. So, if you're struggling with allergies or respiratory issues – this one could be the best hypoallergenic mattress ever found!
In addition to that, it is a product that will last you for a better part of a decade, maybe even a tad longer than that, and that level of durability is often only seen in products that are twice as expensive as Dormeo Aloe Vera memory foam mattress.
How did we test the product?
We always begin our tests the same way – by ordering the product. Since we're based in the UK – we got free delivery. It took a while (a week) for the mattress to arrive, due to high demand, but once it arrived – we were ready to begin.
As always, the first order of business was inspecting the packaging and the product itself for any damages like tears, nicks, cuts or stains. Also, we've checked the seams and stitching to make sure everything was nice and tidy. 
Once the visual inspection was done, we were ready to move on for hands-on testing. Our regular testing process includes several steps, and each and every one of our team members contributes to the testing so we can come up with objective truths about a product. This includes spending more than a few days sleeping and lounging on the mattress, monitoring temperature changes, sinkage, support, comfort, edge support, responsiveness (bounce), pressure and pain relief and so on.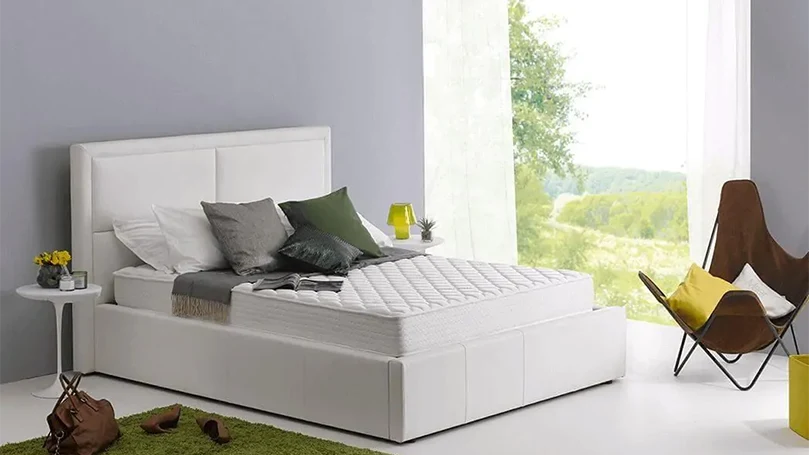 In addition to that, we always turn to our trusty roller to simulate long term usage and test the longevity and durability of the mattress, which usually concludes our testing. 
After we're done with that, we gather 'round, share our findings, compare our notes, and we finish things off by writing the review.
FAQs about your Dormeo Aloe Vera Deluxe mattress
To wrap things up, allow us to answer some FAQs about Dormeo Aloe Vera memory foam mattress.
Is Dormeo Aloe Vera mattress suitable for allergy sleepers?
Yes. In fact, the Aloe Vera mattress is ideal for allergy sleepers.
Should all types of sleepers sleep on the Dormeo Aloe Vera mattress?
Generally speaking, all sleepers could enjoy sleeping on the Dormeo Aloe Vera mattress, although some stomach sleepers might find it too soft.
How do I wash my Dormeo Aloe Vera mattress?
The only way to wash this mattress is by a damp cloth or a vacuum.