Dormeo Memory Revitalise Mattress Review - Revitalize Your Sleep
Dormeo, UK sleep company, offers dozens of different mattresses, so when you visit their website you can be overwhelmed with such a huge offer. All of their products are worthy of your attention, and we decided to test one of the high-end Dormeo mattresses to make your quest for finding replacement for your previous mattress easier. Here is Dormeo Memory Revitalise mattress review by The Sleep Advisors.
Who is Dormeo Memory Revitalise Mattress for?
This Dormeo mattress is for side and back sleepers who won't need mattress topper once they buy this comfortable mattress. Firmness is suitable for these two sleep positions, while it is not ideal for front sleepers, although depth is more for front sleepers than side sleepers, but depth is not important in this specific case.
What we especially want to emphasize is that this mattress is a fantastic choice for allergy sufferers. It is made of hypoallergenic materials and it has anti-bacterial and anti-dust mite protection. Although it is a 100% memory foam mattress, and memory foam mattresses are infamous for heat retention, Ecocell foam and breathable Air mesh makes this one suitable for hot sleepers as well.
Add a header to begin generating the table of contents
What do we use this product for?
We use Dormeo Memory Revitalize mattress for pressure relief, soft feeling and support. The pressure relief that this mattress gives you is fantastic thanks to the memory foam that molds to every contour of your body. Also, the balance between softness and support is perfect. We also use it for breathability.
We use it for pressure relief
We use it for an extra support
We use it for comfortable night's sleep during the hot nights
We use it for clean and allergen-free sleep surface.
Features you should know about Dormeo Memory Revitalise mattress
You have to know more about the following six features of Dormeo Memory Revitalize mattress that we have singled out for you. Knowing these features will help you decide if this is the right mattress for you and also it will help you realize its greatness.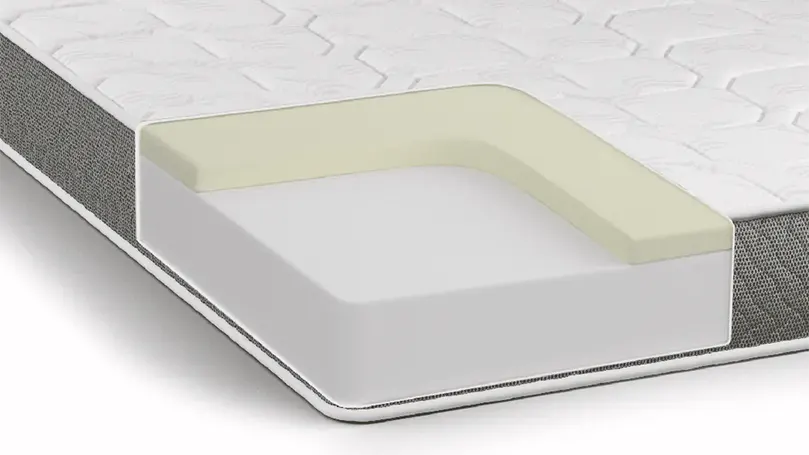 Honestly, it is not clear to us why Dormeo advertises this mattress as deep, since 20cm of total depth certainly does not classify it among deep ones. 20 cm is the average thickness for a memory foam mattress. That being said, it in no way negatively affects the performance of this mattress. Depth does not have such a big impact, so you can find a 25 cm memory foam mattress that is not nearly as good as this one. Or you can opt for Dormeo Memory Plus mattress that is 17 cm deep and better than some 25 cm thick memory foam mattress.
Due to the high quality materials used, great craftsmanship and innovative construction, this is a great mattress that will give you many years of comfortable night's sleep.
7 comfort zones with firm support
The Orchid mattress marries the Dunlopillo blueprint for firm comfort with an extra deep comfort core. The result is a fusion of intelligent design that characterises sublime comfort, subtle support and the very best in sleep innovation.
As we have mentioned earlier, despite being rated as firm, this mattress comes with 7 unique Dunlopillo comfort zones, developed to provide you with tailored support regardless of your sleeping position, body shape, body weight, or the bed base you're using the mattress on.
This innovative manufacturing process allows for Dunlopillo Latex Orchid mattress to specially target your core areas with softer support. Loosely translated, this means that you'll find the softer zones under your hips, shoulders, and feet, while the rest of your body will get to enjoy all the support from the firmer zones.
If you cut this mattress in half, under the top cover, which we will talk about in the next paragraph, you will find double memory foam layers. Closer to you is a 5 cm thick memory foam layer. This memory foam layer is pressure relieving, which is the primary role of memory foam that NASA designed. It moulds to every part of your body, so in addition to pressure relief, it also gives you support. This memory foam layer is very comfortable, and the bounce is great, so it will return to its original shape every morning for years.
Under the memory foam layer, the Ecocell foam layer, which is 15 cm thick, is located. Ecocell is a next generation foam specially designed to have a 3-dimensional cellular structure to enhance breathability and developed to guarantee point adaptable support . Also, due to the 3-dimensional cellular structure the elasticity is perfect. It is considered to be permanently elastic. Along with the memory foam layer, Ecocell foam also works to relieve you of pressure. You will soon notice benefits of double memory foam compared to single layer of foam.
Interwoven silver thread top cover
It is not uncommon to read in a mattress ad that it has a luxury cover. But here it is really the case. Dormeo Memory Revitalize mattress has one of the best covers you can find on the market. In addition to being soft and comfortable, it is also enriched with silver fibres. Silver fibres have many benefits. They are natural anti-bacterial and anti-odour, so sweat and other unpleasant odours will not stay in your mattress. The anti-static shield protects the mattress from dust and you from allergies.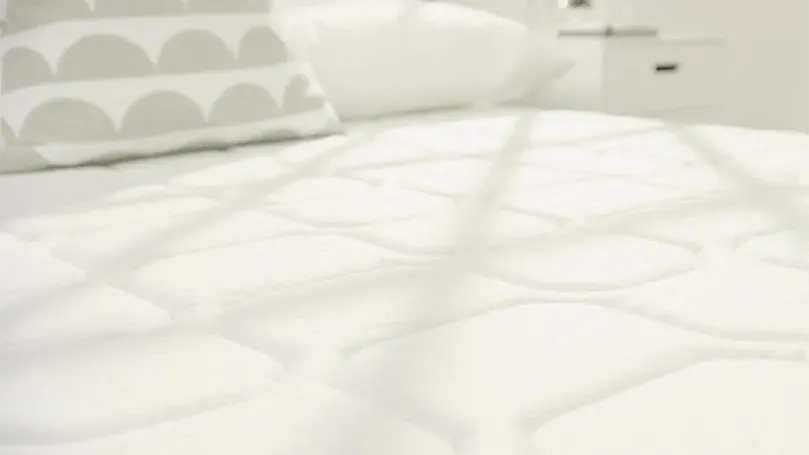 Silver fibers are woven into cover in a combination with Sanitized protection. That is why this cover is antibacterial, offers anti-dust mites protection, and also protects you from bacteria. We believe that it will also protect you from bed bugs, although the manufacturer does not mention it.
The manufacturer has already taken a big step towards improving the breathability of this mattress by implementing the Ecocell foam we have already talked about. That made it suitable even for hot sleepers, but that's not all.
To take the most of the Ecocell foam, Airmesh sides have been added, to encourage optimum airflow. Thanks to the Airmesh sides, the air circulation is never stopped, so the humid air comes out and the fresh air in. That is why you will be able to use this mattress during the summer, which is not the case with all memory foam mattresses.
When you look at the specifications on the Dormeo website, firmness is medium / soft and we agree with that. On a firmness scale of 1 to 10, we would place it between 4 and 5. At times it makes you feel like it's softer than that, but it's not. It is true example of medium firm mattress. The support is excellent, and due to the medium firmness it is suitable for side and back sleepers.
Review of Dormeo Memory Revitalise mattress
Dormeo Memory Revitalize mattress is a medium firm memory foam mattress. It is 20 cm thick. Side and back sleepers will find it comfortable, while stomach sleepers most likely won't. It has two layers of memory foam. The first layer is a 5 cm memory foam layer and the second is a 15 cm Ecocell foam layer. Ecocell is a new generation of memory foam that primarily has improved breathability. Airmesh sides are another step of the manufacturer towards making Dormeo Memory Revitalize mattress suitable for hot sleepers. This mattress is good to solve the problem of painful pressure points, and also to give you support. Motion insulation is good, so we recommend it to couples.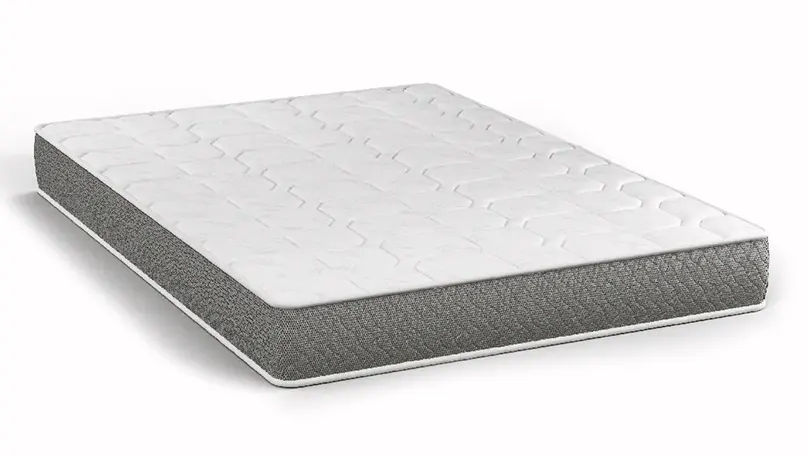 The luxury cover contains silver fibers that have numerous benefits. First of all, they make the mattress antibacterial and unsuitable environment for dust mites and other similar allergens such as dust mites. 60-night trial period and 15-year limited warranty are included.
Type: Memory foam
Firmness: 4.5/10
Mattress depth: 20 cm
Warranty: 15 years
Size: Single, Double, King, Super King.
What we like about Dormeo Memory Revitalise mattress
It has anti-bacterial, anti-dust mite and anti-fungal Sanitized protection and it is made of hypoallergenic materials
The balance between pressure relief, support and coziness is A +
High-quality mattress that comes with a 15-year limited warranty.
What we didn't like about Dormeo Memory Revitalise mattress
Although the price is completely realistic due to the quality and performance of this mattress, there are customers not ready to spend almost 700 pounds on a single size mattress and even more on larger sizes
The cover is not removable, so bed sheets are necessary
It is too soft for stomach sleepers.
What makes this product better than some other similar ones?
When we test a high-end mattress like Dormeo Memory Revitalize mattress it's hard to single out something specific that sets it apart by some other similar ones because it excels in every category. But what we especially like is the breathability which is fantastic, especially when we know this is a 100% foam mattress.
Cover with silver fibres is definitely something we don't encounter every day so cover makes it stand out compared to the competition. Other features like support, pressure relief and the like are also at a high level.
How did we test the product?
You can expect free delivery to take places in the following 7 to 10 days after you order, which is common for UK mattress industry.
Off-gassing, although present, is a minor looking that it is a memory foam mattress and we liked that. The quality inspection did not take long, as it is clear that this is a high-quality mattress and the only thing we did was check to see if there was any damage in transport perhaps, so as not to lose the warranty because of it. We advise you the same.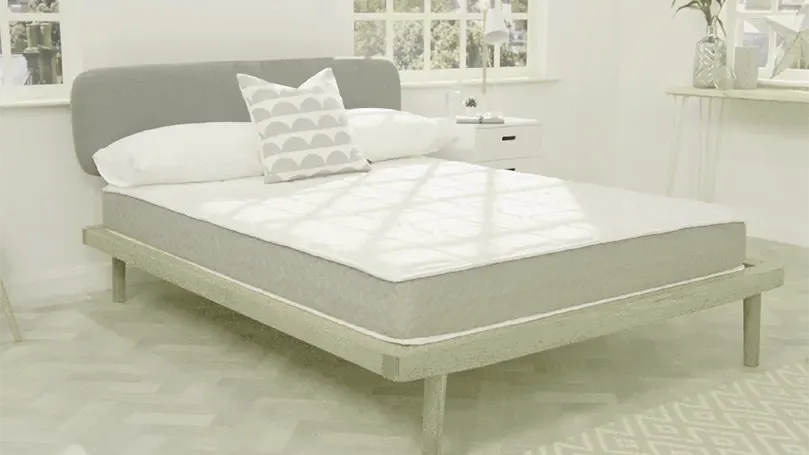 We were not gentle with it during the roller test, to check the durability because it is a mattress that you should use for the next 10 years and more. It passed durability tests with flying colours.
This was followed by several weeks of testing. We test mattresses much longer compared to other sleep products because the body needs the most time to get used to it, and it is also the biggest investment. It is necessary to test it in different sleep positions, as well as in rooms where the temperature is different.
FAQs about your Dormeo Memory Revitalise mattress
In our FAQs section you will find more important and useful information about your new Dormeo Memory Revitalize mattress.
Does Dormeo Memory Revitalise mattress come with a warranty?
Dormeo Memory Revitalize mattress belongs to Dormeo's Memory range mattresses which come with a 15 year limited warranty which means that your mattress will be replaced or repaired if defective due to faulty workmanship or materials happens.
Does Dormeo Memory Revitalise mattress come with a trial period?
Yes, it comes with 60-night risk free trial period that is shorter compared to some other high-end mattresses but enough for your body to adapt completely and for you to decide whether to keep it or not.
Do I pay the delivery for Dormeo Revitalise mattress?
No, you won't have to pay delivery fee for this mattress.
Is Dormeo Memory Revitalise mattress suitable for side sleepers?
Yes, Dormeo Memory Revitalise mattress is suitable for side sleepers, we can say that is sleep position that will benefit most from this mattress.
Should back sleepers use Dormeo Memory Revitalise mattress?
Back sleepers should definitely use this mattress since it has characteristics important for back sleeping.
Can Dormeo Memory Revitalise mattress be a good choice for front sleepers?
Most likely it won't be a good choice for front sleepers because it is too soft for that sleep position.
Can sleepers with pain issues sleep on Dormeo Memory Revitalise mattress?
Absolutely yes, pressure relief is one of its main features, so if you have pain issues you should go ahead and buy this mattress.