Dormeo Revive Divan Bed Review - A True Luxury Sleep
One of the most popular bed types in United Kingdom is the divan bed. Numerous reasons why this is so, as well as everything you need to know about Revive Divan Bed can be read in this review by The Sleep Advisors where we have analyzed in detail the Revive Divan Bed which seems very promising.
Who is Revive Divan bed for?
What we really like about this divan base is that it can suit wide variety of different types of customers. It is a very high quality and luxurious divan base that will be attractive to everyone due to its appearance and quality, and the possibility to choose sizes, as well as drawer options further expands the number of potential customers.
This means that it is practically suitable for everyone who has interior design where they can fit this bed and who is willing to pay a considerable price. Also you can use memory foam, hybrid and other types of mattresses.
Add a header to begin generating the table of contents
What do we use this product for?
We use it so we can sleep comfortably. It is made of solid wood so it gives comfort and support and stability to your mattress, and therefore to you while you sleep.
We use this product also because of storage space, and you can choose different types of storage. Additional storage space where you can put duvets and bedding is always useful. Another benefit of owning Revive Divan bed is bedroom even more beautiful and attractive. To sum things up – this bed is ideal for people who:
Want a divan base
Want to have enough storage space
Want to have a contemporary bed design
Want to be able to use all types of mattresses.
Features you should know about Dormeo Revive Divan bed
Revive Divan bed has many features you should know about. Since it is customizable, you need to know which options you can choose from when buying it. Also, we will tell you more about the textile used for upholstery and the colours available to you.
Two Ottoman-opening storage options
An ottoman bed provides more storage capacity than other types of storage beds because you can make full use of the storage located under the mattress. The ottoman bed opens from either the foot end of the bed, or from one side. It can become Ottoman bed, and what is great is that you choose whether you want a left hand or right hand side opening. That way you will be able to fit it into any part of the bedroom.
The easy lift-up system allows you to lift the base while the mattress is on the bed, without having to remove the mattress which is very convenient.
Not only do you choose the Ottoman-opening storage option, but you also have the option of drawer customization when you buy the Revive Divan bed. Four options are available to you, and you will choose according to the size of the bed you buy as well as your needs.
There is an option with no drawers for all those who like single storage space. The other three options include drawers, and these options are – 2 drawers at the footend of the bed, 4 full size drawers, or 2 full drawers with half-size continental drawers at the head of the bed.
The complete surface of the Revive Divan bed is upholstered with beautiful Belgium textiles which is definitely a perfect choice and is in line with the overall quality of this bed.
Belgium is one of the countries in Europe that has the best textile industry and their textile is high-quality, so it is used mainly for premium products, both sleep products and other types of products. What is great about Belgium textile is that it is not only high quality but they also pay attention to the use of sustainable fibers and that the whole production process is environmentally friendly.
When you buy Revive Divan bed, you get both headboard and footboard, you don't have to buy them separately. The headboard and footboard are certainly most deserving for the luxurious and attractive look of the Revive Divan bed.
The headboard is very tall and wide, and has vertical lining and diamond buttons, which all together seem very sleek. The footboard also has vertical lining and diamond buttons so it is completely matching with headboard, the only difference is that footboard is not that tall.
It is way too luxurious and expensive to be available in only one color, which the manufacturer knew, so you have three different colors available – Velvet Teal, Velvet Steel and Velvet Blush.
All three colors are very beautiful and sophisticated, so at least one will surely fit into your interior. And we believe that many of you will have a hard time choosing which color to buy, because all three are really great and can fit most bedrooms.
Review of Dormeo Revive Divan bed
Revive Divan bed is one of the top-end bed frames and is highly customizable. You can choose either left or right side opening to fit your bedroom perfectly, and you can also choose other storage options. Will it be without drawers or will it have 2 drawers, 4 full size drawers, or 2 full drawers with half-size continental drawers. All of this is great because not all customers have the same needs.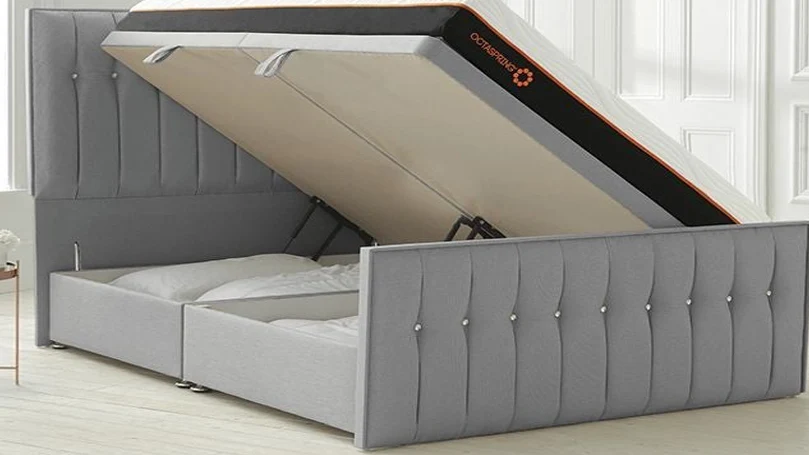 It is upholstered in high quality Belgian textiles and three sophisticated colors are available. Although many divan beds have so-called castors which are actually wheels, the Revive Lovely bed has chrome colored glides.
Type: Divan
Material: Solid wood & Belgium textiles
Storage: Drawers; customizable
Available sizes: Single, Double, King, Super King
Weight limit: /
Trial: 60-night
Delivery: N/A
Warranty: N/A
Slat type: N/A
Assembly service: Partly-assembled.
Premium workmanship
High quality materials & fabrics
4 available sizes
3 nice colours.
4-6 week delivery
One of the most expensive beds
Glides instead of castors.
What we like about Revive Divan bed
The option to choose whether you want an Ottoman bed or a divan bed with different types of drawers is fantastic
The quality of workmanship and quality of materials is at the highest level
It looks very luxurious.
What we didn't like about Revive Divan bed
4-6 weeks until it is delivered to you is way too long
You won't come across much more expensive bed frames than this one in the UK market
We're not saying glides are a bad option, but it would be good if they left you the option to choose castors instead of glides if you prefer castors.
What makes this product better than some other similar ones?
There are at least a few features that make Revive Divan bed better than some other similar ones. As the most important features that distinguish this product, we will mention the quality of materials, quality of workmanship, as well as the ability to choose whether you want an Ottoman or a divan bed. It is very rare to have the choice of so many different storage options, and even whether it will be a left hand or a right hand side opening.
How did we test the product?
Although delivery is free, which is great for such a large and heavy product as a bed frame, we have a big complaint about waiting at least 4 weeks for Revive Divan bed to arrive. Anyway, we can say it's worth waiting for, that's for sure.
We ordered two pieces, one Ottoman and the other with 4 drawers, to have an insight into both types. Assembling both types is relatively easy due to the detailed instructions, and we recommend that two to three people assemble it, because it is too complicated for only one person.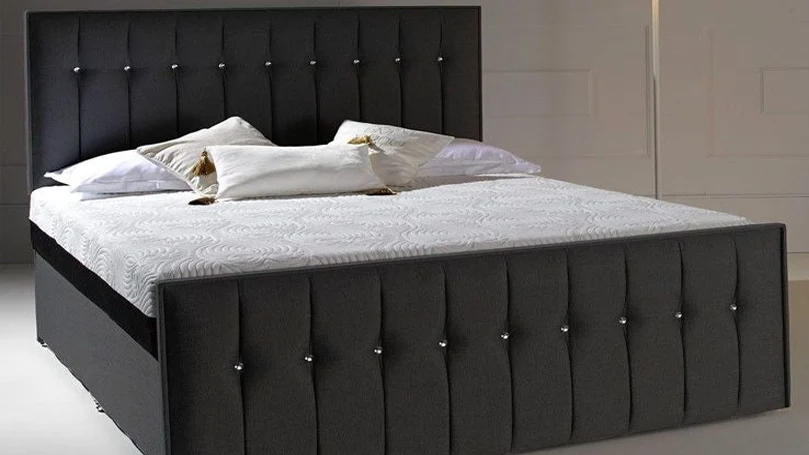 Every part of this bed is very high quality. We did not notice any major flaws, because the quality of workmanship, materials, as well as appearance is at a high level. You can be sure that this bed will be the centerpiece of your bedroom because of its luxurious look.
We tested both versions, and there was no difference in the sleep experience. Both Ottoman and divan bed options give great support and stability. Also, opening the drawer or lifting the entire upper part is smooth, without any problems and it seems that everything is very durable and will last you for years.
FAQs about your Dormeo Revive Divan bed
Revive Divan bed is a complex that is important to your because your will use it every day, so we often encounter additional questions related to it. We will answer those questions in our FAQs section.
Does Revive Divan bed come with both drawer and opening storage options?
No, you have to choose between Ottoman-type opening and drawer options.
Does Revive Divan bed come assembled?
Revive Divan bed comes partially assembled and it is up to you to finish assembly.
How do I clean my Revive Divan bed?
You can vacuum and spot clean upholstery and further clean the storage space.
Do I pay for the delivery of Revive Divan bed?
No, it is 4-6 week free 2-man delivery.