Emma Essential Mattress Review - A Mattress for Most Types of Sleepers
If you like the renewed Emma Original mattress, but you aren't willing to spend that much money, Emma Essential could just be Emma mattress you need. Today, we're going to give you an in-depth review of the budget-friendly Essential Emma mattress, and if that sounds like something you might be interested in – stick around.
Who is Emma Essential mattress for?
Despite being called budget-friendly, Emma Essential mattress is more of a mid-range product, but still, compared to other Emma mattresses – it is a steal. And, if we know anything of Emma mattresses, it's that they're built for everyone.
This one right here is an all-foam, medium-soft mattress, leaning slightly more towards medium than soft, but that all depends on how much you weigh.
All in all, Emma Essential mattress is a mattress tailored towards everyone, although we would suggest for you to look elsewhere if you prefer sleeping on your stomach and are packing some extra weight.
Add a header to begin generating the table of contents
What do we use this product for?
As we've said, Emma Essential mattress is an all-around, made-for-all, kind of mattress. Loosely translated, that means that everyone should be able to enjoy it. However, the strongest point of this Emma Mattress is that it is remarkable at relieving pressure and pain off of core areas and joints.
This is primarily due to its medium-soft support and a zoned HRX foam base, which allows it to contour around your body's curves and alleviate any pressure or tension around hips, shoulders or back.
Other than that, we'd use Emma Essential as your everyday, go-to, master bedroom memory mattress.
Features you should know about Emma Essential mattress
We've said that Emma Essential has been made in the image of Emma's most awarded mattress, Emma Original; but to find out just how different these two are from one another, we have to take a closer look at some of the highlights Emma mattress offers.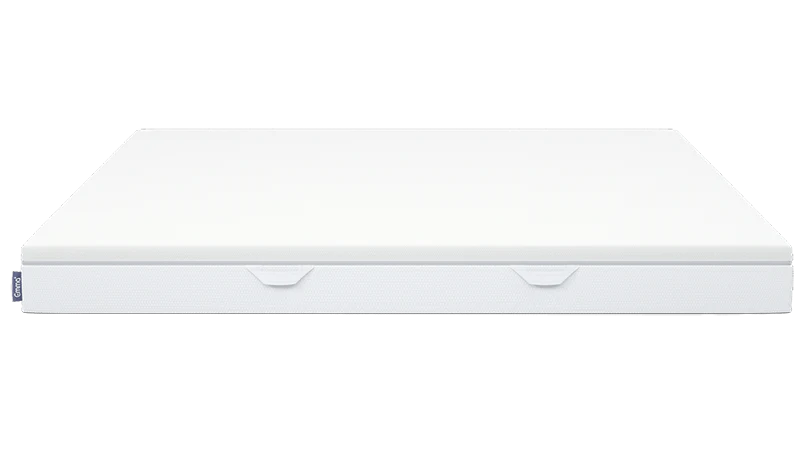 Top cover with temperature regulation properties
The top cover of Emma Essential is made of two parts – the 100% polyester temperature-regulating top cover, and the 89/11% polyester-polypropylene bottom cover. The bottom part also acts as a non-slip base, which prevents it from accidental slipping. 
The cover of your new mattress is easily removable and washable in any washing machine at 40 degrees Celsius. This makes Emma Essential as low maintenance as possible.
In addition to being removable, the cover also sports 4 side handles for easier manoeuvring.
Breathable open-pored foam with removable 100% polyester washable cover
As mentioned, the removable top cover is supposedly temperature regulating, which is a good thing, considering how hot a memory foam mattress could get. Now, while we're not so sure what exactly is "temperature-regulating" about a 100% polyester cover, we do know that the open-pored foam layer does manage to keep this particular memory foam mattress cool and breathable most of the time. Essentially, unless it's scorching hot outside – you should be able to get a good night's sleep.
The supportive HRX foam layer of this one is specially designed with cut-outs in strategic places in order to improve spinal alignment, support and pressure relief – all a the same time.
The reason why Emma has gone with the HRX foam instead of regular memory foam is that HRX foam is firmer, sturdier, more durable and it offers quite a bit more support compared to the regular foam.
All in all, this layer is the bread and butter of this mattress.
Bottom cover that you wash easily
The bottom portion of the mattress cover is an 89% polyester and 11% polypropylene, non-slip cover that is also removable and machine-washable just as the top part. Most of the time, mattresses don't come with a non-slip base and that results in your mattress sliding all over the bed frame, which then results in you getting everything but a restful night's sleep.
Emma Essential offers a great value for money, which is not something you'd expect from a mattress that only comes with a 5-year warranty. A 5-year warranty does not give a lot of confidence in the longevity and durability of a mattress, but rest assured, this particular Emma mattress should be more than capable of easily outlasting its warranty period.
If you live in the UK, you'll be pleased to know that delivery costs for Emma Essential are non-existent. All UK residents will get free delivery when they order the Essential mattress. However, the delivery excludes selected postcodes in the Isle of Man, Northern Ireland, Scottish Highlands and the Channel Islands.
As far as payment methods go, you can either pay for your new mattress in cash, via credit card, wallet credit or PayPal credit with 0% finance.
Review of Emma Essential mattress
And now, for Emma Essential mattress review.
First of all, Emma did such a good job with this one. Despite being a cheap mattress by Emma's standards, this is by no means a cheap, or low-quality mattress. Quite a contrary, in fact. For a budget mattress, Emma Essential sure feels premium to us.
A simplistic, double-layer approach is just what you need in a memory foam mattress. One layer to keep things cool and comfortable, and the other one to support shoulders and hips, as well as the rest of your body.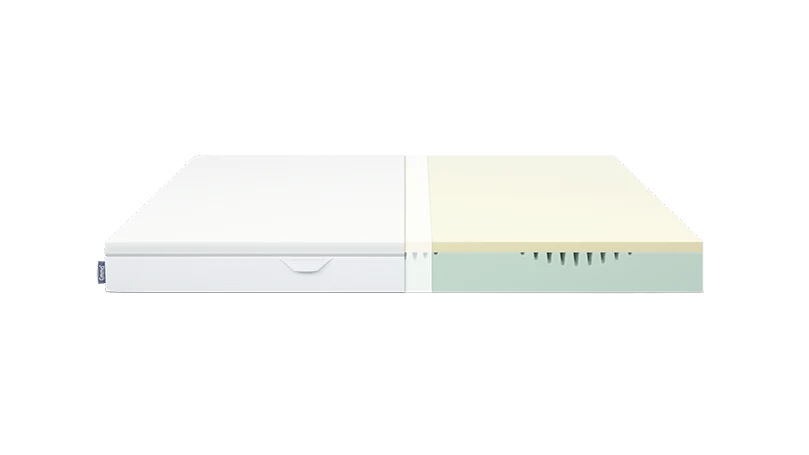 As you probably know, to make breathable foam work, you really need to move mountains, and somehow, Emma did just that. As far as foam mattresses are concerned – this one does a decent job of keeping things breathable. Open-pored breathable hybrid foam manages to actively disperse heat and the polyester cover doesn't absorb it.
In addition to that, we were really impressed with the edge support we got from this one. Despite being medium-soft, edge support was more than satisfying, which is not something you see in mattresses offering much-needed pressure relief and minimal motion transfer.
On the other hand, we don't really see this one working for all the different sleeping positions or different body types. Even though it could, you would have to be quite lightweight if you wanted to sleep on your stomach on Emma Essential.
Finally, you'd really want to avoid a slatted base bed frame, unless you want it to become too soft.
Type: Memory foam
Firmness: 5/10
Mattress depth: 18 cm
Size: Single, Small Double, Double, King Size, Super King Size.
Cool and breathable
Excellent value for money
Washable covers.
Becomes soft and unsupportive on a slatted base
Not hypoallergenic
No trial period.
What we like about Emma Essential mattress
Breathable foams do a really good job at keeping things cool
It would be hard to find a better foam mattress at this price range
Despite not having a long-term warranty, Emma Essential is a durable mattress.
What we didn't like about Emma Essential mattress
It becomes soft and non-supportive on a slatted base
It is not hypoallergenic
It does not come with a trial period or a cash-back guarantee.
Check the alternatives to Emma Essential mattress
If Emma Essential doesn't seem to be working for you, maybe you'll be interested in some of these two alternative picks.
If you'd like something similar to Emma Essential in terms of comfort, but you'd like to be able to test it out before you commit to it – Simba Hybrid mattress might just do the trick.
It's a 5-layer mattress, made from a breathable cover, open-cell Simba pure layer, Aerocoil spring-comfort layer, HD Simba Pure foam and zoned Simba-pure supprot base. If you are not on the budget, we highly recommend going for this mattress as it justifies its higher price tag.
If you fancy this mattress, we recommend you reading our review on this mattress to learn more about it.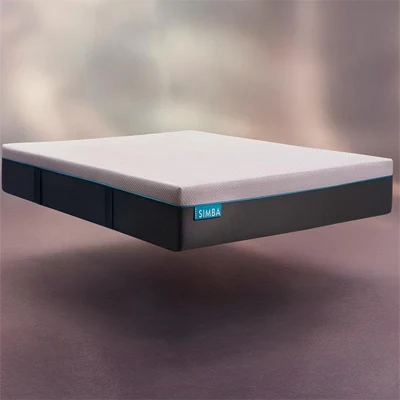 Very comfortable and pleasant to lie on
Extremely durable
200-night trial period.
Not as supportive as it should be
It does get quite a bit warm
No removable cover.
Here we have another soft, memory foam option, only this time it comes from Eve. This model is perfectly designed for side and back sleepers so we highly recommend it for these groups of sleepers. 
Eve Lighter is a solid choice for everyone that loves the cradling, sink-in feeling from a mattress. If that's what you're in for – this one should to the trick!
Should you want to find out more, we also have a review on this fantastic mattress so we suggest you taking a look at it.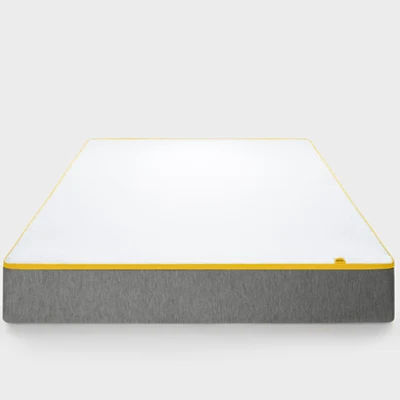 Very comfortable
Very durable
Suitable for back and side sleepers
Affordable price tag. 
It does get quite a bit hot on a warm night
It will be too soft for heavy or stomach sleepers.
Consider Emma Premium Microfibre Pillow if you are buying Emma Essential mattress
Every mattress deserves to be paired with a great pillow, so if you get the Essential mattress, Emma Premium Microfibre Pillow should follow. Emma is a well-known brand and we can say nothing but the best about it. 
This two-part, polyester and microfibre filled pillow, is excellent for all types of sleepers, regardless of their sleeping position. We give it 5/5 rating for being an all-around mattress that suits everybody's sleeping position. 
And, unlike the boxed mattress – this one comes with a lengthy trial period so you can test it out before you decide to put it on your bedroom.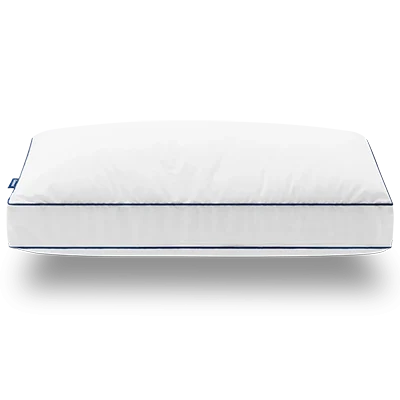 Hypoallergenic
Two-in-one, adjustable pillow
200-night trial.
More expensive than most pillows
Possibly too soft for some sleepers.
What makes this product better than some other similar ones?
What makes Emma Essential foam better than some other, similar products is its simplicity and value. With only two layers of Emma's foam, the Essential achieves what many others can't with twice as much.
This mattress is so simple, yet so good. Most manufacturers try to go overboard with their products, but Emma kept things simple – and it worked. Far from it being that this is the best mattress ever – it's not. It might not even be the best mattress Emma has made but it is still a good product you should consider.
However, as far as mattresses in this price range go – this one blows all the other ones out of the park.
How did we test the product?
The first thing we did was order the product from Emma's website. The process, as per usual, was very simple. All we had to do was click a few times, enter the delivery details and within five days, the rolled mattress, in an easy to move box was at our front door. Once we've established that the mattress arrived in perfect condition -we could being our testing.
Even though this one is often compared to Emma Original, we didn't want to do that. We wanted to evaluate this as a standalone product, and we did.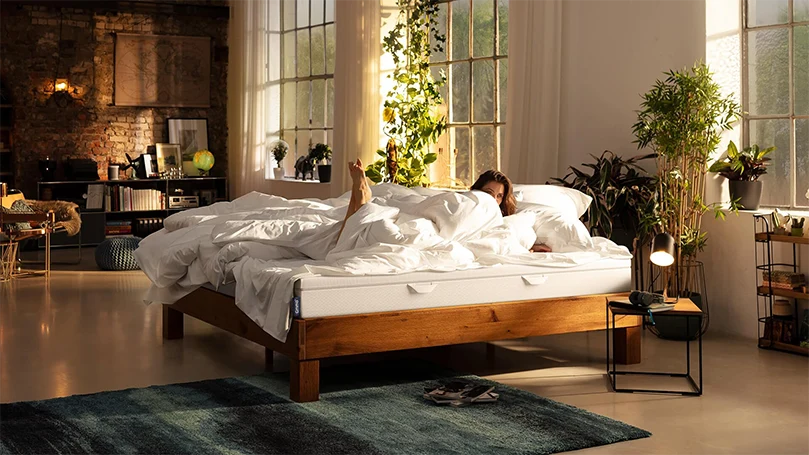 We wanted to focus on important things – the things that make up a mattress. The things like comfort, firmness, support, edge-supprot, motion isolation, bounce, breathability, longevity, durability, hypoallergenic properties, so on and so forth.
To make sure we present you with an objective review, we made sure that everyone in our office had spent ten days with his mattress – in varying conditions, of course. We've tested this mattress both on a solid and slatted base, as well as in a well-chilled and very hot room.  Also, we've done the kettlebell and the roller test to measure the longevity and durability of this mattress, and we're pleased to say that the mattress performed well during both.
FAQs about your Emma Essential mattress
To wrap up our Emma Essential Mattress review, we thought we'd answer some questions.
Is Emma Essential mattress good for all sleeping positions and all types of sleepers?
Not quite. While it can be, Emma Essential is usually not quite firm enough for stomach sleepers.
How thick is Emma Essential mattress?
Emma Essential is 18 cm deep.
How many layers does Emma Essential mattress have?
Two. A breathable hybrid foam layer and a supportive, HRX firm foam layer.
Do I need to leave my Emma Essential mattress after unpacking?
Yes. You should leave it in a well-ventilated room for about 24 hours.
Do I need to turn my Emma Essential mattress?
No. You only need to rotate Emma Essential once in a while.
Does Emma Essential mattress come with a trial period?
Unfortunately, no. You don't get a trial period with this mattress.
How much does Emma Essential mattress weigh?
Single mattress weights 11 kg, small double mattress weighs 14.7 kg, double mattress weights 16.5 kg, king mattress weights 19.4 kg, and a super king mattress weights 23.2 kg.