Emma Premium Hybrid Mattress Review by The Sleep Advisors
Is this the best Emma mattress UK has to offer? Well, it sure seems like it, but it might be too early to tell at this point. However, if you want to find out if that's true – stick around for our Emma Premium Hybrid mattress review and find out for yourself!
Who is Emma Premium Hybrid mattress for?
Emma Premium Hybrid mattress is for those in need of a high-quality, premium mattress that combines the best of memory foam and pocket springs in order to deliver you with the most balanced sleeping experience.
It is both comfortable and supportive enough that you will be able to get a good night's sleep the first time you lie on top of it.
What do we use this product for?
Ideally, we'd use Emma Premium Hybrid to get a good night's sleep. Just like any other hybrid, Emma Premium Hybrid strikes a perfect balance between comfort and support, making it petty much ideal for every kind of sleeper out there. So, regardless of your sleeping preferences, Emma Premium Hybrid might just be the mattress you were looking for.
Features you should know about the Emma Premium Hybrid mattress
Just like any other mattress, Emma Premium Hybrid has its own set of defining features that set it apart from all the others. Today, we wanted to you about some of them, so you can get a better understanding of what makes this mattress special.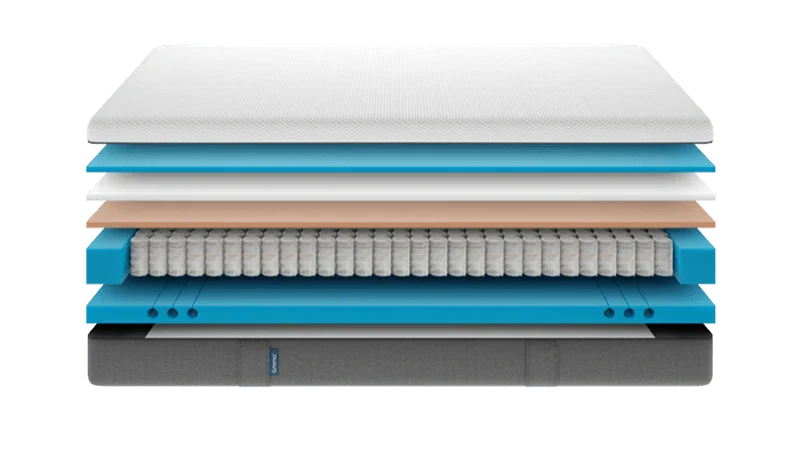 Springs & memory foam layers
Emma Premium Hybrid mattress comes with five layers of memory foam and pocket springs, excluding the removable, machine washable top cover.
The first two layers we see are the Airgocell foam layers, used to improve the airflow and cooling abilities of the mattress. Next up, we have a pressure-relieving Visco-elastic memory foam that effortlessly contours around your body's core areas as you sleep.
Underneath it all, we have supportive tall pocket springs, which we'll dissect in just a moment. And finally, all of that is backed by the HRX supportive cold foam base.
Unlike Emma Hybrid mattress, Emma Premium Hybrid comes with regular size pocket springs. The pocket springs of Emma Premium Hybrid are 120 mm tall, which is a lot taller than the Emma Hybrid mattress. These pocket springs serve a few purposes.
First of all, all of them can move individually, which allows them to mould and contour your body's curves effortlessly. Not only that, but they also improve the airflow within the mattress, ensuring a cooler sleeping experience through the night.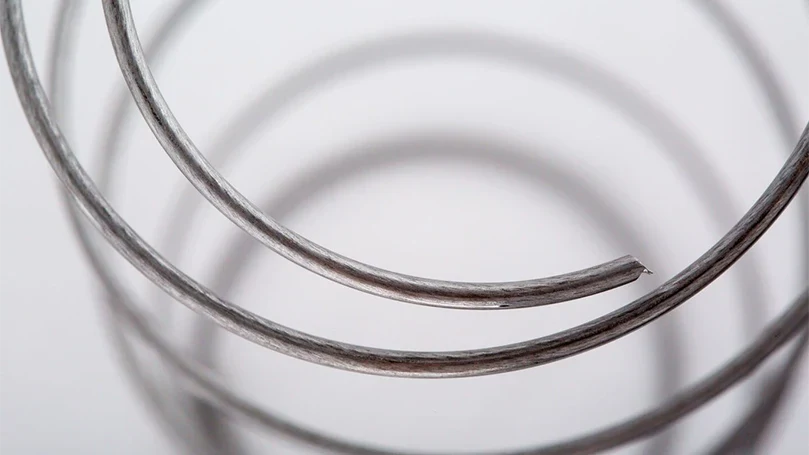 Finally, combined with the HRX supportive foam layer, these tall pocket springs also improve the overall support of the mattress. The coils should offer substantial pressure relief by evenly distributing your weight across the mattress. The number of springs varies based on the size, but the king-size model we reviewed had more than 500 of them.
20mm Airgo open-cell foam
If we were to take a look at the cross-section of the hybrid mattress, we'd see two separate layers of 20 mm thick Airgocell foam. Both of these layers are made from specially designed, open-cell, open-pored foam to ensure better air circulation, improve breathability,  as well as add some extra support around the edges.
Edge support was one of the minor issues of the Emma Hybrid mattress, but with the Emma Premium Hybrid – efforts were made to overcome that issue.
What's common for all Emma mattresses is that they have an HRX support cold foam base.
Emma's HRX support foam base slightly varies from mattress to mattress, and we're only looking at 60 mm of cold foam this time around. This is by far the thinnest support layer in all Emma mattresses, but when you factor in the 120 mm tall springs – it all adds up.
As is always the case with Emma's HRX memory foam base, once again, we get to see cut-outs and zoned support throughout the core areas. Both your shoulders and hips should be perfectly aligned with the rest of your body due to the zoned support HRX foam offers.
Review of Emma Premium Hybrid mattress
Now, for our main event – the Emma Premium Hybrid mattress review.
All in all, we have to say we're pleased with the Premium Hybrid. Once again, Emma has found a way to strike a perfect balance between comfort and support by combining memory foam and zoned pocket springs.
The overall quality of the mattress is excellent, which should be evident from the 10-year guarantee Emma offers you, alongside a 200-night trial period upon which you can get a full refund if you don't happen to enjoy this mattress. Every foam layer, as well as the removable cover and pocket springs, feels very premium and durable. Once again, Emma did a pretty good job delivering us a great product.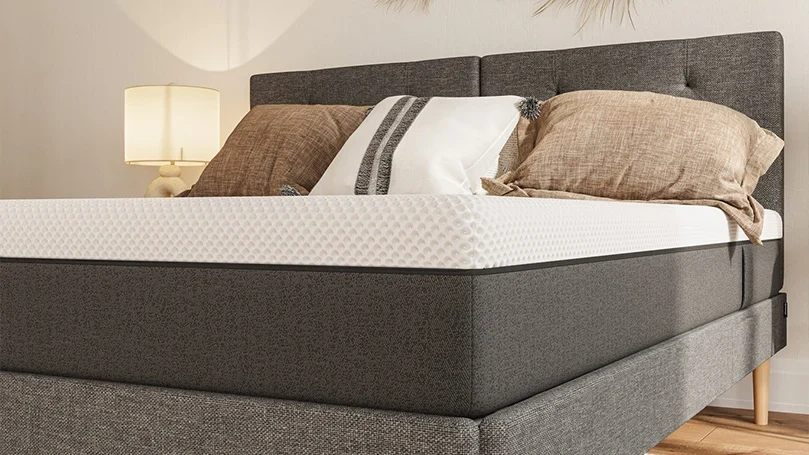 The Premium Hybrid is very comfortable and supportive, which is what you would expect from a high-quality bed-in-a-box. Alongside comfort and support, this Emma mattress offers great pressure relief, and excellent motion transfer, without compromising on some much-needed bounciness.
What we also found quite helpful is the fact that the Premium Hybrid comes with handles. Even though this is a one-sided mattress that doesn't need flipping, it can still benefit from rotating, and that is made a lot easier with these handles.
On the flip side, the common problem with Emma's mattresses continue. Once again, we're looking at a mattress that becomes a lot softer when used on a slatted bed base. Now, that is what happens with every mattress, but not this pronounced. On that note, you're much better of using this hybrid mattress on a solid base.
Also, the Premium Hybrid manages to get hot on a warm summer night, but that's nothing that can't be improved with high-quality bedding.
Very comfortable
Excellent pressure relief – good choice for people with pain-related issues
Very durable.
Not for hot sleepers or people with allergy problems
Not great for a slatted base
Expensive when compared to other similar products.
What we like about Emma Premium mattress
The Premium Hybrid seems to be one of the most durable mattresses we've tested
The pocket sprung layer really improves pressure relief
Side handles make this mattress easy for maneuvering.
What we didn't like about Emma Premium Hybrid mattress
Another Emma mattress that gets hot during warm summer nights
If you want the best results, you need a solid base bed frame
It doesn't offer the best price-to-value ratio.
Check the alternatives to Emma Premium Hybrid mattress
Our Premium Hybrid mattress review wouldn't be complete if we couldn't offer you an alternative pick, or in this case, two. Here we have another two mattresses coming from Emma, so if the Premium Hybrid isn't cutting it for you – these might.
Emma Original is an all-foam mattress that's as comfortable as a cloud. It is one of the first-choices for sleepers who are prone to changing their sleeping positions throughout the night.
As a memory foam mattress, Emma Original brings forth remarkable comfort and extraordinary pressure-relieving properties, alongside a couple of other exceptional features.
We did a detailed review on Emma Original mattress so you can check it out for more information.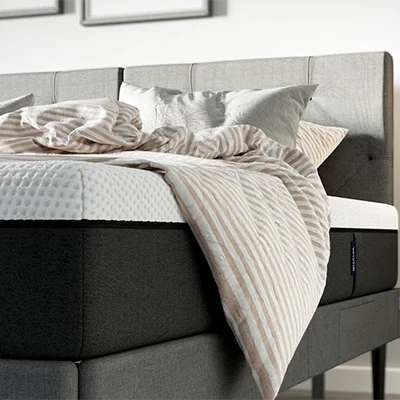 Excellent value for money pick
Excellent motion transfer
Risk-free 200-night trial, 10-year warranty and a money-back guarantee.
It will be too soft for some heavy sleepers
It does get warm on a hot summer night
There might be some initial off-gassing issues.
Emma Hybrid mattress is another Visco-elastic memory foam powered mattress; only this one comes with significantly smaller pocket springs and a considerably thicker HRX base.
This one is slightly firmer than our reviewee, so if you're a bit on the heavier side, you might be more interested in this one.
In addition, if you are suffering from any kind of a backpain, you should consider this mattress as your primary pick. It will give you enough support to sleep well through the night, without waking up.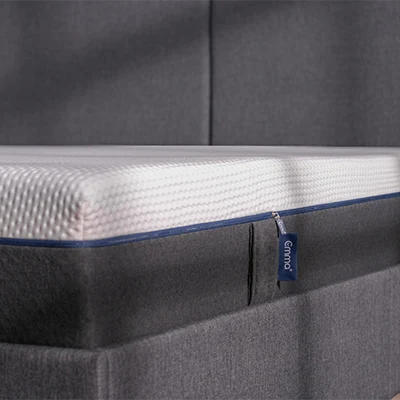 Very comfortable and supportive
Great pressure relieving properties
Great motion transfer properties.
It does get warm on a hot summer night
Some edge support issues
It does not work well with a slatted base.
Consider Simba Hybrid pillow if you are buying Emma Premium Hybrid mattress
This fully adjustable pillow from Simba would be an excellent pair for your new mattress. Simba Hybrid pillow is an excellent choice for those that need a little bit of extra support when they're sleeping, as well as ones that are constantly flipping onto the cool side of the pillow.
With this one, you get Stratos technology at your disposal, so you can be confident that your pillow will always be cool. And more importantly, since this pillow is filled with removable Nanocubes – you can adjust it to be as thick and firm as you want it.
You can check our review on Simba Hybrid pillow for more information.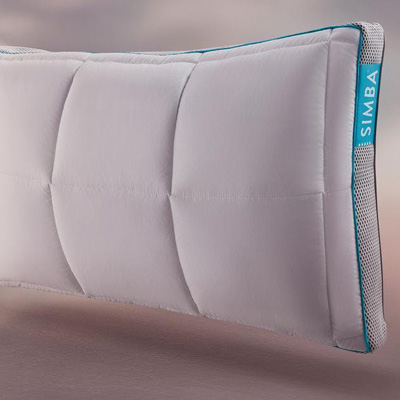 Cool and breathable
Very durable
Solid neck support.
Not suitable for stomach sleepers
Not as comfortable as it should be
Quite firm when full.
What makes this product better than some other similar ones?
If we were to compare this Emma Premium Hybrid to some other hybrids on the market, we'd have to say that this one really excels at relieving pain and pressure. It's medium-firm, contours and moulds to your body without any issues whatsoever, and it will continue to do so for a long time.
How did we test the product?
To conduct our Emma Premium Hybrid mattress review, we first needed to order it.
This was straightforward as it gets. All we had to do is visit the Emma site, enter all the necessary information and within three days – the vacuum-sealed bed-in-a-box was at our doorstep. Naturally, it came with free delivery and all the other perks Emma has to offer, such as a 200-night risk-free trial and so on.
Once we've checked the package and product and deduced that everything was in perfect condition, we proceeded with our review.
The first order of business was to test out the comfort level, firmness and durability of our new mattress. We choose those three, as we found those to be the most defining features of any mattress, but especially these ones.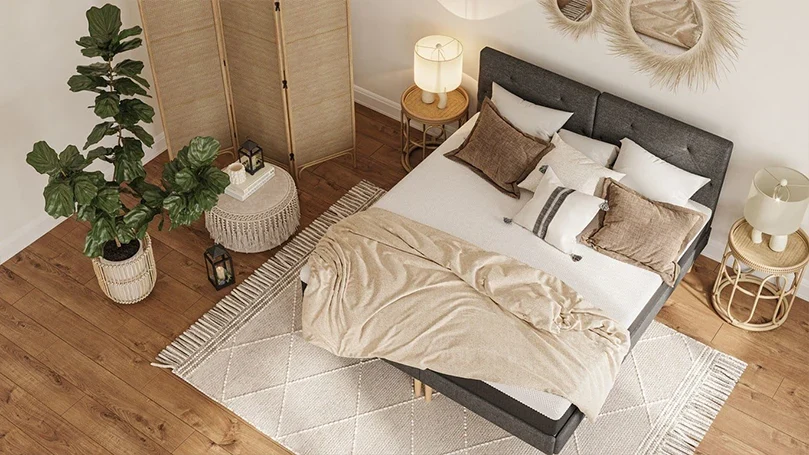 Our team had no shortage of good words to say about it when it comes to comfort and firmness. Each of our team members spent ten nights with the mattress, and from comparing what they had to say about it, we've concluded that this is indeed a medium-firm, extremely comfortable mattress.
It was more than pleasant to sleep on. The exceptional comfort paired with excellent pressure relieving properties made this hybrid mattress one of the most comfortable ones we've tested. Initially, we thought it would be a lot firmer than it eventually turned out to be, but that's the thing with hybrid mattresses – they need some time to "break in".
Eventually, we performed our roller test to simulate long term use and check whether we're dealing with a durable mattress or not, and we're pleased to say – Emma Premium Hybrid should last you a fairly long time.
Naturally, we've paid attention to other characteristics, such as motion isolation and transfer, bounce, edge support, airflow and breathability, quality of craftsmanship and a few more things as well.
FAQs about your new Emma Premium Hybrid mattress
In the end, we wanted to wrap up our Premium Hybrid mattress review by answering some frequently asked questions we thought you might be interested in.
What's the difference between Emma Premium Hybrid and Emma Hybrid mattresses?
The main difference lies in the height of the pocket springs, but there are some other differences, such as the overall firmness of the mattress, with Emma Premium Hybrid being slightly firmer than Original Hybrid.
Is the Emma Premium Hybrid mattress good for back sleepers?
Yes. Emma Premium Hybrid offers excellent support and comfort to those sleeping on their backs.
Is the Emma Premium Hybrid mattress good for side sleepers?
Yes. Emma Premium Hybrid is a medium-firm mattress that moulds around your body's curves perfectly, making it more than good for side sleepers.
Is the Emma Premium Hybrid mattress good for stomach sleepers?
Yes. Emma Premium Hybrid is just firm enough to be more than comfortable for stomach sleepers.
How to clean Emma Premium Hybrid mattress?
The cover on this mattress is easily removable and machine washable at 40 degrees Celsius.
Are there any off-gassing issues with the Emma Premium Hybrid mattress?
Yes. There is some off-gassing upon unpacking, but the odour should be gone within the first 48 hours.