Eve Breathe Easy Mattress Protector Review
Eve Breathe Easy Mattress Protector is a very popular choice among mattress customers due to its many positive features, especially containing materials that are not natural. Still, the absence of bamboo does not necessarily mean the toxicity. To tell you everything you need to know about one of the best protectors and whether its reputation is truly justified, we subjected it to a series of tests. Here is the review of this mattress protector, where you will find everything you need to know about this high quality product.
Who is Eve Breathe Easy mattress protector for?
Getting high quality bedding elements is highly important, but protection of the bedding is even more important as you want to keep every single night as comfortable as possible. Protecting the mattress that suits you and that you have probably paid a lot for should be your top priority. With a large number of mattress protectors on the market, this should not be a complicated task. But because most mattress protectors make you feel like you are sleeping on a plastic bag, people often avoid them. If you are looking for a machine washable  mattress protector, we think that this product is going to be a great choice and addition to your bedding.
This product from Eve Sleep kitchen is for all those who want to protect a mattress but also who woke up in the middle of the night to remove the mattress protector because they were too hot to sleep on it.  
What do we use this mattress protector for?
We use Eve Breathe Easy mattress protector to extend the service life of our mattress primarily. By using this mattress protector you will reduce wear and tear as well as the dents that occur on the mattress when you use it for a long time without flipping to the other side. Also, if you want to avoid foam toppers and protectors but can't find an appropriate bamboo topper, this is the perfect pick.
In addition, if you have problems with dust mites or allergies, you will love this mattress protector as it will give you an anti allergy treatment which will calm down your allergy problems. If you want to achieve fully anti-allergy bedding, we definitely recommend you getting this cool protector along with hypoallergenic sheets and other bedding elements.
Features you should know about Eve Breathe Easy mattress protector
When you are looking for a mattress, you need to know what features you need to take into consideration. It is the same when you opt for the best mattress protector picks. Features you should know about this mattress protector are hollowfibre filling, polyester cover, as well as the hypoallergenic, anti allergy and chemical-free structure. As it is not made of an organic material like bamboo, for example, it still does not contain any toxic materials. There is also a guarantee that confirms this.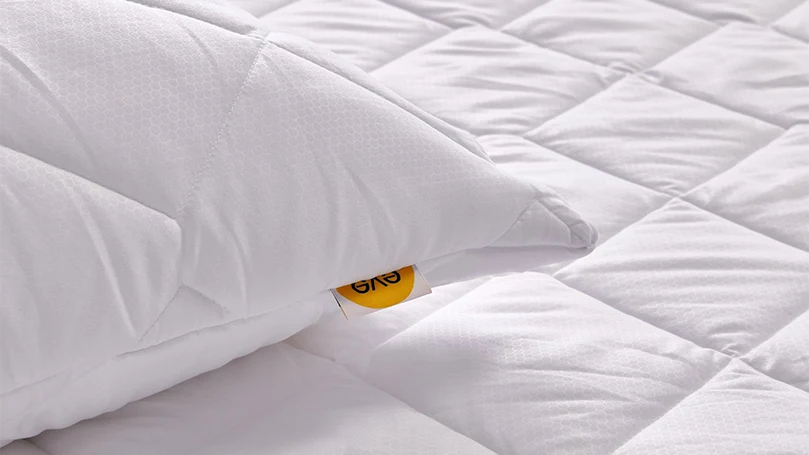 Filling is what distinguishes it from most other mattress protectors that we can find on the market in the UK, and it should always be mentioned when the product is chemical-free because it is crucial for our health. Therefore, it is a guarantee that you, or your baby if it sleeps with you, will stay safe as this product contains no harmful materials or materials that contain any toxic elements. It is certainly not made of bamboo, but it offers a cool and hypoallergenic protection so it is a perfect choice for all who want a an anti-allergy sleep through the night, while ensuring protection for their mattresses.
One of the first features on the specifications list is hollowfibre fill. If you have already bought some of the products or mattresses offered by Eve, you may have noticed that they often use hollowfibre as a filling material. In this case hollowfibre is used as a filling for a protector core. Hollowfibre is a material that has many good characteristics, above all that it is soft and breathable.
Unlike most synthetic materials, hollowfibre has no breathability problems. Due to the structure of the fibers, the air circulates unhindered within the mattresses and so your body cools down. Memory foam and other similar materials usually trap body heat, which will be a problem for everyone, especially hot sleepers. This mattress protectors does not include any memory foam and therefore will not become hot over night to ruin the sleep experience.
Hypoallergenic & chemical-free
Allergy sufferers know that they cannot buy any product that does not contain a hypoallergenic material and that is why it is the label they are looking for on every product. But even those who do not have a problem with allergies, can benefit from hypoallergenic materials because allergies can occur at any age. This mattress protector is hypoallergenic because it is made of hollow fiber and microfiber. That is why this protector is approved by the Allergy UK, which is British medical charity for people with allergies.
Also, this mattress protector is  chemical-free. It is of the utmost importance is to choose chemical-free mattresses and materials that are not toxic. Also, you need to check if they have OEKO-TEX label, to protect your health from many harmful chemicals that are used often. So, dust mites free, eco friendly and chemically free – what else could you ask for? A polyester cover that will not make you hot?
The super soft cover is made of 100% polyester. In addition to being hypoallergenic as well as filling, the microfiber core is very soft and comfortable. Although a number of customers avoid polyester material cover because they have negative experience with that material, and this is especially the case with hot sleepers, there is no reason to worry when it comes to this mattress protector.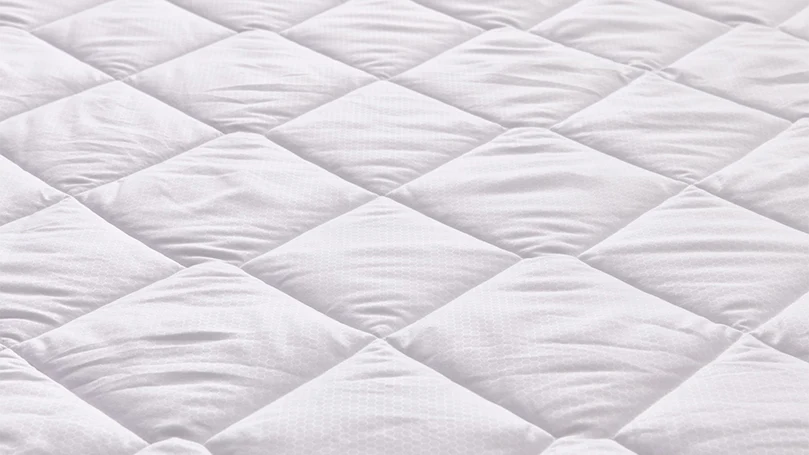 The polyester cover is very breathable, and it is certainly not a polyester material as it was 20 years ago, when it was an unpleasant material for contact with skin. This mattress protector ensures your skin stays safe from germs, dust mites and allergies. Therefore, big up for anti allergy properties and material that is not harmful!
Review of Eve Breathe Easy mattress protector
This mattress protector is a great choice if you primarily want the mattress protector to keep you fresh during the night. By combining hollofibre protection core and microfibre cover, perfect breathability is achieved. The anti allergy properties are suitable for anyone who is suffering from asthma or allergy related problems.
It is a chemical-free and hypoallergenic product that is very bonded. It is also important to note that it serves as an excellent protection against dust mites and germs. It is machine washable, which makes it very easy to maintain. It is available in 4 sizes – UK Single, UK Double, UK King and Super King (do bear in mind that the price tag might be different for different sizes). You have 14 nights to test the quality and return it if you are not satisfied with the mattress protector. You also get a 2 year guarantee on the protector.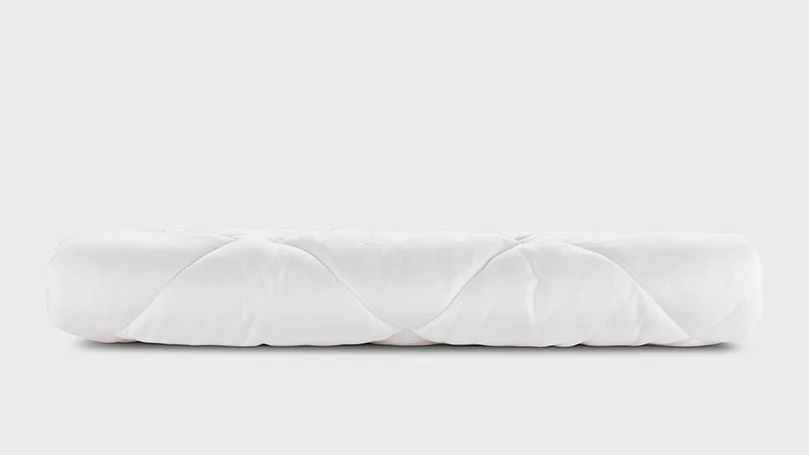 The only bad thing we we noticed was that this was not a waterproof mattress protector. It does not repel water so be careful with the liquids and spills as won't keep the liquid from penetrating inside. Luckily, it is machine washable. Also, there is only one color available, without all the available sizes as well. The price tag might be a bit bigger than it is on some other similar mattress protectors but if the budget is not your problem, then go for this mattress cover.
Breathable
Hypoallergenic & anti-allergy material
Machine washable at 40 c
Eco friendly
2 year warranty.
It is not waterproof
Only white colour available
A bit pricey when compared to similar products in the same category.
What we like about Eve Breathe Easy mattress protector
Feeling of air circulating freely around you
Does not trap body heat which makes it suitable for hot sleepers
It is really easy for maintenance.
What we didn't like about Eve Breathe Easy mattress protector
While it will certainly protect the mattress from minor spills, it is not waterproof mattress protector
Compared to many other mattress protectors, it is quite expensive
Not available in all sizes like Eve mattresses.
Consider Eve Premium Hybrid mattress if you are buying Eve Breathe Easy mattress protector
Eve Premium Hybrid mattress has 5 layers of foam plus a pocket spring layer and each layer has a different purpose. It gives you a great support on both sides of the mattress so you will achieve a good night's sleep. There is a non-slip coating on the bottom. It provides very good support and adapts to every body type so it is suitable for any sleeping position.
It is very cool and breathable for a memory foam mattress, with excellent durability and longevity. 100 nights trial period to see if you like it, and if you decide to keep it, a 10 year warranty guarantees quality. This is a smart investment if you are not on the budget!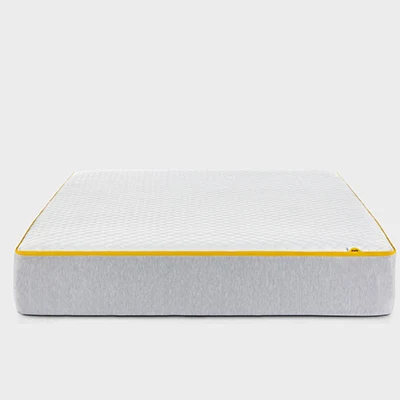 Excellent support on both sides of the mattress and comfort for night's sleep
Very cool and breathable mattress
Excellent durability and longevity.
Only comes in three different sizes
Edge support and motion transfer could be improved on
One of the most expensive mattresses on the UK market.
What makes this product better than some other similar ones?
If you want a protector that has a bamboo alternative, you should go for this mattress protector. When we take a look at this product, there are few things that stand out among the specifications. Breathability is the very first thing that makes this mattress protector better than some other similar ones. It also stands out for the quality which is characteristic of all Eve Sleep products. In addition, it is hypoallergenic and chemical-free, but its microfibre breathable structure makes it the best choice for all hot sleepers and others who hate to sweat at night.
Another great thing is that you can easily  maintain as it is machine washable. Though not water resistant, the top layer will give you some degree of protection against the liquid spills. But, it is machine washable so you can wash it and tumble dry it quickly to have your mattress protector fresh and clean in no time.
In the end, this mattress protector can protect your mattress and extend its lifespan without catching an allergy reaction. So, even though it is not a waterproof mattress protector, it is a foam mattress protector worth your money and your attention that will keep you comfortable and free of any allergies or dust mites! We guarantee you that you will be satisfied with this product and prolong the life of your new mattress. In addition, it is going to be one of the best shopping decisions you ever made.
How did we test the product?
Eve's official website is very easy to navigate, so you won't have a problem finding this mattress protector, or any of their other products you are interested in. In the "bedding" category, you will find the part where the pillow and mattress protectors are, and among them is Eve Breathe Easy mattress protector. After that you need to choose the size, delivery method and pay. If shipping is not free, that amount will be added to the mattress protector price, but shipping is usually free as long as you are located within the UK's mainland.
When we got hands on this Eve Sleep mattress protector, the first thing we noticed was that it was slightly thicker than the average mattress protectors and resembles a bit of the mattress pads. Eve deserves all the praise for the quality of the Breathe Easy mattress protector because it is very easy to notice that every millimeter is paid attention and that everything is in perfect condition. It was very easy to install on the mattress because it has no straps nor is it deep fitted. All you have to do is put this mattress protector on top of your original mattress.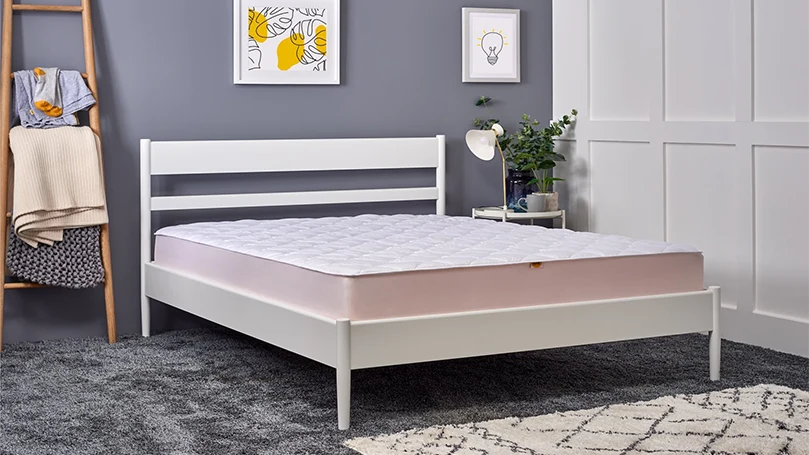 During the overnight test, we realized that unlike most mattress protectors we encountered with earlier, it has a certain effect on comfort, although it is not very noticeable. Sleeping on it was very comfortable and we were not hot, which is the most important thing, because Eve states that as the biggest advantage of this mattress protector. We did try to spill a bit of a juice just to see how it reacts since it has no waterproof membrane. While it did stop liquid a bit, it certainly is not a waterproof so you should be careful with liquids definitely.
It is machine washable so you can wash it in a washing machine at 40 C degrees, as we did. After that we tumble dry on a low heat and then put it back on our bed, without ironing which the manufacturer does not recommend. Therefore, we can say that this mattress protector is completely machine washable and easy to maintain.
FAQs about your Eve Breathe Easy mattress protectors
When you buy a new product, it is natural to always have some additional questions because you want to make the most of it. Therefore, in the FAQs section, we will answer questions about maintenance, warranty and some other features of Eve Breathe Easy mattress protector.
Is this mattress protector organic?
No, this is not an organic product even though it has some properties of the organic product. In spite being non-organic, the company offers the guarantee on the absence of the harmful chemicals.
How do I wash my Eve Breathe Easy mattress protector?
It is machine washable so you can wash this mattress protector in washing machine at 40 degrees C, every few weeks to make sure it stays clean and fresh. After the wash, you can tumble dry on a low heat.
Is this mattress protector chemically-free?
Yes, it is chemically-free so even kids can use this mattress cover safely without a fear.
Can I use my Eve Breathe Easy mattress protector on any Eve mattress?
You can use this mattress protector on any Eve mattress of suitable size. If you have King Super size mattress and this protector is of the same size, you can use it.
Does Eve Breathe Easy mattress protector come with a warranty?
Yes, Eve gives a 2 year warranty on all bed linen, including mattress protectors. Therefore, you get a guarantee that your product will stay in the top condition.
Is this protector water resistant?
This mattress protector is not water resistant as it does not have a waterproof membrane. Though not waterproof protector, it still can offer some degree of protection against the spills.
If I suffer from asthma, should I use this mattress protector?
Even though it is made of polyester, yes, you should use it due to its anti allergy properties that will ease up your allergy problems. You will get a good night's sleep with this product.
Do I pay for the delivery of Eve Breathe Easy mattress protector?
As long as you are located within the UK's mainland, you do not pay any delivery fees.