Eve Button Back Bed Frame Review - Adjustable Slats For More Comfort
A bed frame can be much more than just a piece of furniture that holds a mattress. It can also be an extra storage space, one of the most beautiful pieces of furniture in your bedroom and much more. If you are looking for a bed frame that can offer you all that, then read Eve Button Back Bed Frame frame review by The Sleep Advisors.
Who is Eve Button Back bed frame?
Eve Button Back bed frame is a bed frame that will be bought by people with different needs. There is not just one target group for which it is intended. It is high quality and comfortable and it also looks very nice.
Practically, there is nothing to dislike about it and that is why we can say that Eve Button Back bed frame is for everyone who has no problem spending more money than average on a bed frame. Considering that it is made by Eve Sleep, we can guarantee that you will be more than satisfied with your purchase.
Add a header to begin generating the table of contents
What do we use Eve Button Back bed frame for?
We use this bed frame primarily to make us even more comfortable sleeping. Although the mattress and pillow play an even bigger role in this, without a good bed frame, you will not be completely comfortable. Also, we use it to storing various things, most often those related to sleep like duvets. We should not forget the visual impression, because this bed frame will surely make your bedroom even more beautiful. In a nutshell – we use this bed for:
Storing additional items under it 
Boosting our overall level of comfort 
Sophisticating our bedroom design
Enjoying high-quality & premium materials.
Features you should know about Eve Button Back bed frame
This is a rather complex product, which consists of many different parts and has several very important features. Unlike most bed frames, which are simple, there are as many as 6 features that we will tell you more about because we think it's important to be informed before you buy it.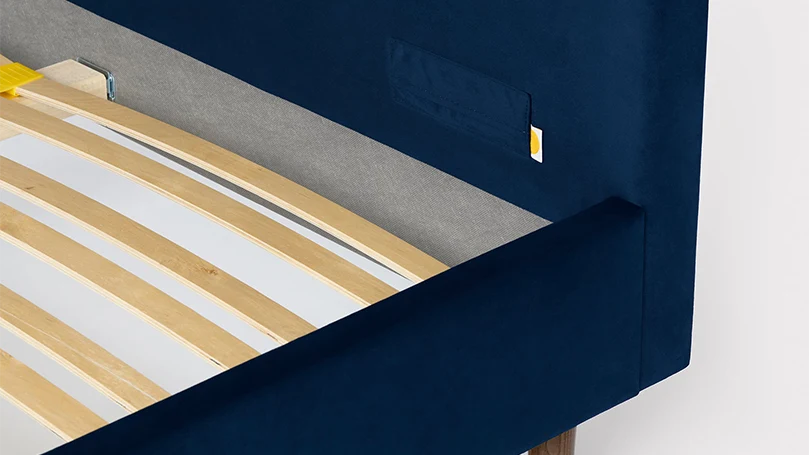 Plush + velvet upholstery
Velvet is a material that has always been used because it is so soft and because it has a very luxurious look. Each piece of furniture with upholstery velvet stands out with its appearance. However, velvet also has a lot of disadvantages. It is very difficult to clean, especially if you stain it, and the signs of wear and tear are also quickly noticed. So it is certainly not ideal material for furniture.
That is why the company Eve Sleep opted for a synthetic velvet that has the same look and it is soft, but is very easy to clean, and is also anti-static and water-repellent.
Beech wood is a type of wood that is known to be very hard and durable. It also makes it heavy, but being durable means it's ideal for the heavy-duty task that slats have. And that is that you and the mattress lie on them every night.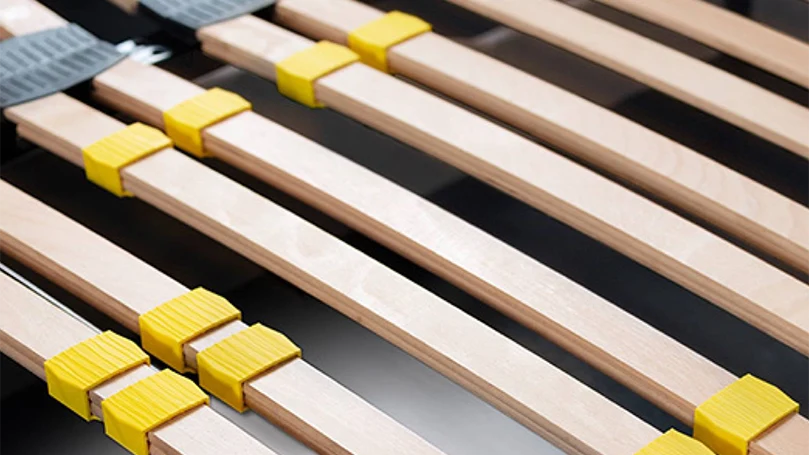 This bed frame has 24 beech wood slats spaced 6 cm apart. It's not a big gap, which will guarantee you great support. These adjustable slats are here to enhance support further. Sliders are sometimes black and sometimes yellow, but that makes no difference. The bed has these slats to support any type of sleeper or its body.
HDF stands for high-density fiberboard and MDF stands for medium-density fiberboard. Both are obtained by breaking down wood residuals into particles and then connecting them together with wax or glue. Both HDF and MDF are very versatile and are therefore often used. Their density makes them durable and that is why they are an excellent choice for frame construction.
You may be surprised that HDF and MDF are used in a premium product like this because they are among the cheaper wood building materials, but that is primarily because they are impact resistant and eco-friendly.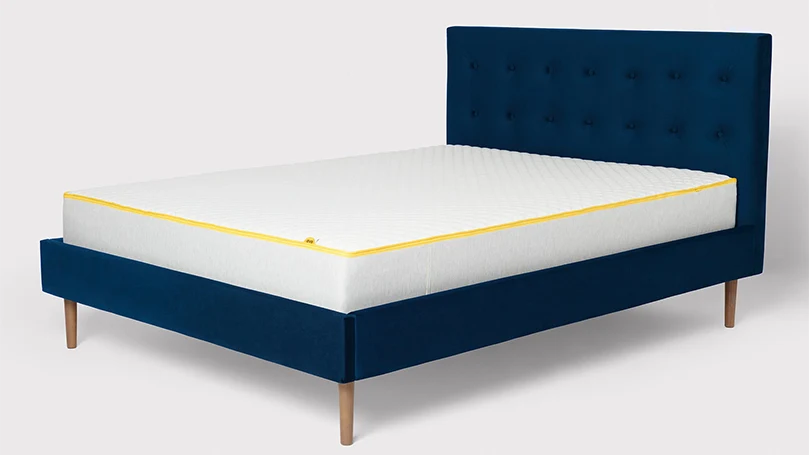 Polyurethane foam, often referred to as PU foam is a material used for cushioning. It is a material that provides great support and is therefore a common choice for mattresses and upholstered furniture. PU foam cushioning is very durable and also has an aesthetic role on this bed frame because polyester velvet looks better on top of it.  Some customers think that PU foam will deteriorate faster than the rest of the bed frame, but the 5 year warranty and the quality of Eve products guarantee that this will not happen.
Review of Eve Button Back bed frame
It is safe to say that there are not many better high-quality bed frames on the market in the UK than the Button Back bed frame. Construction made of different wooden materials, and cover of 100% polyester velvet upholstery. You will find adjustable sliders on the slats that work constantly to give you the best possible support during sleep.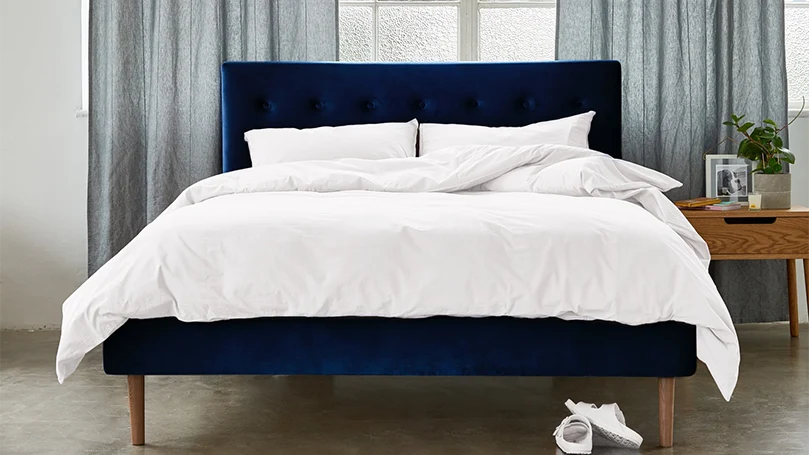 Polyester velvet is anti-static which is especially useful for everyone who has pets, and it is also water-repellent, so you don't have to worry if you spill something in bed. It is comfortable and easy to maintain. Warranty is valid for 5 years, but Eve products last much longer than that.
Material: HDF+MDF; velvet
Type: Adjustable sprung beech wood slats
Size: UK Double, UK King, Super King.
Elegant design
Velvet softness
Great back support
Fantastic overall comfort. 
No single size
Only one colour
A bit pricey when compared to similar products.
What we like about Eve Button Back bed frame
A contemporary design that will match any bedroom
Velvet gives it a luxurious look, and since polyester velvet is used it is very durable
Easy delivery, hassle-free returns and 5 year warranty.
What we didn't like about Eve Button Back bed frame
Single size is a size that is among the best sellers, so it is a strange decision not to offer UK Single size
Although gray velvet is a very beautiful color, it is certain that it will not fit into every interior
Quality and everything else justifies the price, but the price will be too high for many.
What makes this product better than some other similar ones?
The gorgeous design as well as the quality of all the materials used are what makes this bed frame better than some other similar ones. Also, the quality of workmanship that is characteristic of Eve's products should be mentioned because that should never be taken for granted.
How did we test the product?
What you are probably primarily interested in finding out is how the bed frame was delivered to us, because bed frames are generally bulky. A two-person delivery team brought us this bed frame after 3 days and left it in the room we chose. Also, they offered to unwrap it as well. 3 days is a very short period because usually you have to wait longer for bed frames to arrive .
If you are worried about whether it will be complicated to put bed frame together, because it has to be done by you and not the delivery team, we can tell you that it is not complicated. Each step is explained, and there is no need for using glue or drilling, so everything is relatively simple, as if assembling a puzzle. The whole assembly process doesn't take long at all, but don't try to do everything yourself. You need the help of another person, and if you have a total of three, assembly will be finished very quickly and easily. We could say in half an hour.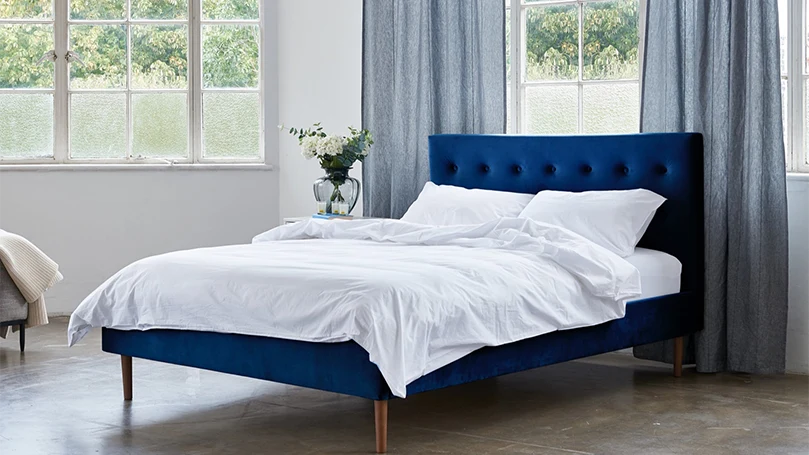 When we assembled the Eve Button Back bed frame we first checked how comfortable it is. And we have to say that we were delighted as the level of comfort was really something big! We then put the Eve mattress on the bed frame and did an overnight test. The bed frame is very comfortable and stable, it will not move at all during the night.
Maintenance is virtually non-existent because velvet is anti-static and water-repellent, so all you have to do is vacuum or brush away dust, wipe with a non-abrasive damp cloth if needed.
FAQs about your Eve Button Back bed frame
Like always, the FAQ section will answer some of the questions that sleepers had about this bed frame. Also, since Eve Button Back bed frame is a premium product, customers want to know what type of wood is used for the construction, as well as how to maintain it to last as long as possible. Find out the answers to these questions in our FAQs section.
Does Eve Button Back bed frame contain any toxic substances?
No, it does not contain any harmful or toxic substances.
What type of wood is used for the construction of Eve Button Back bed frame?
Particleboard, HDF & MDF, with pine rail construction, and slats are made of beech wood.
How do I clean my Eve Button Back bed frame?
You should vacuum or brush away dust from cover and wipe frame with a non-abrasive damp cloth.