Eve Hybrid Mattress Review for UK Shoppers in 2022
Pocket springs or memory foam – sometimes, that's a tough choice. Fortunately, with the Eve Original Hybrid mattress – you don't have to choose. Despite what the name suggests, the Eve Original Hybrid isn't Eve's "original" hybrid, but it is one of the most popular hybrid mattresses on the UK market. However, is it worth it? Well, let's find out!
Who is Eve Original Hybrid mattress for?
If you want to take the pressure off of your core areas, such as hips and shoulder, but still want to feel properly supported and comfortable – then this medium-firm Eve hybrid mattress is just the right fit for you. The Original Hybrid really strikes the perfect balance of support and comfort, and for that reason alone – this mattress is for pretty much everyone.
Add a header to begin generating the table of contents
How did we test the product?
For our Original Hybrid mattress review, we wanted to pay special attention to the two defining features of this mattress – pocket springs and memory foam. To get a good look at these two, we needed extensively test this product.
This is a "bed in a box" or a rolled mattress, however, you want to call it. Upon unpacking and unrolling, we're pleased to say that mattress is relatively quick to unfold, and it should take no more than 8 hours for it to reach its "final form". There is some noticeable off-gassing, but that's always the case for a "bed in a box", and the smell should completely dissipate within the first three to four days.
Once the bed was ready to be used, each of our team members took turns sleeping on it for ten nights, which has given them enough time to write down some notes on it.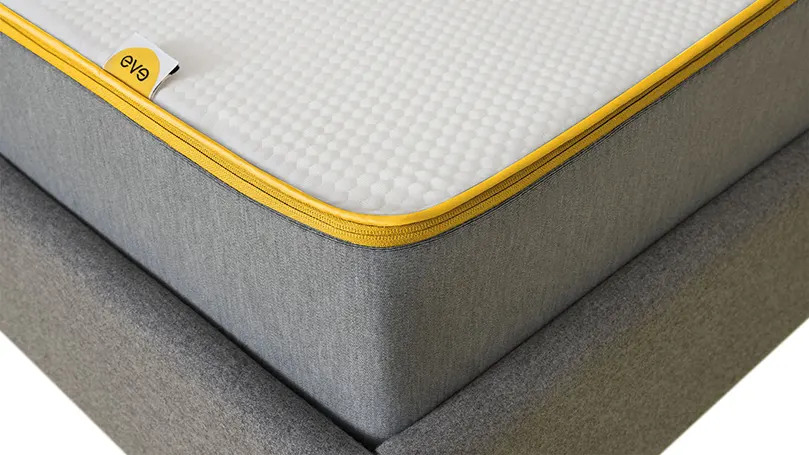 As far as comfort is concerned – there are no concerns. The mattress is quite comfortable. It won't cause any pain or discomfort, you will be adequately supported through the night, and this one really does feel like a medium-firm mattress, for once. We'd rate it at 6.5 out of 10 on the firmness scale, but we have to say that the bed base will affect how firm the mattress feels. On a solid surface, the mattress is a bit on the firmer side, and on a slated base, it does get a little bit softer, but regardless of the base, the mattress always remains in medium to firm range.
When it comes to the quality of memory foam layers and pocket springs, we don't have much to say other than that they're great. You're looking at durable, 12 cm full-size springs and four layers of high-quality, CertiPUR certified memory foam. All in all – great build and material quality.
The mattress performed well in our roller test, where we simulate long-term use, so there shouldn't be any durability or longevity concerns along the road.
What do we use this product for?
As with any other mattress, we'd use Eve Hybrid to get a good night's sleep. If we've learned anything from our Eve Hybrid mattress review, it is that this mattress will have you sleeping like a baby. But, to be more precise, we'd say that you could use this mattress if you want some additional comfort but still have some firmness to your mattress.
Is Eve Original Hybrid mattress an upgraded version of the Eve Original mattress?
As we've mentioned in the beginning, despite the name, this is not the original hybrid. That title belongs to The Lighter Hybrid mattress, which was once known as the Original hybrid. The current Original Hybrid came out as an upgrade, packing some additional memory foam layers and some extra pocket springs, thus making it the upgraded version of a previous product.
Features you should know about the Eve Hybrid mattress
As is the case with any other mattress, you should learn a thing or two about its key features before you buy it. When it comes to the Original Hybrid – these are the ones we thought you should know something about.
Eve hybrid mattresses offer zoned support. This is due to the nature of individually nested pocket springs, as well as the memory foam layer on top of it.
These two, combined, allow a little bit of extra "give" in the core areas under your hips and shoulders so that you can sleep on your side without any discomfort at all.
Both pocket springs and memory foam will nicely contour around your body's curves, keeping you perfectly aligned throughout the night.
As we've previously said, the spings in the Original Hybrid are full-sized, standing at 12 cm tall. We've seen taller springs, but these fit perfectly inside the body of this Eve mattress at this size.
There are 800 pocket springs in this mattress and all of them move individually, which allows them to be more comforting, supporting and what's maybe even more important – a lot more durable compared to the traditional coil springs mattresses.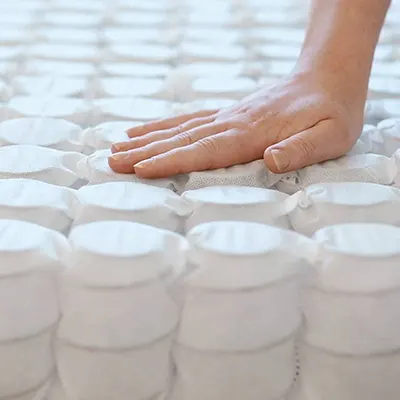 You won't get the same bouncy feeling you would get from a traditional pocket sprung mattress, but what you will get is excellent motion isolation, which leads us to our next point…
The combination of 800 individually nested pocket springs and four layers of CertiPUR certified memory foam delivers excellent results when it comes to motion isolation.
This feature alone makes the Original Hybrid a perfect mattress for couples.
Even if both you and your partner are restless sleepers that toss and turn during the night, you won't feel each other at all.
Nestled right underneath the removable top cover is the EveComfort layer.
EveComfort foam is a springy memory foam layer that offers a significant level of support, as well as contouring. But, that's not all…
According to Eve, all of their foams, including this one, are 30 times more breathable compared to the regular memory foam. Now, we don't know how they've come up with those numbers, but we can say that according to our Original Hybrid mattress review – this one rarely ever gets hot.
Underneath the EveComfort, we have two additional memory foam layers – one for added softness and the other one for some additional edge support. Although to be fair, the edge-support layer could be better.
An additional 3,5 cm of foam for extra support
Underneath the pocket spring layer, we have a 3.5 cm thick memory foam extra support layer. This is a slightly firmer foam, supporting not only the pocket springs but also adding to the overall support of the mattress.
Now, even though there are foam layers on both sides of this mattress, the mattress isn't double-sided. This support layer, however, eliminates the need for flipping the mattress. All you need to do is rotate it once a month and you should have your mattress for a long time.
Review of Eve Original Hybrid mattress
Now, let's the at look at our Original Hybrid Mattress review.
First of all, this is an all-around great hybrid mattress, and we wouldn't expect less from an Eve mattress. It is very supportive and firm but to the cost of the overall comfort. It does a great job at keeping you in a perfect sleeping position, regardless of whether you are a back, stomach or side sleeper. What's even better is, if you do find it too firm or too soft – just switch your bed base.
Furthermore, the motion isolation is great, as expected. What did come as a bit of a surprise is excellent cooling and breathability. The mattress didn't get hot even during the warmest nights.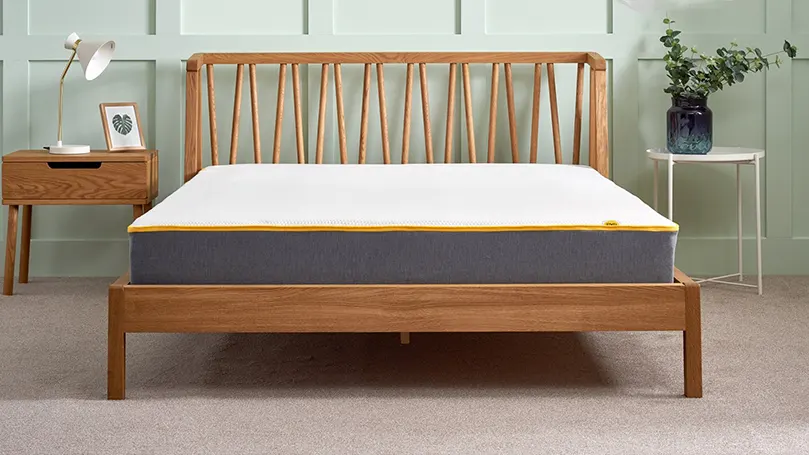 The removable cover is excellent. It is made from high-quality polyester fabric, more precisely a mixture of 98% polyester and 2% elastane, making it both moisture-wicking and hypoallergenic.
Finally, as is always the case with Eve mattresses, they come with a 100-night trial period and a 10-year warranty.
On the other side, what we found to be the weakest point of this Eve mattress is the sub-par edge support. You won't roll off the bed during the night, but if you're older or just have bad knees, and your bed base is lower off the ground, you might have some trouble getting up.
It also might be worth noting that pressure relief is good, but it could be better.
KEY FEATURES:
Type: Hybrid
Firmness: 6.5/10
Thickness: 25cm
Size: UK Single, UK Double, UK King, Super King
Suitable for all kinds of sleepers
Excellent comfort, support and durability
Removable, hypoallergenic top cover
Sub-par edge support
Somewhat limited sizing options
Pressure relief could be better
What we like about Eve Hybrid mattress
For a mattress with four foam layers – it does a remarkable job keeping things cool and breathable.
It has excellent motion isolation while still retaining some of the bounciness for extracurricular bed activities. 
It should remain the excellent condition for at least eight years.
What we didn't like about the Eve Hybrid mattress
The mattress sags quite a bit along the edges, making it unpleasant when standing up or sleeping near the edge.
There are only four options available – Single, Double, King and Super King size.
When sleeping on the back, you could feel some pressure releasing for the core areas, but it seems like it could've been improved upon with an additional comfort layer.
Check the alternatives to the Eve Original Hybrid mattress
If you're not sold on the Original Hybrid, you might want to take a look at a couple of similar alternative picks we've prepared for you.
If you want something similar but slightly softer, you might want to take a look at the memory foam option from Eve – Eve Lighter mattress. Compared to our reviewer, Eve Lighter is softer, offers better pressure relief, better edge support, but at the cost of some heat retention. A fair trade-off, we'd say.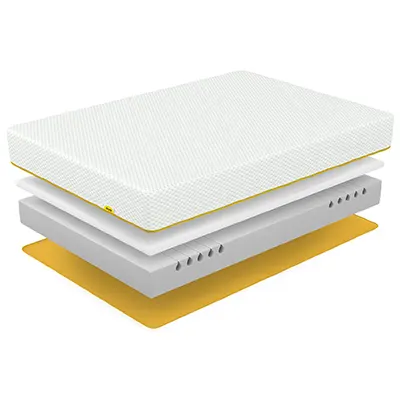 Incredibly comfortable
Very durable
Very affordable
It does get quite a bit hot on a warm night
It will be too soft for heavy or stomach sleepers
Simba Hybrid mattress is a relatively similar product to our reviewee. It's slightly softer than the Original and it doesn't have a removable cover, but it still does all the important things quite well. The most significant advantage of Simba Hybrid over the Original Hybrid is the plethora of available sizes. Nine of them, to be exact.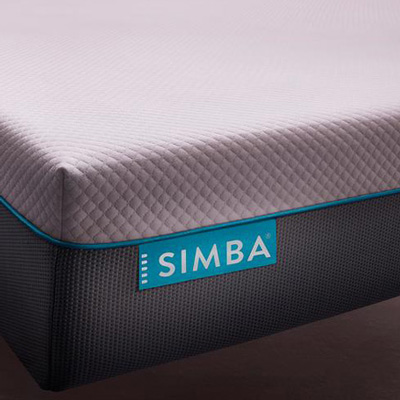 Very comfortable
Excellent durability
200-night trial period
Below-average support
Not the coolest or the most breathable mattress
No removable cover, quite easy to stain and hard to clean
Consider Eve Memory Foam pillow if you are buying an Eve Original Hybrid mattress
If you're struggling with neck pain, you might be interested in pairing your new mattress with an Eve Memory Foam pillow. This high-adaptable pillow is made from responsive foam, encased in a hypoallergenic polyester fabric cover. It's moderately soft, it contours well, and the cover is easily removable, hypoallergenic and machine washable.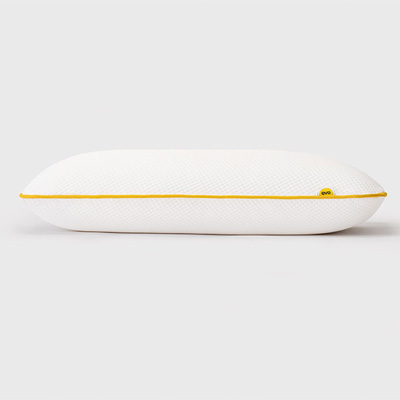 Solid neck support for back sleepers
Removable, hypoallergenic cover
Affordable, yet still very durable product
If you prefer a cool pillow, this isn't the choice for you
Not suited for stomach sleepers
What makes Eve Hybrid mattress better than some other similar ones?
What makes this Eve hybrid mattress better than the other mattresses in a similar price range is the perfect balance of comfort and support and the overall adaptability to all sleeping positions. Many claim to be perfect for sleeping positions, but that's rarely the case. This one, on the other hand, backs up the claims.
FAQs about your new Eve Original Hybrid Mattresses
In the end, we wanted to wrap things up by answering some frequently asked questions about this Eve Hybrid mattress.
Is Eve Original and Eve Original Hybrid mattresses the same?
No. Eve mattresses are all called The Original, The Premium and The Lighter, but all three come in memory foam and hybrid versions. Eve Original is a foam mattress and our reviewee is a hybrid.
Who should use the Eve Original Hybrid mattress?
Everyone can use this mattress. Even if you end up disliking it, you can always rely on a 100-night trial period and send it back free of charge.
How long will my Eve Original Hybrid mattress last?
According to our tests, this Eve mattress should last you at least eight years, probably more.
How do I wash my Eve Hybrid mattress?
The top cover is removable and machine washable at low temperatures.
Is Eve Original Hybrid mattress good for back sleepers?
Yes. This mattress is good for back sleepers because of its excellent support and comfort.
Is Eve Hybrid mattress good for side sleepers?
Yes. Due to its four layers of foam, this one is quite good for side sleepers.
Is Eve Original Hybrid mattress good for front sleepers?
Yes. Paired with a solid base, this mattress will be an excellent fit for front sleepers.