Eve Light Eco Duvet Review
If you're in the market for high-quality bedding, then Eve Light Eco Duvet might just be the right pick for you. It is a lightweight, warm and cuddly duvet – made from microfibre and cotton. It looks and feels premium so, does it mean we can list i in the best duvets list? Well, let's find out in our detailed review.
Who is Eve Light Eco duvet for?
Anyone in need of a high-quality duvet that will serve the purpose throughout the entire year should feel free to test this one out. Compared to some other duvets in a similar price range, this one brings a lot more to the table. Especially when you consider that this comes from a branded company that is recognized everywhere.
It's light, warm but highly breathable which is super important. At the same time, it is great choice for people with allergies, thanks to its hypoallergenic structure. We will breakdown its hollowfibre structure and what else it has to offer a bit later, in the text. 
Add a header to begin generating the table of contents
What do we use this product for?
As many duvets tend to get really warm during the summer, a 4.5 tog duvet such as this one is great for warm summer nights if you prefer to stay cool while you sleep. To be fair, you can see this one during the entire year if your bedroom isn't too cold during the winter. Of course, it is not as hot as a goose down duvet, but if you aren't going to sleep somewhere high in the mountains, it is going to be just enough to cover yourself and sleep cozy. In general, this duvet is great for:
Sleepers with allergies 
Hot sleepers 
Sleepers who want to have a comfortable and all around duvet.
Features you should know about Eve Light Eco duvet
A duvet is a lot more than just a cover and in the case of Eve Light Eco, there are three features that we feel you should know more about.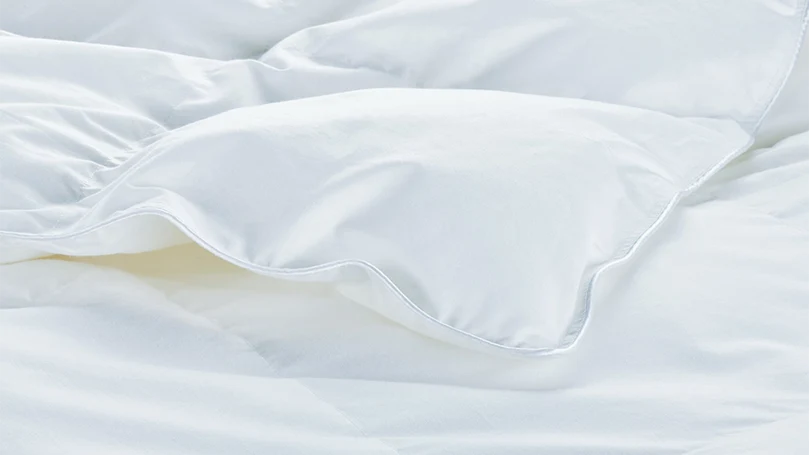 Dacron Comforel eco recycled hollowfibre
This duvet is filled with 100% Dacron Comforel ECO recycled hollowfibre. Since none of those words mean anything to you – let us explain. The inside of this duvet is filled with irresistibly soft hollowfibre made from recycled plastic bottles. This makes Light Eco a hypoallergenic duvet, which is always a bonus, considering all the allergens that can be found in your bedroom.
To top things off, these hollowfibres are so lightweight and soft that you might genuinely feel like you're sleeping under the Hungarian goose feather duvet – minus the allergies.
Finally, we can't forget about the sustainable and eco-friendly aspect of the recycled hollowfibre. Good job, Eve!
As you could expect from a duvet with a 4.5 tog rating, this one is very cool and breathable, making it ideal for warm summer nights where you would toss and turn all night because you were just too hot.
However, unlike many other 4.5 tog rated duvets, this one isn't thin as a blanket. Quite the opposite, in fact. This one is quite fluffy and cuddly, despite being cool and breathable.
As far as temperature regulation is concerned, it is good – but not excellent – let us expand on that.
However, a 4.5 tog rating comes at a cost. If you prefer sleeping in a cold room during winter, you will need something warmer. For those situations, you may need something in the range of 10.5 tog or 13.5 tog.
Fortunately, Eve makes duvets in higher tog as well, so if you need any of those – you check out their Snug or Yin Yang duvets.
Finally, this wonderfully cosy and cuddly duvet comes with a 100% cotton cover. Cotton is universally known as the best duvet cover and Eve decided to provide you with that. This is a high-quality 233 thread count cotton cover that will feel perfect on your skin.
Paired with the hollowfibre fillings, the cotton cover adds to the overall softness and breathability of the duvet while also wicking away all the extra moisture keeping you both cool and dry all night long.
Furthermore, cotton is naturally hypoallergenic and very easy to clean, which adds to the overall value of this cover.
Review of Eve Light Eco duvet
Now, to the fun part – the review of Eve Light Eco duvet.
All in all, there isn't much that we found wrong with this one. The duvet is made from high-quality materials, it is very durable and it will do what it was made to do. The design of the duvet is nice and clean. It's 100% white, without the signature yellow accent you might find on other Eve products.
One of the strongest suits of this product is that it is hypoallergenic and very easy to clean. Namely, the duvet is machine washable at 40 degrees Celsius, thanks to the synthetic Dacron Comforel ECO recycled hollowfibre and 100 per cent cotton cover. However, keep in mind that you might not be able to fit this synthetic duvet into a washing machine – especially if you go with the super king size. At that point, you might be better off just leaving it to the professionals.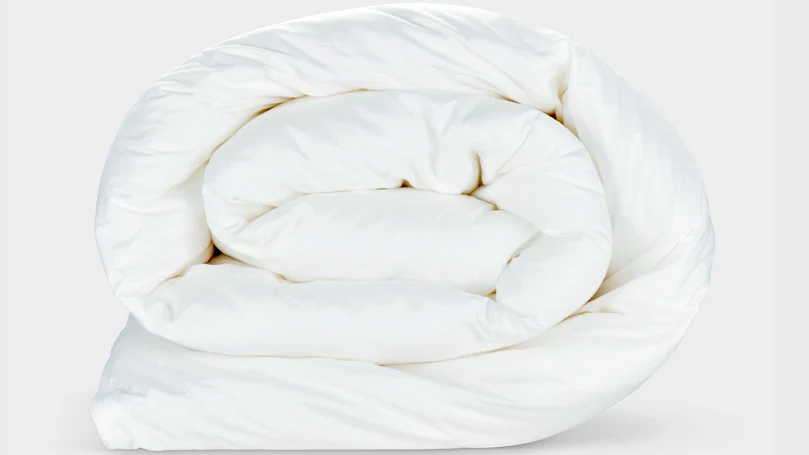 Furthermore, you can safely tumble dry the duvet without worrying about anything.
On the other hand, you can't return this item if you've used it. "Hassle-free" returns don't apply to duvets and different kinds of beddings for "health and hygiene" reasons, as they say. So, if you don't end up liking it, you will have to find another way to get rid of it. On the bright side, if you haven't used it and you've kept the original packaging – you can return it and get a full refund within the first two weeks.
Finally, we've already said it, but it is important to repeat it – if you prefer sleeping in a cold room during the winter – you will need a duvet with a higher tog rating.
Cover: 100% Cotton
Fillings: 100% Dacron Comforel ECO recycled hollowfibre
TOG: 4.5
Size: UK Single, UK Double, UK King, Super King.
Very cool and breathable
Hypoallergenic and easily washable
Made from high-quality, sustainable materials.
It can't be returned if used
It might be too big for your washing machine
Not warm enough for cold winter nights.
 
What we like about Eve Light Eco duvet
High-quality materials used in this duvet feel very premium and luxurious
It is hypoallergenic and easy to clean
It's eco-friendly.
What we didn't like about Eve Light Eco duvet
Even though it is machine-washable, it might not fit in your washing machine
You can't return and ask for a refund if you've used the product
It would've been better if it was 300 thread count cotton cover.
Check the alternatives to Eve Light Eco duvet
If you're not pleased with Eve Light Eco or you simply want something warmer – we've prepared two alternative picks for you to choose from.
If you're looking for an all-seasons duvet, this 10.5 tog Panda Cloud duvet might just be the one for you. The first main advantage is having a bamboo-infused structure that ensures hypoallergenic sleep environment. 
It's filled besides the bamboo, with nano-fibre as well. Also, it is important to mention that all bamboo is ethically sourced.
It's soft and cosy, it will keep you warm during the cold winter nights and unlike Light Eco – you can return it if you don't end up liking it.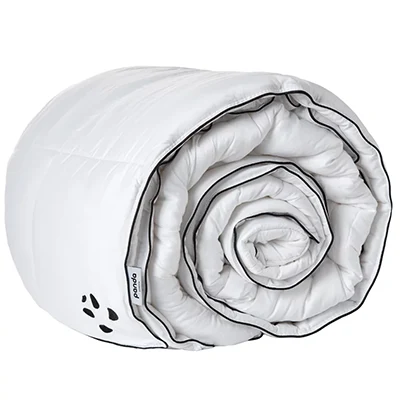 Perfect tog rating for all seasons; excellent temperature regulation
Very comfortable and durable
30-night trial and a 5-year warranty.
It might get somewhat warm during scorching summer nights
More expensive than some similar products
It might be too big for your washing machine.
Simba Hybrid duvet is a TOG 10.5  duvet made for all seasons. Once again, we're looking at a synthetic duvet with recycled plastic bottles used as a filling. 
The Simba-Renew filling is excellent at regulating temperature, is sustainable and eco-friendly, and is naturally soft and light as a goose feather.  
The cover is made from 300 thread count cotton, infused with Stratos, Simba's active temperature regulation technology, making this one a genuine all-seasons duvet. You won't be hot or too cold during the night.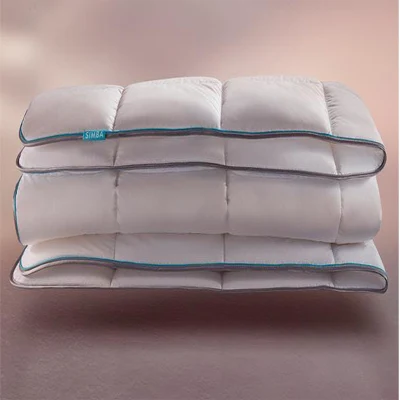 Great temperature regulating properties
Very comfortable and durable
Hypoallergenic. 
More expensive than some similar products
It might be too big for your washing machine
Only a one-year warranty.
Consider Eve Light mattress if you are buying Eve Light Eco duvet
If you're looking to pair your new duvet with a new mattress – you might take a look at Eve Light. 
This is a memory foam mattress that is ideal for those in need of great support and comfort, but also some pain and pressure relieving properties. 
Since this is a memory foam mattress – it does get a little bit warm, so it's only natural that you'd pair it with a "cooling" duvet such as Light Eco.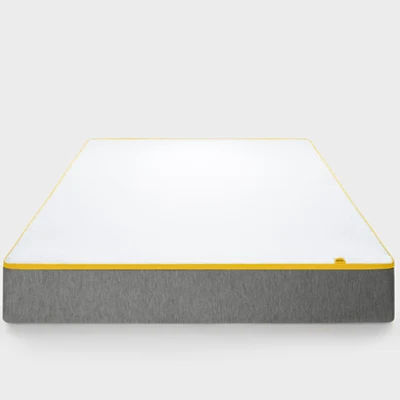 Incredibly comfortable
Very durable
Very affordable.
It does get quite a bit hot on a warm night
It will be too soft for heavy or stomach sleepers.
What makes this product better than some other similar ones?
If we were to compare Light Eco to some similar products in a similar price range, we'd say that the most significant advantage of the Light Eco lies in its breathability and comfort. The duvet feels really premium and luxurious, it's very fluff and cozy, and it will keep you cool even during the hottest summer nights.
How did we test the product?
When we do our reviews, we try our best to be thorough and detail-oriented. We approach every review with a single goal in mind – an objective overview of the product. We use the same approach regardless of the product we are reviewing.
In this case, it all starts with the delivery. As Eve likes to say, they've made their delivery process easy. All you need to do is select the product you want, choose the right size and enter all the necessary details. However, keep this in mind. Even though it says "free delivery" on the website, that does not universally apply. Although it is free in most of the UK, you still need to check – just in case.
Upon receiving the product, we've inspected the packaging for any visible signs of damage and we were pleased to see there were none. The duvet was at our doorstep quickly and it came in perfect condition.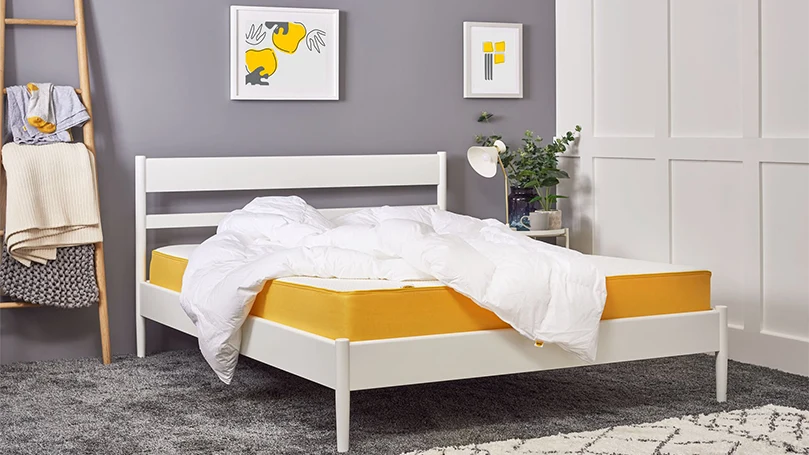 Upon unpacking and unboxing, we thought we had ordered a feather and down duvet for a split second. It was that fluffy and lightweight! Upon further inspection, we've concluded that the duvet was in perfect condition. There were no stains or poorly sewn seams and we were free to proceed with our testing.
We've spent two nights sleeping under this duvet and we must say – we're impressed. The duvet is nice and cosy, doesn't get warm at all, snugs perfectly around you if you want it to and it easily fits in a matching cover. However, we did notice that even though it can be an all-seasons duvet (if your bedroom is warm enough), you might need something closer to 9 tog or higher – if you prefer sleeping in a chilly room.
FAQs about your Eve Light Eco duvet
Finally, we wanted to wrap things up by answering some of the most frequently asked questions about this duvet, so that we can cover all grounds and neatly wrap up our review.
Is Eve Light Eco duvet environmentally friendly?
Yes. The duvet's hollowfibre fillings are made from recycled plastic bottles resulting in a very sustainable and eco-friendly product.
Is Eve Light Eco duvet suitable for all types of sleepers?
Yes. Regardless of your sleeping position, the Eve Light Eco duvet should be more than comfortable.
Is Eve Light Eco duvet machine-washable?
Yes. This duvet is machine-washable, although it might be too large for the machine more often than not.