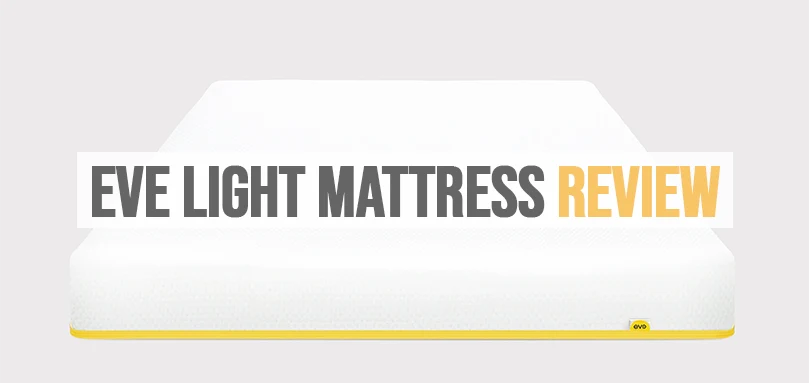 The Eve Light Mattress Review
Eve never fails to surprise with their sleek, elegant and light design. Now, with Eve Light Mattress the things are getting even lighter! And we are not talking only about the comfort, the feel and the support, we are talking about the price, too!
Add a header to begin generating the table of contents
So, if you always found Eve mattresses tempting and interesting, but you had some second thoughts because of the price, this is a review you want to read. Eve took the elegant approach to mattress making even further this time. They took out some layers and focused on extra compatible design. The results were pretty great – light and comfy mattress for a smaller price!
Eve Light Mattress is a great choice for people who bring on some damage to their posture due to the office jobs, sitting in front of the computer or physically demanding jobs. This mattress provides very gentle support to the whole body and thus eliminates joint, muscle and back tension. Also, the mattress has a certain relaxation effect, so it's quite good for people who have difficulty falling asleep or maintaining sleep. Due to the moderate, light bounce-ability Eve Light Mattress is a pretty good choice for couples. Co-sleeping with Eve Light Mattress becomes even more pleasant experience.
After the Eve company came into the market thousands of customers got swept away with Eve gentle comfort, elegance and affordable prices. For all bed-in-a-box fans, Eve company doesn't need a special introduction. Those who love bringing luxury to their bedrooms in a modern, stress-free and affordable way, are probably bringing it with Eve.
Many people simply fall in love with this company's philosophy that a luxury shouldn't cost a fortune, and it's so easy to understand. Having a comfy mattress and pillows and letting your good taste in interior design to spread its wings, shouldn't come with a crazy price. That's one of the main reasons why more and more people are going for Eve products. Plus, the company offers warranties, free trials and much more. And, if we may add, their website is so user-friendly and makes mattress and pillow browsing a breeze.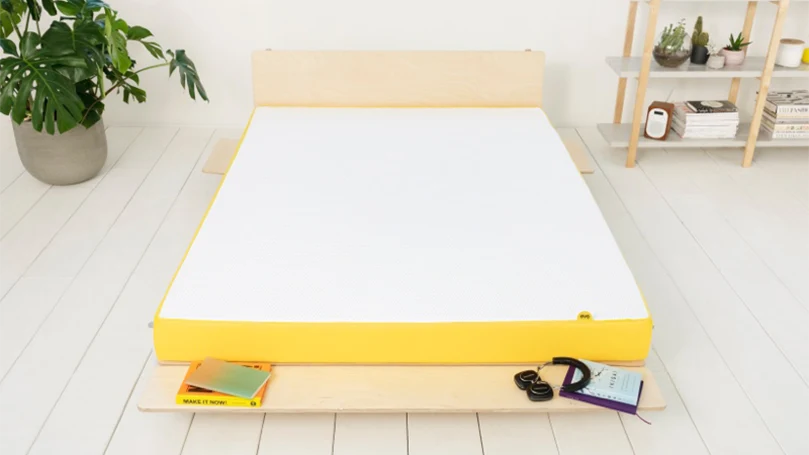 Eve Light Mattress has three main layers. The first layer is a top cover with a 98% polyester and 2% elastane mix. The second layer is a foam one, and it's 4 cm thick. The bottom layer is 13 cm thick and also made of foam. So, the Eve brings you full on luxurious comfort with under the 20 cm of thickness. And remember, thinner and lighter mattress means an easier flipping. We all know how much is proper maintenance important for a mattress.
The mattress is light, moderately soft, bouncy and breathable. All in all, it's a premium quality for a smaller price. The product is suitable for those who are light sleepers or have mild sleeping disorders. The mattress helps relaxation and provides gentle support for the spine, neck and shoulders. Also, Eve Light Mattress is simply great for co-sleeping.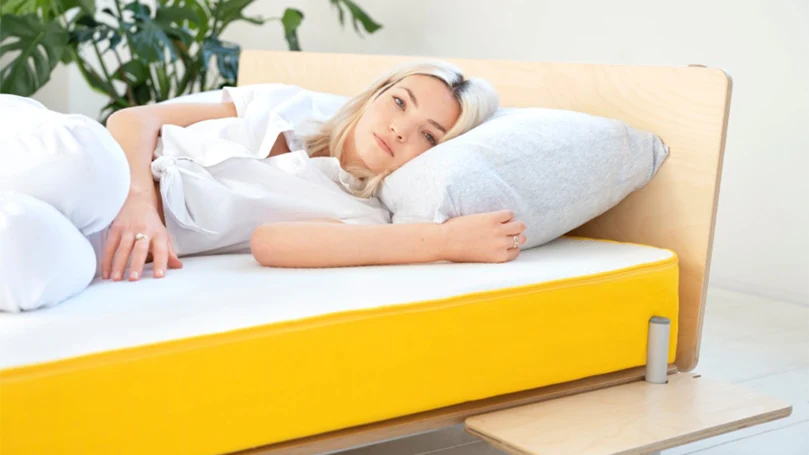 Eve Light Mattress features three types of materials: standard foam, polyester and a bit of elastin mix. The key of Eve Light Mattress' comfort lies in the smart layout of these various layers. Eve wanted to show with this product how much can be done with a little thickness, and they sure did.
All of the layers play a part in support and comfort and make this mattress tastefully bouncy. Also, none of these materials makes Eve Light Mattress maintenance a hard job. The standard foam of Eve Light Mattress is easy to air. Also, the top cover responds very well to spot cleaning. Also, we like to mention that the top layer is fire retardant.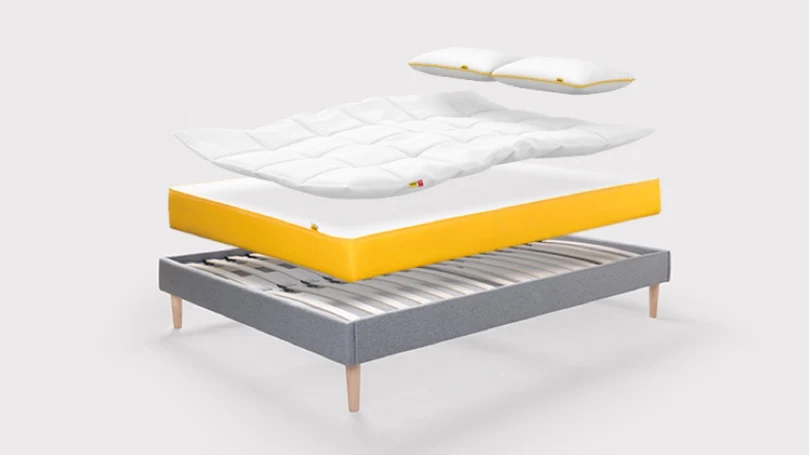 Eve Light Mattress provides adequate whole-body support and it doesn't give that "sinking" effect. In general, support is a subject in which this mattress gets top grades. However, there is one "but" with this one.
If you suffer from serious back pain, you should advise your physician before deciding on a mattress. Getting a right mattress for back pain issues is a whole science. Not all back pains share the same cause, and they all need a different level of mattress firmness. Eve Light Mattress is a very supportive mattress, and it helps a lot with back pain reduction. But, we advise you that, if you have serious and/or frequent, back pain to use the Eve trial period first. Use the 100 nights trial and ask Eve customer support for additional help. Who knows, maybe this light version of the foam mattress is the one for you back troubles.
So, we arrive at the Eve Light Mattress' best quality – the comfort. The support level of Eve Light Mattress may not suit everyone, but this mattress sure is comfy. Two differently designed foam layers make sure that you have a night of luxuries comfort on Eve Light Mattress.
Eve Light Mattress reacts to the pressure that you put into it. This means that the mattress reacts differently on your head, torso and your limbs. So, the mattress takes one shape under your arms, and the different one under your back, and so one. With Eve Light Mattress every part of your body gets special attention and its own realm of comfort. Thanks to this ability, Eve Light Mattress is great for those who don't stick to one sleeping position during the night.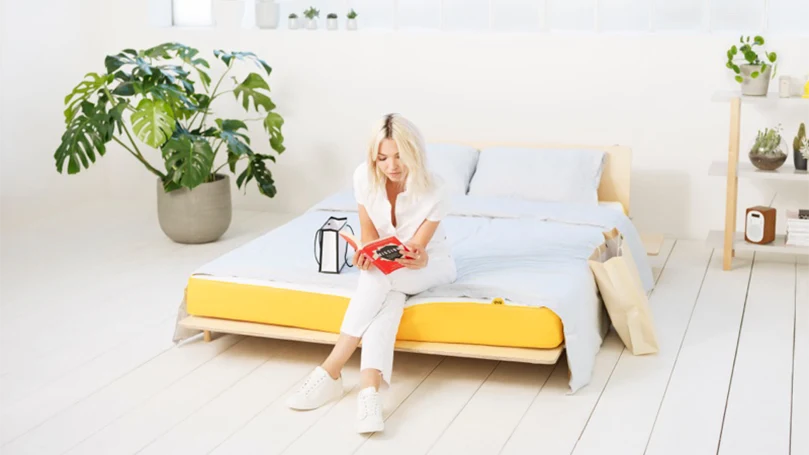 Eve Light Mattress has that perfect balance between bouncy and firm. The mattress doesn't let you sink in, but it's doesn't push you right back up, either. So, as a moderately bouncy mattress, Eve Light Mattress qualifies as a great choice for those who put the comfort first, and for couples, of course. This mattress is great for sleeping, but also for other bedroom activities.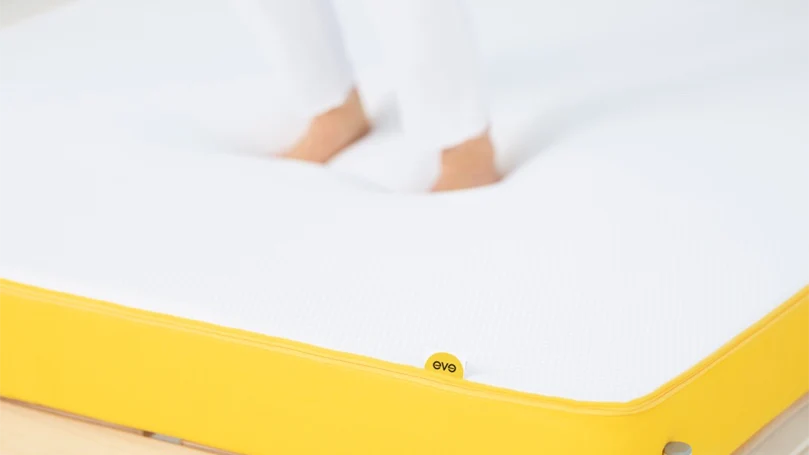 The foam that Eve used for this mattress is breathable, but it doesn't have some super-special breathability features. It allows free airflow and it doesn't retain heat too much like some foams do. Also, it doesn't tend to absorb odours and moisture.
The issue with smell can happen with this product. It is frequent with this type of foam, actually. After you unpack your Eve Light Mattress, we advise you to air it at least for one day. This should make the smell go away completely.
Eve products are made to last and retain their initial shape for many years. Even after long use, Eve mattresses stay bouncy and comfortable. The same case is with Eve Light Mattress. If the product durability is a groundbreaker for you, don't worry about Eve, they give a 10-year warranty.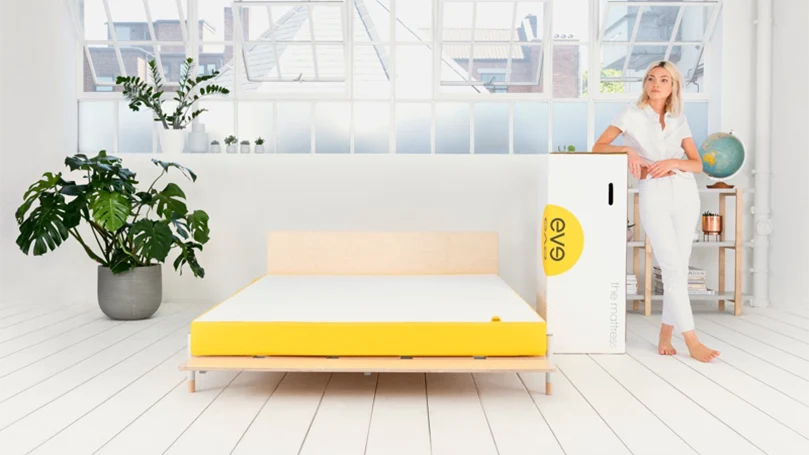 The price-quality ration is something in which the Eve is expert at. But with this pillow, the price-quality ratio becomes even better! Eve Light Mattress is actually some sort of cheaper version of the standard Eve mattress. With Eve Light Mattress you get same great comfort for a smaller price. So, Eve Light Mattress is definitely worth the money!
| | |
| --- | --- |
| MATERIALS | Standard foam in two various layers, polyester and elastin mix. |
| SMELL | The issue with smell does occur |
| PRICE – QUALITY RATIO | Worth it! |
Trial period, warranty, shipping details and refunds
Eve Light Mattress comes with a 10-year warranty. The delivery for the UK is free, and returning the product is so simple and stress-free. Also, Eve Light Mattress comes with an amazing 100 days free trial period.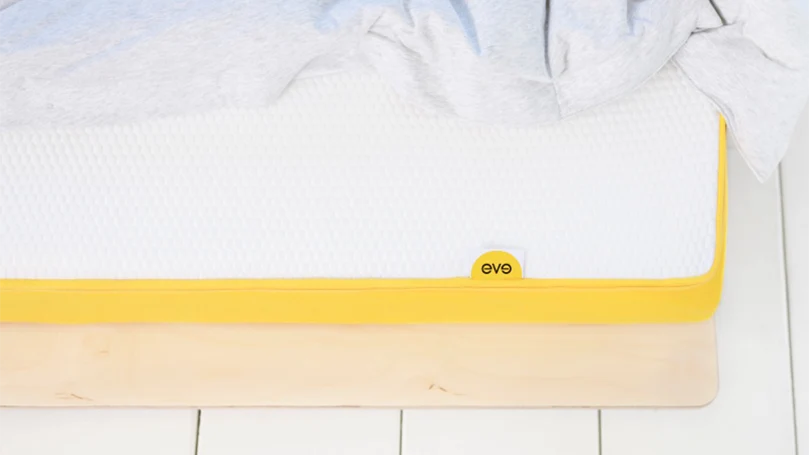 | | |
| --- | --- |
| Size | Dimensions |
| UK Single | 90 x 190 cm |
| UK Double | 135 x 190 cm |
| UK King | 150 x 200 cm |
| Super King | 180 x 200 cm |
You like to sleep like royalty, but don't want to pay a royal price? Than the Eve Light Mattress is perfect for you! Eve Light Mattress provides a special treatment to each part of your body and leaves you relaxed and ready to drift away into the dreamland.
So, to sum the things up, Eve Light Mattress is perfect for:
People who are stressed and/or having trouble falling asleep
Couples and co-sleepers
Elderly or people with mild back pain
Athletes or people who need some tension taken away from their muscles and back
Those who co-sleep with pets who enjoy pleasantly warm sleeping surface, such as cats
And, of course, those who don't want to spend a crazy amount of money but still want the comfort
Those who are advised to use a trial period on this product first are those who have serious back pain issues. Choosing a mattress that would solve, or reduce, back pain caused by injury, illness or old age requires certain professional medical advice. So, if you are looking for a mattress to help you with your bad back , talk to your physician, Eve customer support and use the trial period. But, if the only thing that you are looking for is a pure comfort, you can't make a mistake with a new light Eve mattress with a very light price!