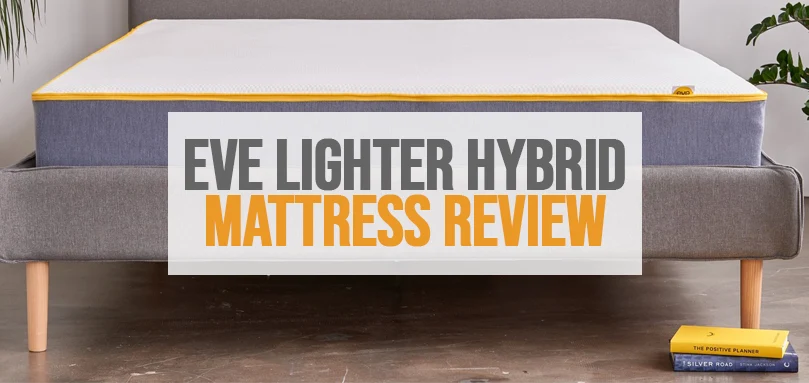 Eve Lighter Hybrid Mattress 2021 Review - Our in-depth coverage
Eve Lighter Hybrid is the most affordable hybrid mattress in the Eve Sleep catalogue. Just like all of the other Eve hybrid mattresses, this one comes with full-sized pocket springs encased in comfortable memory foam for the perfect good night's sleep.
Today, we're going to check whether this mattress is actually any good and whether you should get one.
Who is the Eve Lighter Hybrid mattress for?
As a medium-firm hybrid, this mattress is pretty much suitable for everyone – at least in theory. Full-size pocket springs and memory foam make up for a medium-firm mattress, maybe even more firm than you would initially expect from a mattress this thin. All in all, anyone under 100kg and regardless of the position they sleep in should be more than pleased with this mattress.
Add a header to begin generating the table of contents
What do we use this product for?
If you're having trouble sleeping or you suffer from any kind of sleep-related pain – this mattress could prove to be useful. Considering that we're dealing with a medium-firm mattress, you could just be in the market for a new mattress and this Eve Hybrid mattress should fit your needs very well.
Features you should know about the Eve Lighter Hybrid mattress
Just like any other mattress, this light version of Eve Hybrid mattress also has its own set of defining features and we wanted to tell you a little bit about them.
650 full-sized pocket springs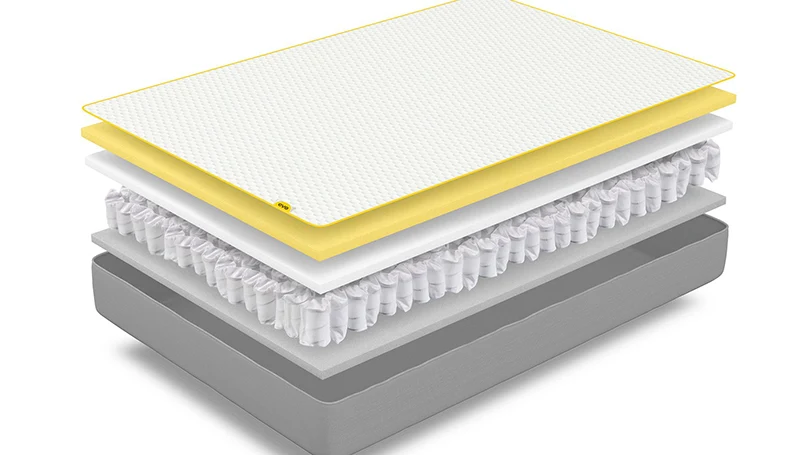 First up, we need to talk about the pocket sprung layer. Inside the Lighter Hybrid pocket sprung layer, we have 650 full-sized, 90mm, individually nested pocket springs. Thanks to this layer, this mattress offers excellent top-to-toe support, provided that you use the suitable base for it.
The overall quality of pocket springs is very high. They are made from high-quality material, they're durable and encased in two 25mm thick memory foam layers for extra stability, giving the mattress a nice, even feel. Combining everything, this pocket sprung mattress will definitely give you everything you could need from a classic hybrid mattress.
The "star" of every Eve hybrid is the EveComfort foam layer. This memory foam layer is nestled right underneath the top cover and provides both comfort and stability, as well as some improved temperature regulation and breathability.
Eve Sleep claims that their EveComfort foam layer is 30 times more breathable compared to the regular memory foam, but we can't possibly be sure about that. What we can say is that the mattress does not get hot, but you do have to consider that there's only 80mm of memory foam in this Eve Hybrid, so that could play its part as well.
Removable & washable cover
Unlike many other companies, Eve Sleep makes sure that their hybrid mattresses come with removable & washable covers. As expected, Eve Lighter Hybrid also comes with a removable and machine washable cover.
The cover is made from 98% polyester and 2& elastane, making it both durable and breathable. This moisture-wicking material works perfectly with the rest of the mattress, leaving you cool and dry all through the night.
Review of Eve Lighter Hybrid mattress
We've tested this mattress thoroughly and here's what we've found out.
Eve Lighter Hybrid is a high-quality mattress according to everyone's standards. It's supportive, durable, comfortable, made of high quality pocket springs, doesn't get hot, comes with a removable and machine washable cover – what more is there to it?
Since we've already covered most of the good stuff so far, we won't be repeating ourselves. Instead, let's talk a little bit about where this mattress came up short.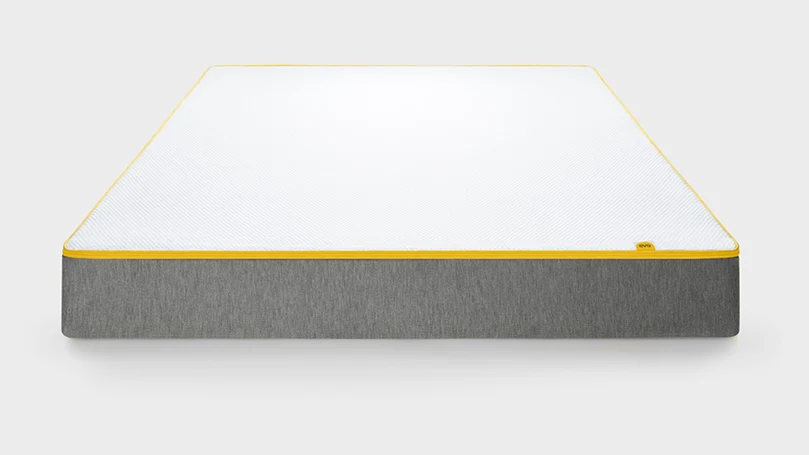 First of all, this seems to be a regular occurrence with Eve Hybrid mattresses, but once again, we're looking at a mattress with sub-par edge support. If you're sleeping with a partner or close to the edge, you might feel like you're sliding and that's certainly not great.
As with every other Eve Hybrid, you have to rotate it 180 degrees you make it last longer. However, Eve Lighter Hybrid doesn't have any handles to help you with rotating, so you will struggle with it a little bit.
All in all, this really is a great mattress that pretty much everyone would be comfortable sleeping on, despite the apparent drawbacks. Even if you don't end up enjoying it – you can always return it. Eve Sleep is known for its excellent customer service and long-term, 10-year warranty and a 100-night trial, so there's nothing to worry about.
KEY FEATURES:
Type: Hybrid
Firmness: 7.5/10
Thickness: 18cm
Size: UK Single, UK Double, UK King, Super King
Excellent support and durability, thanks to pocket springs
The 10-year warranty and a 100-night trial
Very cool and breathable
Mattress could be a bit thicker
Edge support and motion isolation could be improved on
More expensive than some similar products
Doesn't have any handles for easier rotation.
What we like about the Eve Lighter Hybrid mattress
Excellent support – especially around the shoulders and hips
The mattress doesn't get warm even during the hottest summer nights
A removable, machine washable cover is always a welcome addition.
What we didn't like about Eve Lighter Hybrid mattress
The motion isolation could be better, but we don't necessarily mind the bounce on this mattress
The edge support is below average for such an expensive product
The lack of handles makes rotating harder than it needs to be.
Check the alternatives to Eve Lighter Hybrid mattress
If Eve Lighter Hybrid isn't cutting it for you, maybe you'll be interested in one of the alternatives we have selected for you. As you're about to see, we've stayed within the Eve Sleep eco-system, presenting you with their memory foam mattresses, as opposed to an alternative hybrid pick.
Another "light" product from Eve Sleep – only this time we have a memory foam option. Eve Light is an incredibly comfortable and very affordable mattress that is incredible at relieving pressure off of core areas such as shoulders and hips, and unlike Lighter Hybrid, this one has some excellent edge support.
Read our in-depth review of Ele Lighter mattress here!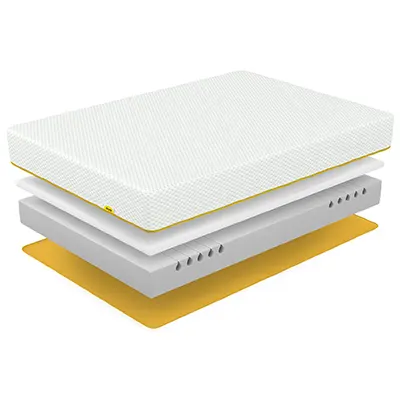 Incredibly comfortable
Very durable
Very affordable
It does get quite a bit hot on a warm night
It will be too soft for heavy or stomach sleepers
If you're in the market for slightly softer mattresses, with less bounce and more motion isolation – the Eve Premium mattress is the right option for you. It's extremely comfortable, it doesn't get too hot and it will last you quite a long time.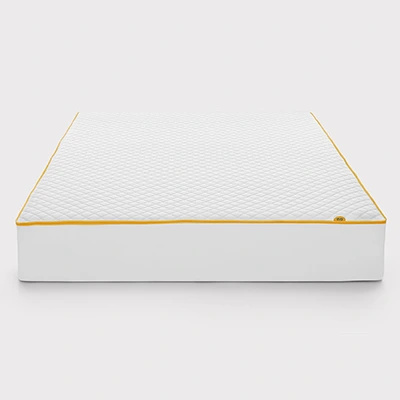 Very comfortable and durable mattress
Great motion isolation
Cool and breathable
High level of breathability
It might be too soft for heavier sleepers
Somewhat expensive
Lacks some additional edge support
Consider Eve Memory Foam pillow if you are buying an Eve Lighter Hybrid mattress
If you have issues with neck pain, you might want to invest in a new pillow, as well. A great pair for an Eve Hybrid mattress would be the memory foam pillow, also from Eve. This is a highly adaptable pillow made from responsive foam, covered with a high-quality, easily removable, hypoallergenic polyester fabric cover.
All in all, this is a good pillow that will be quite comfortable to sleep on (unless you sleep on your stomach).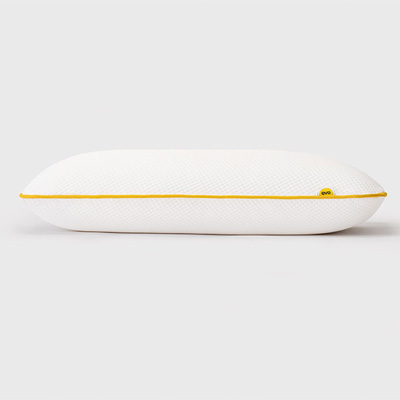 Solid neck support for back sleepers
Removable, hypoallergenic cover
Affordable, yet still very durable product
If you prefer a cool pillow, this isn't the choice for you
Not suited for stomach sleepers
What makes Eve Lighter Hybrid mattress better than some other similar ones?
What really sets apart this one from other mattresses, as well as every other Eve products, is their remarkable durability. Even though Eve mattresses are slightly more expensive compared to the others, on average, they last about 20% longer, so the initial price difference is more than worth it.
How did we test the product?
To provide a detail-oriented review, we take our time when it comes to testing. For this one, in particular, we focused our attention mainly to support and firmness, but we also inspected all other aspects of this mattress.
You'll be pleased to know that for bed-in-a-box, this mattress unwraps very quickly. It only took about 4 hours for this mattress to fully expand. Furthermore, off-gassing was minimal. In a well-ventilated room, this one should be odour-free in less than 24 hours.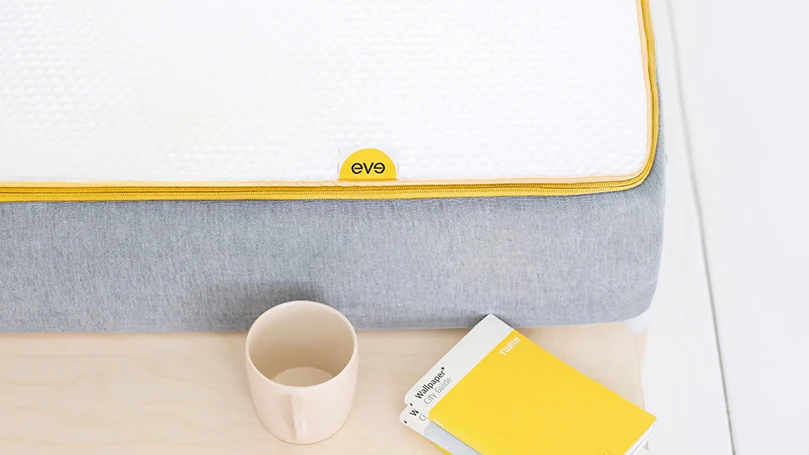 Now, when it comes to firmness and support, we were kind of surprised that a mattress this "thin" can offer this much full-body support. One thing to note is, Eve Lighter Hybrid performs much better on a solid, flat base, even though Eve Sleep sells slated beds. If you were to use this one on a slated base, you could expect a little bit of a give and even inadequate support, depending on your sleeping position.
As far as comfort is concerned – everything's great. The mattress feels good when you lie on top of it, it doesn't sink, and it's neither too soft nor too firm.
Furthermore, we wanted to test the durability of this mattress. Seeing how this is not a budget option -you'd ideally want it to last you at least years. We're pleased to say that this one passed the roller test with flying colours and you shouldn't worry about durability at all.
FAQs about your new Eve Lighter Hybrid mattresses
In the end, we wanted to wrap things up by answering some frequently asked questions we thought needed to be answered. We're going to try and focus on the things we haven't covered in our review, therefore, here are a few additional things we wanted to talk about.
What is the difference between Eve Lighter and Eve Lighter hybrid mattresses?
The main difference between the two is that Eve Lighter is a memory foam mattress and the Eve Hybrid is a hybrid. For additional differences, you can check out our reviews on both products.
How do I maintain my Eve Lighter Hybrid mattress?
During the first year, rotate your mattress 180 degrees every month. After that, you can lower the frequency to twice a year. Furthermore, to keep the mattress clean - remove the cover and wash it in the machine at 40 degrees.
Is Eve Lighter Hybrid mattress good for back pain?
Eve Lighter Hybrid is very supportive, so it should do a pretty good job for your back pain. Pain and pressure relief aren't on par with a regular memory foam mattress, but they're far from inadequate.
Is Eve Lighter Hybrid mattress good for neck pain?
As far as neck pain is concerned, we'd recommend switching to a more comfortable pillow, as a pillow is more likely to cause neck problems. However, Eve Lighter hybrid mattress will not cause any issues with your neck whatsoever.
What type of sleepers will benefit from an Eve Lighter Hybrid mattress?
This mattress is suitable for all kinds of sleeping positions. Its breathability will be of great help even for sleepers who have problems with allergies and asthma.