Eve Mattress Protector Review 2022 by The Sleep Advisors
If you have a mattress that suits you perfectly, then you definitely want it to be in perfect condition for a long time. And in order to prolong its service life as much as possible, it is desirable to have a mattress topper or protector ideally as almost none of the mattress toppers can't offer waterproof properties.  If you have had a breakfast in bed – you know how ungrateful is when you spill the food or liquid over the mattress. Luckily, this protector, like a fitted sheet, is going to help you prolong the lifetime of your mattress. Eve Mattress Protector is one of the best on the UK market. Here's your complete Eve Mattress Protector review.
Who is Eve Mattress protector for?
Finding the perfect mattress for your sleeping position is not an easy task at all no matter how many reviews you read. When you manage to find the ideal one, you will be very happy because it will improve your sleep. Also, a quality mattress is not cheap, so you don't want it to be something you spend money on every other year.
Eve Mattress protector is for everyone who has found a suitable mattress. If you do not want to change the feeling you have when you sleep on it, but you just want to protect it from spills, wear and tear and dust mites, this protector is great choice. Eve Sleep is a well-known company so you don't have to worry about the quality.
Add a header to begin generating the table of contents
What do we use this product for?
We use this Eve Sleep product to protect the mattress from various types of damage, especially from liquids that may be spilled on it. Also, physical damage to the mattress will be reduced, and you will know that you are sleeping on something that is always clean. Another useful purpose of the Eve
Mattress protector is that it can protect you from bed bugs. If bed bugs have appeared in the mattress and you can't get rid of them, and you don't want to buy a new mattress, you can continue sleeping on it with the help of a protector.
Features you should know about Eve Mattress protector
Now we come to the most interesting part that all our reviews have – the features that you should consider as every customer wants to learn about the qualities of the product. Neotherm coating is certainly the most important feature of Eve Mattress protector and that is why we will first tell you a bit more about it. 
It is important that you know that it meets the OEKO-TEX Standard 100, which means that nothing harmful to your health has been used, and that it is also hypoallergenic. Let's dive deep to find out more specifications on this Eve Sleep protector!
Neotherm coating is what actually makes up the essence of this mattress protector. This coating is multifunctional. The primary purpose is to make this protector water-resistant, but that's not all. The coating will protect you from bed bugs and dust mites, so this cotton top layer is great for all sleepers who suffer from allergy issues.
In addition, the cotton top layer regulates temperatures, which is very important, because many mattress protectors reduce breathability, but this is not the case here. Cotton-top is in charge of wicking away moisture, which is usually sweat. Overall, this Neotherm coating is something Eve company can be proud of. It will significantly prolong service life of your mattress.
Do you ever think about how many harmful chemicals we come in contact with every day? It is found in food, air, and perhaps most in cosmetics. It is also a big problem that it is in the textiles we wear and sleep on. However, Eve Mattress protector is OEKO-TEX Standard 100 certified, which means that it is completely safe.
OEKO-TEX is a certificate that textile and leather industry companies can obtain if they prove that the entire production process is environmentally and socially responsible. Since new chemicals are coming into use almost daily, then the criteria catalog is continuously updated and expanded. We recommend that you always look for OEKO-TEX Standard 100 when buying a product of this type.
Hypoallergenic is a term used since the 1950s to tell you that the product you are using will not cause allergic reactions. This means that it does not contain anything that is otherwise considered a common cause of allergies.
Eve Mattress protector meets all standards to be considered hypoallergenic. The coating is made of polyurethane and the cover is made of 100% cotton. Both materials are suitable for people with allergies, so this mattress protector can be used by everyone. It is suitable even for children who suffer from asthma, and it is especially important for them that everything they come in contact with is hypoallergenic.
Review of Eve Mattress protector
Let's do a quick summary of this Eve Sleep product so the customer could get the main pinpoints. Eve Mattres protector is made of water-resistant coating that is 100% polyurethane, and the cover is made of 100% cotton. Special Neotherm coating is water-resistant and breathable cover that protects you from dust mites at the same time. It is moisture wicking, so you will not get hot with it. It also serves as protection against bed bugs, which every customer would like to stay away from.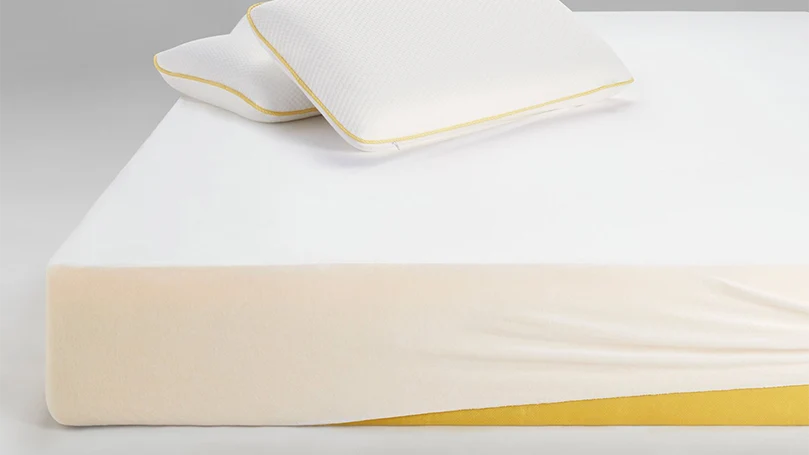 It is very easy to place Eve Mattress protector and you will do it in less than a minute – almost like a fitted sheet. It is machine washable, so all you have to do is wash it at 40 or 60 degrees C, let it hang dry and put it back on the mattress. To be maximally useful and durable, it should be washed relatively often, every couple of weeks but make sure you wash at the recommended temperature.
Water-resistant
Breathable & moisture wicking
Hypoallergenic.
Only white color available
A bit more expensive when compared to similar products
You have to wash it quite often.
What we like about Eve Mattress protector
Neotherm coating is truly amazing, because it is so versatile
Convenient for hot sleepers
Easy washable & breathable
OEKO-TEX Standard 100 and hypoallergenic features are making it suitable for virtually everyone.
What we didn't like about Eve Mattress protector
Only white color available, so you can't match it with design of your bedroom
Mattress protectors are usually cheaper than this one, but also not as good as Eve's product
If you want to make your mattress more comfortable, look for some other product.
Check the alternatives to Eve Mattress protector
Like with all previous reviews, this review will give you suggestions on some alternative products that can replace (just in case) the one we reviewed. Eve Sleep is a respectable company, well known in the United Kingdom market, but the same goes for Silentnight and Panda companies. They all produce top quality sleep related products. That is why we will present you Simba Performance Protector and Panda Mattress protector so you can compare them and choose one most suitable for you. Either of these is a good replacement for – if you plan to have a breakfast in bed without fear of spills and stains. Your great mattress deserves these protectors!
The Simba Performance Mattress Protector
If you want a breathable and cooling mattress protector, The Simba Performance Mattress Protector is everything you are looking for for protection of your mattress and bedding. Super-soft 200 thread count cotton and 200gm fill will perfectly protect your mattress and make your sleep even more pleasant.
Special Bi-Ome technology attracts microorganisms, and then deactivates them, so they cannot reproduce. You can find 8 different sizes of this protector including UK single, EU single, UK double, EU double, Small double, King, Super king and EU queen.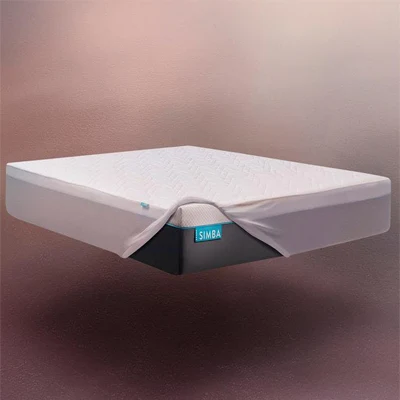 Breathable
Bi-Ome technology
Soft cotton.
Expensive compared to other protectors
Only white colour 
No straps.
Panda Bamboo Mattress Protector
Your mattress will last much longer if you protect it with this soft, naturally hypoallergenic and antimicrobial bamboo protector. Bamboo fabric is also antibacterial.
A very thin waterproof layer will protect the mattress from moisture. In addition, there is Nano TPU layer that will give protection against the spills.
Oanda Bamboo Protector is completely silent so there will be no annoying noise when you turn in your bed. This mattress protector is eco-friendly and socially friendly.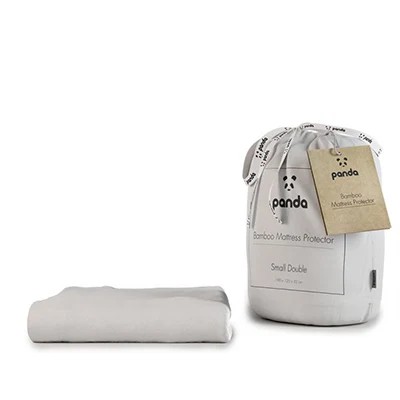 Machine washable
Hypoallergenic
Waterproof
100% noise-free.
Bamboo smell
You have to wash it few times before it become soft
Only one colour available.
Consider Eve Original mattress if you are buying Eve Mattress protector
As we have already said, the protector is there only to protect the mattress, not to improve comfort like a topper. We recommend you this great and super high quality product that will give you a good night's sleep! Eve offers you a hybrid-foam construction, which has three layers. Memory foam layer top layer, Polyurethane foam middle layer and base foam layer, and also has anti-slip base.
By far the biggest advantage of this foam mattress is the support it provides you. Top cover wicks away moisture so you will be dry and cool during the night which is quite rare for memory foam. Available in UK single, Small double, UK double, UK king and Super king. Just get the one of the bedding sets and sleep now!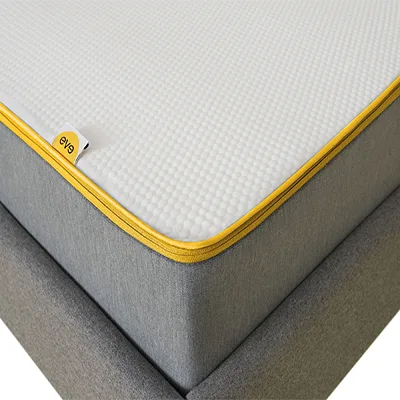 Three-layer foam mattress
Highly supportive
Anti-slip base.
Bouncy
Off-gassing issues
Too rigid for some customers.
What makes this product better than some other similar ones?
What we really liked about Eve Mattress protector and what sets it apart from the competition is that it is water-resistant and breathable at the same time. Usually water-proof mattress protectors are not very breathable which makes them unsuitable for hot sleepers and generally all people fly, but Eve has managed to achieve both in this product. If you want an additional layer of protection, this purchase will end your search for extending the lifetime of your mattress.
How did we test Eve mattress protector?
Like in all our reviews, we ordered the product first. After unpacking we did a quick quality inspection, and since this is a relatively simple product we didn't have much to do about it. The protector is high quality and there are no visible flaws. It is a good idea to check the entire product immediately, in case it is damaged, so that you can return it.
We ordered two sizes, out of 5 available to check if they are size standards and will fit for mattresses of the same size. We had no problem fitting the Eve protector on the mattress. You will very easily put it on the mattress, because there are no straps or anything else, all you need is to pop it over your mattress. Don't worry, it will stand in place even though there are no straps to hold it.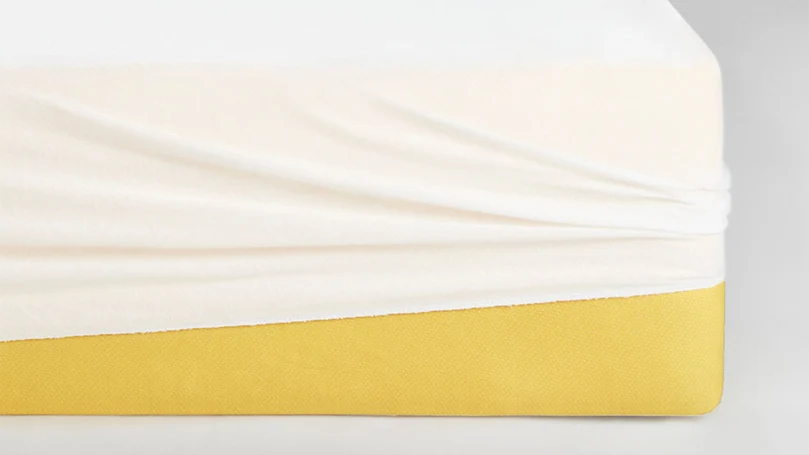 Since Eve Mattress protector is waterproof, we spilled water on it to check if the mattress underneath would stay dry. The water has not penetrated the protector, so you can be sure that even if you spill something in bed, your mattress will remain intact. After that, it was time for an overnight test. We liked that we didn't feel that the protector was there at all, and that's the point, not to change the feeling you have on the mattress. Also, you will not hear anything as you move. Since it has a cotton layer that wicks away moisture, and is also breathable. Thanks to the high quality cotton and the special coating, it is also suitable for hot sleepers who may have problems with achieving the optimal night's sleep.
In the end, we washed it in the washing machine at 60 degrees Celsius, which is a higher temperature than when you wash topper covers and the like. After washing, it was perfectly clean, unchanged in appearance and size so we guarantee you can wash it.
FAQs about your Eve mattress protector
Like with all our reviews, there are things that we somehow skipped to address. But there is our FAQ section. If you did not find the answers to all the questions about Eve Mattress protector in our review, although we think we were very detailed, in the FAQs section you will find a few more important things. You can learn how to maintain it, what sizes are available and whether it has a waterproof material and breathable.
Is Eve mattress protector waterproof?
Yes, Eve mattress protector has a cotton mater that is waterproof so spills won't damage your mattress.
How do I clean my Eve mattress protector?
You can wash it in the washing machine at 60 degrees C.
Is Eve mattress protector breathable?
Yes, it is breathable, making it great choice for hot sleepers.
What is Eve mattress protector size?
You can choose between 5 different sizes – UK single, Small double, UK double, UK King and Super king.
How can I pay for Eve Mattress Protector?
You can use Maestro, MasterCard, PayPal and VISA cards.
Is delivery of this product free?
Yes, the delivery is free. However, there is additional charge if you choose "the exact day" delivery.
Can I use this product on my mattress topper?
Even though the dimensions may work, this product is not made for protection of toppers.