If you lead a lifestyle that consists of a lot of traveling and bed changing, and you still need a familiar feel to sleep well, this product might come in handy. It's a mattress topper made by Eve, a convenient, portable and comfortable solution for people who are renting, owning, crashing or just need an extra comfort layer over their mattresses.  
Add a header to begin generating the table of contents
About Eve Company
Eve is the London- based company which specialty is making simple, comfortable and affordable bed gear. Their management spent 12 years between them developing mattresses and selling them all around the world. The experience they achieved during that time made Eve the recognized brand in the mattress market. Eve mattresses come in two basic models, one is hybrid pocket spring, and the other one is trademark Eve mattress made by new generation memory foam.
Besides those, Eve makes all other bed products, like baby mattresses, pillows, toppers, sheets, duvets, protectors, even some of the best bed frames.
Eve works by the slogan "Good sleep and great starts are too important to be elitist." so they sell high quality products for reasonable prices. But, more on that later, now let's talk a bit about our product in question. Visit their website for more information about the company and other amazing products if you're interested.
About Eve Mattress Topper
Eve mattress topper is one of the products from the palette of luxury bed accessories. If you aren't quite ready to replace your existing mattress, or you just travel around a lot and need a mobile and convenient solution to have the same type of comfort on each bed you sleep on, this is the best thing you could find.
We covered this item in our 5 Best Mattress Toppers roundup. Check it out if you want to explore more products.
Material
Eve mattress topper is made out of four layers: cover, breathable cooling layer, supportive base layer and underlay. The overall thickness is a bit above 5 cm, out of which 3cm is base layer and 2cm is cooling layer.
The cover is woven from soft, two-way stretch polyester. It's made with air pockets for circulation to regulate your temperature. This creates a highly elastic, resilient, and soft surface to lie on while highlighting the memory foam beneath.
Breathable cooling layer is plush and cozy to lie on. It's made of 2cm of cooling open-pore technology foam; 30 times more breathable than conventional foam.
Supportive base layer is the one that looks after your health. It's made of 3cms of ultra-resilient base foam, which doesn't sound comfy, but it'll have your back, in every sense.
There's also anti-slip layer at the very bottom, so even if you're a restless sleeper, your topper will stay put, edge-to-edge with your mattress.   
All materials are Oeko-Tex® Standard 100 certified. This means they've been tested to ensure that there are no harmful or unpleasant substances.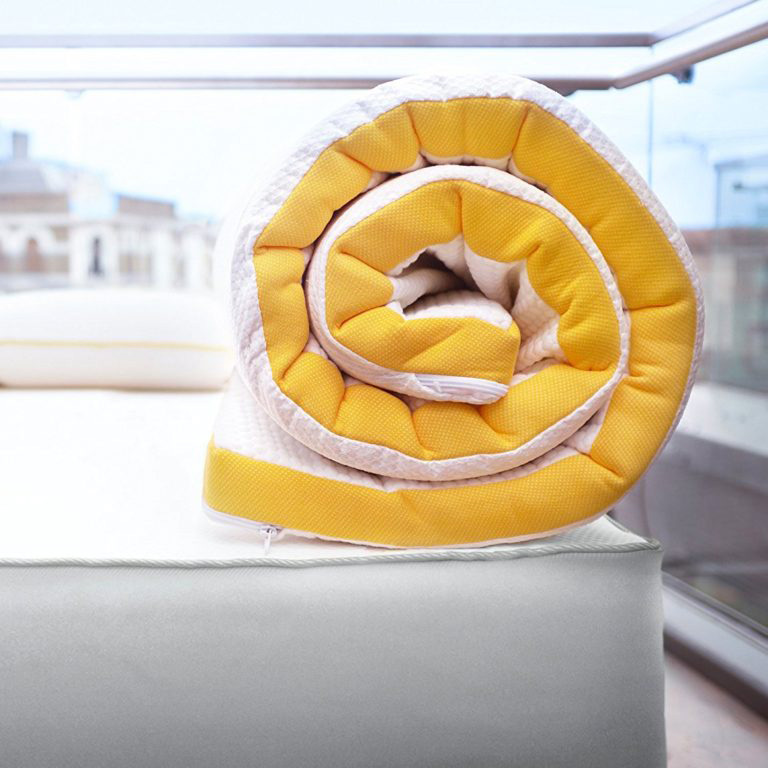 Support
The layer that supports is the base layer; it eases the weight on your joints and pressure points, eliminating that 'creaky' feeling you get when your mattress isn't quite right. And thanks to the bounce, no matter how awkward your sleeping position is, you'll feel it pushing back where you need the most support. Firmness wise, it is on a firmer side, so it's more suited for back and belly sleepers, while side sleepers might experience some inconvenience.
Comfort
Eve mattress topper is really comfortable, thanks to the cooling layer, which is really plushy and cozy to lie on. Memory foam layer is made from Viscoelastic material which basically means it gets softer when body heat is applied. So the heat from your body causes it to soften and mould around you for maximum hug and cloud-like feelings. It's also very good at isolating movements, due to its soft and absorbing quality.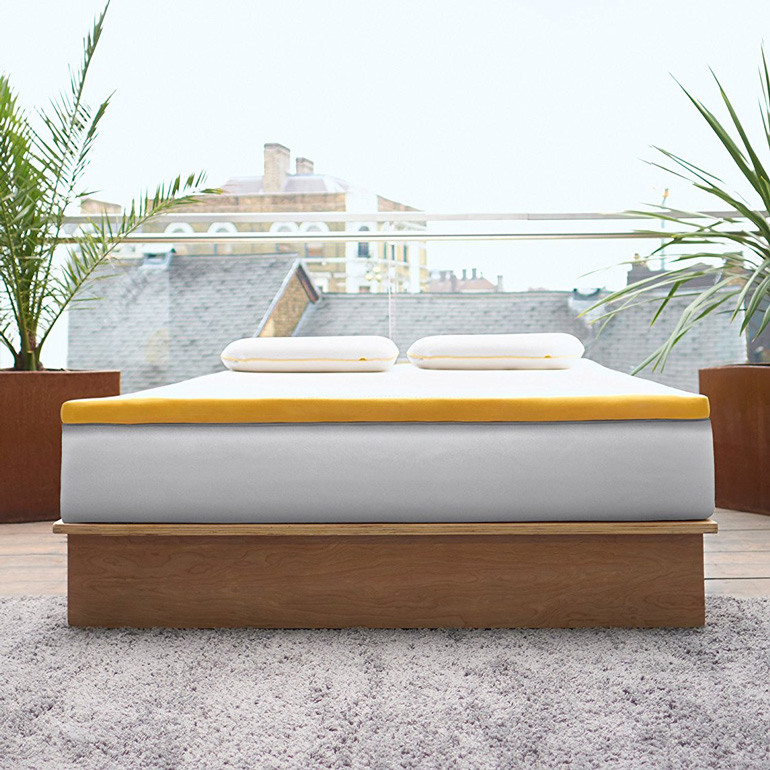 Bounce
Memory foam Eve mattress topper is made of is pretty firm, some 6-7 on scale of 10, however it's compensated by the soft cooling layer. Considering the fact that this product does offer that combination of support and comfort, it can be a good option for heavier people. They often suffer with painful pressure points, but not with this topper. The memory foam layer is thin enough to ensure you don't sink in. On the other hand, it's thick enough to provide comfort you're looking for.
Breathability
One of the biggest complaints in traditional memory foam is that it's known to sleep hot. Ideally, you want your body temperature to fall just slightly in order to take advantage of the more restorative stages of sleep, so being able to maintain cool sleep is more important than we often think about. Eve mattress topper has a breathable cooling layer that is plush and cozy to lie on, and it's 30 times more breathable than regular memory foam. Plus, it wicks away moisture, so you wake up feeling clean, not clammy. Temperature regulation works really well, thanks to the cooling layer. It takes about 8 minutes to cool back down to room temperature.
Smell
There is a good chance that when your first open your topper up you're going to get a really weird chemical smell. That's totally normal, just an unfortunate side effect of memory foam. You simply need to leave it unwrapped and out from under the sheets for a while with the windows open and the smell will go away.
Durability
All Eve products come with the guarantee of three years, but that would be the minimum estimated durability. With proper maintenance, which is not demanding at all, you'd be able to use the topper for double the time or more.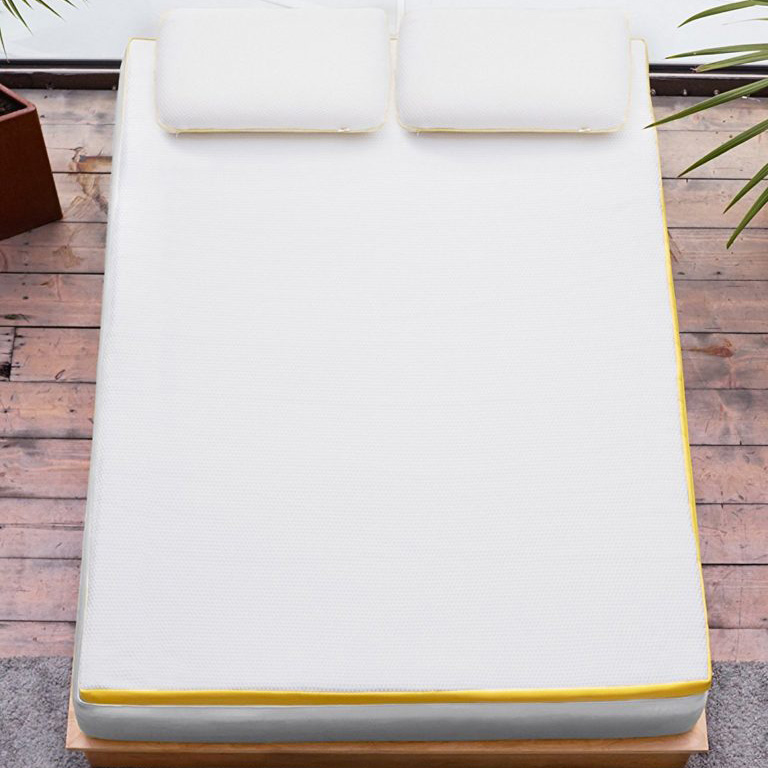 Price – Quality ratio
The default model, which is UK Single (90×190 cm) quite affordable considering the quality and durability of the product. The Prices for other sizes are fair too.
MATERIALS

Cover: soft, two-way stretch polyester

2cm of cooling open-pore technology foam

3cm of ultra-resilient reflex base foam.

Underlay: anti-slip material

SMELL

Some off-gassing due to the properties of memory foam, easy to remove by letting it air out.

PRICE – QUALITY RATIO

Worth it
Shopping details
Eve is so sure about the quality of their products they allow free trials. For mattress toppers, trial time is 30 days (for mattresses it's even 100 days). They say that 95% of people decide to buy their products. However, if you are in those 5%, you can count on Eve providing a full refund, without fees and hidden charges. Also, shipment is completely free of charge and the products come in ten days at most for UK based customers.
Sizes available
| | |
| --- | --- |
| Model | Size |
| UK Single | 90 x 190 cm |
| UK Double | 135 x 190 cm |
| UK King | 180 x 200 cm |
| Super King | 180 x 200 cm |
Conclusion
Eve mattress topper is the great solution if you need an extra layer of comfortability. Or, if you just want to extend the life of your old mattress. It's also great if you're traveling a lot and need a familiar comfortable feeling to sleep better. With its comfort, support, durability and price-to-quality ratio, Eve mattress topper is one of the better products in the market. Having second thoughts? Make them change your mind by visiting their website and seeing what they have to offer.