As per usual we are continuing to compare some of the biggest mattresses on the market against each other. That way, you'll be able to make a decision faster and choose a perfect mattress for yourself. Today, we chose to compare the Eve original mattress against the ever so popular Casper mattress. Which one is better? How can each of them benefit you and your sleep? Let's find out!
Add a header to begin generating the table of contents
Introducing the Eve original mattress
Eve's original mattress is definitely a force to be reckoned with. This mattress in in high demand all year round, and for a good reason. The development process for this mattress lasted around 12 years! So you can be assured that they went through various testing of all of the materials put into it, ensuring the best quality for the customer. The original eve mattress' have 3 foam layers (Memory Foam, Polyurethane Foam, and Base Foam). To that we'll add an amazing cover and voila, you have a 24cm thick mattress which applies to all sizes. The eve mattress definitely sets the bar when it comes to hybrid mattresses and mattresses in general. You can check our review on Eve Original mattress to find out more. Now, let's introduce its opponent.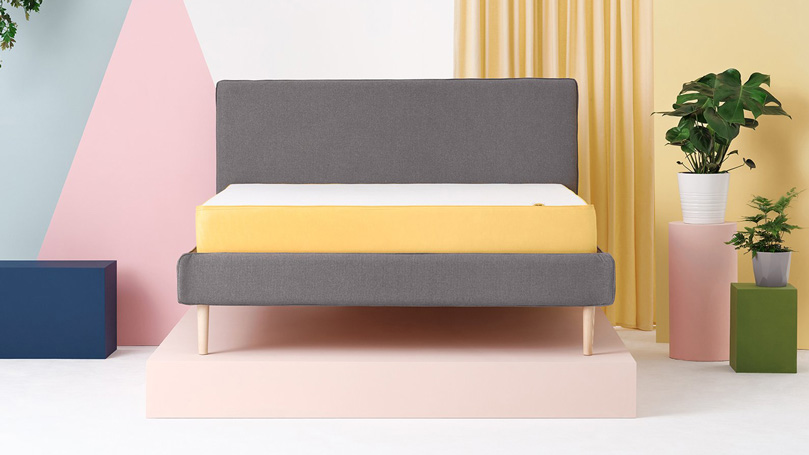 Introducing Casper mattress
The Casper mattress is an all-foam mattress designed especially for those which don't find firm mattresses comfortable. The common thing between Eve and Casper is that they both have their mattresses undergo some serious testing! At Casper, every material is carefully tested for pressure, breathability and overall material quality. So, you can be sure that you won't get some low-grade piece of memory foam to sleep on, but an almost literal cloud. The Casper mattress features two types of memory foam and a gentle and breathable cover. Later on we will compare the two in various features, so stay tuned!
Want to learn more about this product? Read our thorough review on Casper mattress!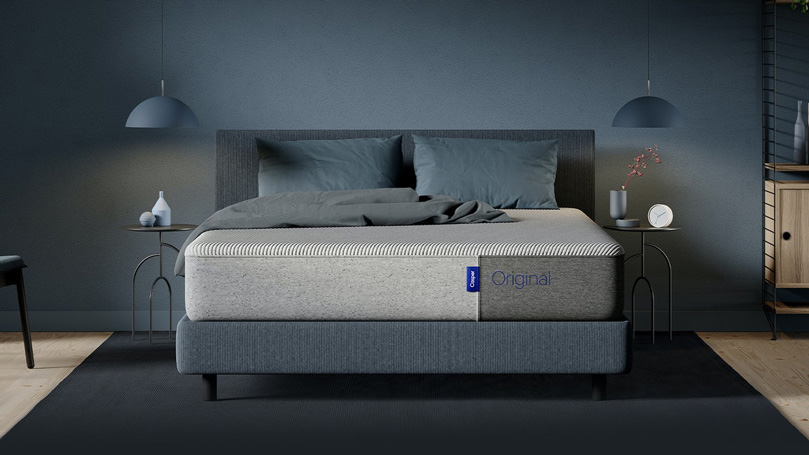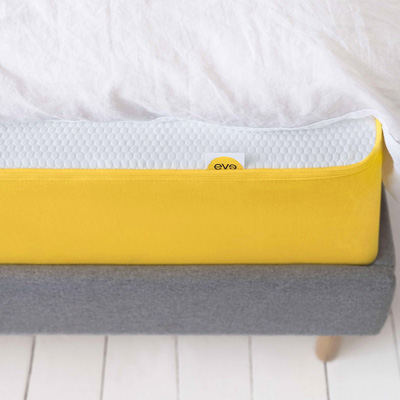 Is carefully designed with aesthetic in mind as well as comfort. The cover is made of polyester and is very gentle to the touch. It's connected with zip lines along the edges, easy to remove and wash and mild temperatures.
The first, 3cm deep memory foam top layer has an open-cell structure which allows air and other gasses to flow faster through the mattress. The Polyurethane Foam Layer, which is in the middle and also 3cm deep serves as a support layer. The last layer is an 18cm deep base foam layers which is very durable and adds extra support to the user. Finally we have an anti-slip base at the bottom.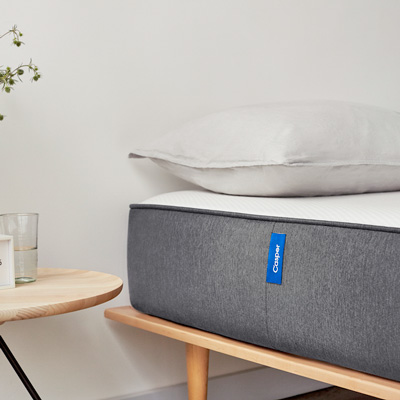 Casper also has impressive outer design. The cover is quite easy to remove and it's also washable at mild temperatures and soft cycles. Depending on the size, it can can weigh between 19 and 40 kilograms. Since the mattress has 4 various breathable foam layers, the airing is easy and fast. All of the materials are hypoallergenic and not susceptible to odours. 
The Casper Mattress is made of the combination of latex foam and memory foam. 99% of the cover is polyester, while the 1% is elastin. Thanks to that, the cover fits perfectly around the edges of the mattress. The latex layer offers a kind of firmer support, while the soft memory foam layer conforms to your body posture and wraps gently around you.
Distributes pressure evenly across the mattress and tucks you in nicely, no matter which position you sleep in. Do we credit this to the lack of a spring core – we're not sure, but it seems like the base foam layer really is doing a great job at keeping the mattress supportive. This applies to all kinds of people, heavier or not. It will maintain the same amount of sinkage no matter what.
Is one of the softest mattresses that you can find. It's very gentle and feels like sleeping on a cloud. However, due to lack of an extra supportive layer or a design flaw, it can be tough to adapt to it's softness if you're not into that kind of mattress. The problem lies in the weight of the user – the heavier you are, the more you'll sink in because the foam layer is really responsive to pressure and heat.
Is one of the comfiest mattresses you can find. Although memory foam is marketed towards people mainly because it adapts to pressure, it's also important to know that different density foams serve for different purposes. However, being mainly consisted of foam, it's definitely easy to say that if you prefer softness you will surely fall in love with this mattress.
Is comfy, there's no doubt about that. You just can't deny the fact that it's so soft. In fact, you'd have to experience it for yourself in order to believe what we're saying. Although both eve and Casper are marketed as softer mattresses, you will definitely find Casper a bit softer. So, we definitely recommend this mattress more if you love to tuck into a soft mattress.
Has low to medium bounce. Memory foam is just like that – it isolates motion and adapts to pressure, which is the point of the mattress after all. Latex might give it some bounce just enough that you don't feel like you're sinking in a hole.
Has low bounce. You won't feel on it like on a trampoline, and don't think of using it that way. It isolates motion effortlessly, so you won't feel anything if you sleep with a partner which tosses around.
Base foam is made specifically to allow cooling to happen. While also having such cooling properties, the top cover has moisture-wicking properties, keeping your dry and cool during the night. Smell issues with the mattress might happen at first, so airing is important at first. Such is the case with all foam-based products, so you needn't worry.
Is extremely breathable for an all-foam mattress. In the Summer, make sure to use lightweight covers. It can be a challenge to find a soft mattress in which you can't feel like you're cooking in an oven. But, fortunately, this mattress has high breathability for a mattress for that size and structure.
Comes with a 10 year warranty but we're definitely convinced the mattress could last between 13-15 years without losing any of its properties. If you go through Amazon, the trial period lasts only 30 days. The mattress is vacuum-packed and delivered with standard delivery or Express Delivery (UK only).
Has a trial period of 100-nights. Shipping and returns are free for the UK. Also, you can choose the delivery date. Besides free shipping, Casper also offers a service of removing your old mattress for you. The warranty period on The Casper Mattress is 10 years.
You would prefer the Eve mattress if…
You prefer softer mattresses over firm ones
Memory foam is your preferred choice for mattresses and you tend to stick to what you like
You want to save some money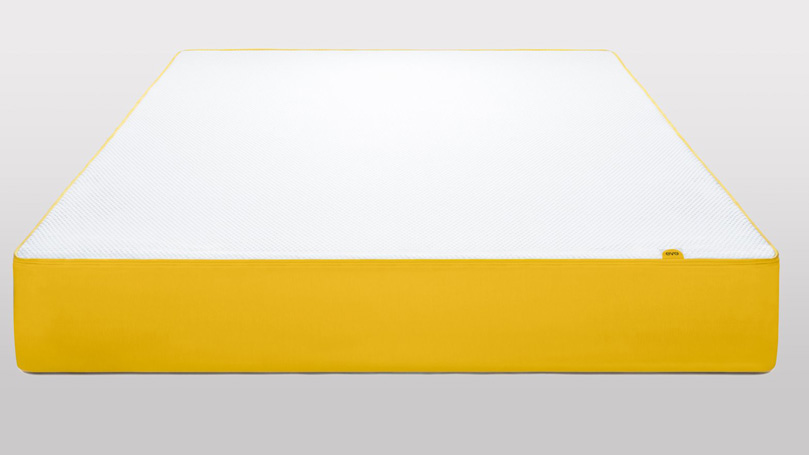 You would prefer Casper mattress if…
Soft, cloud-like mattresses are your favorite kind of mattresses
You need to have a mattress which can last long
You want a high-quality mattress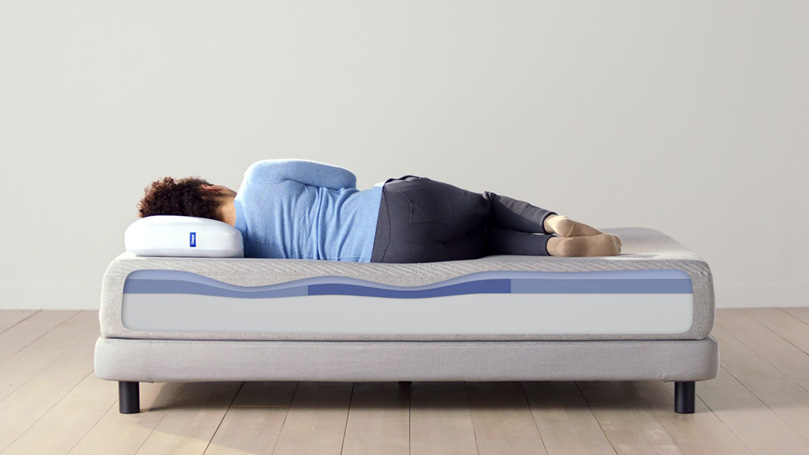 Eve mattress! We've carefully pitted these two against each other and we decided why Eve is the winner:
Eve offers both softness, edge support, and proper spinal support during sleep
Eve mattresses are cheaper than Casper mattresses for all sizes included
The Eve mattress is highly breathable and doesn't make you sink in as much Casper does
Although both of these mattresses are very similar – they are both exclusively foam products, they value softness and comfort, they're hypoallergenic and breathable – Eve just does it better than Casper just by a bit! That doesn't mean you need to dismiss Casper – it has a lot of qualities as well which you will probably find to really appreciate if you give it a trial period. Who knows, you might just fall in love with it. But from a Sleep Advisors' point of view, we'll have to stay true to our word and stay objective when it comes to features like these. So, no matter what you choose, you can't make a mistake! Free returns are a must these days because a mattress is a serious investment! And you don't want to get stuck with a bad and uncomfortable mattress for the next 10 years, do you? So, try them out and see.