Eve Microfibre Pillow Review
Eve Sleep is a company that has primarily taken its place in the market thanks to mattresses, but also thanks to their great pillows, duvets and other sleep-related products. Their Microfiber pillow has a lot of good features and is certainly one of the best pillows on the UK sleep market at the moment. That's why we reviewed this product for you – to help you find out all about Eve Microfiber pillow and decide whether you should go for it. Let's start with this Eve Microfibre pillow review, shall we?
Who is Eve Microfibre pillow for?
Due to its specific shape, it is very versatile. It has a thinner and thicker edge and it can adapt equally well to different sleeping positions. First of all, the pillow is made for side, back sleepers and those who need an extra neck support. It is also convenient for hot sleepers as well because as the manufacturer says the 'cold side of the pillow' feeling will last all night due to the special Aerelle cool night filling.
Hollowfibre filling further enhances breathability, so you will certainly not be hot as is often the case with synthetic products. It is made for people with allergies, because all materials are hypoallergenic. All this makes it a product that will suit most people and the majority of them will be happy with the purchase.
Add a header to begin generating the table of contents
What do we use this product for?
We use this product for a comfortable and allergen-free night sleep.Unlike it's similar cousin, Eve Snuggle, this one has a thinner and thicker edge that will be very comfortable for those sleeping on their sides and backs. In addition, its cooling properties make it suitable during the hot summer. Not the best choice for people who prefer resting on their stomachs or for watching TV from bed because it is not firm enough.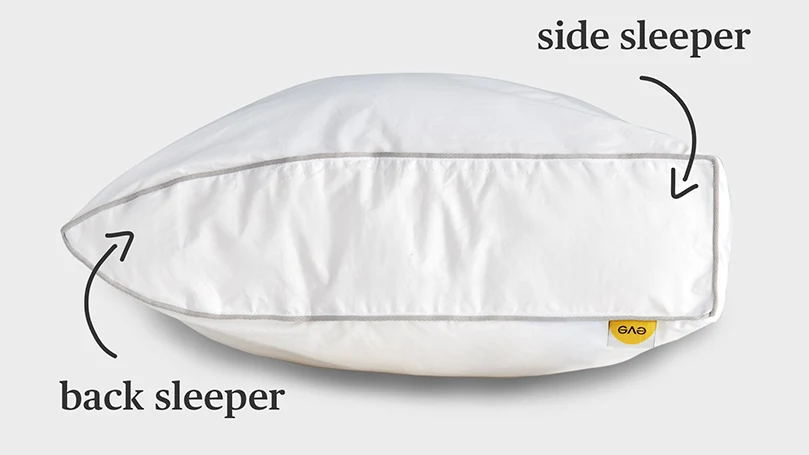 Features you should know about Eve Microfibre pillow
This is not a simple pillow, because it has a thicker and "boxier" edge, and it also has two different fillings in it, one of which is cooling. So we will tell you a little more about Aerelle cool nights core, high thread count cotton and hollowfibre layer, then specific shape, as well as about the very important OEKO-Tex Standard Class II.
Some people have a big problem finding a pillow that is comfortable and cooling for them at the same time. Most manufacturers guarantee that their products are suitable for hot sleepers even though it is made of synthetic materials, this is often not true, but due to the Aerelle cool night filling, this product is a great choice for everyone. It is a special filling that is designed to draw heat away from you and ensure airily soft feeling.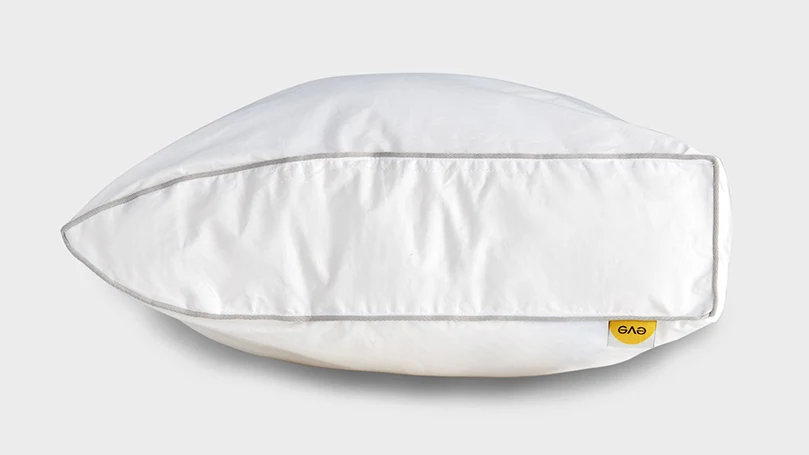 This will provide you with a pillow that is cool and comfortable. No matter how long you sleep or how warm it is outside, you will always have the 'cold side of the pillow' available.
Cotton and Hollowfibre layer
It is specific in many ways, and one of the reasons is that in the middle there is a chamber filled with hollowfibres and on the outside there is microfiber, which forms the outer chamber. This is a very ingenious idea because the central chamber is firm, and the outer chamber is soft. So it achieves firmness and softness at the same time.
Over all this is a cotton layer, to make you even more comfortable sleeping. High quality cotton was used, with a thread count of 233.
There are numerous benefits of wedge pillow but they are still not used as often as standard because they are not comfortable for everyone. The company made the ideal combination of wedge pillow and standard pillow. It has a specific shape so that it can better adapt to different sleeping positions, pregnant women, people who have back pain, as well as those who snore often.
On the other hand, it is not a firm as the most of the similar products are, so it will be comfortable for those who otherwise avoid such type because it gives them the feeling of sleeping on rock. Thicker side is for those who prefer resting on their sides, while thinner side is for people sleeping on their backs.
OEKO-Tex Standard Class II
We are surrounded by harmful chemicals. In many things, like food, there is almost no way to avoid it, but that is why we should try to avoid chemicals in all other products where possible.  One of the things that caught our attention in this Eve Microfibre pillow review is OEKO-Tex Standard Class II certified. Oeko-Tex labels and certificates confirm the human-ecological safety of textile products from all stages of production. To obtain this certificate the product must pass a series of tests.
This means that you are completely safe and that you will not be exposed to anything that harms your health. This certificate also makes the Eve Microfibre pillow suitable for children.
Review of Eve Microfibre pillow
This pillow has a wedge shape, but the difference compared to classic wedge pillows is that the difference between the thicker and thinner side is not so big. The shape as well as the filling makes it suitable for side and those who prefer laying on their back. Therefore, you will ensure a great position for your head.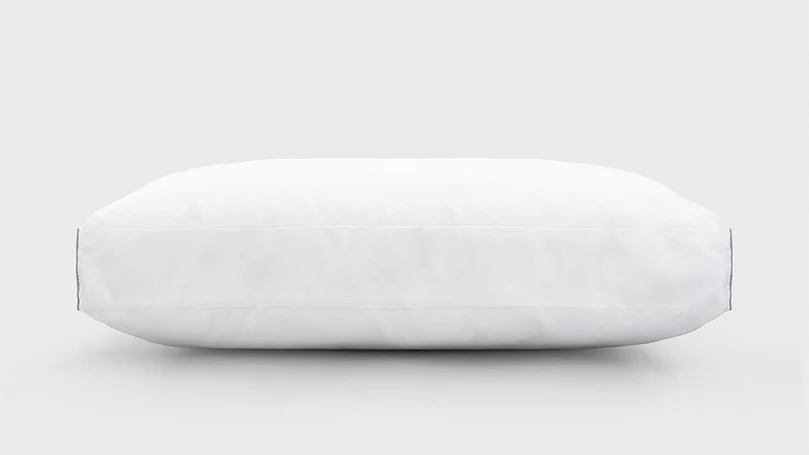 Filling consists of two materials. The Aerelle Cool Nights core is there to give the firmness of the pillow and support your neck. It is also responsible for the cooling properties of this pillow, while the Aerelle Softflex Hollowfibre outer layer is soft and is in charge of comfort.
100% cotton casing, made of 233 thread count cotton
pillow cover is very pleasant for sensitive skins. The cover has two mesh panels, made of polyester, which increase the breathability. It is
OEKO-Tex Standard Class II
certified, which means that
no harmful chemicals are used
. The product is machine washable (40 Celsius degrees) so you can wash it quickly and easily. The company gives you a 14 night trial, 3 year warranty as well as the free delivery as long as you are located within the specified areas.
Wedge shape
Great price-value ratio
Washable at 40 Celsius degrees
Great cooling properties
OEKO-Tex Standard Class II.
Not the ideal pick for stomach sleepers
Only one size available
Some users may find it too soft.
What we like about Eve Microfibre pillow
This type of shape is not so common on the market, so we really liked that it has edges of different thicknesses, because it makes it much more comfortable for different sleeping positions,
Great cooling properties and will suit even hot sleepers
A 14 night trial is more than enough to decide if it suits you, and a 3 year guarantee gives you a piece of mind.
What we didn't like about Eve Microfibre pillow
People who sleep on their stomachs will find this pillow too soft and without enough support
Eve offers a Microfiber pillow in only one size, which will certainly not suit everyone
Although the core is firm, the outer layer can be too soft for some customers.
Check the best alternatives to Eve Microfibre pillow
Although the Eve Microfibre pillow is a really great product, many people still prefer memory foam pillows, so we singled out two that are a great alternative to the Microfibre pillow. The first is the Panda memory foam pillow which is made of bamboo and the second is also a product offered by Eve Sleep company.
Panda Memory Foam Bamboo pillow
This pillow provides great support and is suitable for a large number of different people. Since bamboo is a natural material, its breathability is better than that of other similar ones. In addition, bamboo is naturally hypoallergenic material and therefore it will help you fight off the allergy problems.
It is durable and comes with a long warranty period so it will be a good investment in the long run. It is worth mentioning that it is especially comfortable for side sleepers but the rest of the sleepers can use it as well.
Read our review for this pillow to learn more about it before you decide to invest money into this pillow.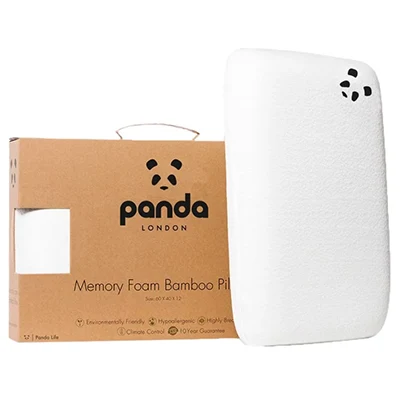 Good support
Highly durable
Long warranty period.
Bamboo smell
Stomach sleepers may not find it that soft
Although better than other memory foam pillows, hot sleepers will not like it probably.
Eve also offers you a memory foam pillow to have a complete offer. It is both comfortable and supportive, though not as supportive as some other similar ones. However, people who prefer sleeping on side or on the back will benefit from this pillow.
Since it comes from Eve company, you can expect nothing but the high quality. To retain it's high durability, all you have to do is wash the cover regularly to keep it clean and fresh all the time.
If you find this pillow interesting and worth your attention, w suggest you checking our review to learn more about it.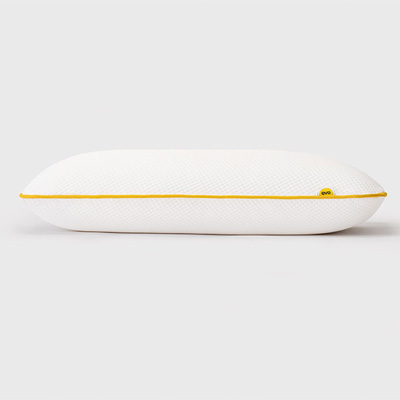 Comfortable
High level of durability
Washable cover.
Off-gassing issues
Not firm enough for those who want more support
Not for stomach sleepers.
Consider Eve Light mattress if you are buying Eve Microfibre pillow
To take advantage of all that Eve Microfibre pillow has to offer, you need to have a quality mattress, and Eve Light Mattress certainly is what you need. As its name suggests, it is light and 20 cm thick, so you can easily flip it to prolong its lifespan.
Eve Light Mattress has three main layers. And two of the three are foam. It gives whole-body support, so you won't sink into it, which is the perfect choice for sleepers who like to sleep on a firmer mattress.
We suggest you checking our review of Eve Light mattress to learn more about it before you reach your shopping decision.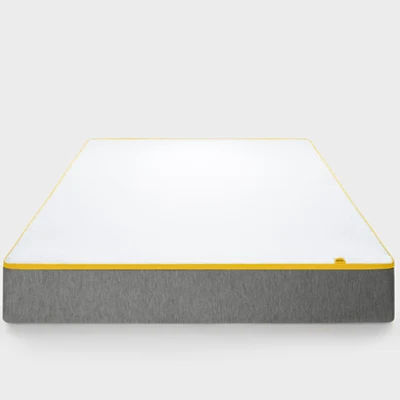 Material: Cotton cover and hollowfibre filling
Size: 50 cm x 75 cm
Warranty : 2 year
Machine washable: Fully, at 40 degrees C.
Lightweight
Good whole-body support
Three layers.
Slight off-gassing issues
A bit more expensive than similar products in the same category
Heat retention problems.
What makes this product better than some other similar ones?
Two features that make this product better than some other similar ones are the cooling core as well as the wedge shape. Cooling core is all that a hot sleeper can wish for, and it is also firm, so it provides support. Many people will like the shape, because they will be able to use edges of different thicknesses depending on the situation.
How did we test the product?
Kudos to Eve Sleep for making the whole ordering process very easy. Ordering a product on a website is fast and you will finish it in just a few minutes. Shipping is generally free, but there are exceptions, so find out more on the website. You can also choose your delivery day, if that suits you, or opt for non-contact option.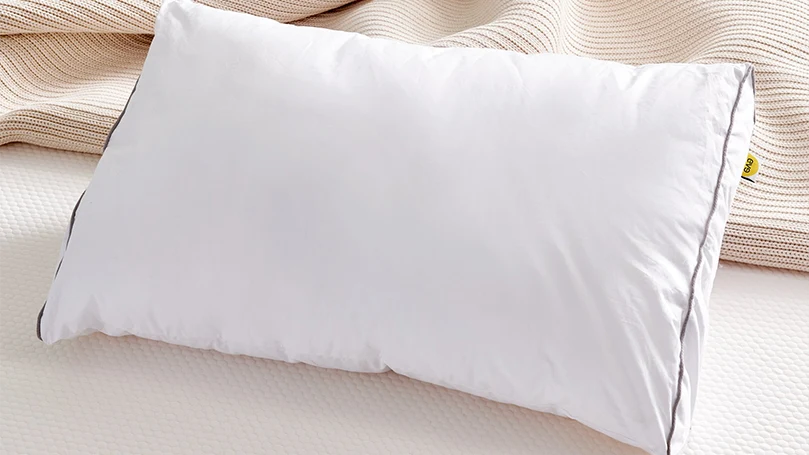 Eve Microfiber pillow arrived quickly and the first thing you will notice is certainly the specific shape that is reminiscent of a wedge pillow, but significantly larger and with a smaller loft. It is available in only one size and is slightly larger than the standard models. The dimensions are 46 x 67 cm, which is somewhere between standard and queen size. Fits 50 × 75 cm pillowcase. The quality of the pillow looks great and the first impression was positive. As always when we had contact with Eve Sleep products, the workmanship is at the highest level.
We started testing by lying down briefly on this pillow, for a few minutes on the thicker and thinner edge. The first impression is that it is very comfortable, medium-firm and provides good support. As this is not enough time to see all the features, we approached the overnight test. The side sleeper tested first and was very pleased with the balance of comfort and support. Pressure relief, however, is not at the level of memory foam products, which was to be expected. We repeated the overnight test the next night, when the back sleeper tested and he was even happier than the side sleeper, because Eve Microfiber was so comfortable for that sleeping position. It was easy to notice the cooling properties as well.
FAQs about your Eve Microfibre pillows
Eve Microfibre pillow review wouldn't be the real review if it didn't have the FAQ section. Find the answers to your questions in this section, where we will answer questions about different sleeping positions as well as maintenance.
How do I clean my Eve Microfibre pillow?
You can wash it in the machine at 40 degrees C, but it is not suitable for tumble dry, bleach, iron or dry clean.
Is Eve Microfibre pillow good for side sleepers?
Yes, it is good for side sleepers because it provides you with enough support, especially thicker edge.
Is Eve Microfibre pillow good for back sleepers?
Eve Microfiber pillow is comfortable because it is medium-firm, so it will be equally comfortable and supportive. An average back sleeper usually choose thinner edge.
Is Eve Microfibre pillow good for stomach sleepers?
It is not ideal choice for people who prefer laying on stomach but they can use it as well.