Eve Pillow Review - Get Rid Of Annoying Neck Pain Forever
If you'd like a memory foam pillow that doesn't really feel like a memory foam pillow, then you might just be interested in Eve Pillow. Eve Sleep is a household name in the mattress industry, but is their pillow as good as their mattresses? Well, let's find out!
Like we've said, Eve Pillow is for people who want a memory foam pillow that doesn't really feel like a memory foam pillow. What we mean by this is, memory foam pillows have a reputation for being firm and hot. 
However, Eve pillow is not like the other memory foam pillows. It's soft and comfy, just like a feather and down pillow would be, but at the same it, it's supportive like a regular memory foam pillow would be.
What this means in the real world is, this pillow is not just for side sleepers that need neck and head support, but for everyone else, as well.
Add a header to begin generating the table of contents
What do we use this product for?
Considering that this pillow is made from carefully selected foams, Eve memory foam pillow can be used for all sleeping positions. It will be more than capable of supporting your neck and head while also being soft and comfy. In combination with Eve Minimal bed frame, it offers the outstanding comfort and support.
One area in which this pillow excels is finding that flawlessly supportive, sweet spot by combining a velvety soft foam with one that's a bit denser. This means that the Eve memory foam pillow will be both comfortable and supportive at the same time, freeing you from annoying neck ache without being uncomfortably firm. The pillow is great for:
Combination sleepers
Problems with neck pain
Getting enough support without being too hot.
As the advisors, we would like to suggest you another Eve's product that pairs well with this pillow. Eve Warm Cool duvet is an innovative duvet that is perfect for all types of sleepers. While using "traditional" materials, it does not make a sleeper hot nor cold during the cold winter. Therefore, it is a perfect match for this Eve memory foam pillow to ensure that you stay cozy and comfortable all night long. 
Features you should know about Eve pillow
Now, let's take a look at just what makes the Eve memory foam pillow special.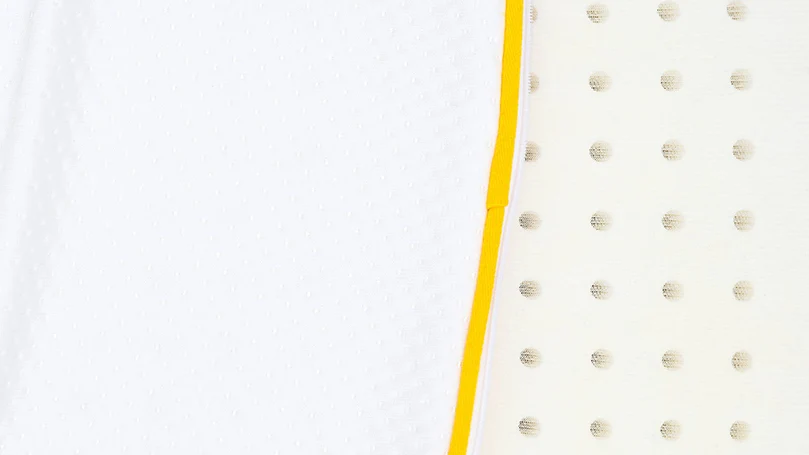 Memory foam with breezy air holes
Instead of just chucking in a block of memory foam inside of their pillow, Eve made sure they created a breathable product. They've made sure you won't have to flip over your pillow just to get to the cool side by cleverly poking some air holes inside of your new pad.
These air holes should be the ones that do the trick and get rid of the unwanted heat while you sleep, and we have to say – they sure do.
If you're dealing with allergies, you'll be pleased to know that thanks to the antimicrobial shield of the Eve memory foam pillow – at least you won't have to worry about them in bed. Hypoallergenic properties of the Eve pillow should be more than enough to help tackle common household allergens such as dust mites or mould and make sleeping and breathing easier for people who deal with respiratory issues like asthma.
It is easy to forget about a pillow and focus only on a mattress when talking about correct spinal alignment. While it is true that a mattress will play a more significant role in keeping your spine aligned, pillows can help, too.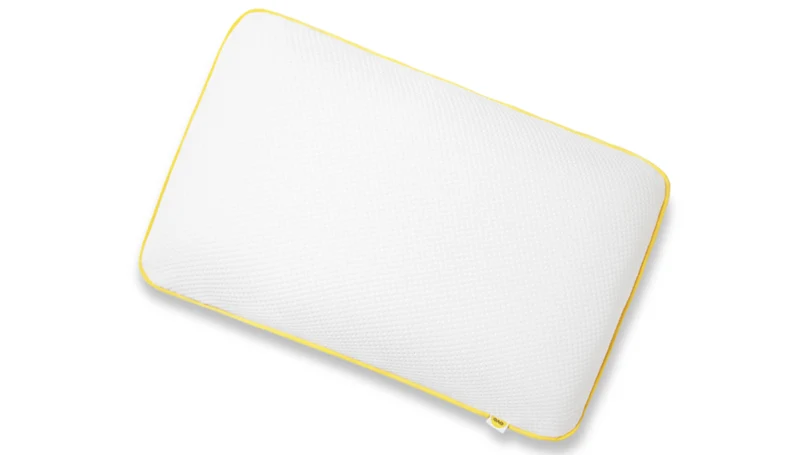 The perfect design and ideal height of the Eve Memory Foam pillow contribute to keeping your spine in the right position, ensuring adequate support and alignment all through the night – especially if you're a side sleeper.
100% polyester removable cover
Eve Sleep prides itself on only using the highest quality materials for its products. In the case of the Eve Memory Foam pillow, the removable, fancy jersey knit cover is made from 100% polyester. This not only makes it hypoallergenic, as we've said, but it also makes it lovely stretchy and soft to the touch.
Supportive PU pillow core
In order to ensure being both supportive and comfortable, Eve Sleep used both soft feel memory foam and supportive PU foam to craft the core of this one. This winning combo means your head and neck will feel gently hugged but not propped up.
Furthermore, the PU foam pillow core is also denser and noticeably durable compared to regular memory foam, which means you will have no problems sleeping on this pillow for a long time.
Machine washable at 40 degrees C
Not only is the cover of the Eve Memory Foam pillow anti-bacterial and hypoallergenic, but it is also machine-washable. You can toss this easily removable, fancy jersey knit washable cover into any washing machine, as long as you wash it at 40 degrees Celsius, and you don't tumble dry or iron it afterwards. Also, it would be best if you didn't dry clean it.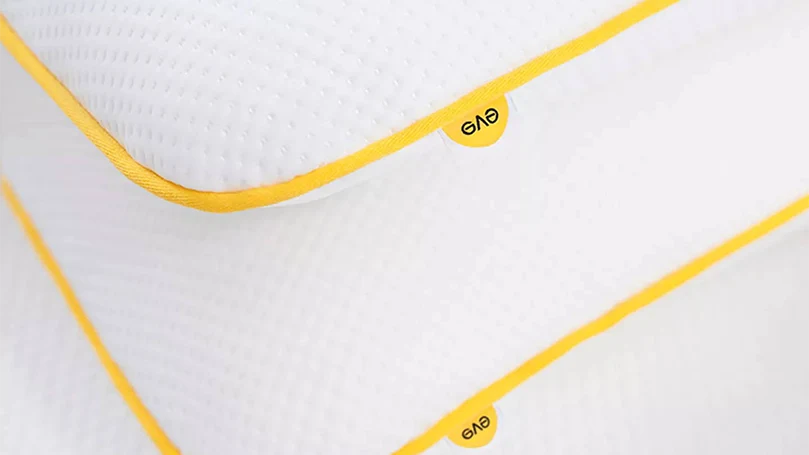 To ensure customer satisfaction and the highest quality of their products, Eve makes sure that all of their products, including the Eve Memory Foam pillow, are OEKO-TEX 100 Class 1 certified.
OEKO-TEX labels and certificates confirm the human-ecological safety of products from all stages of production. Loosely translated, this means that the raw materials and fibres used in the manufacturing process are 100% safe for both humans and the environment.
Eve offers you a 30-night trial upon the purchase of the Eve Memory Foam Pillow. This month-long trial period should be more than enough for you to decide whether you like and enjoy the pillow. If you don't, and you still find yourself waking up with a weary head and feeling achy and stiff, Eve will fully refund your purchase.
A lot of hard work is put into manufacturing this pillow, and to ensure you of its quality, Eve offers you a two-year warranty. The warranty starts from the moment you take the pillow out of the box, and if the pillow fails at any point from that moment during the first two years, just contact Eve customer service, and they'll make sure you get a brand new one.
Let us start by saying that Eve Sleep did a fantastic job with their memory foam pillow. The pillow looks nice and elegant. It's white, with a yellow accent around the edges – the colour staple of the Eve brand. If we were to judge solely by design, we might just say that this is one of the best pillows we've ever reviewed. But, enough about the design.
Even though it's 42x66x13 cm,  the pillow perfectly fits standard pillow cover size, which means any of your old pillowcases will do. But, even if it didn't, it would not have mattered because this memory foam pillow comes with a washable cover.
Compared to other pillows we covered, Eve memory foam feels a bit soft for a memory foam pillow, but that's not necessarily a bad thing because it offers more than great support. But, don't get us wrong – this pillow should still be more than suitable for every sleeping position.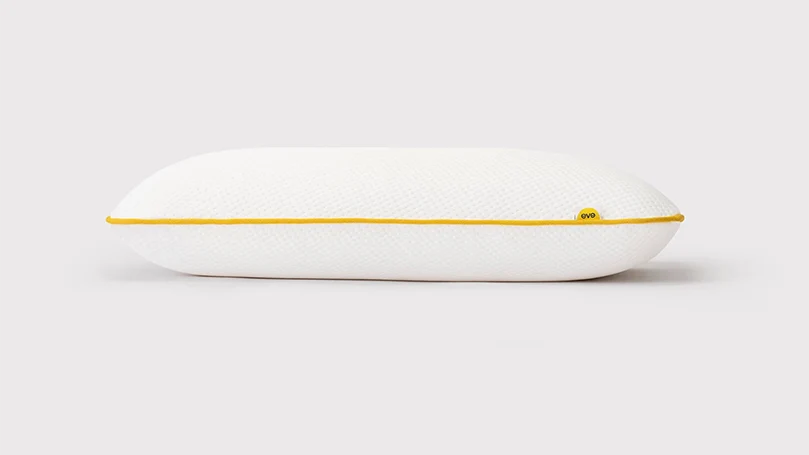 However, support is not the only thing this pillow does great. Eve makes things fresh. What we mean by this is that compared to other memory foam pillows, this one doesn't retain heat nearly as much.
Finally, another thing this one does better than the other pillows is getting back to its original shape. As soon as you lift your head off of it, this one reverts back to being 13 cm thick in a matter of seconds.
The only possible downside of this pillow is that stomach snoozers might not enjoy it as much as side and back sleepers would. The rest of it will simply boil down to personal preference.
Size: 42 x 66 cm
Type: Memory foam
Washable: Only cover
Removable cover: Yes
Firmness: 8.5 (Medium-to-firm).
Comfortable and supportive
High-quality removable cover
Hypoallergenic and anti-bacterial.
It might not be ideal for stomach sleepers.
What we like about Eve pillow
Offers excellent support and a comforting feeling at the same time
Does not retain heat like other memory foam pillows
Helps prevent allergies
It feels quite durable and long-lasting.
What we didn't like about Eve pillow
If you sleep on your stomach, you might not find this one enjoyable
It's just a personal preference, but we would've liked it if it were a bit bigger
It's not too bad, but this is still a memory foam pillow, so it might not be as cool and breathable as you'd want it to be during the summer.
What makes this product better than some other similar ones?
Eve Pillow is one of the best pillows we've ever tested and reviewed – without a shadow of a doubt.
At this price point, we're almost certain you won't be able to find a product better suited for everyday and long-term use. What this pillow does much better than all the other, similar ones is get back to its original shape. It does so completely effortlessly, and from what we've seen – it will continue to do the same thing for a really long time.
On top of that, Eve Pillow will also do an excellent job providing you with both comfort and support, and even if it does not – you have nothing to worry about. A 30-night trial and money-back guarantee are there to protect you.
The way we see it – this is a risk-free investment.
How did we test the product?
As always, the first thing we did was order the pillow, and as always, since we're in the UK, we had free shipping and delivery. Within few days, the pillow was at our doorstep, ready to be put to the test.
First things first, we inspected the packaging and the product itself for any damages that could've occurred during transport. Fortunately, none were present, so we've moved on to tests.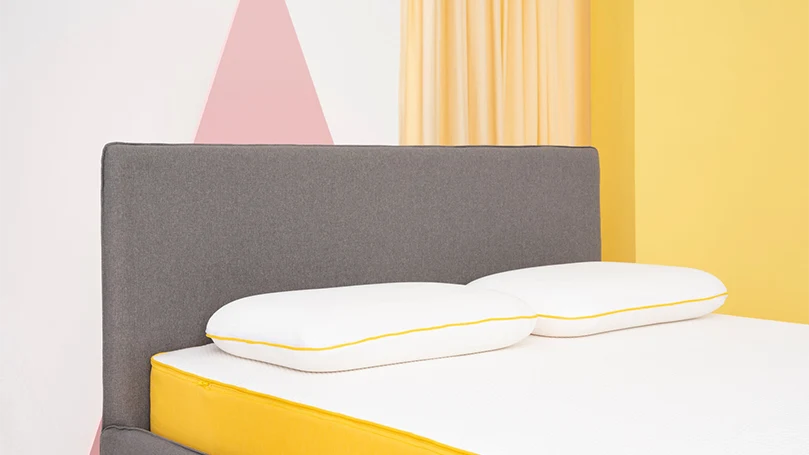 Each of our team members got the assignment to spend a few days and nights with the pillow, and all of them took that time to write down their impressions and experiences like how did the pillow feel, what were the fabrics like, how did they sleep and so on.
In addition to that, we assess the pillow's bounce-back time, reactivity, supprot, firmness, comfort and so on. Once we complete our tests, we gather around, discuss our findings, and then we finally write a review.
FAQs about your Eve pillow
In the end, let's wrap this up by answering some FAQs.
Is Eve pillow good for side sleepers?
Yes. If you sleep on your side, this pillow should be a great fit for you.
Is Eve pillow appropriate for the front sleepers?
It could be, but it is not ideal for this sleeping position.
Should back sleepers use an Eve pillow?
Yes. This one will provide adequate support for people sleeping on their backs.
Is Eve pillow good for sleepers with neck pain?
Yes. This one should help you wake up feeling pain-free.
Does Eve pillow come with free shipping?
Yes. Eve Sleep offers free shipping inside of the UK.