This time we are doing a review on a comfy foam pillow with a smooth, elegant design that comes at a surprisingly affordable price. EVE pillow is made of responsive memory foam and it's highly adaptable to individual needs. The pillow comes with a soft, very tender, elastic, durable cover. The dimensions of the pillow are 66×42 cm. This product is a good choice for adults and older children with various comfort preferences. Also, this pillow can help people who suffer from neck pain or posture issues. So, let's begin with our evaluation and see the upsides and downsides of this product.
About Eve company
Eve is a famous UK brand of mattresses, toppers, pillows and beddings. Their aim is to deliver comfort at reasonable prices. The idea of the company is that a good night's sleep and luxurious comfort shouldn't be an exclusive thing, available only to those who are ready to spend a big amount on mattresses, beds and bedroom accessories. Thanks to this, you can browse various products on their site at low prices.
The interesting and really useful thing that this company offers is extended trial periods on their products. Their customer support is available also through online chat, which can be extremely convenient if you have any questions or need any additional information.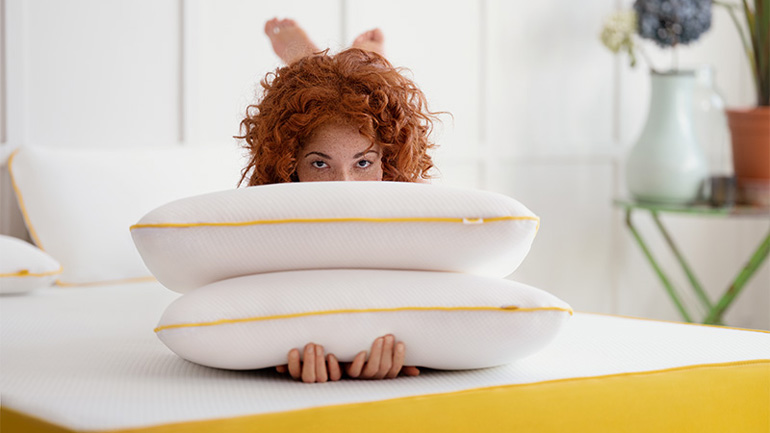 About the Eve Pillow
EVE pillow is made from responsive memory foam and is adaptable to individual needs. The pillow has medium softness, which makes it good for people who have neck pain, spend a lot of time in the office or simply need extra neck support during sleep.
Since the pillow is not too firm, it may not be a good choice for those who expect that their pillow doesn't respond too much to pressure. However, the moderate softness of this pillow does make it pleasant for people with various needs.
Due to its design, material, shape and firmness, it's best suitable for adults, elderly teens and children over 7 years old. EVE pillow has a medium size so it fits nicely on beds of different sizes. So, if you decide to get two of these, they can fit perfectly on queen and king sizes beds.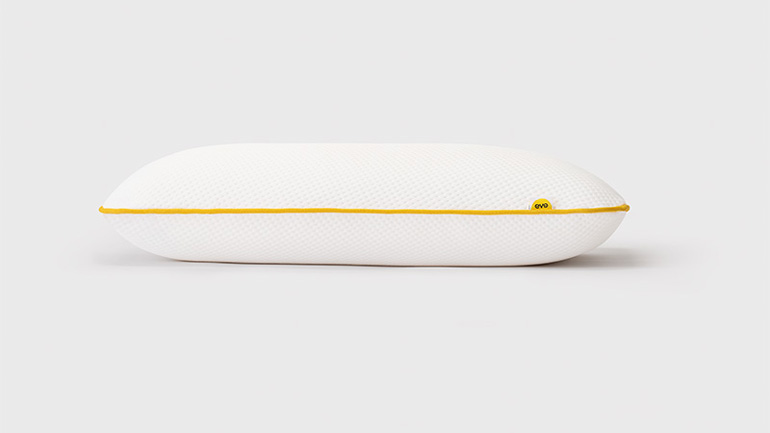 MATERIALS
The material used for this pillow is polyester, so the product is durable and easy to maintain. That is always a big plus with any bedroom products. Responsive memory foam is a good choice for people who are looking for something more than conventional, store-bought pillows. This material responds to the shape of the head and neck and provides gentle support and moderate softness. Since the pillow is made from polyester and its quite easy to wash and air, it's not a bad choice for people who have allergy problems. Although, if due to some respiratory issues you need special, highly hypoallergenic pillow we advise you to try it out first.
SUPPORT
EVE pillow provides both comfort and support, there's no issue here. But, the problem may arise if someone needs really special, firm, stable support for the neck. Since the company offers a trial period, use it if you are not sure whether the medium level of support of this pillow is enough for you. For most of people, the responsive memory foam of EVE pillow would do the trick. But people who struggle for years with neck problems may demand something more supportive. For those who are just looking for simple comfort, they can't make a mistake with this product. So, the support feature of EVE pillow definitely deserves a plus, but if you have any doubts about it because of your previous experiences with other products, you can always go ahead and use the trial period.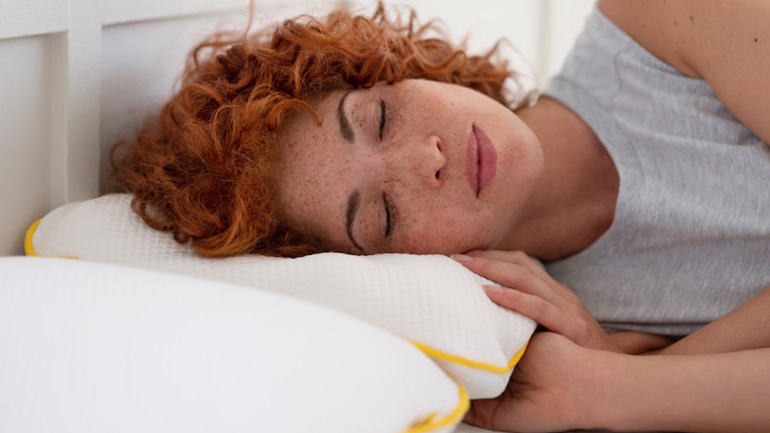 COMFORT
As for the support feature, the comfort feature of EVE pillow does get a firm plus from us, but also, we must stress out that softness-firmness ratio of this pillow may not fulfill everybody's needs. In this case, it really comes down to personal preferences. EVE pillow is a quality product and its comfortability definitely can't be compared with regular pillows. So, to sum up, if you desire a comfy pillow that is somewhat soft, this is a great choice for you. But, if you are looking for less responsive, firmer foam, maybe it's better to try it out first.
BREATHABILITY
EVE pillow is primarily designed to provide comfort and quality support for the neck. So, the breathability is not the main aim of this product. This doesn't mean, of course, that this pillow will leave you struggling with frequent airing and washing in order to keep the freshness. On contrary, polyester is a breathable material that doesn't excessively absorb odours or moist.
So, we shall rate the breathability of this product as quite satisfying. The pillow doesn't make you warm, it maintains breathability during the night, but if you need a highly hypoallergenic product, try it out first. It may work for you due to its special breathable cover.
SMELL
As with most foam products, this pillow too can have some chemical smell when unpacked. Luckily, this pillow doesn't have any big issue with the smell, so this is another plus for this product. In the case that you do experience some chemical smell with this pillow, try airing it before use. This should do the trick since the polyester foam is breathable and doesn't need much time to air.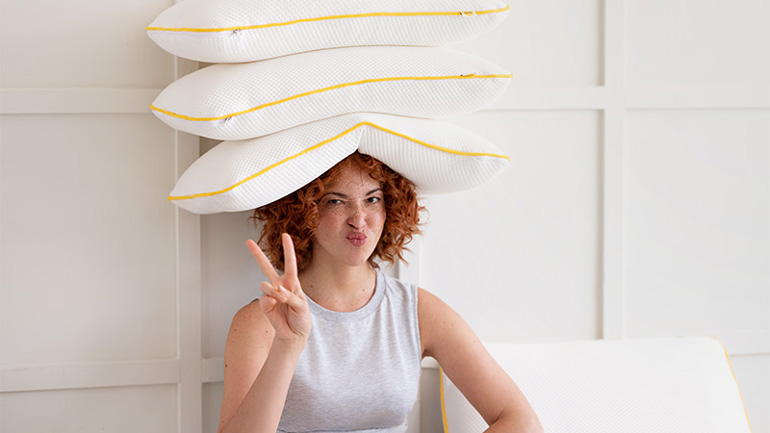 DURABILITY
In general, EVE pillows don't have an issue with durability. All the products of this company are made to last, so, this is one more upside with this pillow. The cover is pretty easy to maintain, so this additionally prolongs the durability of the product. You can expect to use the pillow for at least the next five years and sleep well on it.
PRICE – QUALITY RATIO
The main aim of the EVE brand is to provide comfortability at an affordable price. So, none of their products come at prices that are unreasonable or that leave you wondering for days whether the product is worth the money. Also, you can always try out EVE products before purchasing, so you really have nothing to lose even if you find out that this pillow is too soft for your taste.
| | |
| --- | --- |
| MATERIALS | EVE pillow is made from polyester. The responsive memory foam is comfortable with medium breathability. |
| SMELL | The issue with the smell is not frequent. But if it does happen, you can air it really fast and fix the issue. |
| PRICE – QUALITY RATIO | Just right. |
Trial period, warranty, shipping details, refunds
EVE brand is famous for offering long trial periods, so you don't need to worry about this policy. You can try the pillow out even for a month before actually purchasing it. Refunds are available before the trial period ends. The free delivery option is available in the UK through Amazon. For any additional info about other delivery options, you can contact EVE customer support quite easily on their site. EVE pillow is quite long-lasting all EVE products, but if you do need detailed info about the warranty EVE customer support can answer all your questions.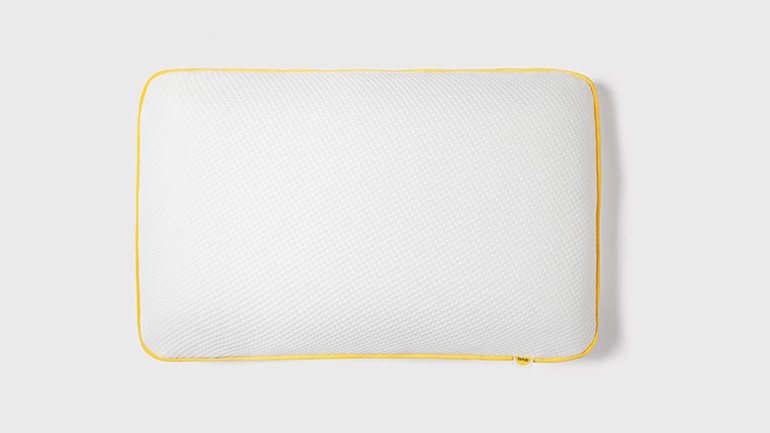 | | | |
| --- | --- | --- |
| Size | Dimensions | Weight |
| Comes in one size | 66 x 11.1 x 42 cm | 1.48 Kg |
Conclusion
Whatever your comfort needs may be, you can always try out this pillow and be sure whether it is a good choice for you. Trial period policy and affordable price really come in handy when you are just getting acquainted with a certain brand. So, even if you are picky when it comes to buying mattresses and pillows, EVE brand is an awesome choice for you.
EVE pillow is a high-quality product in general. Pillow cover boosts both comfortability and breathability, so this is definitely a plus. As for the support feature, most of the people would be satisfied since the pillow does provide support but at the same time, it's not too firm. People who prefer firm, unresponsive foam should try this product out before purchasing.
Check out all other Eve reviews
We have prepared them just for you
If you liked the Eve pillow review, maybe you will enjoy reading all other Eve reviews we've published. Click any link below!