Eve Sleep Away Mattress Review
Do you like hosting sleepovers but you just don't enough beds for all of your friends? Do you often camp but don't like sleeping in a bag? If that's the case – you're in luck! Eve Sleep has blessed us with Eve Sleep Away mattress for all of those who might need a carry-on bed and we decided to put it to the test. Let's take a look at what we have found out!
Who is Eve Sleep Away mattress for?
This is a compact mattress that you can roll up and store away when you're not using it. So, to put it simply – Eve Sleep Away is a mattress for all of us that need an extra sleeping surface now and then. 
Whether you have guests coming over or you're going camping – Sleep Away has got you covered as it delivers a comfortable sleep and a good amount of support to the core areas like shoulders and hips. 
What do we use this product for?
As we've said a while ago, this product isn't meant to be your regular sleeping surface. Instead, use this foam mattress in times of need – when you have guests over or when you travel somewhere where you don't have a bed to sleep in.
Eve Sleep Away mattress is a great pick if you:
Expect guests that stay over at your place
Need to have an additional bed but don't have enough space
Need an additional support to the shoulders and hips for your guests.
3 features that you won't forget about Eve Sleep Away mattress
As with any other mattress, the Sleep Away foam mattress also has its own set of defining features. Granted, these are slightly different compared to some other mattresses, but as you already know – this is not your everyday mattress.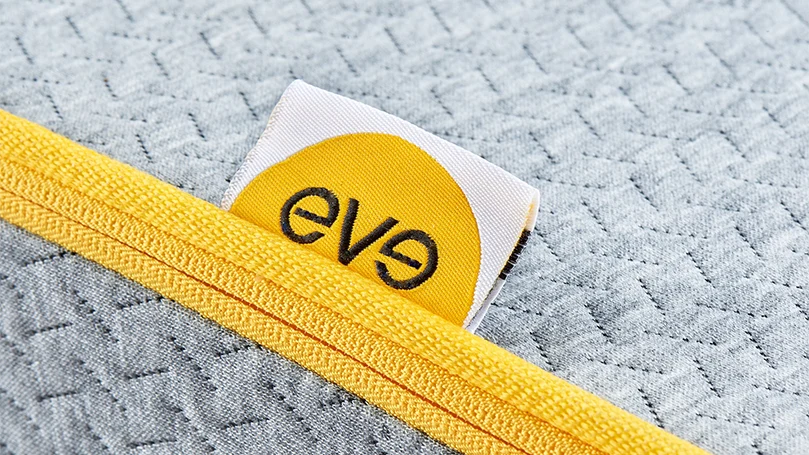 Inarguably, the biggest advantage of the Sleep Away mattress is its portability. Its compact size, 75×190 cm, is just perfect for a mattress on the go. That's the equivalent of a small single, so, if you plan on sharing it with someone, you're going to have to spoon.
Jokes aside, this mattress has a very useful handle on its bottom side that you can use to easily carry your mattress wherever you need. Not only that, but a carrying cotton bag comes in a box, as well.
With all that being said, it's safe to say that this is the most portable memory foam mattress we've ever seen.
Fortunately, Eve knows that a portable mattress will easily get dirty so they've put a removable cover on it. The removable cover on the Sleep Away mattress is really easy to remove and put back on. As we've already said, this mattress is going to spend a lot of time on the ground or in the closet, so instead of cotton – Eve has used a mixture of polyester and viscose (rayon) to create the mattress cover.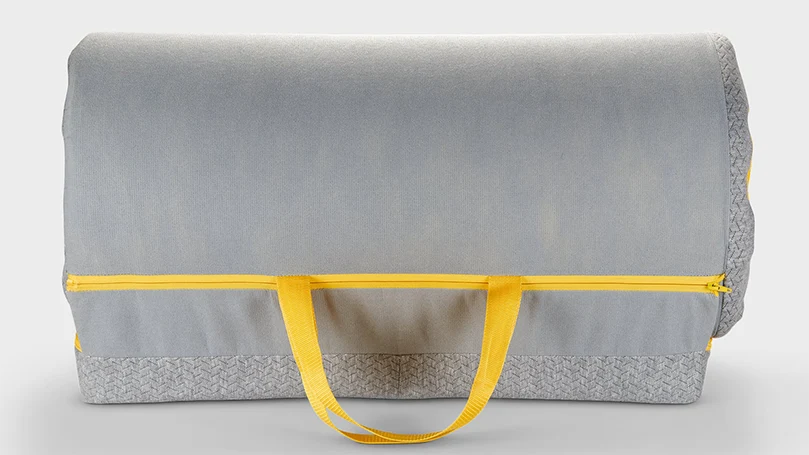 But, that's not the only zipper on this mattress. The Zip, appropriately coloured in Eve's signature yellow, can be found on the bottom side of the mattress. This is the zipper you'd use to keep the rolled-up mattress in place before you put it away.
The zipper is high-quality and we haven't experienced any problems with it during our testing. It slides very well and seems quite durable.
As is the case with every other Eve mattress, this one is also made from the highest quality memory foam.
The body of this mattress is an 8 cm thick layer of CertiPUR foam. If you know a thing or two about memory foam, then you know that CertiPUR foams are completely healthy and safe.
With this mattress, you won't have to worry about PBDEs, TDCPP or TCEP, mercury, lead, formaldehyde, phthalates, VOCs or any other harmful chemical that can be found in some low-quality memory foam mattresses.
Review of Eve Sleep Away mattress
First of all, portability is the main feature of this mattress, so, let's start with that. The mattress is super easy to handle. It rolls up and slides in the cotton bag effortlessly and once you take it out – it fully unfolds in less than half an hour.
The foam feels alright. It's neither too soft nor too hard, but if you're a heavier person, you're probably going to notice the surface you're sleeping on. There's not a lot of support or pressure relief, nor is it the most comfortable mattress ever, but, for a night or two in case you don't have anything else – it's more than satisfying.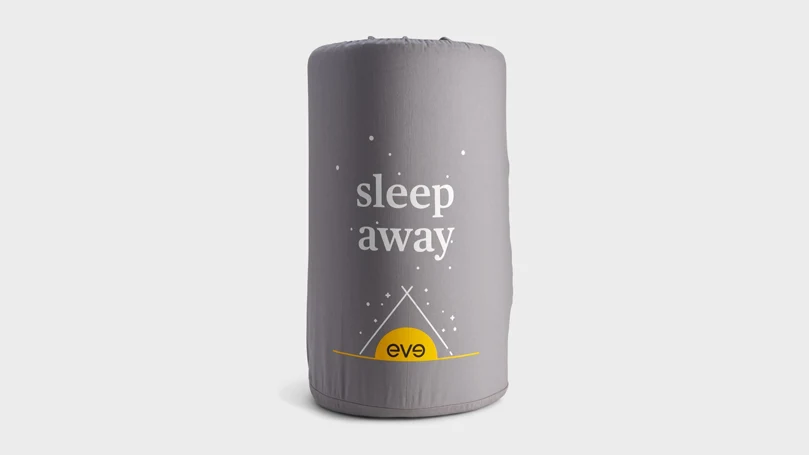 A removable cover is always a welcome addition, especially when we're talking about a mattress that's going to be used in various places. If you want to keep it squeaky clean – don't hesitate to wash it after every use. The cover is good enough that it won't wane over time even if frequently washed. We'd assume you'd lose some colour, but that's all.
All in all, for a portable mattress you're going to use a few times a year – it's more than satisfying. Sure, some things could be better, but most of them would come at the expense of portability, which would defeat the purpose of this mattress.
Type: Memory foam
Firmness: 6.5/10
Mattress depth: 8 cm
Size: 75 x 190 cm. 
High level of portability
Removable cover
Durable. 
Thin
Not the most comfortable
Only one size available.
What we like about Eve Sleep Away mattress
It can be bought as a set (Sleep Away Range) with a duvet and a pillow
The Zip is a great feature
A high-quality synthetic cover.
What we didn't like about Eve Sleep Away mattress
It's really small
It comes with a 14-night trial and a 3-year warranty.
Not practical for tall and heavy people.
What makes this product better than some other similar ones?
For such a thin mattress, Eve Sleep Away really is durable. OF course, all Eve's products are known for high level of durability so you won't be disappointed when it comes to the lifespan of a product.  We expect it to last a few years without any doubts – as long as a overweight sleeper does not lay down on it.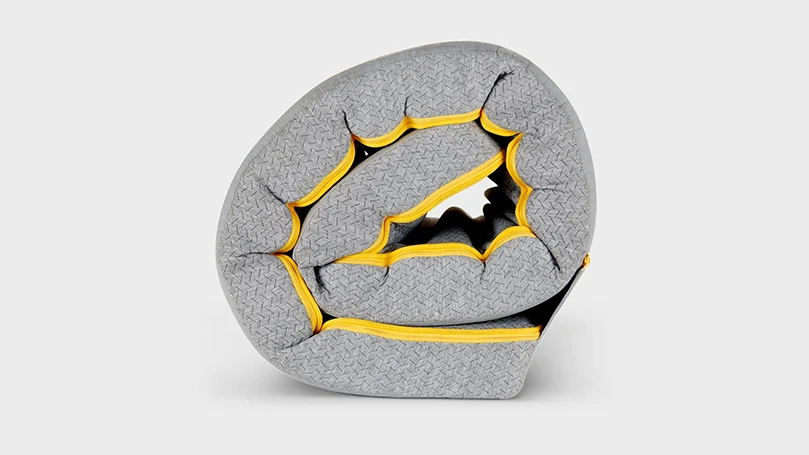 No, it won't hold the heaviest sleepers, that's for sure. After all, this is a product that you can use as an SOS extra bed, rather than a standard piece of your furniture.  But if you're average-sized and you don't use this mattress daily – it should last you quite a long time.
How did we test the product?
As you might already know, we take our reviews very seriously. Whenever we review a product, we try to make sure we stay objective and focus our attention on every single detail of the product.
Now, it's safe to say that Sleep Away isn't your everyday mattress, so, we had to take a slightly different approach than usual.
First of all, we ordered the product without any problems whatsoever and within a few days – the mattress was on our doorstep. Upon initial inspection, we saw that there were no signs of damage to the packing, so we unpacked the product. This mattress comes in a box, as is always the case with memory foam mattresses. It took no longer than half an hour for it to fully expand and we were ready to begin our tests.
For a mattress like this, our primary concern was the ease of use, durability and naturally, comfort. Since you're not meant to be using this mattress on the regular basis, we paid attention to the different things.
This mattress is equally easy to roll up and put away as it is to roll out and put to use. Eve provides you with a set of instructions in the package, but we doubt you'll need it. As far as comfort is concerned, this is definitely not the most comfortable mattress we've slept on, but for an 8 cm thick mattress that you'd mostly keep on the floor – it is more than good.
Finally, we didn't really notice any durability concerns. It is covered by a 3-year warranty, but depending on how often you use it – it could easily last longer than that.
FAQs about your EVE Sleep Away mattress
In the end, we wanted to answer some questions that we couldn't get to earlier.
Is EVE Sleep Away mattress suitable for hot sleepers?
This is an all-foam mattress, but since it's only 8 cm thick, it doesn't really get hot. Therefore, it is suitable for hot sleepers.
Is EVE Sleep Away mattress suitable for side sleepers?
Not really. This mattress is too thin to be comfortable for anyone sleeping on their side.
Is EVE Sleep Away mattress suitable for back sleepers?
Yes. Back sleepers can enjoy a good night's sleep on this mattress.
Is EVE Sleep Away mattress suitable for stomach sleepers?
Yes. Stomach sleepers can enjoy a good night's sleep on this mattress.
How do I wash my EVE Sleep Away mattress?
The mattress cover is removable and machine-washable at 40°C.