Eve Snug Duvet Review - A Top-Notch Warm Duvet For Cold Sleepers
During the winter, it is imperative to have a duvet that will keep you warm. Especially in cold areas where winter lasts longer than 6 months.  Here is your Eve Snug duvet review where you will find everything about it, as well as about its alternatives and complementary product.
Who is Eve Snug duvet for?
This duvet is for all those who need a really warm duvet. Those who need a warm, yet soft and light duvet will especially like it. Due to the hollowfibre filling we will talk about later, this duvet is very similar to premium down duvets. 
There are those who like a warm duvet to be heavy and then this one will not be perfect for them, but it will give everyone else many nights of perfect sleep during the cold periods of the year.
Add a header to begin generating the table of contents
What do we use this product for?
We use this product when we really need a duvet that will warm us up quickly and keep us warm all night long. This is one of the warmest duvets you can find on the UK market, so it will only be useful to you during the winter. Hot sleepers probably won't need 13.5 of that duvet even during winter, while cold sleepers will be thrilled. In essence, this duvet is great for:
Allergy sleepers
Cold sleepers
Sleepers who want a warm and cozy duvet
Sleepers who want an easy-maintenance-duvet.
Eve Sleep is known to be a high quality brand with top-notch products. This product is the latest in the line after the well known Warm: Cool duvet and Light Eco duvet. Each of them perfectly suits a purpose.
Features you should know about Eve Snug duvet
What you will first notice when you read the description of Eve Snug duvet is 13.5 tog because such high tog is rarely found on the market, especially in the United Kingdom where winters are not so cold. In addition, we will tell you a bit more about Aerelle Softflex hollowfibre filling and cotton casing.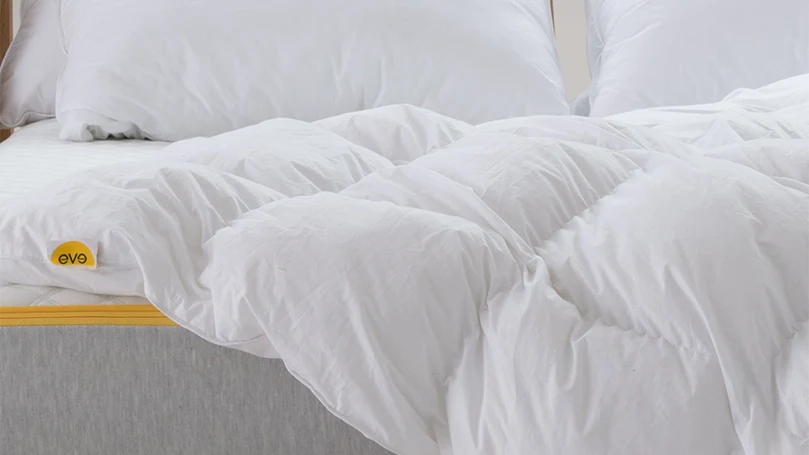 Tog stands for Thermal Overall Grade and that tells us how warm the duvet is. The higher the rating, the warmer the duvet and vice versa. You will rarely find one that is below 4.5 TOG and over 15. Eve Snug duvet has 13.5 that rating which makes it a real winter duvet.
It will warm you up, insulate you and will also trap heat under, so that you are constantly warm. It is recommended that the winter duvet be between 10 and 13.5 tog, which means that this duvet is very warm. It also means it's not an all-season duvet but rather a winter duvet.
Casing is made of 233 thread count cotton. Casing is top quality and you will notice it as soon as you unpack Eve Snug duvet because you will get in touch with casing first. You will immediately feel how pleasant it is for your skin and you will know that it will not irritate you during the night.
They chose cotton as a duvet cover precisely to make it comfortable for your skin, as well as because cotton is a hypoallergenic material. Remember that this is a casing, not a cover and you cannot remove or wash it separately.
Aerelle Softflex hollowfibre
Down and feather duvets have been the most popular for a very long time because they are warm, fluffy and light at the same time. At least, lighter than duvets filled with wool and other heavier materials. But the problem with down and feather duvets is that they are not suitable for people with allergies, because they are not hypoallergenic materials.
So to achieve the same effect as if they had produced a down duvet, Eve company used Aerelle Softflex hollowfibre. It has very similar characteristics as down, which you will immediately notice, as we have already said. But it makes this duvet hypoallergenic and also the bounce is incomparably better than with down duvets.
Eve Snug duvet has Aerelle Softflex hollowfibre core and cotton casing. It is very warm and has a 13.5 rating. Both materials are hypoallergenic. When you cover yourself with this duvet, you will feel as if you are covered with a cloud, because you will feel it all around you as it warms you, and it will not be difficult for you.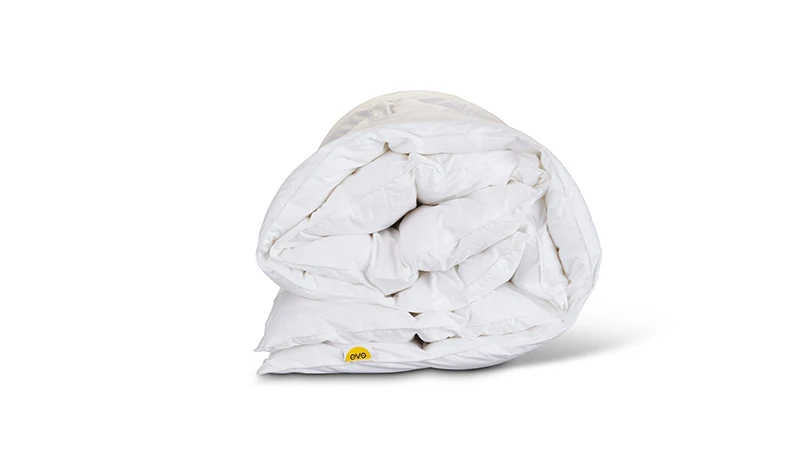 It is machine washable at 40 degrees C and tumble dry on a low heat. You have a 14-night trial period, and also a two-year guarantee. It is only available in white color, but you can find it in 4 different sizes – UK single, UK double, UK king and Super king size.
Cover/casing: 100% cotton
Fillings: Aerelle Softflex hollowfibre
TOG: 13.5
Size: UK Single, UK Double, UK King, Super King
Warm
Cloud like feeling
Hypoallergenic  
Breathable.
Not for hot sleepers
Too light for some users
Only white colour.
What we like about Eve Snug duvet
It will keep you warm even during coldest nights.
Anti allergy construction
Aerelle Softflex hollowfibre filling is hypoallergenic, same as cotton cover
If anything happens to it during the first two years, Eve will send you a new one.
What we didn't like about Eve Snug duvet
5 tog rating makes it unsuitable for most hot sleepers
Some customers like the feeling of heavy duvet and Eve Snug duvet is quite light for a winter duvet
Although it is machine washable, you will probably have to take it to laundering professionals because it is too big.
What makes this product better than some other similar ones?
What we especially liked about Eve Snug duvet and what makes it better than the competition is the way it warms you up. It is very light, you will have the feeling of being hugged and you will never be cold when using it. Also, high quality 100% cotton casing is pleasant for the skin so it is a great pick for allergy sufferers or irritations. In addition, the duvet is fully washing machine friendly so the maintenance process is going to be piece of cake.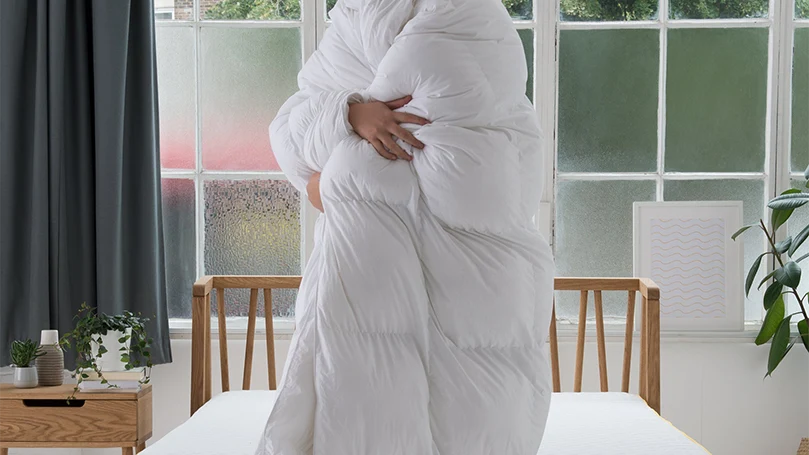 How did we test the product?
This duvet does not fall into the category of cheaper duvets and you will realize this as you order it. But by the end of reading our review you will understand that the price is realistic compared to what such a luxurious duvet like Eve Snug duvet can offer you. When you order, you select the type of delivery and then you will see if delivery is free or not. In most cases it is free, but you need to check anyway.
Eve Snug duvet arrived neatly packed thanks to box construction, and when we unpacked it, we first noticed how fluffy it was. It would be very easy to think that it is filled with down and feathers, due to the weight and other characteristics that you notice first. We double-checked the whole duvet looking for any flaws, imperfect seams and the like, but we did not find any flaws that could affect the durability or appearance.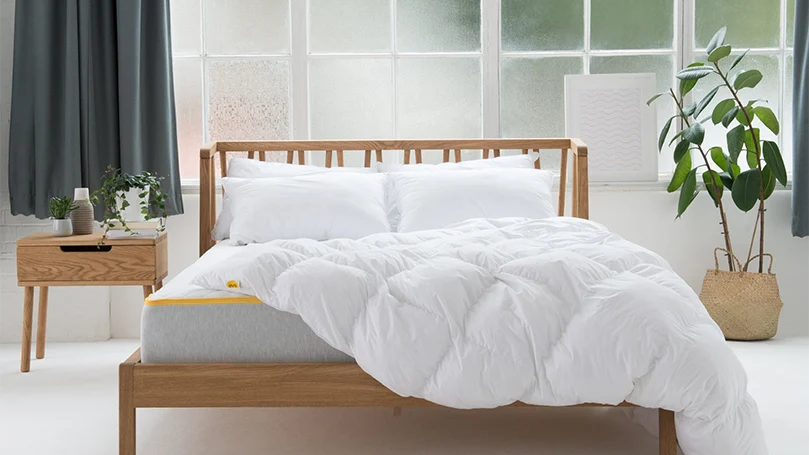 During the first short use of this duvet, we noticed that it is ideal for all those who like the duvet to snuggle all around them without feeling its weight. It will warm up very quickly, which is to be expected because it has 13.5 tog. The Overnight test lasted two nights because we used it the first night in a relatively cold room, while the second night we slept in a heated room.
It is definitely an ideal choice for all those who like to sleep in a colder room, while if the room is well-heated you may not need 13.5 tog duvet. It depends on personal preferences. For those who do not like winter, Eve Snug duvet will always suit them, while hot sleepers can use it only if the room is very cold.
We ended up washing it at 40 degrees C as recommended by the manufacturer, but keep in mind that you will need a very large drum to be able to put Eve Snug duvet in it. For most home washing machines, it will be too large, so take it to be washed by laundering professionals.
FAQs about your Eve Snug duvets
The Frequently Asked Questions section is here to answer some more questions you have about Eve Snug duvet. But also to highlight some of the most important information in a special section of the review, so that you can always easily find it again if you forget what you read.
Is Eve Snug duvet more suitable for winter or summer?
Eve Snug duvet is suitable only for winter because it has 13.5 tog rating.
How do I wash my Eve Snug duvet?
You can wash it at 40 degrees C if you have big enough drum or let professionals wash it for you.
Is Eve Snug duvet good for hot sleepers?
No, it is not good for hot sleepers because it will be too warm for them except in extremely cold rooms.