Eve Snuggle Pillow Review by The Sleep Advisors
Eve is a very famous company, which offers quality mattresses, pillows, duvets, bed linen, bed frames and much more. One of their most popular products is The Snuggle Pillow. We decided to review that product and tell you all about it, both positive and negative sides.
Also, we will compare it with two similar products, recommend you another product you can use with The Snuggle Pillow and answer the FAQs. Let's start!
Who is Eve Snuggle pillow for?
This pillow is for all those who like to sink into their pillow and feel the special feeling of comfort that this type of pillow provides. Since this is a soft pillow ( although not too soft) it fits back and stomach sleepers, rather than side sleepers. Definitely one of the best options for anyone looking for a squishy snuggle pillow.
Although not too supportive, it should be noted that people who have neck pain when sleeping on hard pillows will love the Eve Snuggle pillow because it will give them relief. Cervical spondylosis, commonly called arthritis of the neck, is a problem faced by 9 out of 10 older people. If you are into this group, this pillow is exactly what you need!
Add a header to begin generating the table of contents
What do we use this product for?
We use this product when we really want to rest and have some good night's sleep, especially if we are back and stomach sleepers. This pillow is too soft if you intend to use it while watching TV or playing video games from your bed, but it is therefore ideal for sleeping. When it hugs you and you sink into it, you will have the feeling that you can sleep all day. You just won't want to get up because it's so comfortable.
Features you should know about the Eve Snuggle pillow
This pillow is not too complex, but with its simplicity it wants to give you what is the primary purpose of the pillow, and that is comfort. So we will go through the three most important features of our choice, which are cover, filling and casing, to find out more details and understand is this is right pillow for you.
Everyone has different preferences when it comes to materials used for mattresses, pillows, covers, bed linen and other products related to our sleep. Some prefer synthetic materials like memory foam, while others prefer down, wool and other natural materials. Still, everyone agrees on one thing, and that is that cotton is the most comfortable and most pleasant for our skin.
Since it is suitable for all people and all seasons, Eve decided to cover their Snuggle pillows with 100% cotton cover. The highest quality cotton was used, which is soft, durable, machine washable and hypoallergenic.100% cotton cover will play a very big role in making you sleep perfectly on this pillow.
100% Aerelle Softflex hollowfibre core
What gives this pillow the characteristics it has is the filling made of 100% Aerelle Softflex hollowfibre core. It is this specific synthetic material that has some very important features that you will like.
First of all, you will feel like you are lying on a cloud, how soft this pillow is. But since the 100% Aerelle Softflex hollowfibre core has a great bounce, in addition to the fact that it will quickly return to its previous form, it will also provide you with a certain level of support.
This will be more than enough support for your head and neck if you sleep on your back or stomach. The feeling you will have is similar to that of a feather pillow, but with a much better bounce. Breathability is great because the fibers are hollow and therefore the air flows easier.
We've already talked about 100% cotton cover, but this pillow also has a casing that is there to hold a 100% Aerelle Softflex hollowfibre core together. If you are not familiar with the term thread count, it refers to the number of fibers in 1 square inch of fabric.
The higher its volume is, the better texture, softness and durability you will get. One should know that lower thread count does not automatically mean poor quality, because it can be manipulated. Eve offers you a high quality, high thread count casing that will perfectly fulfill its task and will not bother you during sleep.
Review of Eve Snuggle pillow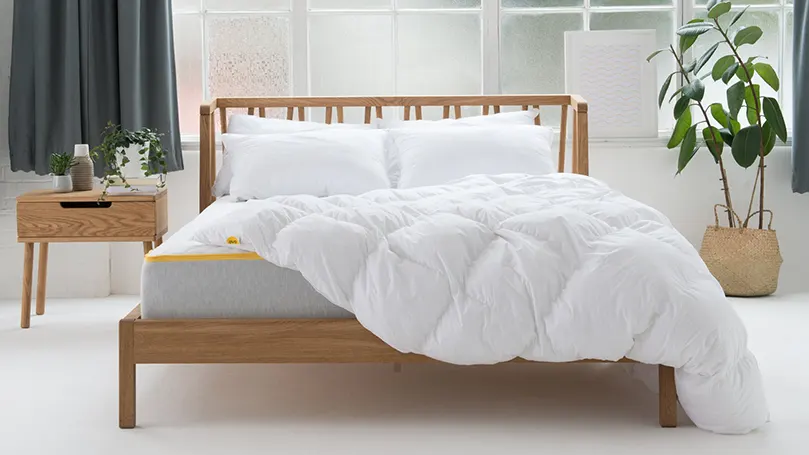 The Snuggle pillow is one of three pillows you can find in Eve's offer. It is characterized by being soft and squishy and it is ideal for all those who like to sink into a pillow. However, this does not mean that this pillow does not provide support to you head and neck at all.
Due to the hollowfibre core bounce is great which also gives a certain level of support. It is enough support for back and stomach sleepers, as it will give them an ideal balance between comfort and support. It has a 100% cotton cover, which is very high quality and comfortable, and like the pillow, the cover is machine washable. There is also a high thread count casing, and all that make this pillow an overall good product. Therefore,
Soft
100% cotton cover
 Cozy
Not suitable for side sleepers
Not as durable as some similar products
Only one size available
What we like about Eve Snuggle pillow
The feeling you have when you put your head on this pillow is very enjoyable and you will not want to get up
Cotton cover is very pleasant for sensitive facial skin
14 night trial and three-year guarantee
What we didn't like about Eve Snuggle pillow
There is very little chance that it will suit any side sleeper
One colour and only one size available
Some customers complain that it quickly becomes too thin, so there is durability concerns.
Check the alternatives to this product
If you are a side sleeper for example and you think that this pillow will not suit you or you just like harder pillows, then it is good to check some alternatives. We have chosen two alternatives for you, which in our opinion are very high quality pillows and those two are another model offered by Eve, this time memory foam pillow and Panda Luxury Bamboo Memory Foam pillow.
Let's check another pillow offered by Eve Sleep team. Eve Memory foam pillow is suitable for side and back sleepers because it provides great support and thus helps you achieve spine alignment. It has a machine washable cover so you can keep it always clean. When it comes to durability, users state that Eve Memory Foam pillow is much better than the Eve Snuggle pillow. In addition, Eve Memory Foam pillow has a fantastic cooling properties so it is the ideal choice for hot summer days!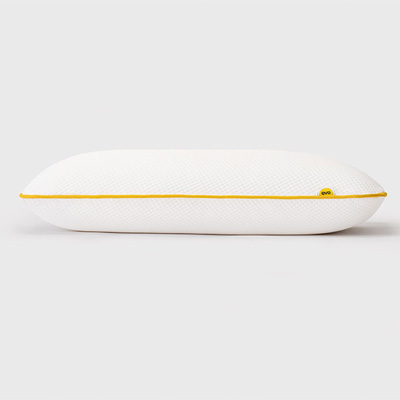 Great for side and back sleepers
Machine washable cover
 Support
Not suitable for stomach sleepers
Smell of memory foam
One size only
Panda Luxury Bamboo Memory Foam pillow
One of the most versatile memory foam pillows that you can find on the UK market is Panda Luxury Bamboo Memory Foam pillow. It provides great support, and is made of bamboo so it is hypoallergenic and eco-friendly. Bamboo is very durable, so your pillow will last a long time. Memory foam pillows are otherwise hot, but Panda managed to reduce that negative effect of memory foam by adding bamboo, which is highly breathable material.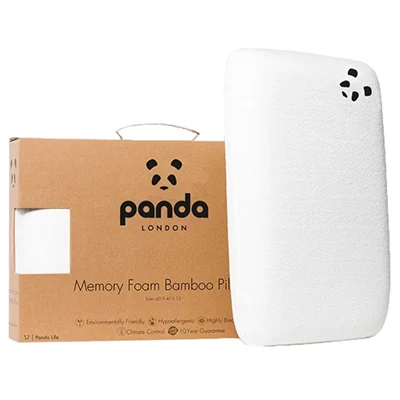 Support
Eco-friendly
Durable
Like most memory foam pillows, not great option for stomach sleepers
Off-gassing
Consider Eve Mattress Topper if you are buying Eve Snuggle pillow
A new pillow will not be able to stand out if you have a bad mattress or topper. Eve offers you a foam mattress topper that will support your body while Snuggle pillow will give you softness and it will then be an ideal combination. Knitted cover is made from a soft polyester which is hypoallergenic and machine washable. We also really liked the sturdy straps that hold this mattress topper in place and don't allow it to move while you move in your sleep.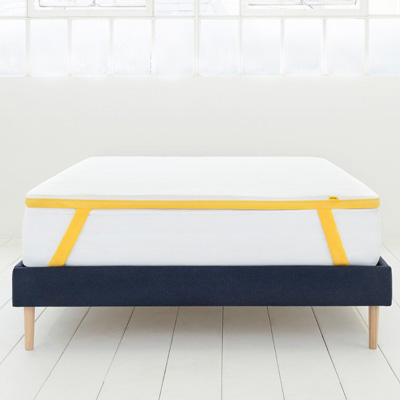 Support
Hypoallergenic and machine washable

cover

Sturdy straps
Off-gassing
Most stomach sleepers won't like it
A bit more expensive compared to other toppers
What makes this product better than some other similar ones?
There is one thing that makes this product a better than some other similar ones and that is comfort. Very soft, and yet provides a certain level of support, so people who like soft pillows will be delighted with this pillow. Top quality cotton cover is another thing that makes this pillow a popular choice.
How did we test the product?
When we ordered us the Eve Snuggle pillow, it arrived very quickly. What we have noticed is that they offer several delivery options, such as choosing your delivery day, and you have to pay additional for that service. However, you will be sure to arrive when someone is at home. Another important option is non-contact delivery. If you have an old mattress, you can also use the deliver, remove and recycle option. When the pillow arrived, we unpacked it to do a general quality inspection.
The pillow looks very good and it is designed in London, and manufactured in Scotland. There is always a difference in the products that are made in the UK and those that are not. What is very noticeable is that it is soft and squishy, ​​just the way Eve advertises it on their homepage.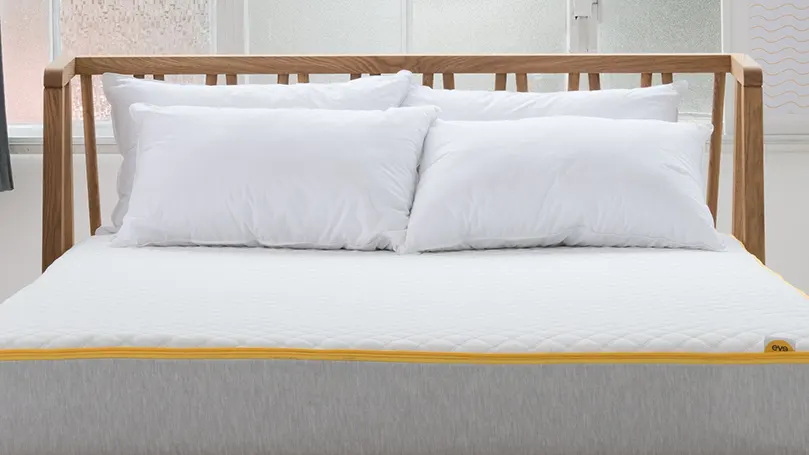 When you first lie down on it, you will have the feeling that it has embraced you from all sides and you will not want to get up. After all, this is also the most important thing for every pillow. However, as a few minutes of lying on a pillow cannot give a true picture, after a quality inspection and trial testing, it was time for an overnight test. We did the overnight test three times, to make sure the back, stomach and side sleeper each tested it one night.
Stomach and back sleepers conveyed their very positive impressions, while the side sleeper said that Eve pillow was not uncomfortable, but that it definitely lacked the support necessary and that head and neck sunk too much. After a few overnight tests, we washed it in the machine for already, at a temperature of 40 degrees Celsius. There were no visible signs of damage after washing, nor after tumble dry, which must be done on a low heat cycle. Of course, bleach should not be used and it is not suitable for dry clean.
FAQs about your new Eve Snuggle pillows
If you have any more questions about your new Eve Snuggle pillows, we will do our best to answer those questions in the FAQs section and resolve any dilemmas you have regarding this product. Most questions have to do with sleeping positions, because more and more people are talking about how important it is to choose the right pillow according to sleeping positions.
Is Eve Snuggle pillow good for side sleepers?
It is not great option for side sleepers because it does not offer enough support which is necessary for side sleeping.
Is Eve Snuggle pillow good for back sleepers?
Yes, It is good for back sleepers, especially those ones who like soft pillows.
Is Eve Snuggle pillow good for stomach sleepers?
Yes, it is suitable for stomach sleepers because it won't raise head and neck too much.
Is this pillow good for hot sleepers?
The cotton cover makes it tolerable for hot sleepers, but like any pillow that has a synthetic filling it can become too hot at some time.