Eve Storage Bed Frame Review - Enjoy Huge Storage Space
Would you like to have more storage space from your bed?  Well, if you would, then Eve Storage bed frame is just the right option for you. Not only does it look stunning, but this bed frame also has all the storage room you could possibly all your duvets, blankets, sheets and a lot more. However, do cool-looking upholstery, and plenty of room equals a good bed frame? Well, let's find out!
Eve Storage bed frame is ideal for....
Everyone in need of some extra storage space in their bedroom can use this high quality bed frame. Also, for everyone who, beside the storage space, want to have a high-quality and modern bed design. It is first Scandinavian-inspired bed frame from Eve's kitchen. 
With an 18 cm deep storage unit, you have enough room to squirrel away blankets, pillows, duvets with extra room to spare for some other bits and trinkets. On the other hand, you have 24 beech wood slats for fantastic support so you will sleep like a baby.
Add a header to begin generating the table of contents
What do we use this product for?
As Eve likes to say – gone are the days of boxy storage bed frames. This upholstered bed frame, beside its tremendous storage space, offers a modern look and contemporary design that will fit any bedroom. The bed frame is made of high-quality upholstery. But don't forget that it comes with the adjustable slats that allow you to get even more support for your sleep. Eve Storage bed frame is a fantastic choice if you:
Need additional storage space
Want a high-quality, upholstered bed frame
Adjustable slatted base for increased support
Want a contemporary-designed bed.
Features you should know about Eve Storage bed frame
It is no secret that this storage bed frame has style, but that's hardly the only defining feature. Quite the opposite, in fact – and here's why.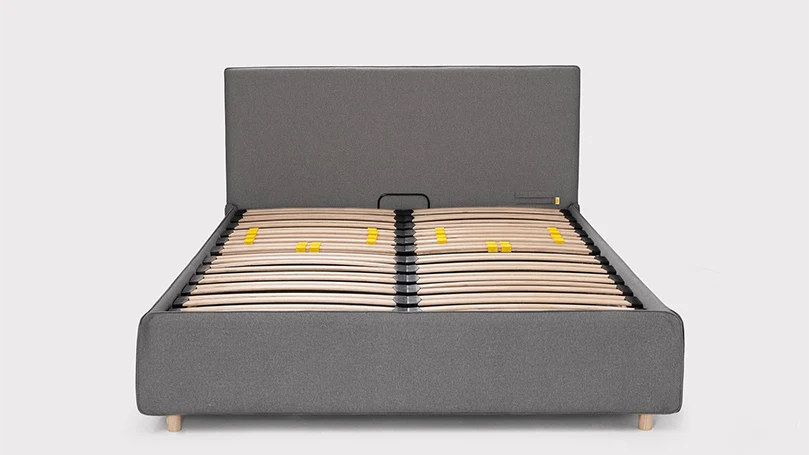 18cm storage space under the bed
Are you stuck for space? Just lift your slatted base up and store everything you don't need at the moment.
The hollow portion of this bed frame has been specially designed to act as a storage space, and in our opinion – that's something every bed should have.
Instead of sliding and shoving things under the bed, with this one, you get an 18 cm deep unit that you can use to safely store your pillows, blankets, duvets or whatever your heart desires.
100% woven polyester upholstery
This bed frame comes in two colours – grey and pink (it's actually salmon, it's just named that way).
The entire body of the bed frame is cushioned with PU and then upholstered with 100% woven polyester fabric. The fabric feels luxurious and durable – exact what the Eve Sleep brand is well known for
On the other hand, it is really easy to maintain by simply vacuuming or bushing the dust particles. If needed, it can even be cleaned with a damp non-abrasive cloth.
If you want to wake up feeling great – this is the bed frame for you. This bed frame comes equipped with 24 beech wood adjustable slats. Need extra support on your pressure points? The tension of the slats can be adjusted with an easy swipe of a yellow slider.
By moving the slider around, you can find the exact support you need.  By simply sliding the yellow slider around, you can manipulate the tension of the slats to your liking and find that perfect balance between comfort and support.
What's even more impressive is that you can do this for both sides of the bed individually.
220 kg maximum weight limit
The entire weight of this upholstered bed frame is supported by solid ash feet finished with a matt lacquer. However, solid ash feet do not mean a higher weight limit.
As is usually the case with Eve's bed frames, they have a maximum weight limit of 220 kg. This is more than enough in most instances, and the bed frame can actually hold more than that, but we wouldn't advise trying it out. If you are overweight, combine this bed frame with some of the mattresses for heavy people to reach the most comfortable sleep experience.
Eve Sleep will give you a 5-year warranty on their bed frames, but if you break them by exceeding the weight limit – you'll lose the said warranty. 
Review of Eve Storage bed frame
Eve Sleep has done it again – they've made a great bed frame.
Once again, we're looking at a stylish, high-quality, very durable bed frame, and even though it is a somewhat complex mechanism – the assembly is made easy with instructions and necessary tools that come in a box.
The beech wood slats are amazing, to say the least. Each side of the bed gets their own, and since both are fully adjustable, both you and your partner are almost guaranteed to find that perfect balance between firm and comfortable.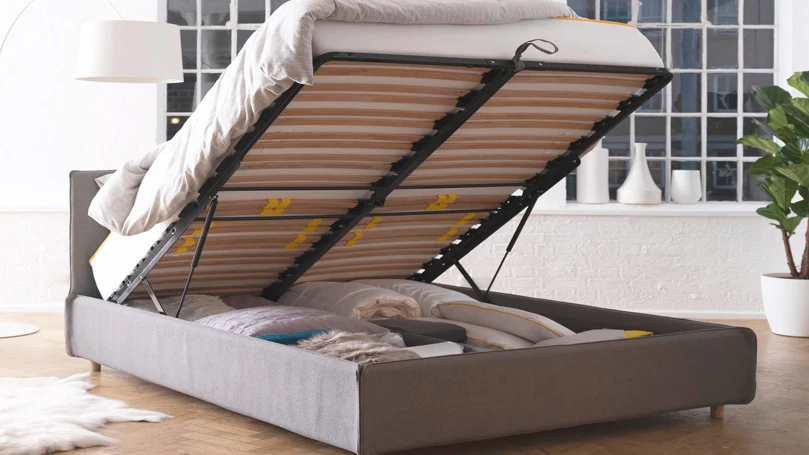 Everything about this bed frame screams quality – from solid ash legs over the MDF board with pine rails construction, all the way to the woven upholstery.
The only real drawbacks are the lack of sizing options and the inability to return a used product. But then again, this is a storage bed, and single beds aren't really made with a storage unit in mind. Also, assembled then disassembled bed would certainly lose structural integrity.
Material: Pine and MDF
Type: Storage bed frame
Size: UK Double, UK King, Super King.
Easy access to spacious storage box
Very durable
A lot of storage space
Adjustable beech wood slats.
Only three size options to choose from
Non-returnable if used.
Eve Storage bed frame advantage points
Adjustable slats are of high quality and improve support
High quality upholstery
Durability won't be a concern even after several years
Easy access, open and close system for a storage box.
Eve Storage bed frame disadvantage points
It is very expensive when compared to similar bed frames
The lack of a UK Single size option
Only returnable within the first two weeks if still unused.
The best alternative pick to Eve Storage bed frame
Now, let's explore some alternative options. Here are two storage beds from Eve you might want to consider.
If you're in the mood for something even more premium – check out the Eve Spindle. A stylish bed frame made entirely from pure oak with no upholstery or sharp edges in sight. A true contemporary Scandi-like piece that will fit any modern/contemporary bedroom design. 
With 20 individual slats, you will have enough support to achieve a comfy sleep. In addition, one of the strongest characteristics of this bed is a warranty that covers you. With 5 year warranty, you can be sure that you will face no durability issues whatsoever.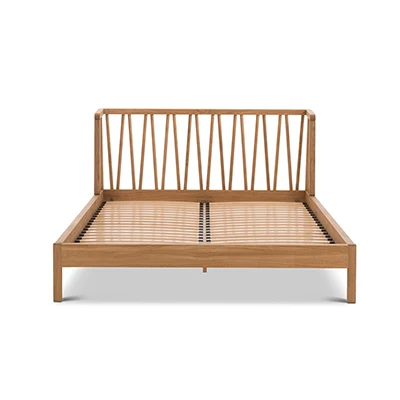 Solid oak
Quality craftsmanship
5-year warranty.
Storage drawer sold separately
Limited sizing options
Very expensive.
Now, if your bedroom requires something high-quality but minimalistic and you want it to stand on tall legs – this is a bed frame for you. Minimalistic, yet contemporary, Eve Minimal delivers a touch of luxury with the superb comfort and support.
Made solely in colour white, Minimal from Eve Sleep is guaranteed to meet your room's design and atmosphere. With 19.5 cm of space under the bed, you can be sure that you can store your pillows or other bedding pieces.
Don't forget to check our Eve Minimal bed frame review.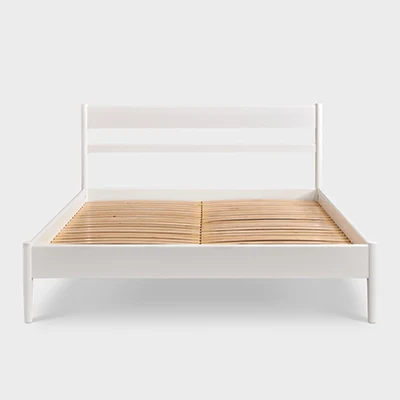 5-year guarantee
Easy assembly
Fast & free delivery.
No regular storage space
Only the UK sized mattresses fit perfectly
Most affordable Eve bed frame, yet still expensive.
Consider Eve Premium Mattress if you are buying Eve Storage bed frame
As far as beds-in-a-box go – this is one of the best ones money can buy. It is remarkably comfortable and supportive with its 1,400 full sized pocket springs and 5 layers of foam. Eve Premium is a mattress that will suit all types of sleepers, while zero motion transfer will attract couples to afford this one to themselves.
Thanks to its sturdy construction, it will last you for years to come, and its grey colour will match both colours of Eve Storage's upholstery. The top cover is knitted with silver, which ensures anti-bacterial properties.
Here is our full Eve Premium mattress review.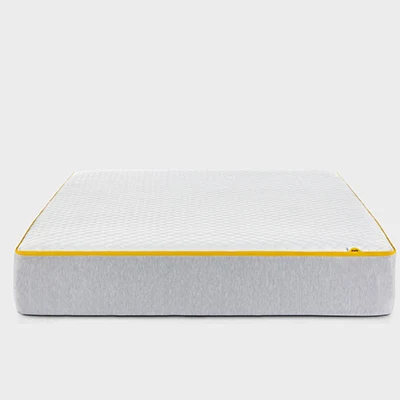 Incredibly comfortable and supportive
Extremely durable
Hypoallergenic. 
It manages to get quite warm
Very expensive when compared to similar bed frames.
What makes this product better than some other similar ones?
The main difference between this and some other storage beds lies in the quality and durability of the piston-powered mechanism. This one is actually durable, and it is not just us that are saying this – if you read customer reviews of this bed frame, you'll see that everyone feels this way. In addition, its modern look, a bunch of storage space under it, as well as the adjustable slats and high-quality upholstery will definitely convince you to go with this bed frame. Especially if you want a durable bed with a lot of space.
How did we test the product?
All of our reviews start the same way – by ordering the product.
In this day and age, it is essential that you can order a product online without ever visiting the store. Eve Sleep makes that process very easy and straightforward. All you need to do is go to their website, select the product you want, in this case, Eve Storage bed frame, enter the required information and details and voila – within three business days, the product will be delivered to you for free, and the deliverymen will carry it to the room of your choice.
In case you don't realize, the bed frames come disassembled, and it is up to you to put them together. The good part is, the assembly is quite easy. To be fair,  since there are some moving parts, more precisely the piston-powered mechanism, the assembly isn't as straightforward like it was with some other Eve bed frames, but you will get the instruction manual and all the necessary tools inside the box, so it shouldn't be much on an issue. Now, you won't be able to do this all by yourself, so find a helping hand.
Upon assembly, we've placed Eve Premium on top of it and went to town on it. First of all, the piston mechanism seems really durable, which is great since that was our primary concern. Those systems tend to break easily, but this one seems more than durable.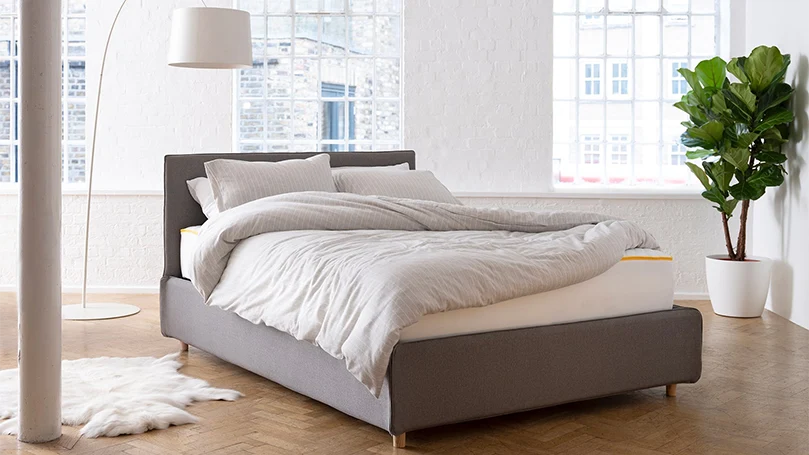 As for slats and the overall feel of the bed frame – we have no complaints. We'll get to an in-depth explanation of the slats in a few moments, but for now, let's just say that they've felt outstanding and didn't make a sound during the night. Finally, the upholstery was sewn perfectly, the seams were flawless, and the material feels high-quality, and the cushioning on the sides and on the headboard is quite soft.
All in all, this bed frame is all about style and sophistication, which is exactly what you would want from a product in this price range. However, one thing to keep in mind is that a "hassle-free" return policy doesn't apply here because once you assemble the bed frame – you can't return it.
FAQs about your Eve Storage bed frame
In the end, let's just give some straight answers to some straightforward questions.
Does Eve Storage bed frame come with a mattress?
No. If you want a brand new mattress with your new frame - you'll have to buy it separately.
Does Eve Storage bed frame have enough space to store blankets and pillows?
Yes. There is enough room in the storage compartment to stock blankets, pillows, duvets and a lot of other stuff, as well.
How do I clean my Eve Storage bed frame?
You can easily clean the upholstery on this one by simply vacuuming or brushing the bed frame. Also, if you need to remove some stains, you can use a damp, non-abrasive cleaning cloth.
Can I add a mattress topper on my Eve Storage bed?
You have to get a mattress for this bed frame first as it does not come with a mattress included. then, you can place a mattress topper to increase comfort and support further. 
What is the storage height of Eve Storage bed frame?
The storage height of this products is 18cm. 
How many slats does this bed frame have?
It has 24 beech wood slats, each placed 6cm apart of each other. 
Do I pay the delivery for Eve Storage bed frame?
No, the delivery at your doorstep is completely free of charge. 
Can I return my Eve Storage bed frame?
You can return your product within 30 days from the moment of buying it, as long as it is in the original package without signs of use and damage.