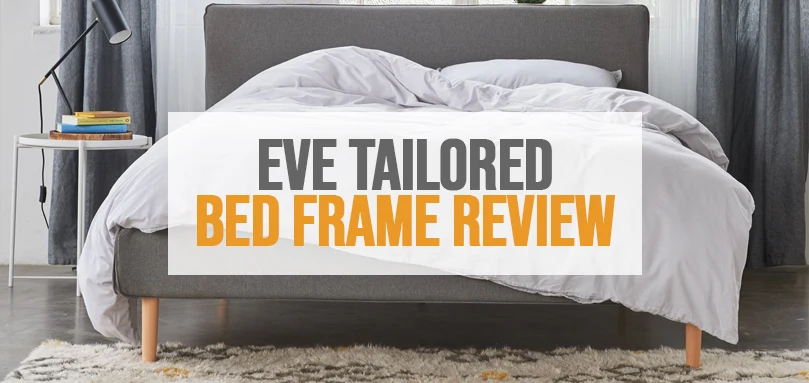 Eve Tailored Bed Frame Review by The Sleep Advisors
If you're in the market for a Scandi-inspired, trendy bed frame, then Eve Tailored Bed Frame might just be the right fit for you. This tailored bed frame is not only suave and modern-looking, but it is also quite durable and perfectly crafted – at least at first glance. However, will that prove to be the case after we review it? Well, let's find out!
Who is Eve Tailored bed frame for?
This product is for everyone in the market for a high-quality bed frame that also looks good and can liven up a bedroom. Perfectly tailored, smooth edges are also ideal for couples with small children, as the padding will keep them safe while they play in the bedroom. But, all in all – this is a bed frame for everyone that wants to enjoy a stylish piece of furniture.
What do we use this product for?
To put it simply, you'd use this bed frame to turn your bedroom into stylish heaven and make your mattress feel better, look better and last longer. All in all – this product is an excellent shopping choice for anyone looking for a new bed frame.
Features you should know about Eve Tailored bed frame
Now, let's take a look at some of the most prominent features of this stylish bed frame.
MDF & Pine Construction with PU foam cushioning
As is often the case with Eve Sleep, you can expect their products to be made from high-quality materials. You're looking at legs made from solid pine, finished with a matt lacquer. As for the rest of the body, the frame is made from MDF with a pine rail construction for improved stability and sturdiness.
As you know, MDF is quite dense and durable, and when it's paired with pine – it only gets better. The whole body is then covered in PU foam and upholstered in grey, 100% woven polyester upholstery. So, not only does this bed frame look good – but it is actually soft on the side.
24 beech wood slats for comfort
The main feature of this Tailored bed frame are the 24 beech wood slats on top of which you will lay your mattress. The beech wood slats are very easy to install, as they effortlessly pop into plastic slat caps. They're made from high-quality wood, and they're sprung for additional comfort and support.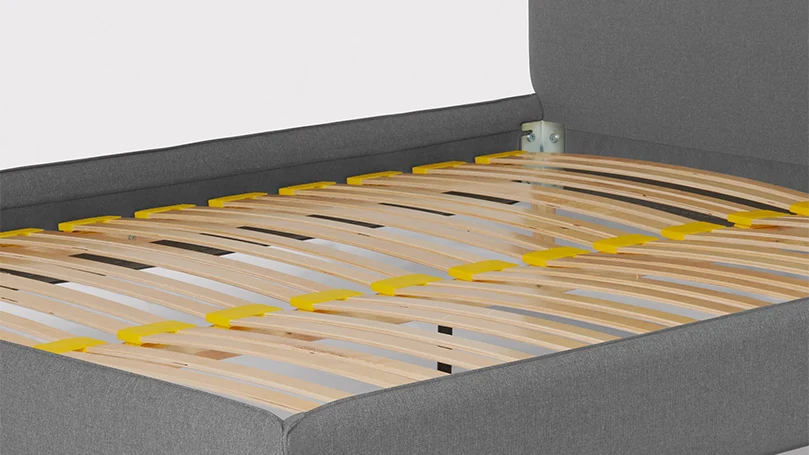 Additionally, the slats are 6 cm apart from each other, which could be very beneficial if you have a firmer mattress and you want to make it just a tad softer.
Woven polyester upholstery
Finally, the most prominent feature of this bed frame is undoubtedly the design. The entire frame is upholstered and covered in neatly sewn grey or oat-coloured fabric. The stitching and seams are flawless, and the fabric is of very high quality.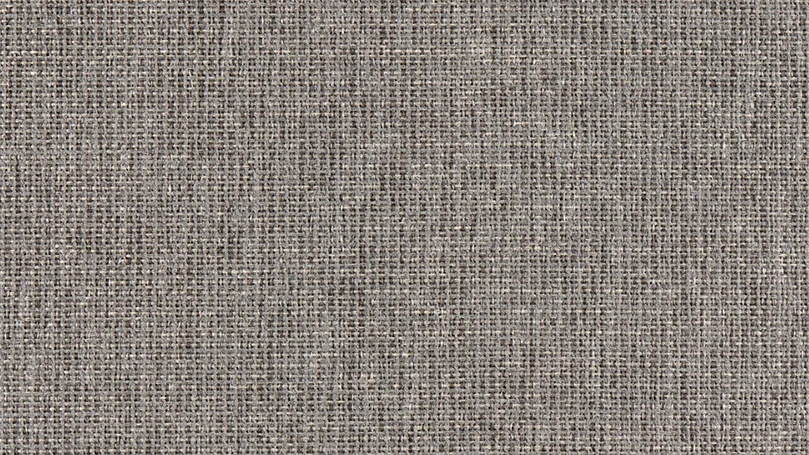 The material from which this upholstery is made is woven polyester that's both easy to clean and good looking. Since you have the option to choose between grey and oak-coloured fabrics, we're positive you'll be able to perfectly match it with your bedroom, regardless of the style you're going for.
Review of Eve Tailored bed frame
We're pleased to say that this tailored bed frame has exceeded our expectations.
We've paid close attention to all the details of this bed frame, and we have to say – it didn't disappoint. The materials used in manufacturing this tailored bed frame are very high-quality, as expected. The wooden legs are more than good. They're stylish, sturdy and are easily mounted. They are 19 cm tall, so that should leave you with more than enough room for improvised storage underneath this tailored frame.
The upholstery is also great. It is durable, it comes in two colours, it is easy to maintain and clean, and it looks and feels really soft and premium. As far as the sprung slats are concerned – they're great. They are durable, silent and will support up to 220 kg. On the other hand, 6 cm might be too much room for some softer mattresses, so keep that in mind.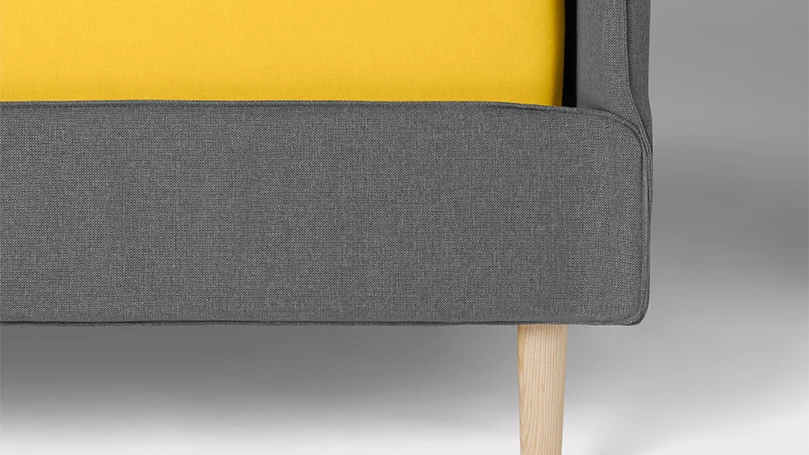 Also, you get a 5-year warranty on this product and from what we've learned, you probably won't have to fall back on it. But still, it's good to know you're covered.
One thing that we must note is that even though Eve Sleep boasts about their "hassle-free" return policy, this product is only returnable within the first two weeks under the condition that you haven't used it.
When it comes to size, keep in mind that the bed frame sizes are not identical to the mattresses. Each of this product is exactly 14 cm wider and taller than the corresponding size mattress.
Very durable
Great design
Two-colour options.
Quite expensive when compared to similar products
Only three size options to choose from
Non-returnable if used.
What we like about Eve Tailored bed frame
Quality craftsmanship, excellent durability and high quality upholstered elements
It is incredibly easy to assemble 
19 cm tall legs leave enough room for storing things under the bed.
What we didn't like about Eve Tailored bed frame
Size options are quite limited and are only tailored to UK mattress sizes
Although understandable, it is still bothering that you can't return the tailored bed frame if you've assembled and used it
The space between slates could be too much for some softer mattresses.
Check the alternatives to Eve Tailored bed frame
Let's take a look at some other bed frames if this one isn't up to your standards.
This is a minimalistic, sprung slatted bed frame from a well-recognized company Eve. 
Unlike the product we are reviewing in this page, this one is not upholstered and is quite simple in design, which is what some might prefer for their bedroom.
The quality of craftsmanship on this one is as good as it is on Eve Tailored, despite being much more minimalistic in design.
You can see our detailed review of Eve Minimal bed frame.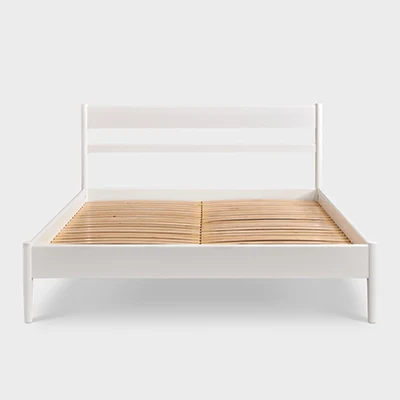 5-year guarantee
Easy assembly
Fast & free delivery
Minimalistic & elegant design
Durable.
No regular storage space
Only the UK sized mattresses fit perfectly
Most affordable Eve bed frame, yet still expensive in comparison to similar products.
Top of the line, solid oak bed frame from Eve is for those of you who enjoy finer things in life. One of the most sold bed frames from Eve company definitely justifies its price and demand – and here is why.
It is elegantly designed, highly durable, very sturdy, and with no sharp edges or upholstery in sight—just pure natural oak. If you like to keep things natural, this is the perfect addition to your bedroom.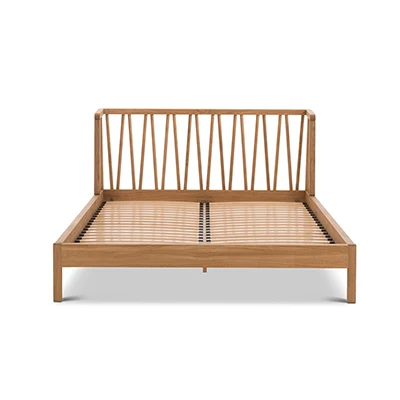 Solid oak
Quality craftmanship
5-year warranty.
Storage drawer sold separately
Limited sizing options 
Expensive when compared to similar products.
Consider Eve Premium mattress if you are buying Eve Tailored bed frame
If you want to treat yourself to a luxurious memory foam mattress and put it on a new bed frame – you might as well choose Eve Premium. Eve Premium is a 28 cm deep all-foam mattress that will put every other mattress to shame. It's divinely comfortable, very supportive and will serve you for a very long time.
In the mean time, you can read our Eve Premium mattress review that we made for you.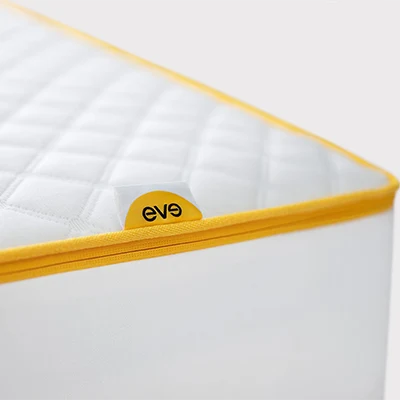 Incredibly comfortable and supportive
Extremely durable
Hypoallergenic.
It manages to get quite warm
Very expensive when compared to similar products.
What makes this product better than some other similar ones?
As is often the case with Eve's products – their greatest quality lies in their superior durability. This bed frame could easily last you double the warranty period, provided that you take good care of it.
How did we test the product?
Before we could begin testing and reviewing the bed frame – we had to order it first. It was really easy to order and initiate the shopping process of this bed frame. All we had to do was choose the size we're interested in, enter the delivery address, and within three days -we received the product.
The delivery guys were very pleasant and have delivered our new frame-in-a-box to the room we wanted it in.
The package arrived not only fast but in perfect condition, as well. As is often the case with bed frames, they do not come preassembled, so you'll have to do that on your own.
Fortunately, Eve Sleep has got you covered. Every Eve bed frame comes with a set of precise instructions and all the necessary tools, including a Phillips screwdriver, for you to assemble the bed frame. It would be an understatement to say that the assembly was easy. It wasn't our first time assembling an Eve bed frame, but still, you can expect the assembly to be virtually effortless. Just put the bolts in the right place, lay the sprung slats, pop them into place and you're done.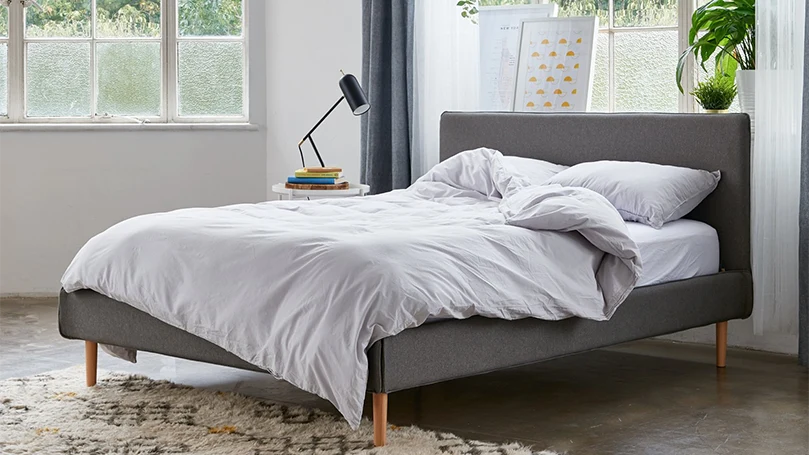 Now, for the fun part.
We've put the Eve Premium Hybrid mattress on top of it, and we're pleased to say that the sleeping experience was magical. Nonetheless, Eve Premium Hybrid is a great mattress, but Eve Tailored has made it even better. Not only are the colours perfectly matching, but the mattress felt softer and more comfortable on a slatted base.
Finally, the bed frame felt solid and sturdy, it offered substantial support, there was no creaking or any noise whatsoever, and we have to give bonus points for the padded and cushioned headboard that made lounging in the bed that more enjoyable.
FAQs about your Eve Tailored bed frame
In the end, we wanted to answer some of the most frequently asked questions about this popular product.
Does Eve Tailored frame come with storage?
No. This frame does not come with a storage unit, although 19 cm of legroom underneath it leaves enough space for you to stash some stuff.
Does this Tailored bed frame come with a mattress?
No. This Tailored bed frame comes alone and you have to buy a mattress separately.
Are there different colour options available for Eve Tailored bed frame?
Yes. You can get this tailored frame in grey and oat colour.