Eve Warm:Cool Duvet Reviewed For UK Shoppers
Finding the right duvet for you can be even harder than finding the right mattress or topper. There are a lot of them on the market, but most of them are very similar. This certainly cannot be said for the Eve Warm:Cool Duvet which stands out for its many characteristics. Read more about Eve Warm:Cool Duvet, its main features, the things we liked and the ones we liked less, as well as about alternatives to this duvet in this review.
Who is Eve Warm:Cool Duvet for?
In this paragraph you expect us to tell you who this product is made for and who could have the most benefits out of it and here we come to the answers we otherwise rarely give. Our opinion about Eve Warm:Cool Duvet is that it can suit practically everyone because it combines best of both worlds. Precisely because it has two different sides, which we will talk about in more detail later, it can suit everyone, equally for those who live in cold and warm areas, hot sleepers and so on. Usually in this part of the review many potential customers give up reading because they realize that it is not an ideal product for them, but in the case of Eve Warm:Cool Duvet everyone should keep reading.
Add a header to begin generating the table of contents
What do we use this product for?
We use this product for all seasons. Because it has two different sides, you will no longer need one duvet for summer and one for winter. You will have it all in Eve Warm:Cool Duvet, which is very practical and saves you space. Also hot sleepers will benefit from it. Because all materials are hypoallergenic, it is also used by all those who have allergy problems, as well as children with asthma.
Features you should know about the Eve Warm:Cool Duvet
Eve Warm:Cool Duvet has three features that you need to know more about. These are exactly the three things that make it as good a product as it is, so we want to explain everything about it. Those features are two different sides, filling and casing.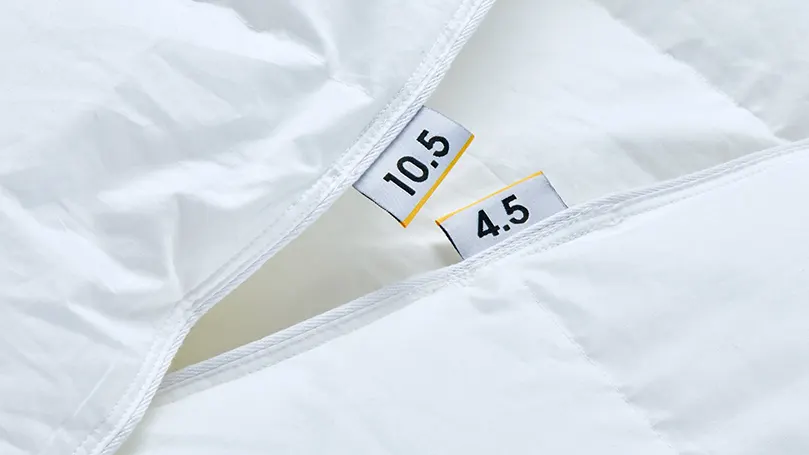 What really sets this duet apart from all the others are the two different sides, one of which has a 4.5 tog rating and the other has a 10.5 tog rating. According to Eve, their goal was to create a product that would suit everyone by combining best of both worlds. And they succeeded in that.
Cooler side, which has a 4.5 tog rating and is marked with a snowflake icon, is used during all those nights when you are very hot and you need a light duvet. When the cold nights come, all you have to do is turn the other side, which is marked with a sun icon, and that other side will keep you warm. 10.5 of tog rating makes that side suitable for winter, but also for autumn and early spring. In any case, you can turn the other side whenever you want, according to current needs.
Aerelle softflex hollowfibre
There will always be a debate over whether duvets filled with natural or synthetic materials are better. Both options have a lot of advantages and disadvantages, but since the company Eve wanted such a multifunctional product, then the logical solution was a synthetic material.
 They opted for the Aerelle Softflex hollowfibre and it turned out to be perfect choice. A material which makes duvet very comfortable and you will have the impression that someone is hugging you. Also, Aerelle Softflex hollowfibre is breathable as much as one synthetic material can be, which is another plus. And it's also durable, so your duvet will last a long time. You can wash Aerelle Softflex hollowfibre in the washing machine without worrying that it will be damaged. Of course, you must not use a temperature higher than 40 degrees Celsius.
To minimize certain downsides of synthetic material such as Aerelle Softflex hollowfibre, Eve opted for cotton casing that is breathable and comfortable. We really like the fact that their choice of cotton casing instead of synthetic material.
Cotton is one of the most prized materials and will always be popular because you can't match the softness and pleasant feeling that quality cotton gives you. 233 thread count pure cotton was used which is of very high quality, although the thread count may not be what we expected. Cotton is a machine washable even at higher temperature and hypoallergenic, which guarantees that your duvet will always be clean, pleasant smelling and comfortable for everyone to sleep.
Review of Eve Warm:Cool Duvet
Eve Warm:Cool Duvet is a multifunctional duvet that is made with the aim of being used throughout the year. To produce such an "all-around" duvet, Eve decided to make a duvet that has two different sides. One is intended for winter, the other for summer, and their tog rating differs. The winter side has a 10.5 tog rating, while the summer side has a 4.5 tog rating.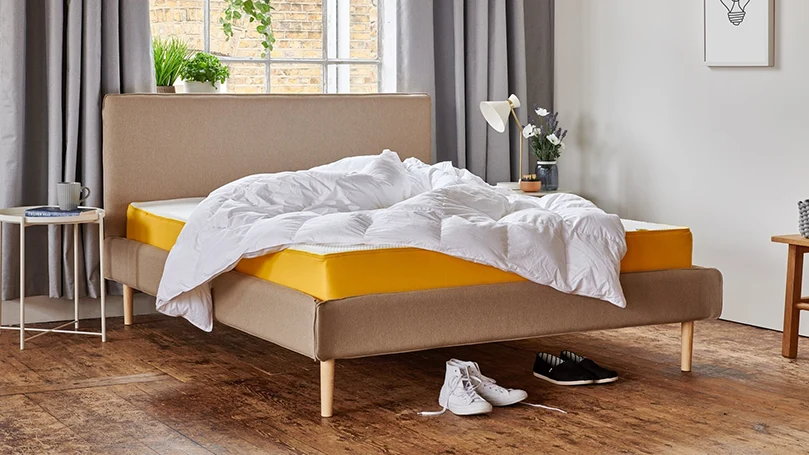 Aerelle Softflex hollowfibre was used for filling, which fit perfectly into this duvet. In addition to making it suitable for all seasons, it also contributes to comfort. Casing is made of 233 thread count pure cotton and thus completes this duvet. Duvet is machine washable and durable, and you also get a two-year guarantee.
Two different sides
Cotton casing
Durability
No single size available
Only one colour
A bit more expensive
What we like about Eve Warm:Cool Duvet
Two completely different sides is something that makes this product one of the best out there
Aerelle Softflex hollowfibre is great choice for filling plus cotton outside
It will last you at least a few years, with proper care, even more.
What we didn't like about Eve Warm:Cool Duvet
10.5 tog rating can be unsuitable for places where it is very cold
More expensive compared to some other duvets, which is justified given that it is suitable for all seasons
It is strange Eve does not offer single size Warm:Cool duvet.
Check the alternatives to Eve Warm:Cool Duvet
If for some reason you don't like the Eve Warm:Cool duvet, the Panda Cloud duvet and the Simba Microfibre duvet are the best alternatives in our opinion. Even though the Eve Ying Yang duvet seems like an ideal choice, be sure to read a little more about these two models, because you may realize that they suit you even better.
Panda Cloud duvet is made of a mixture of bamboo and microfibre. The ideal option for hot sleepers is designed to prevent overheating. It is very comfortable and durable, so you will use it for a long time. Bamboo is a natural hypoallergenic, and microfibre also does not cause allergies. Panda is one of the companies that cares most about the environment, so bamboo is organically grown and complies with responsible farming rules.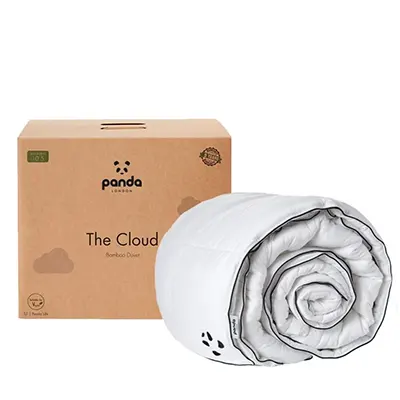 Breathable 
Hypoallergenic
Super comfortable
Highly durable.
It may be too soft for heavier people
Must be maintained regularly
A bit pricey when compared to similar products.
With the space-inspiring technology, you will feel as if you were floating in the space as Simba Hybrid duvet brings the high-end comfort, cooling and coziness. The 3 different layers (Stratos, Simba Renew and Breathable cotton) ensure that even the hottest sleepers can sleep well and enjoy their dreams. Not to mention that it is 100% GRS complied, which means it is free of harmful substances and it is made in the most—eco way possible. On top of that, it comes in multiple sizes, making it ideal for single sleepers but also for co-sleepers.
Cooling
Cozy and comfortable
Multiple sizes available
Great for single and co-sleepers
Easy maintenance.
Not ideal for people with allergies
Not suitable for children
May be too expensive when compared to similar products
Some sleepers find it too heavy.
Consider Eve Memory Foam pillow if you are buying Eve Warm:Cool Duvet
You will not be able to fully enjoy sleeping under the Eve Warm:Cool duvet if you sleep on an uncomfortable pillow. That is why we recommend that you also buy an Eve Memory Foam pillow(our review) to make it even more comfortable. Memory foam is very durable, and provides both comfort and support. This pillow will suit side and back sleepers, due to the ideal balance between firmness and comfort. You will also get soft, comfy and machine washable cover.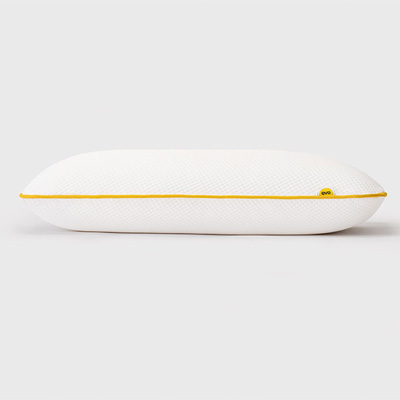 Durable
Comfortable
Quality cover
Not for stomach sleepers
Off-gassing
Heat retention
What makes this product better than some other similar ones?
What absolutely makes the Eve Warm:Cool duvet better than most other duvets you can find on the market in the United Kingdom are the two sides that have different tog ratings. While most duvets have to be chosen according to whether you are a hot sleeper or not, and also to buy different duvets for different periods of the year, the Warm:Cool duvet is suitable for everyone during whole year.
How did we test the product?
In order for our review to be fully credible, it is necessary to test the product in as many different ways as possible. It's certainly not easy, especially when it comes to a complex duvet like Eve Warm:Cool Duvet. Attention must be paid to various details, so that we do not miss something important.
Ordering the product was relatively easy, the duvet arrived quickly and delivery was free. Eve says they always try to deliver straight to your doorstep for free, but some areas might be charged. So check on their website if shipping will be free or you will be charged. When the product came to us, we liked the quality of the packaging, and what is much more important, the quality of the duvet itself. Upon unpacking, we checked the entire duvet, seams and everything else that is essential for a quality duvet and durability. Eve made one more great product and everything is very high quality.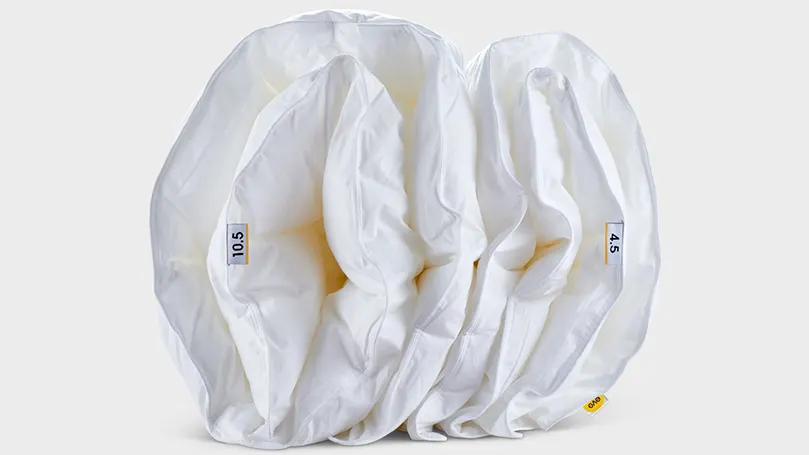 Since it has two different sides, the overnight test had to last for two nights. The first night we used 10.5 of that side, which is certainly significantly warmer compared to 4.5 of that side, but we weren't too hot which is great. The other night we used the 4.5th side which is a great choice for hot sleepers and for the summer months as it will not raise your body temperature at all.
Hollowfibre fill is light and comfortable, and also very easy to wash and dry because this duvet is machine washable and suitable for tumble dry. We also really liked the cotton casing, which is there to further improve breathability and to be in contact with our skin, because cotton is unrivaled the most comfortable material for skin.
FAQs about your new Eve Warm:Cool duvet
We think that we have told you everything you need to know about Eve Warm:Cool duvet and that all this information will be more than enough for you to make a decision whether to buy it. In the FAQs section, we have singled out a few more questions that are of most interest to customers. We will answer them, to spare you of reading whole review again and searching for answers.
Is Eve Warm:Cool duvet machine-washable?
Yes, Eve Warm:Cool duvet is machine washable at 40 degrees C, but you have to have a big drum.
Does Eve Warm:Cool's duvet come with a casing?
Eve Warm:Cool duvet comes with a pure cotton casing.
How heavy is the Eve Warm:Cool duvet?
Eve Warm:Cool duvet is not heavy at all, because it is filled with hollowfiber.
Is the Eve Warm:Cool duvet good for the hot summer nights?
It is great for the hot summer nights because 4.5 tog side is made exactly for such conditions.