How To Clean Mattress Stains In 4 Easy Steps?
Dirty mattress is not suitable environment for sleep. In order for the mattress to always be fresh, clean and to last for a long time, it is important to use appropriate techniques and products when cleaning and removing stains. So, how to clean mattress stains?
Proper cleaning of mattresses includes general cleaning, removal of spills and dried mattress stains, removal of odours, disinfection, etc. You can use products that contain a lot of chemicals or natural cleaning products for this purpose. 
No matter which products you choose, it is necessary to think about primary functions of the mattress, which must not be endangered by any of those procedures. 
Its primary function is to provide the perfect support and comfort to your body. So protect your investment by adopting useful maintenance tips. 
By regularly cleaning the mattress, you are giving yourself years of peaceful sleep, that is, you prolong its service life and good appearance.
Add a header to begin generating the table of contents
What tools and materials do you need for cleaning a mattress?
When it comes to mattress cleaning tools and cleaning methods, you need to have a vacuum cleaner with attachments for upholstery and crevice. In addition, choose an effective stain removal solution. There are many choices in the market, but you always try to research and check well. What you need to check is the label on the mattress.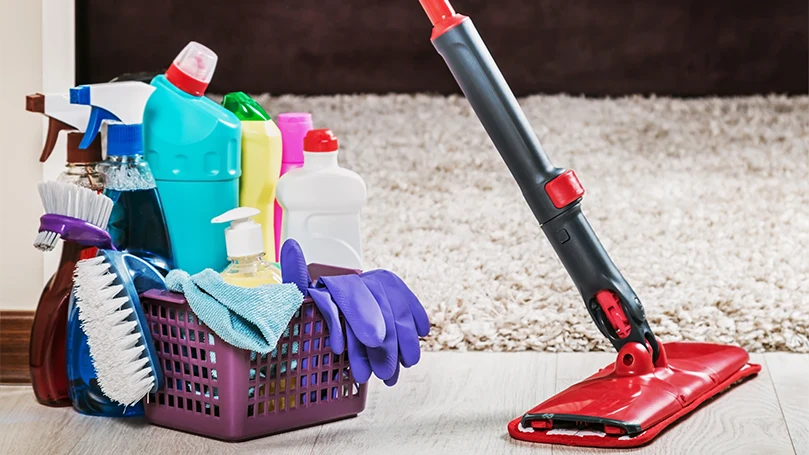 There are clearly written instructions for care as well as the manufacturer's advice. These things are different, so always check before choosing a cleaner. We also recommend enzyme cleaner for biological stains. You can also use some things you already have in your home such as dish soap, water, hydrogen peroxide, baking soda, damp cloth and a soft bristle brush. So, you need the following things:
Vacuum cleaner with extensions
Stain remover
Enzyme cleaner for biological stains
Mop for cleaning
Soft bristle brush.
Step 1 - Preparation of the mattress
The first thing you need to do before cleaning the entire mattress is to prepare it properly. This includes removing the mattress cover, bedding and pillows. Put it all to wash while you clean the mattress. Check the manufacturer's recommendations before placing these items in the machine. If the manufacturer approves, wash everything in the machine at 40 or 60 degrees C. 
Some are for dry cleaning only. This way you will get rid of organisms such as mites and bed bugs. In addition, it is important to get rid of accumulations of skin, sweat and oil, saliva and allergens that remain on your bedding during the night. After you have done this, vacuum the mattress to remove the layer of dust, hair and other particles that are on the surface of the mattress.
Step 2 - Identify the type of stain
The next thing you need to do is take a good look at your mattress to notice stains. Stains can be different. For example, you may notice stains from urine, blood, or spills such as drinks, food, ink and also sweat stains. Depending on the type of stain, decide on a product that will remove them. For this purpose, you can use a few drops of enzyme cleansers that break down protein and fat in the stain. It has an excellent effect on biological stains, as well as on food stains. There is an alternative enzyme cleanser that you can make yourself. For this purpose you need detergent and water, a little hydrogen peroxide.
When you notice these stains, it is important to act as soon as possible. Then unfold the bed or remove the cover from the mattress and other bedding and put it in the washing machine if the manufacturer allows it. It is a good idea to gently rub the stains on the bedding by hand with detergent or remover before putting them in the washing machine. Use toilet paper that absorbs liquid well from the surface of the mattress. The method of absorption is good, because it will prevent the stain from spreading on the mattress.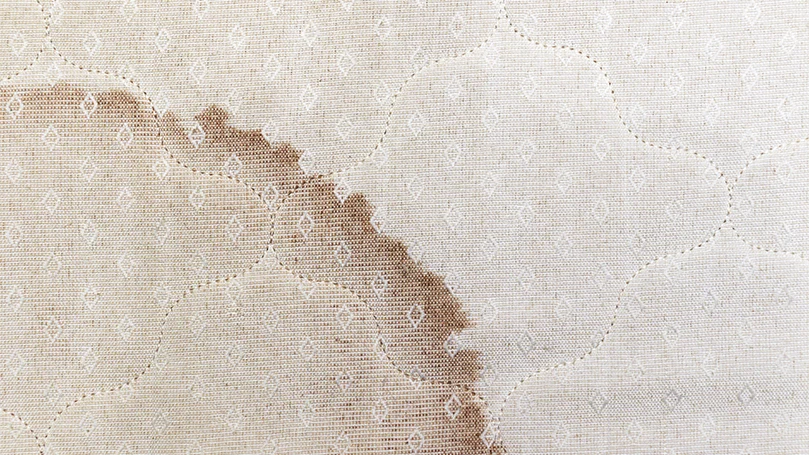 Then, sprinkle baking soda that will pick up the remaining moisture and odour which is very important to remove sweat stains completely. Stir the laundry detergent with baking soda and spray the stain with this solution. Leave the mattress in this state for 10 minutes and pick up the excess liquid with paper. Use baking soda again, but sprinkle all over the mattress and leave it as long as possible. The next day, vacuum the remains from the mattress and take it out into the air or open the windows in the room.
If your mattress is stained with liquid, you should mix 1/4 glasses of hydrogen (3%) with a teaspoon of dish detergent. Soak a clean cloth or piece of clothing with this mixture, cover the stained part with it, and let it absorb, so that the stain does not spread. You can also use another method. All you need to do to remove mattress stains is prepare a napkin, a clean cloth, as well as baking soda, vinegar and water.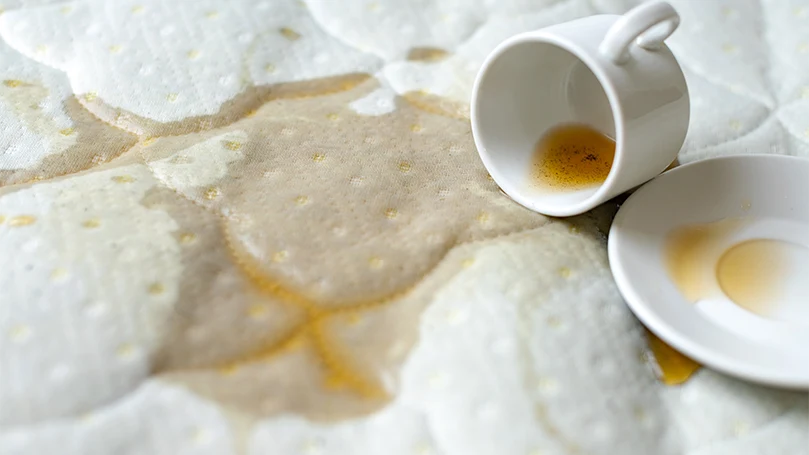 First, use a towel or cloth to pick up excess liquid. Then pour a few teaspoons of baking soda, a cup of vinegar and 4 cups of water into one bowl. Put a clean cloth in this liquid, squeeze it well and start cleaning. It is important to rub the liquid well into the stain to make the solution work. Leave that cloth on the stain and let it stand for an hour, then take it off. If the stain is still visible, use baking soda and pick up moisture. After 15 minutes, pick up the remaining soda and leave the mattress to dry.
Blood stain is best removed from the mattress when it is fresh. As this stain dries, the chances of the thing being saved become less and less. To get rid of blood stains quickly, use only cold water, because the protein in the blood coagulates in hot water and it is almost impossible to get rid of stains. Even if you manage to delete it after that, there will be a yellowish trace that will not be able to be removed.
In addition to cold water, you need a remover of stains in which you will soak a clean cloth. Apply the cleaning agent to the stain with a wet cloth and let it stand for a while, only then continue cleaning. If you are not sure whether a certain product will work on the stain, do a test. Choose an inconspicuous place and try how the product works, so you will not destroy the mattress.
Step 3 - Deodorizing the mattress
To neutralize unpleasant odours, use baking soda, which is a natural deodorizer. All you need to do is sprinkle a little baking soda on the mattress and let it work for as long as possible. It is recommended not to clean baking soda from the surface for at least half an hour. Once the baking soda has stood long enough on the mattress, you can use a vacuum cleaner with extensions to vacuum the excess product.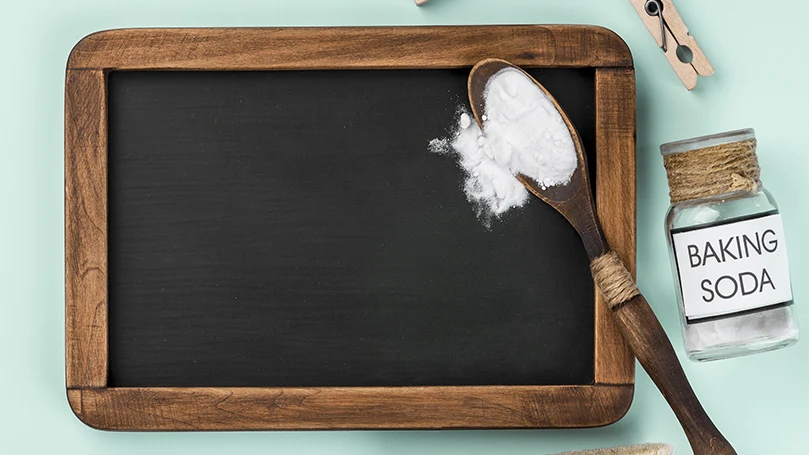 The unpleasant odour mainly comes from stains from urine, sweat and other liquids. Therefore, it is necessary to thoroughly clean the stains after neutralization. For this purpose, use an appropriate tool and method that will remove the stain. Don't forget to:
Vinegar also neutralizes unpleasant odours
You can also mix baking soda with water and spray it on the mattress
Set your vacuum on a low suction setting.
Step 4 - Let the mattress dry completely
It is very important to dry the mattress completely. If it stays for too long, it can take on a musty smell, and only after a day or two. The first thing you need to do is use a clean, absorbent cloth or towel. Absorb as much liquid as possible with it, and then take a hair dryer. Keep it a few inches from the surface of the mattress and let it take about 15 minutes. 
Before you determine that the mattress is dry, leave it to cool from the hair dryer. After half an hour you can continue drying. Finally, take the mattress out into the air, open the windows or use two fans that point directly at the mattress on both sides. Only after that you can place mattress protector back.
4 Best Mattress Stain Remover Picks You Must Have
Up until this point, we have told you what tools and materials you need for cleaning a mattress, as well as how to properly prepare the mattress for cleaning and how to recognize the origin of the stain. All the way to deodorizing the mattress at the end of the whole cleaning process.
But our guide on mattress cleaning would not be complete if we do not add this bonus section where we will review the best mattress stain removers. Learn more about the best cleaning agent, vacuum cleaner, steam cleaner and odour eliminator of our choice.
BEST CLEANING AGENT - Charles Kent Mattress Stain Remover
If you notice dried-in organic stains and embedded dirt, then Charles Kent Mattress Stain Remover can help you get rid of them!
When you fail to remove stains with the help of some homemade preparations, then Charles Kent Mattress Stain Remover will help you. 
This spray bottle product removes very stubborn stains and embedded dirt, even when they are dried. In addition, it helps eliminate unpleasant odours and makes your mattress fresh.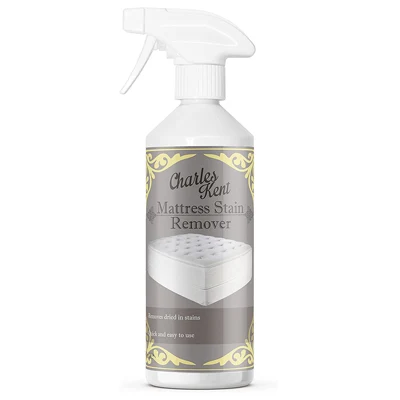 Spray bottle
Made in the UK
Fresh scent.
Some allergy sufferers complained
Not equally efficient on all materials
Expensive when compared to similar products.
BEST VACUUM CLEANER - Iris Ohyama 530443 400W
Achieve much better results if you buy Iris Ohyama 530443, 400W!
Why bother with a bulky vacuum that is difficult to maneuver, when there is a vacuum cleaner designed to clean mattresses and furniture. Iris Ohyama 530443, 400W eliminates dust mites and other allergens from mattress, sofa and cushions. 
According to the manufacturer, it will remove 98% of allergens in less than 3 minutes, which makes it ideal for all those who have allergies.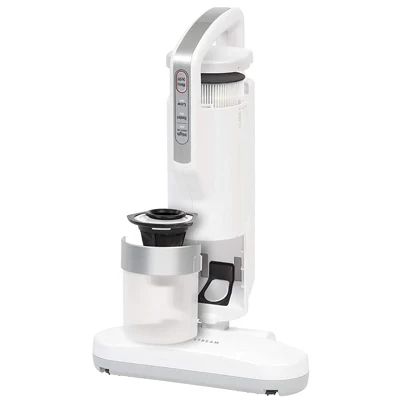 6000 vibrations per minute
3 heating powers
Lightweight.
Not the most affordable one
No information about warranty
Wired, not wireless.
BEST STEAM CLEANER - MLMLANT Hand Held Steam Cleaner 1000W
Hot steam will help you completely clean your mattress of stains, allergens and dirt!
When you need an easy-to-use steam cleaner, we recommend MLMLANT Hand Held Steam Cleaner, 1000W which is very powerful. It has 1050W of power, so it can cut through any grease, grout or stain. 
This high pressure steamer comes with 9 piece accessory kit. These 9 pieces are: extended nozzle, spray cup with brush, bent spray, funnel, measuring cup, spray cup for door and window, towel sleeve, brush plate and long spray cup.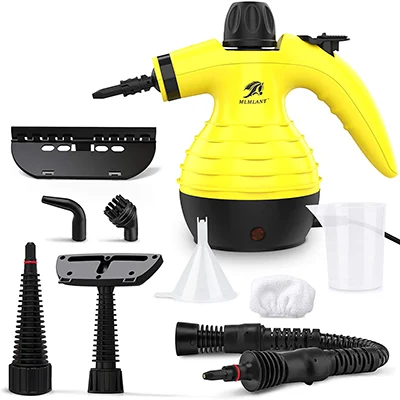 1050W of power
Big capacity
9 different nozzles.
Heavier compared to some other steam cleaners
Machine needs rest
Short cord.
BEST ODOUR ELIMINATOR - Dirtbusters Mattress Odour Eliminator
Dirtbusters Mattress Odour Eliminator contains a unique formula which continuously works to remove odours!
What sets this odour eliminator apart from some others you can find on the UK market is the unique formula which continuously reactivates to remove bad odours.
  In this way, odours are eliminated at source, and this product continues to eradicate and deodorize the mattress.  It is very easy to use. Just spray it on the affected areas and within a few hours it will solve the problem.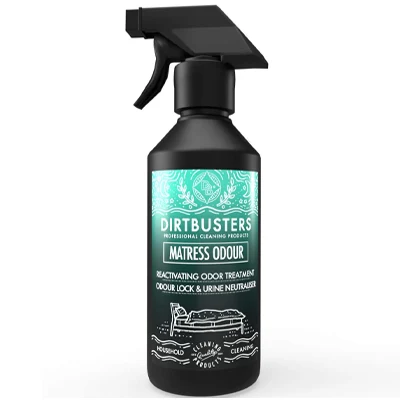 Odour lock
Simple use
Urine neutralizer.
Only one scent
High-priced
No hypoallergenic label.
FAQs about cleaning mattress stains
To make sure you are using the right cleaning method, you need to know which products you are allowed to use. You will choose them depending on the material of the mattress, the type of stain, etc. You can always choose a professional team that will effectively remove stains and all dirt from the mattress. You can also read some answers to frequently asked questions, they will surely be of great help to you.
How to clean a red wine mattress stain?
Wipe the stain with cold water, stain remover or dishwashing detergent and two parts hydrogen peroxide. Pour the product on a cloth and wipe the stain with it.
What type of cleaning agents can I use?
Depending on the type of stain and cleaning method, you can use detergents, degreasers, abrasives and acids.
Does each type of fabric require a special cleaning solution?
Yes, and that is why it is necessary to read the manufacturer's instructions on the label.
Is there such thing like a universal cleaning solution that you can apply to all materials?
You can use lukewarm water, baking soda and mild dishwashing detergent on any material.