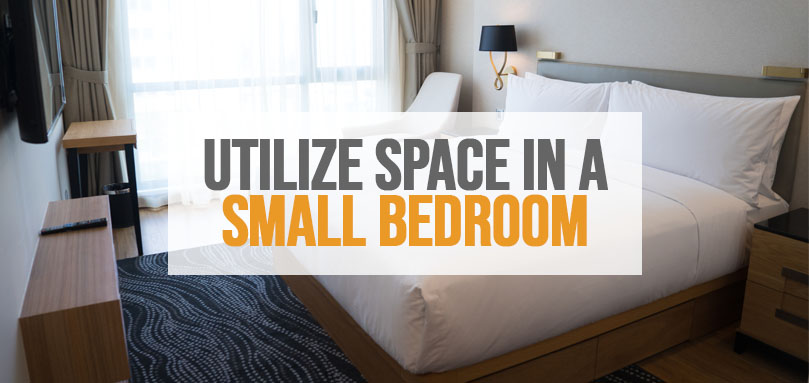 How to Utilize Space in a Small Bedroom Using These 9 Ideas?
Want to turn your small bedroom into a cosy, organized paradise? Try utilizing some of these tips and ideas!
If you live in a small house or an apartment, chances are, you're stuck with a tiny bedroom. At that point, you need some organization hacks if you want to make that small space work.
Organizing a small bedroom can be quite an interior design challenge. Turning a small space into something practical yet good looking can stump even the greatest interior designers, let alone ordinary people.
However, you can't lose hope. The last thing you want is for your small bedroom to be a mess and for you to jump over your furniture to get to your bed. So, on that note, we've decided to share a few small bedroom ideas with you.
Here's how you can organize a small bedroom with these 9 simple bedroom ideas.
Add a header to begin generating the table of contents
Don't make the layout too complex
Everyone will tell you – the key to a perfect tiny bedroom is a great organization. Unfortunately, most people overcrowd their bedrooms with unnecessary furniture to the point where it ends up looking more like a storage unit than a bedroom.
Now, you, as a proud owner of a small bedroom, should take this tip even more seriously.
Go for a simple layout. Only fill your bedroom with the essentials like the bed, a small closet with shelves and maybe a bedside table, and that's it.
Place your bed in the middle of the room and put the bedside tables right beside it. Leave enough room for a closet, so you can freely open it and grab your clothes. If you absolutely need some additional furniture, place it in a way that you can freely move around the bedroom. The last thing you'd want in such a small space is a maze that you have to navigate.
Also, keep in mind that any of your furniture shouldn't interfere with the door and make sure to leave enough room for you to walk in and out freely.
Give your room a lot of light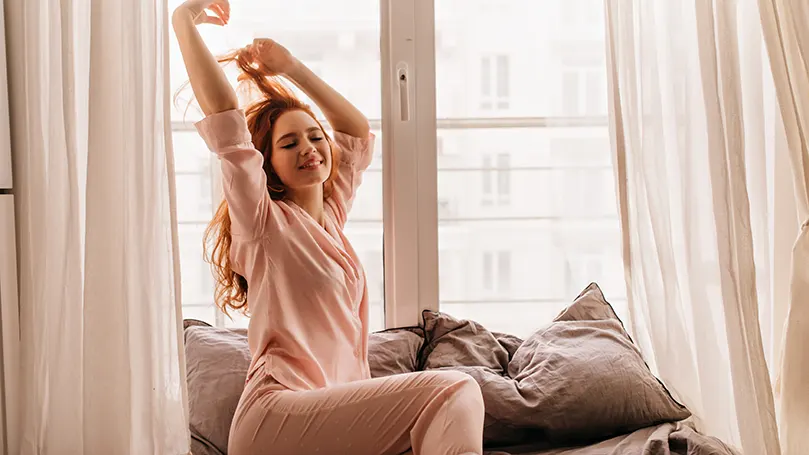 One of the greatest tricks on how to make a small room look spacious is to give it a lot of light. Small spaces can look even more confined if they're dark and that's something you want to avoid.
Don't cover up your windows with blinds and curtains unless you need to. It's okay to make the room dark when you need to sleep, but during the day – keep it bright. This will most certainly create a feeling, or an illusion, that your bedroom is bigger than it actually is.
Also, if the bed frame is too large, don't place it right in front of the windows, as it will block most of the light coming through.
Mix colours of accessories
Decorating is fun. Just because your bedroom is small doesn't mean it has to be dull and boring. Every designer will tell you that it's the accent pieces that define the space. Now, we're not only talking about colourful pillows, pictures and rugs – you can do a lot more.
Your bedroom walls have more potential than you might think. Not only can you hang your decor pieces from it, but you could actually use it to create some extra storage. Make sure to utilize the wall space in the best way possible.
Mount some colourful shelves on it and use them to store your clothes, books or whatever you might keep in your bedroom. Hang a coat rack on your wall and save some closet space.
Now, if you can't find colourful shelves or rack – get regular ones and paint them yourself. It'll be a fun, easy DIY project for you to try out.
Another heat way to make a small room look bigger is to create an illusion of space. Now, that might sound tricky, but it's actually pretty easy to achieve.
We've already given you a neat trick – add more light to the room. However, that's not all you could do.
Another neat idea to make your small bedroom look bigger is to use curtains. Hanging the curtains close to the ceiling will draw your eyes towards the ceiling, making it feel like there's more space inside the room than there actually is.
You could also go for a mirrored closet doors. A large mirror will also make your bedroom appear more spacious.
Use fixed light fixtures instead of table lamps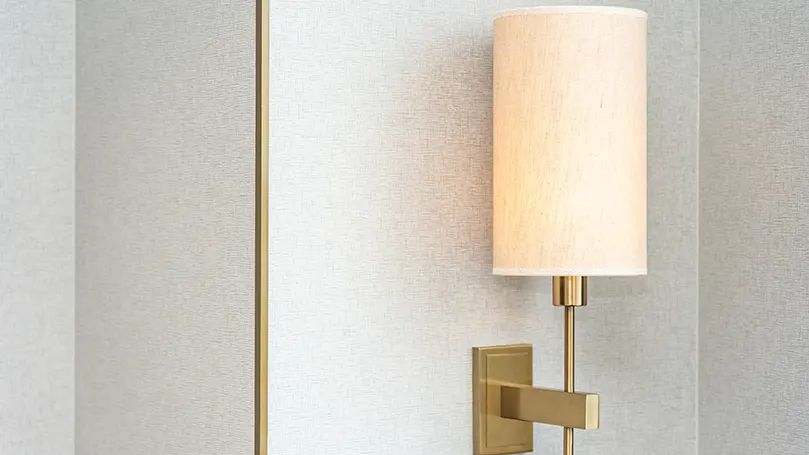 Reducing clutter is one of the best ways to organize a small bedroom and arguably the greatest ways to reduce clutter is to get rid of the table lamps.
You don't need a table lamp. Even if you read in bed, you could use a small portable lamp that you could attach to your book and put away in a drawer once you're done. Sure, a lamp can be useful if you wake up during the night and need to run to the bathroom, but so can a wall-mounted one.
Save your bedside table space for something else and keep the lights on the ceiling or attached to a wall.
A single closet may not be enough if you have a lot of stuff and since you're working with a small bedroom, you may need to find a way to add extra storage space without cluttering the room too much.
Your best option here would be bed storage. Find a bed frame with a storage space unit underneath and use it to store your sheets, pillows, clothes or whatever else you might need to. Large drawers underneath your bed could be a real space saver in a small bedroom.
Furthermore, if you need bedside tables, always go for ones with drawers. You'll need every inch of extra storage space and these could turn out to be more than helpful.
Make shelving units to maximize space
If you're up for a DIY project, we have another idea in mind.
If you have the time and the necessary skills, you could easily build a shelving unit to save some space in your bedroom. The best thing about it is – you can build it any way you like. If you don't have the floor space, you could build a floating shelf unit and place it over your bed.
Furthermore, you could build a shelving unit that doubles as a desk if you're regularly studying or working from home, as many of us do nowadays.
Get bunk beds in the children's room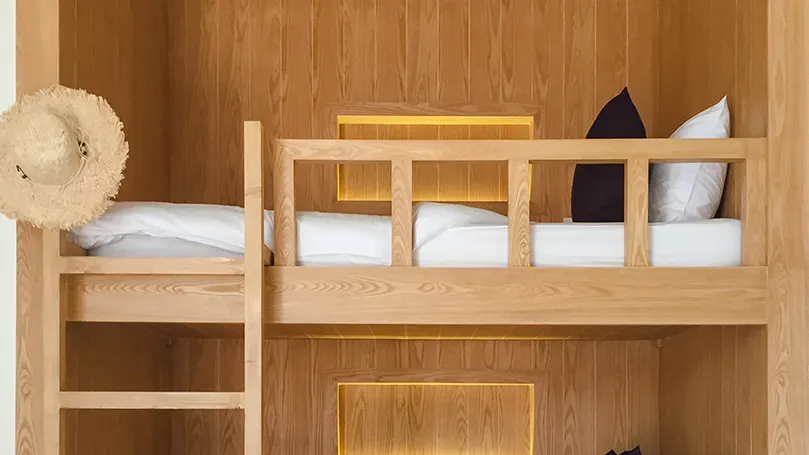 Here's another space-saving idea – use bunk beds in your children's small rooms. If you have kids that have to share a small bedroom – get them a bunk bed.
Kids need more stuff in their rooms than adults do. They need to play and move around freely, they need space in the corner to store their toys and when they start school – they'll need desks. You can't possibly make that happen if you put two single beds in a small room.
Now, this is a temporary solution, as your kids will certainly grow out of their bunk beds, but it'll work for a while. Ultimately, you can get a bunk bed with a desk that is built in and ensure your children  place for sleep but also for entertainment and studying. 
Buy "light-coloured" carpets
Another neat trick you might find interesting is buying light-coloured carpets for your small bedroom. As you've probably already noticed, bright-coloured furniture is a great way to make a small space look larger. Not only are the carpets great decor items, but a light, vibrant-coloured one could liven up your space and create an illusion of a larger space.
Also, it doesn't matter if you cover the entire floor in carpet or if you just get an accent piece. Either way, it's going to look good and make the room feel more spacious.