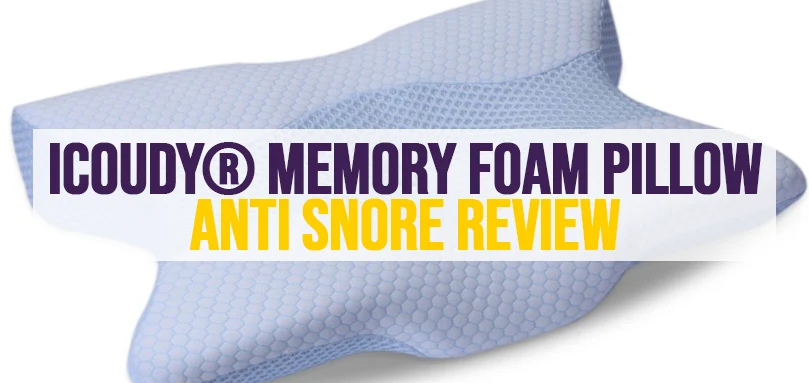 iCoudy Memory Foam Pillow Contour Neck Care Anti Snore Review
We cannot overstate the importance of a good pillow, and how an absence of one can inflict some serious problems, from stiffed neck, cervical pain, to chest tightness, lack of sleep, snoring and lack of circulation. So, what would happen if there was a pillow specialized for the proper neck posture? Fortunately, that question is answered by iCoudy® new memory foam pillow which contours neck and prevents snoring.
The company which made this pillow, iCoudy, is Chinese, based in Shenzhen. The line of their products is mostly specialized for support and posture fixing. Except pillows, they also make various base support products for neck, back and sitting part. They boast the innovative design and ergonomic shape of their products, but there's not much info about the actual quality, since they sell only by Amazon trough a Chinese seller.
About iCoudy Memory Foam pillow

According to the manufacturer itself, iCoudy® pillow is a new generation of pillows. This is a memory foam pillow with a unique hollow design with vents. The vents are empty, and they should be reducing the feeling of polyurethane foam and give it better breathability. This is a low bounce pillow, with innovative hollow design, suitable for the head to keep a comfortable sleeping position. It gently supports the cervical spine, reducing the burden on the cervical vertebrae and the burden of gravity on the head, neck and shoulders during sleep. iCoudy pillow has a "butterfly" shape, reducing head pressure, keeping the sleeping position. Or so they say…
By placing your head into the center it will make your neck curve naturally and comfortably to sleep without blocking the respiratory tract which prevents snoring. Taking  the difference in body and age into consideration, the improved version of contour pillow has 2 high and low sleep designs. There are also dents which reduce lateral pressure on the temple and ear. They keep the curve of the neck fit on the shoulders, giving no pressure on the shoulders, effectively improving the stiff shoulders.
As the name says iCoudy® Memory Foam Pillow is made from a solid piece of memory foam. The butterfly shape and hollow design are pretty hefty details, but the quality of the foam itself is on a bad side of the scale. The cover has a pretty fine feeling, but unfortunately it's 100% polyester, for better or worse. You can change the cover though, although the whole point of the design just goes down drain, right?
If there's one thing this iCoudy® pillow is good at, it's support. It doesn't mean it has some out of the world level of support, it's just the least bad trait of this product. Memory foam, no matter the quality, is pretty sturdy and gives sufficient support to the sleepers. This pillow also has a special design that allows neck and shoulders to curve naturally. Add to that some nifty tricks with covers and materials, and the pillow passes the support test, although not with flying colors.
We're not sure about the snoring prevention, but we suppose it's up to the individual preference. We tested all the sleeping positions with this pillow and it showed itself the best (take this "best" very conditionally) during back sleeping. We guess it was the indented way of sleeping. Like other memory foam pillows, it's not as good for stomach sleepers. Your spine would be under too much pressure bending downwards because of the firmness of the pillow.
When in official material for the pillow says it's a low bounce one, it's pretty clear what to expect. Comfort wise, iCoudy® pillow is somewhere in between concrete and bedrock. Relatively good ergonomic design and solid support level had the (hopefully) unwanted side effect in abysmal level of comfort. We're not sure who this pillow is good for, since we wouldn't recommend it – at least not in terms of comfort.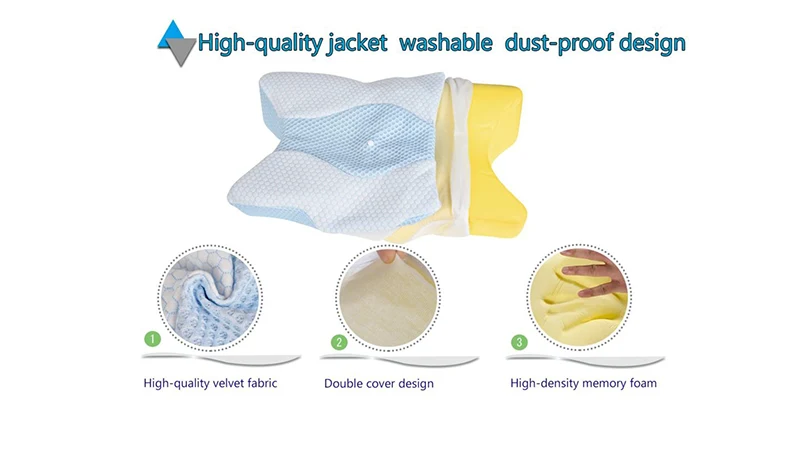 iCoudy® is a memory foam pillow with a unique hollow design with vents. The vents are empty, and they should be reducing the feeling of polyurethane foam and give it better breathability. As the result, this pillow is more breathable than a usual single piece memory foam pillow, but still less than shredded memory foam, latex, microfiber or natural down. This pillow also has better heat retention than usual memory foam pillows, thanks to the aforementioned hollow design.
Because of the vents in the design, iCoudy® is less smelly than solid memory foam. Unfortunately, the cover is 100% polyester, which in the verdict gives off some rubber/foam odor, smaller than usual but still present. We're not sure why they opted for this particular material for the cover. Maybe to make it look more futuristic? Doesn't affect the performance nonetheless, so it's a thumbs down from us.
This is a sturdy product, not very bouncy, so it's supposed to last longer than usual memory foam pillows. Plus, the design of this pillow prevents distortion. Since it's already distorted (looks like a UFO) to adapt to sleepers' head, neck and shoulder you may as well try it if you want to see if there's any improvements on the snoring issue. On the other hand, there may be more useful pillows out there that can both support you and give you the comfort you need. Unless of course, you enjoy sleeping on tough pieces of foam – then it can be a dream pillow. Lasting for about 5-7 years tops, given that the memory foam is very responsive, bounces back quickly, so we don't believe it can wear off that easily.
iCoudy® Pillow Memory Foam costs 35.99 £, which is a bit too much for the product of this quality, or better say lack of. There are way superior pillows in this price range. Might try it out if it's on sale – who knows, maybe you might find one useful on your spaceship.
| | |
| --- | --- |
| MATERIALS | |
| SMELL | Lesser smell than usual memory foam, but the cover is polyester, so it levels that out. |
| PRICE – QUALITY RATIO | Keep looking. |
You can save 15% on this item when you purchase 1 or more qualifying items offered by iCoudy®. Also, you can instantly receive a £10 Amazon.co.uk Gift Card if you're approved for the Amazon Platinum Mastercard with Instant Spend.
iCoudy® Memory Foam Pillows are on the lower side of the quality scale. Their best aspect is support, thanks to the smart design, but it's undermined by basically everything else. It is a good try to make a supportive pillow, although better materials and more comfort wouldn't be a waste. For a price like that, you can find much better pillows on the market.