Inofia Airmax Mattress Review
Inofia Airmax is a pocket spring memory foam mattress that promises to deliver comfort and support to all kinds of sleepers. Is that really the case, or is this 7-zoned mattress simply too good to be true? Let's find out together in our Inofia Airmax review.
Who is Inofia Airmax mattress for?
Inofia Airmax is a medium-firm hybrid, supported by the full-sized pocket springs. As such, this mattress should be an excellent fit for side and back sleepers, but seeing how it is medium-firm, some lightweight front sleepers might get a kick out of this one, too.
In addition to that, pocket springs and comfortable memory foam make this one pretty great at alleviating pressure and pain, meaning folks who suffer from back, neck, shoulder, or hip pain might just find this mattress beneficial.
Finally, this mattress is ideal for couples. It's responsive and bouncy due to pocket springs, and thanks to the generous, mattress topper-like memory foam cushion, this one's also incredible at isolating motion.
What do we use this product for?
In theory, it shouldn't be too hard to find a proper use for a medium-firm hybrid such as this one, but how about in practice? Fortunately, it is all the same in practice, as well.
This is a well-rounded mattress, and as such, we can use it in a variety of ways. For starters, as we have already said, this one will help you get rid of the annoying back, shoulder, or hip pain, but that's not all this mattress can do.
Aside from that, we can:
Use it to get a great night of restorative sleep
Use it to wake up feeling rested and fresh
Use it to relieve some pressure off of core areas
Use it to promote great posture and proper spinal alignment
Use it to keep dust mites and other allergens at bay
Use it to minimize motion transfer.
Is the Dormeo S Plus Evolution Memory Foam mattress an upgraded version of Dormeo Standard S Plus mattress?
We have already mentioned the Dormeo Standard S Plus mattress, and our reviewee Dormeo S Plus Evolution Memory Foam mattress is an upgraded version. It is 3 cm deeper and has 50% more memory foam which makes it softer. Also, it adapts even better to your body because of more memory foam.
Features you should know about Inofia Airmax mattress
Now, let's take a look at some of the features and find out what makes this Inofia Sleep mattress unique.
AirMax Comfort foam stimulates air flow beneath your body, keeping you nice and cool all through the night. Compared to regular memory foam, the AirMax Tech foam is quite breathable, but don't get your hopes too high. After all, this is memory foam in one way or another. Some really hot nights might prove to be too steamy, but then again, when it's that cold outside, nothing really helps, doesn't it?
This specially designed triple-layer memory foam contours and conforms around your body's curves, to help you not only eliminate pressure and increase comfort but to help you feel like you're gently cradled whenever you lie down.
You won't feel like you're lying on top of this mattress, as the pressure-relieving top foam layer will conform around your body. However, you also won't feel like you're sinking into the bed, thanks to the core and transition high-density foam layers – which is something front sleepers will definitely enjoy.
Unlike traditional coil mattresses, Inofia Airmax comes equipped with 17 cm tall, individually nested, full-sized pocket springs.
Even though regular pocket springs offer suitable support for your whole body, Inofia Sleep wanted to take things to another level, so they created this support layer by distributing the pocket springs into seven comfort zones, hence the name.
Zoning the springs allows for a much more tailored approach to support and comfort, meaning that you will experience softer support underneath common pressure points like shoulders and hips, while the rest of your body will be fully and adequately supported and aligned.
Knitted skin-friendly cover
This Inofia mattress comes equipped with a wonderfully crafted, knitted, skin-friendly cover.
Unfortunately, the cover is not removable and machine-washable, so no matter how tempting it may be to fall asleep on this velvety soft, breathable fabric mattress cover- we suggest you don't do that.
Use sheets, or even a mattress protector to keep this fresh and clean for a long time.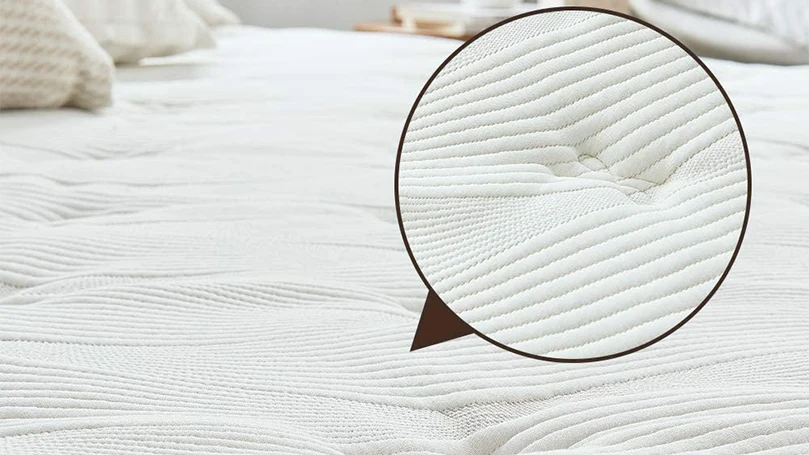 This is also a hypoallergenic, anti-dust mite cover, made of soft, synthetic fibres that immediately release moisture to give you the ideal sleeping climate. It is also designed with air meshes on the side, for extra breathability and comfort.
As a medium-firm pocket sprung memory foam mattress, this one should be suitable for most sleepers. However, we did find it to be most comfortable for those sleeping on their side and back, mainly due to excellent pressure relief and contouring.
However, this doesn't mean that this one is not supportive. It is. It's just that front sleepers require an extra bit of support, especially around the hips, and you won't get what with this hybrid mattress.
It is not uncommon for a memory foam mattress to be pumped with harmful chemicals. However, you don't have to worry about that with this one.
Inofia 7-Zone Memory Foam Airmax mattress is OEKO-Tex certified. What this means is that there are no potentially harmful chemicals to be found anywhere in this mattress, nor were any of the materials used in the manufacturing process treated with such chemicals.
Loosely translated, Inofia Sleep 7-Zone Memory Foam Airmax mattress is perfectly safe for everyday use.
This is a perfectly deep mattress. 7-Zone Memory Foam Airmax is 10 inches or 25.4 cm deep, which means that your new mattress will perfectly fit any bed frame you place it on.
What this also means is that you won't feel like you're sinking into an abyss once you rest your body on top of this one, nor will you have trouble finding a fitting mattress topper or a fitted sheet for this one.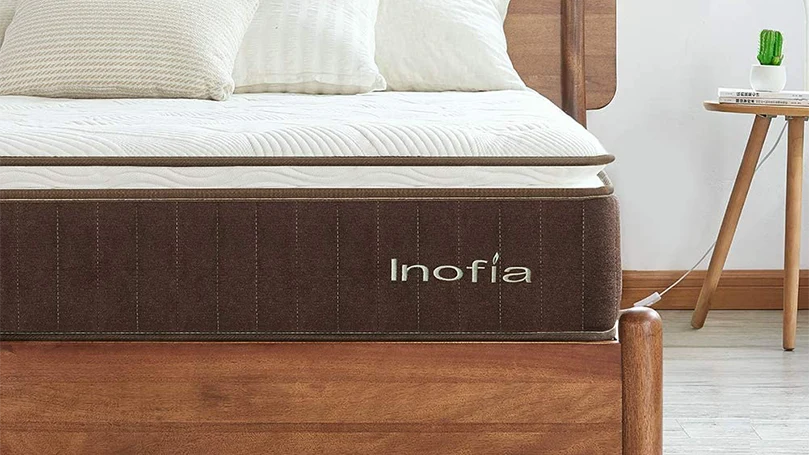 The depth is the same across all sizes, meaning it doesn't matter whether you get an Inofia Airmax Single mattress or a king-sized one. You will always end up with a 25 cm tall hybrid.
Review of Inofia Airmax mattress
And now, for the main event – Inofia Airmax mattress review.
Overall, this is a great mattress. An absolute value pick! Even though some people might not appreciate the design choices Inofia Sleep made with this one – we don't really mind it. The topmost memory foam layers sort of looks like an attached mattress topper, but you won't really notice that once you wrap this one up in sheets.
As far as performance goes, we don't think it would be too far off to say that most people would find this one extremely comfortable. It is a medium-firm, 6/10 rated hybrid mattress, and as such, it shouldn't be surprising to anyone that this is one of the most popular Inofia mattresses.
The springs are of good quality and they offer more than adequate support for most sleepers. They're full-size, responsive, durable, and we can see them staying in perfect shape for quite some time.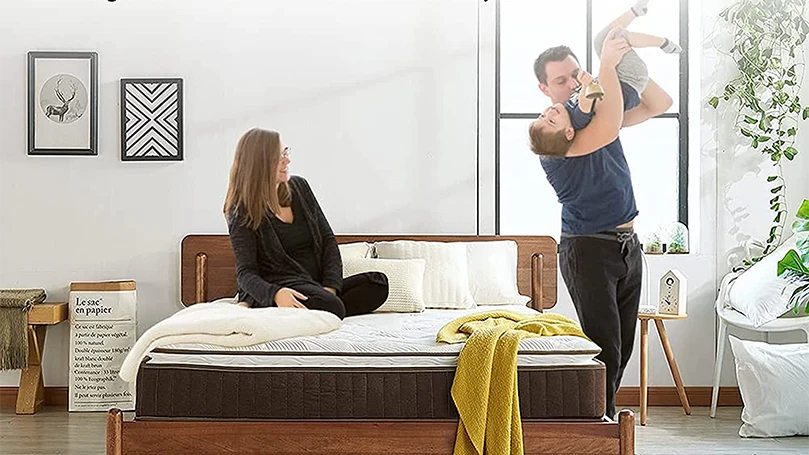 In addition to all of that, this mattress is also hypoallergenic, pressure-relieving, motion-isolating, and kind of thermo-regulating, thanks to the air meshes. We wouldn't go too far as to say that this one's cool and breathable because, at the end of the day, there's 8 cm of memory foam in this one. However,  compared to some other similar mattresses – this one's a breeze.
Also, once you purchase this one, you will get a 10-year warranty, as well as a 100-night trial to test it out.
One thing we did notice is that this one isn't as supportive when used on a slatted base. If the slats are comfortably far apart, the difference in support isn't that noticeable. However, if the slats are more than 7 cm apart, you might find that it lacks support. Also, sleeping near the edge isn't super comfortable, but that's a common problem with pocket sprung hybrids.
Other than that, we haven't found any significant drawbacks, other than the fact that we would've liked to see rotating handles and a removable cover.
Type: Hybrid
Firmness: 6/10
Mattress depth: 25 cm
Size: Single, Small Double, Double, King Size, Super king size.
A great fit for side and back sleepers
Supportive and comfortable
Pressure-relieving and motion isolating
Hypoallergenic
Great durability
Often on sale
Great value for money.
Slightly softer on a slatted base
Softer around the edges
No removable cover or rotating handles.
What we like about Inofia Airmax mattress
A great fit for side and back sleepers, as well as couples
Offers great comfort and support
Quite long-lasting and durable
One of the most pressure alleviating and motion isolating mattresses from Inofia.
 
What we didn't like about Inofia Airmax mattress
Edge support needs some improvement
We would've liked to see a removable cover and rotating handles
Tends to get softer when used on a slatted base.
What makes this product better than some other similar ones?
This is far from the best mattress we've ever tested. However, when you factor in the price, and everything you get out of this one – it is only fair to call this one a great mattress.
This one feels like a perfect marriage between foam and springs, offering you more than enough in every important category – at a very reasonable price point. It will be comfortable and supportive, and we're confident you start sleeping better once you get this one.
How did we test the product?
For our review, we ordered Airmax Inofia Single mattress. The mattress came wrapped and vacuum-sealed, inside of a nice looking cardboard box. We got free delivery, but keep in mind that different conditions apply if you're ordering internationally.
Upon unpacking, some off-gassing was present, but nothing an open window couldn't handle in a matter of hours. More importantly, the Inofa Airmax came in perfect condition – without any nicks, tears or stains.
In order to objectively review Inofia Airmax, each of our team members spent several days testing the mattress in controlled conditions. By controlled conditions, we mean that we have tested the mattress in different environments by adjusting the room temperature, changing the bed frame, and so on.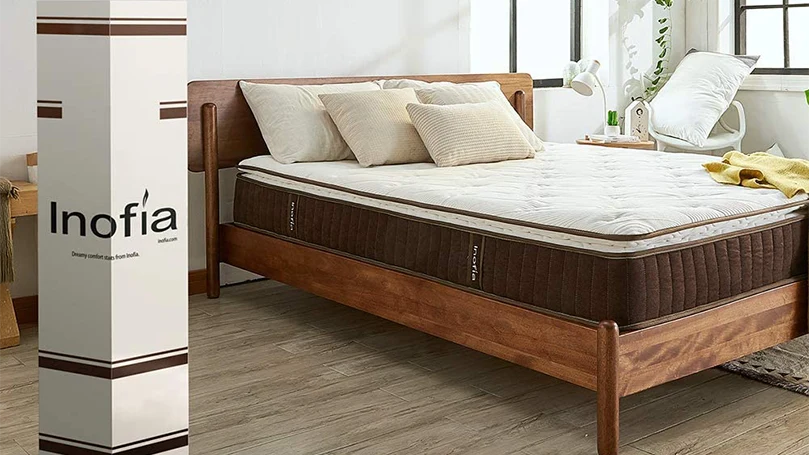 What we also did is test the durability and longevity of this mattress with a roller. This test simulates long term use, so we can see just how well can a mattress stand a test of time. We also measured how far the mattress sinks once we lie down on top of it, among several other things.
Once the test results were in, we sat down, discussed them, and we wrote this review.
FAQs about your Inofia Airmax mattress
Some people wonder "will this mattress be suitable for both my husband and me" or "how can I wash this mattress", and for them – we have prepared some answers.
Is Inofia Airmax mattress suitable for side sleepers?
Yes. This mattress would be an excellent fit for side sleepers.
Should back sleepers use Inofia Airmax mattress?
Absolutely. Back sleepers will find this mattress comfortable and supportive.
Should stomach sleepers use Inofia Airmax mattress?
Some lightweight stomach sleepers will enjoy this one. However, average and heavyweight stomach sleepers might need to look for something a bit firmer.
How to clean my Inofia Airmax mattress?
Inofia Airmax can be vacuumed and spot cleaned with a damp cleaning cloth.
Does Inofia Airmax mattress come with a warranty?
Yes. This mattress comes with a 10-year limited warranty and a 100-night trial.