Inofia Memory Foam Mattress Review - A Perfect Blend Of Foam, Latex & Coils
Inofia is a UK sleep company based in Dartford, Kent. There are many 'bed in a box' mattress companies, but Inofia has generated a lot of hype, much more hype compared to competitors. There are many reasons why this is so, and all of Inofia mattresses we have tested so far have exceeded our expectations. So we decided to test those more – Inofia Memory Foam mattress. Here is your Inofia mattress review by The Sleep Advisors.
Who is Inofia Latex Memory Foam mattress for?
It is for side and back sleeper more than for stomach sleepers. The manufacturer described the firmness as a "plush" and we agree with that. This is a medium firm mattress, closer to soft. 
However, it provides enough support that some stomach sleepers will also be able to use it, for example those with lower BMI.
It is great for allergy sufferers because it is 100% hypoallergenic, and unlike many other mattresses with memory foam, it is breathable enough for most hot sleepers.
Add a header to begin generating the table of contents
What do we use this product for?
We use Inofia Memory Foam mattress for the outstanding support, pressure relief and comfort. It provides a great level of support while at the same time reducing pain and discomfort in pressure points such as hips.
We use it for restful sleep
We use it for support
We use it for pressure relief
We use it for hypoallergenic properties
We use it for motion isolation.
Features you should know about Inofia Latex Memory Foam mattress
This part of our review is dedicated to the most important features of this mattress. Although named memory foam, this mattress is not made of foam entirely. Here we will tell you everything you need to know about latex-foam technology, support coils and other important things.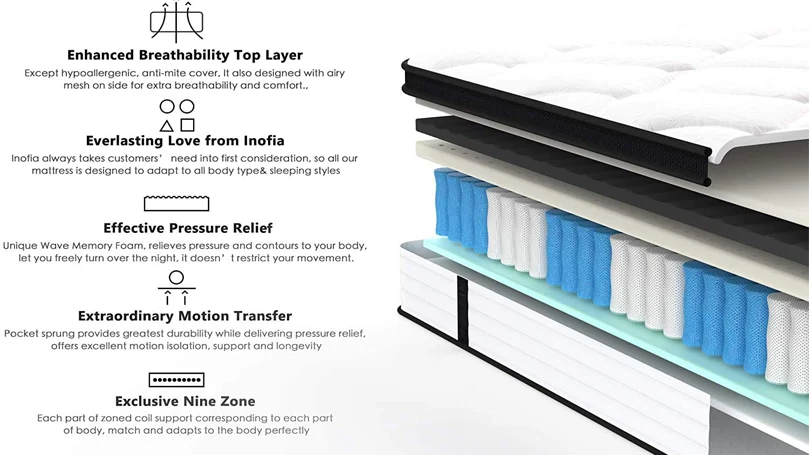 Bi-density latex-foam technology
Inofia has implemented a new, advanced technology – bi-density latex-foam technology. Between the two layers of latex foam is comfort memory foam. This revolutionary double density system makes you float instead of sink and you will notice pressure relieving foam right away.
Also, hyper-elastic memory foam perfectly conforms to your body giving you comfort and additional support. Thanks to open cell technology which has somewhat similar characteristics as cooling gel memory foam, the mattress is also breathable, which is not usually characteristic of a mattress with several layers of foam.
Responsive & individual support coils
Individually wrapped stainless steel coils are the main support in this mattress, and they are significantly helped by the above-mentioned hyper-elastic memory foam. Since pocket springs are individually wrapped, each spring individually adjusts to your weight and thus provides personalized support.
Another advantage of pocket springs not being connected is motion transfer. And under the coils is a bouncy foam, that has the role of further neutralizing motion transfer, so that both partners can sleep completely peacefully. The coils are wrapped in a noise-reducing fabric, so this mattress is completely quiet.
3-layer non-woven fabric and knitted top layer
Now that you know what's inside this mattress, it's time to tell you what it's encased in. Inofia decided not to implement just one cover, but first a three-layer composite non-woven fabric and then a knitted top layer. Both three-layer composite non-woven fabric and knitted top layer are soft, skin-friendly, and also highly breathable and durable. The ultra soft knitted fabric absorbs moisture, so you will always sleep in a dry environment, free of dust mites that thrive in hot and humid environments.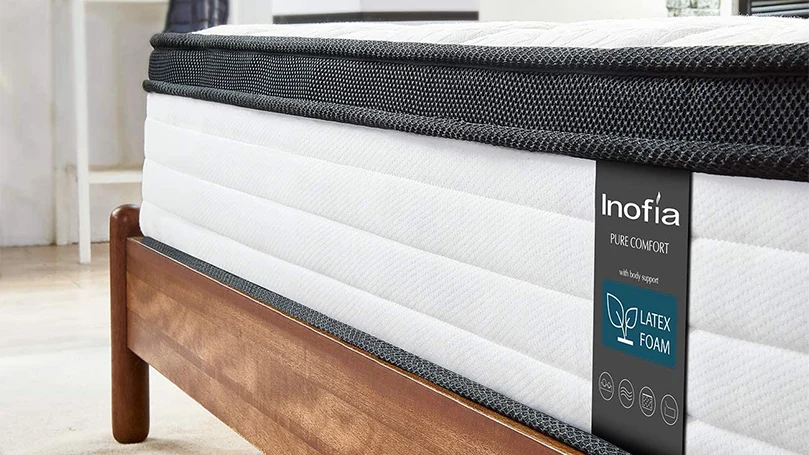 Hybrid mattresses are on average 25 cm deep, so this mattress is slightly deeper than average. It is 27 cm deep, which is quite enough. This means that heavier people can also use it, although it is plush. But since it is 27 cm deep, it will not become too thin even when someone with a high BMI lies on it.
In most cases when we test mattresses, we rank them on a firm scale from 1 to 10. We did the same with this mattress, although it was more complicated than in some other cases. As we have already said, the manufacturer rates his firmness as a "plush" and that is definitely the first feeling you will have when you lie down on it.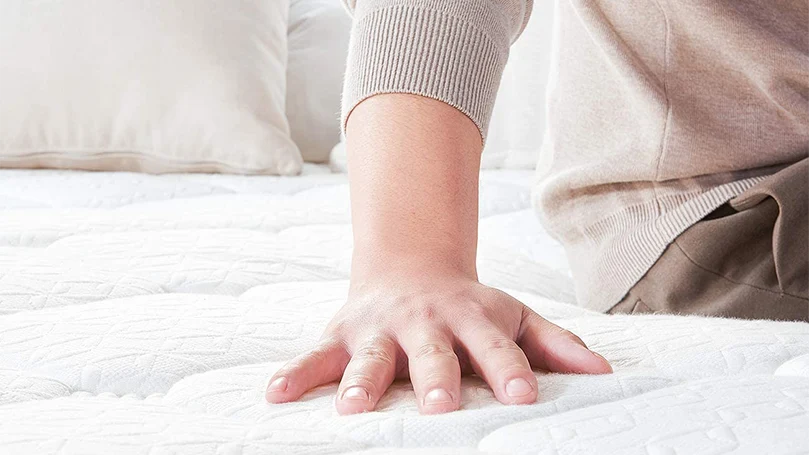 However, due to several layers of different foam, as well as coils, this mattress is more supportive and thus gives the firmer feel than some other plush mattresses. That's why we will rank it somewhere between 4 and 5 on the firmness scale, which means that this is a medium firm mattress that has certain characteristics of a soft mattress.
Review of Inofia Latex Memory Foam mattress
Inofia Memory Foam Pocket Sprung mattress  is a hybrid mattress, which is 27 cm deep. It contains several layers of different types of foam. Two latex foam layers and a comfort memory foam layer are located between you and the individual support coils. These three foam layers have a role in providing you with comfort and pressure relief, above all. Stainless steel coils are individually wrapped in a premium fabric that reduces noises. Steel coils are very responsive and supportive. 
Since they are not interconnected, each works for itself, both in terms of support as well as motion isolation. Another type of foam has been added to the bottom of this mattress for motion insulation, so it is a great choice for couples. Inofia Memory Foam Pocket Sprung mattress  is encased in 3-layer non-woven fabric and knitted top layer that are very durable, breathable and skin-friendly.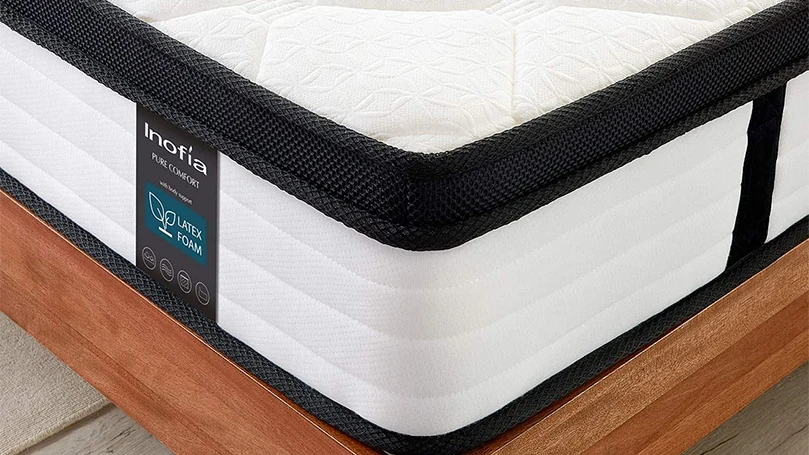 The comfort and support level are off the charts, which is no surprise given the fact that this is truly a medium-firm mattress. Aside from being super comfortable, zoned support and the innovative technologies really make a difference when it comes to pressure and pain relief with this one, especially around the extra sensitive support points, improving your sleep, and allowing your spine to take its natural shape.
Furthermore, this mattress is hypoallergenic. The cover protects against dust mites and other allergens, so you never again have to worry about those.
On the other side, you only get a 60-night trial with this one. Granted, in most cases, that should be enough, but then again, most competitors offer 100, or even 200-night trials for their high-end, premium mattresses.
Also, it is safe to say that edge support and motion isolation could be improved upon, given the overall quality of product. They're not bad, per see, but they do leave much to be desired.
Type: Hybrid
Firmness: Plush
Thickness: 27 cm
Sizes: Single, Small Double, King, Super King
Warranty: 10 years. 
Affordable
10-year warranty
Pressure relief.
Too soft for stomach sleepers
Non-removable cover
Off-gassing.
What we like about Inofia Latex Memory Foam mattress
Side sleepers won't experience pain in the shoulder and hip when sleeping on this mattress due to pressure relief
We are stunned that such an affordable mattress comes with a 10-year warranty
Breathability is good for a mattress that has multiple layers of foam.
What we didn't like about Inofia Latex Memory Foam mattress
Many stomach sleepers will find it too soft
The cover is not removable so you need to use bedding to keep it clean
Off-gassing is present which is completely expected in all products that contain memory foam.
What makes this product better than some other similar ones?
We will single out two things that especially attracted our attention and we think that they really set this mattress apart from many other similar ones, and even those that are significantly more expensive. These are price-to-quality ratio and warranty. This mattress is made of quality materials and the craftsmanship is excellent. Sleep experts working for Inofia have paid attention to all the essential features such as support, comfort, motion insulation, pressure relief and breathability. 
They managed to make an affordable mattress that does not have a single major downside. In addition, they offer you a 10-year warranty which is way above the industry average in this price range. That is why we consider the purchase of this mattress one of the best possible investments, especially for side sleepers.
How did we test the product?
Inofia mattress will arrive to your vacuum door packed in the box within a few working days. Delivery is free, except for Channel Islands, Isle of Man, Scilly Isles, Scottish Islands, Northern Ireland, Ireland, Jeresy. What are the conditions and the price of delivery for those places, you should check.
When your mattress arrives, you will first need to leave it for 48 to 72 hours to fully expand. Although it will seem to you that it has reached full size after about 10 hours, our advice is to leave it for 2 to 3 days. During that time, most of the off-gassing will disappear and then you will be able to sleep comfortably on your new mattress.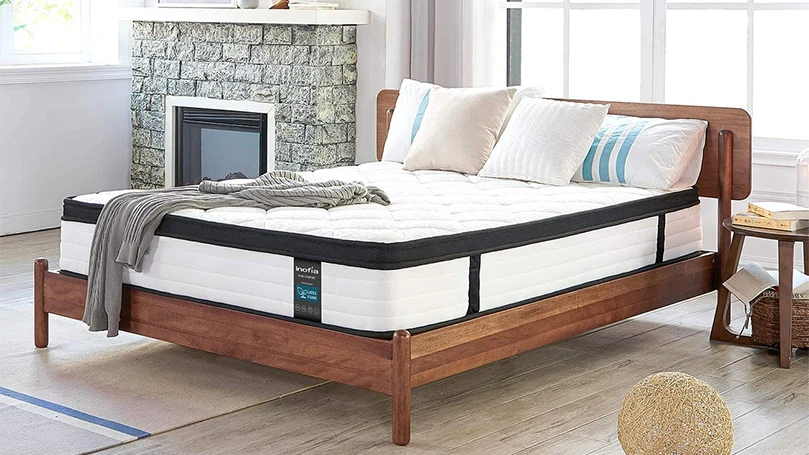 a durability test, while we skipped the maintenance test because there is no removable cover.
After all that, the real testing began. Since we weren't sure which sleeping positions it is suitable for, our testers tested it in all possible ways, including sleeping in different sleep positions, as well as sleeping in rooms of different temperatures, among other things.
FAQs about Inofia Latex Memory Foam mattress
We have selected some of the frequently asked questions about your new Inofia Memory Foam mattress and we will give you the answers to them, which will also mark the end of this review.
Is Inofia Latex Memory Foam mattress good for side sleepers?
This is one truly great mattress for side sleepers, which will give them support, comfort and pressure relief they need.
Should back sleepers sleep on an Inofia Latex Memory Foam mattress?
Yes, back sleepers should use Inofia Memory Foam mattress because they will be comfortable sleeping on it and it will keep their spine aligned. It can be best mattress or on of the best for side sleepers when we consider price-performance ratio.
Is Inofia Latex Memory Foam mattress suitable for stomach sleepers?
We can't say it is 100% unsuitable for all stomach sleepers, but most of people sleeping in that position need more support and firmness.
How do I clean my Inofia Latex Memory Foam mattress?
You can't clean it, except cleaning stains, so use deep fitted bed sheets to keep it clean and to reduce wear and tear on the cover.
Does Inofia Latex Memory Foam mattress have off-gassing issues?
Just as every product that contains memory foam has off-gassing issues, so does this mattress.