Layezee 600 Pocket Mattress Review
Good night's sleep is essential for us to live a healthy and productive life. That is why buying a mattress is one of the most important purchases for every person. However, not everyone is ready to break the bank, but many want comfort at an affordable price. This is what Layezee 600 Pocket mattress, the subject of our review, offers and we have checked for you all the features of this product.
Who is Layezee 600 Pocket mattress for?
Layezee 600 Pocket mattress is a perfect choice for side sleepers, as well as for back sleepers who like softer support. It is too soft for stomach sleepers, as well as for combination sleepers who sleep on their stomach most of the time.
This mattress is a great choice for people who have allergies because it is hypoallergenic. There are certainly more breathable mattresses than this, but we think it will be pleasant for majority of hot sleepers.
Add a header to begin generating the table of contents
What do we use this product for?
We use Layezee 600 Pocket mattress for comfortable and restful sleep. Although not firm, it provides a level of support that is sufficient for side sleepers and for most back sleepers. We also use it for the highest standards of quality and safety, as it is approved by the National Bed Federation.
We use it for great night's sleep
We use it for medium soft support
We use it for hypoallergenic properties.
Features you should know about Layezee 600 Pocket mattress
The following are the most important features you should know about. We believe that these 6 features are key to getting an accurate idea of what the Layezee 600 Pocket mattress has to offer.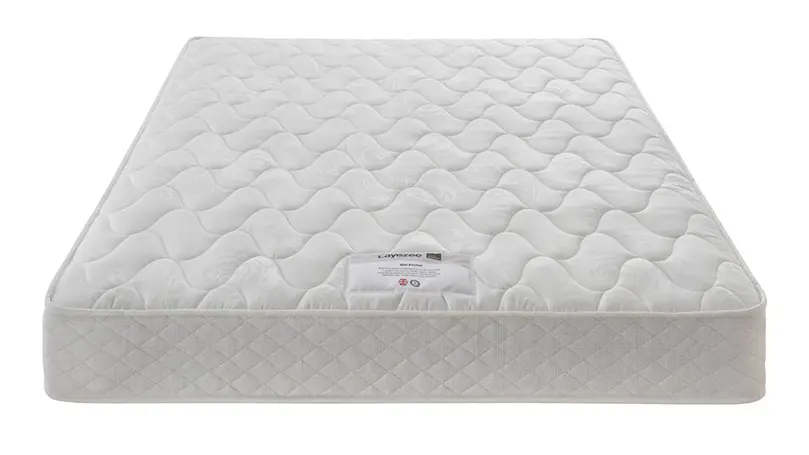 23.5 cm of depth & medium softness
This mattress is 23.5 cm thick (about 9.1 inches) and that is a satisfactory thickness. All mattresses that are over 20 cm thick have enough space to house spring system that will be comfortable and supportive to you.
When we talk about firmness rating, we would rate it medium-soft. On a firmness scale of 1 to 10, that is somewhere around 4, maybe 4.5 for people of average BMI. So if you like the mattress that will let you sink in it and hug you before it gives you support, this is the right choice for you. Although it is a bit on the softer side, don't think it's too soft.
600 individual pocket springs
Pocket spring system is a spring system that is usually implemented in more expensive mattresses, so we were pleasantly surprised when we saw that an affordable model like this one has pocket springs. Still, we have to be honest and say that we thought 600 pocket springs might be too small a number to give you overall body support.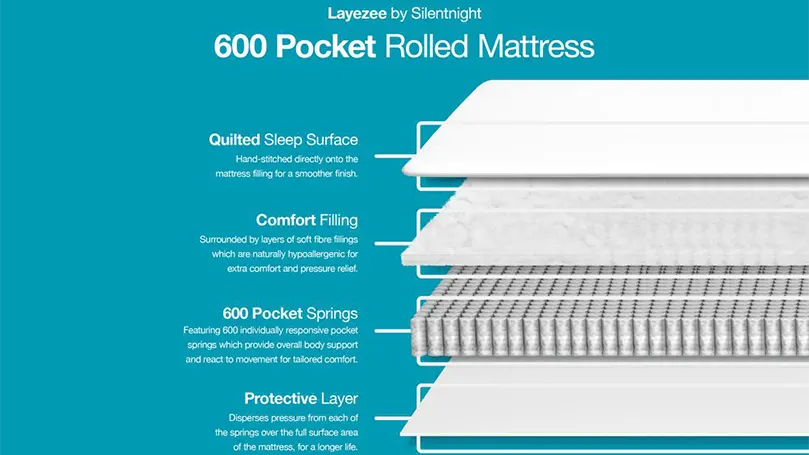 But we have good news. After testing it, we can say that these 600 individual pocket springs are quite enough. You will get support everywhere and since each spring works independently, the mattress will adapt to your shape and your movements. Pressure relief is good and this mattress will alleviate pain problems if you have them. Couples will be happy with it because it will be no roll-together and roll-off thanks to pocket springs that are great at motion isolation.
Multiple layers of cotton and foam for a good pressure relief
We mentioned in the previous paragraph that we are satisfied with the pressure relief, and although pocket springs certainly play a role in that, layers of cotton and foam that are placed over the pocket spring system are much more important for pressure relief. Cotton and foam fillings will significantly affect the comfort and ensure pressure relief, because without these layers this mattress could not be so soft and cosy.
One of these layers is the eco comfort layer which is made of sustainable fibres. In addition to being eco-friendly, sustainable fibres are highly breathable.
Soft Damask hypoallergenic & quilted cover
The mattress is wrapped in Damask cover which is soft and looks nice because it has a quilted pattern. You should know that damask is a weave pattern and has its origins in the city of Damascus in Syria. Damask fabric can be made of cotton, silk or some other material. It is often used for upholstery. The smooth sleep surface on this mattress is high quality, so we don't expect you to notice wear and tear any time soon. Cover is hypoallergenic, as well as rest of the mattress.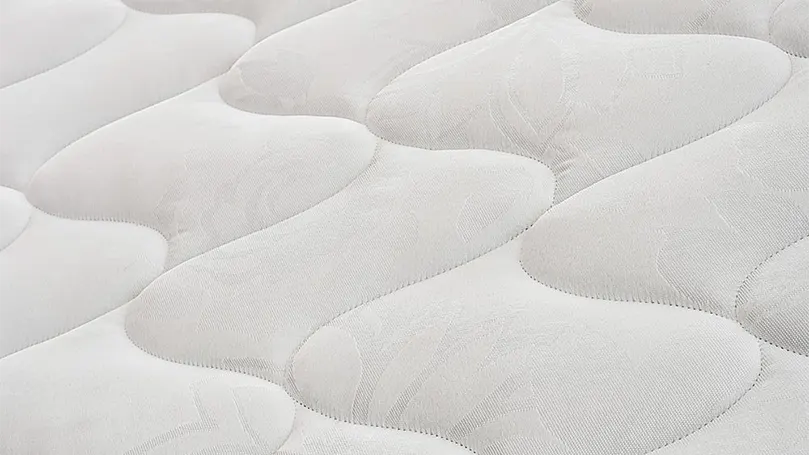 If you do not know what it means when the mattress is single-sided, it means that only one side is suitable for sleeping on it and that you should not flip your mattress, but just rotate it every few months. While this is easier for you, as it can be difficult to flip heavy mattress, double-sided mattresses last longer because you use two sleep surfaces and thus prolong its service life.
3 year warranty & free delivery
The price of the delivery and delivery options, as well as the duration of the warranty are something you should definitely know before you buy a mattress. This mattress will be delivered free of charge, which is great and it comes with a 3 year warranty. We believe that mattresses should have at least a 5 year warranty because it is not something that should be changed often. However, taking the price into account, we believe that 3 year warranty is just fine, since we don't have durability concerns.
Review of Layezee 600 Pocket mattress
Layezee 600 Pocket mattress is a 23.5 cm thick mattress that has 600 individually wrapped pocket springs. Pocket spring system is superior to other spring systems, and great performances of this affordable mattress show that too. Multiple layers of cotton and foam are implemented on top of the 600 pocket springs, to improve comfort and pressure relief. 
This is a medium-soft mattress that is suitable for side and back sleepers. It is ideal for side sleepers because it will hug you and thus prevent pain in the shoulders and hips. And it will provide you with overall body support at the same time.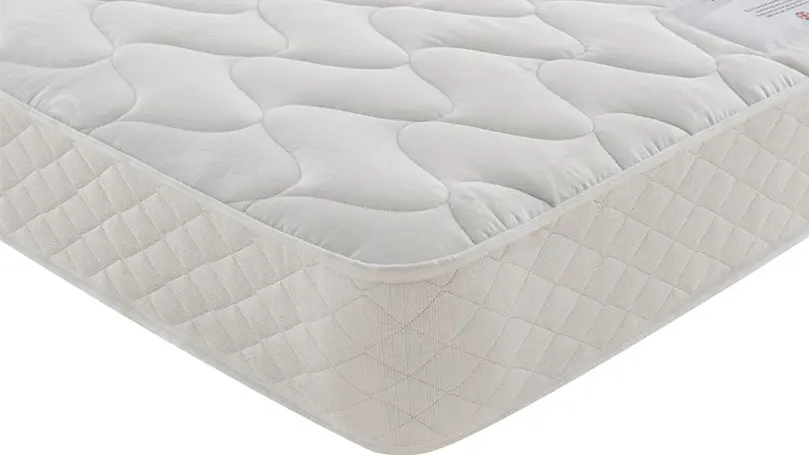 It is hypoallergenic and breathable, and the cover is not removable so bedding should be used. It comes with a 3-year warranty. You do not have to worry about safety because it is made in accordance with all British laws and regulations.
Type: Pocket sprung
Firmness: 4.5/10
Mattress depth: 23,5 cm
Warranty: 3 years
Size: Single, Double, King.
What we like about Layezee 600 Pocket mattress
We don't think there are many more comfortable mattresses for side sleepers in this price range than this one
Soft damask cover is very comfortable and wicks moisture away
Approved by the National Bed Federation and it is fire resistant.
What we didn't like about Layezee 600 Pocket mattress
It is too soft and does not provide enough support for front sleepers  
Layezee 600 Pocket mattress is single-sided which can affect the appearance of dents
3-year warranty is not bad when you consider the price, but it is desirable that the mattress has at least 5 years warranty.
What makes this product better than some other similar ones?
Price-quality ratio is what makes Layezee 600 Pocket mattress better than some other similar ones. We were able to conclude very quickly that the overall quality of this mattress exceeds its price. It has a pocket spring system which is superior spring system, then layers of foam and cotton, and it is encased in damask cover. Craftsmanship is at a high level, it is approved by regulatory bodies and it is hypoallergenic. All in all, you get a mattress that will meet your needs like many significantly more expensive products and this definitely sets it apart from many other similar products.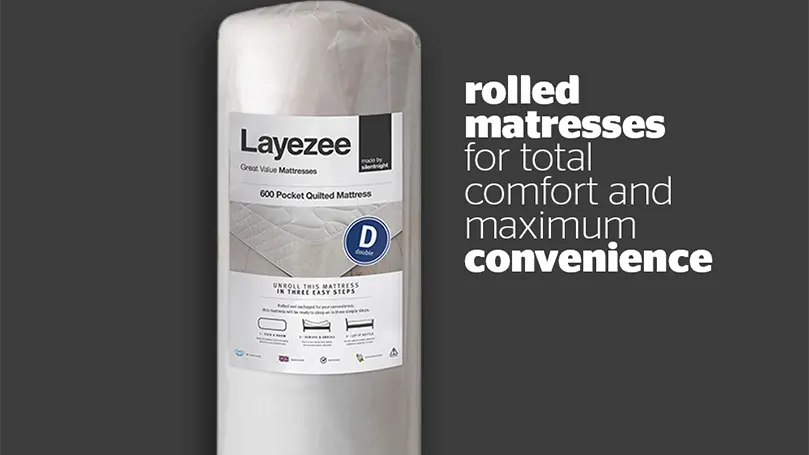 How did we test the product?
We have already mentioned that free delivery is included, but we have to mention two more things. The first thing you need to know is that you can choose the exact date when the mattress will be delivered to you, which is really great. Another important thing to know is that you will have to pay £ 17.5 if you choose Saturday or Sunday. So if you want free delivery, choose weekdays. Free delivery includes delivery to your building. If you want delivery to the room of your choice it will cost you an extra £ 20 and mattress recycling another £ 28.
When Layezee 600 Pocket rolled mattress arrives, you need to unroll it, place it in a warm room and leave it for 24 hours to dry completely. After that, you have to unpack it carefully, to avoid damaging it with a scalpel, for example. And then it will be completely ready to use. If minor off-gassing is present, you do not need to worry, no hazardous chemicals were used during production.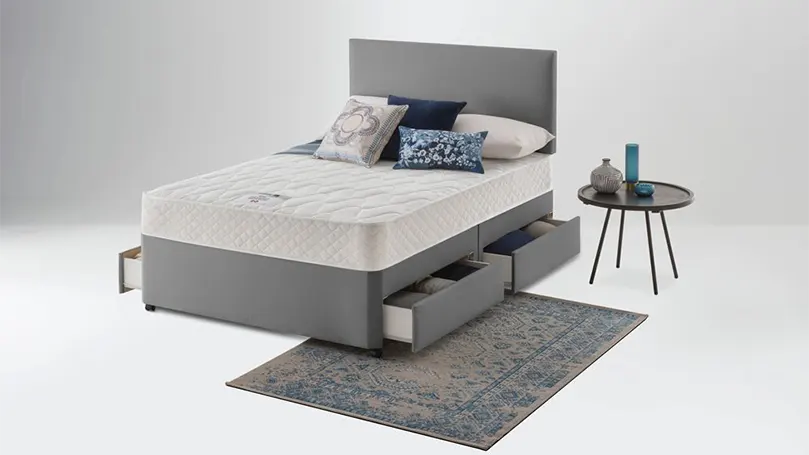 When it reached its full size, we checked to see if it arrived without damage, and then we conducted durability tests. There were no issues during the durability tests, and we didn't have a way to run maintenance test because the cover isn't removable.
After those initial tests, the most important part came. Mattress experts from our test team tested it for several weeks. They slept on it every night to get their body fully accustomed to the mattress, because they would not be able to convey credible impressions to you just after the first few nights. It is well-known that the body needs at least 3 to 4 weeks to get used to the new mattress.
FAQs about your Layezee 600 Pocket mattress
To wrap things up, allow us to answer some frequently asked questions about the Layezee 600 Pocket mattress.
Is Layezee 600 Pocket mattress good for side sleepers?
Yes, Layezee 600 Pocket mattress is perfect for side sleepers and of all sleep positions, side sleepers will benefit most from it.
Should back and stomach sleepers go for Layezee 600 Pocket mattress?
Most back sleepers should go with this mattress, except those who need orthopaedic mattress and stomach sleepers should look elsewhere.
How do I clean my Layezee 600 Pocket mattress?
It has non-removable cover so you can spot clean it and vacuum it time to time, but bed sheets are necessary to keep it clean.
How long will my Layezee 600 Pocket mattress last?
Layezee 600 Pocket mattress comes with 3 year warranty for your piece of mind and we expect it to last 3 to 5 years, probably even more but that depends on numerous factors.
Is 600 springs in Layezee 600 Pocket mattress enough for a comfortable sleep?
Although it is preferable that the mattress has a larger number of pocket springs than 600, in this case that is enough for a comfortable sleep.