Mano Mano Review: The Complete Review Of Brand
Where to buy your next sleep product? Whether to opt for brick and mortar store or for some of the many online places? This is a question that always arises when we need a new pillow, mattress or frame.
There are not many countries that have as many manufacturers and sellers of sleep products as the United Kingdom. Many companies have been around for decades, like Silentnight, and since the bed in a box concept has become popular, the number of manufacturers and retailers is growing.
No one can complain about size of the offer. A wide variety of products are available in every price range. However, it happens that customers are overwhelmed by so many different products. 
When you type a keyword into a search engine, so many results can confuse you and make shopping more complicated than it should be. We will do our best to help you by reviewing various manufacturers and retailers, and today is the time for the Mano Mano review.
Add a header to begin generating the table of contents
The first thing you need to know is that Mano Mano is not a marketplace exclusively for sleep products. ManoMano will celebrate 10 years of existence next year. Then Philippe de Chanville and Christian Raisson decided to join the DIY industry, offering home improvement and gardening products. And not only to join, but to transform it too.
In continental Europe, they operate in Belgium, France, Germany, Italy, Spain, and since 2016 they are also available in the UK. Alongside sleep product, you can find garden furniture, outdoor toys, sheds, various outdoor heaters as well as products for every room in the home. This makes their offer very diverse so when you decide to buy mattress, don't be surprised if you end up with a BBQ grill in your basket as well. The focus is on Do It Yourself method, hence the name – Mano Mano. Mano in Spanish means hand.
Mano Mano sleep-related products
Since sleep is our niche, we will focus on sleep-related products that you can find on the Mano Mano website. We will go through mattresses, toppers, bedroom furniture and other similar products.
Good bedding is very important for the quality of a night's sleep. If you have a good mattress and pillow, but the bedding is too hot and unpleasant for the skin, you will not be 100% comfortable. You can find numerous different models of bed sheets, pillowcases as well as sets. It is up to you to choose whether you want premium bedding made of Egyptian cotton or more affordable polyester options. 
Breathable, cooling and hypoallergenic materials such as bamboo and eucalyptus are becoming increasingly popular. Those materials are very comfortable and durable, and they are cheaper compared to Egyptian cotton.
Bedroom furniture must be highly functional. Whether you have a small or large bedroom, you will need at least a few pieces of bedroom furniture. A wardrobe is necessary because if you do not have a separate wardrobe room, sometimes called a closet, it is usually the bedroom where the wardrobe will be located.
That's not all. Cabinet with drawers is useful for towels, underwear and similar things. Add two nightstands to have a place to keep a book, water or watch once you go to sleep. Women will love the huge offer of dressing tables and mirrors that they can find in the Mano Mano offer.
Suitable mattress is key to good night's sleep. There are many different types of mattresses. The best-selling types are memory foam and hybrid ones, but customers also opt for traditional innerspring models. Although not that common, latex mattresses are popular too.
Which one is perfect for you depends on your sleep position and body weight. Side sleepers need a softer mattress, while stomach sleepers need a firmer one. Back sleepers can choose both. Firmness is not the only important feature. You have to pay attention to pressure relief, support, breathability and so on. Of course, your budget will also play a big role in choosing a mattress.
We have placed bed frames and bed bases in a separate category from other bedroom furniture because they are even more important. No matter how good the mattress is, if the bed frame is not stable and supportive, the performance of the mattress will be poorer. You can see this if you put the mattress on the floor and then on the bed base. You will easily notice major difference.
Bed frame can also be useful for extra storage space, if you choose Ottoman or some other type that comes with storage space or drawers. It should not be forgotten that the bed frame is the focal point of the bedroom and will have the greatest impression on the appearance of the whole room. So choose material, headboard, footboard and other features wisely.
A cot and a cot bed look quite similar, but there are significant differences between these two types of children's beds. Cot is intended for babies from birth to approximately 2 years. A cot bed is for older children, from the toddler period to 7 years.
The cot bed has removable panels so you can adjust the size to suit the child. That's why cot beds offer a lot more space than a standard cot, but they are also more expensive.
You bought a mattress, kept it after the trial period, only to realize now that it is not comfortable enough for you. Or you have a mattress that is neither new nor old enough to throw away and spend hundreds of pounds on a new one. Then a mattress topper is what you need.
We can say that the topper is a thin mattress actually. The average thickness of a mattress topper is between 5 and 10 cm, and there are different types. Foam ones are most popular, since they improve pressure relief and support. Topper will significantly change the sleeping experience.
Our top picks from each category from Mano Mano
Once you open the Mano Mano website, you will notice thousands and thousands of products in each category. It is one of the largest, if not the largest DIY online marketplace in all of Europe. We have selected one product from each category that we consider to be among the best.
IMAGE
PRODUCT
DETAILS

KEY FEATURES:

Material

Polyester

Size:

203 x 182 cm

Machine washable:

Yes

Warranty:

2 years

View Latest Price

BEST FROM BEDROOM FURNITURE

BEST FROM BEDROOM FURNITURE

KEY FEATURES:

Material:

Wood

Size:

110 x 34 x 8 cm

Machine washable:

No

Warranty:

N/A

View Latest Price

KEY FEATURES:

Material:

Foam

Size:

Small Single, Single, Small Double, Double, King

Machine washable:

No

Warranty:

1 year

View Latest Price

BEST FROM BED FRAMES & BASES

BEST FROM BED FRAMES & BASES

KEY FEATURES:

Material:

MDF, Steel, Plywood & PU Leather

Size:

190 x 120 x 87 cm

Machine washable:

No

Warranty:

1 year

View Latest Price

KEY FEATURES:

Material:

Polyester

Size:

132 x 75 x 104 cm

Machine washable:

No

Warranty:

N/A

View Latest Price

BEST FROM MATTRESS TOPPERS

BEST FROM MATTRESS TOPPERS

KEY FEATURES:

Material:

Microfibre

Size:

Single, Double, King, Super King

Machine washable:

No

Warranty:

1 year

View Latest Price
1. BEST FROM BEDDING: Dreamcatcher Electric Blanket
Dreamcatcher Electric Blanket is made to keep you warm and cosy during long winter nights.
You won't even notice this is a heated blanket and not regular blanket because wires are ultra-thin. However, what you will definitely notice is that this electric blanket heats you up very quickly due to the fast heat up option. In a matter of few minutes, you won't be cold anymore. 
Three heat settings are available, which you can change easily with the help of a controller. Actually there are two LED detachable controllers so it is an ideal choice for couples. Auto shut-off makes it 100% safe. Polyester is soft and comfy. Maintenance is simple because the machine washable at 40 degrees C.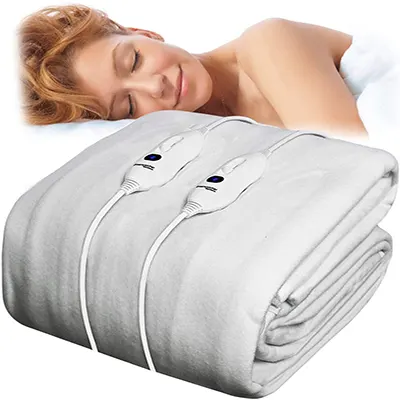 2. BEST FROM BEDROOM FURNITURE: Large Storage Bench Ottoman
Useful addition to every bedroom.
Once we get dressed in clothes for outside, we always miss a place to sit, because the bed is too clean to sit on it in those clothes. So you need the Large Storage Bench Ottoman. It is versatile model that you can use as a bench, but also as a footrest. That's not all. 
After removing the top part, you reach large storage compartment. The bench is made of a combination of high-quality materials, it is very stable and we expect it to last a long time. When you don't need it, you can fold it and save space that way.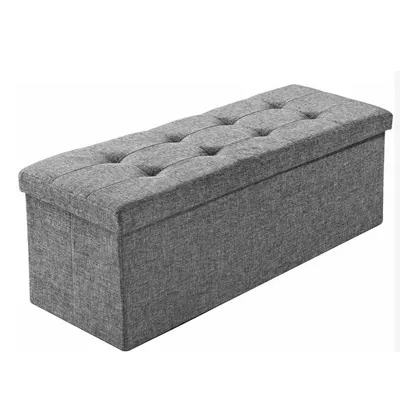 3. BEST FROM MATTRESSES: Starlight Memory Foam Mattress
If you are in the market for a very affordable mattress, go with Starlight Memory Foam Mattress.
Honestly we were surprised when we saw the price of this mattress, since it is cheaper than most mattress toppers. We could hardly wait to try it out. After testing we were pleasantly surprised. Value for money is stunning. High density reflex foam is supportive, comfortable and pressure relieving. 
Bounce is good and overall mattress looks quite durable, especially compared to other models from this price range. Cover is soft and hypoallergenic. It is made in the UK, so you will support the local industry. Starlight memory foam mattress comes with 1-year warranty and biggest drawback is lack of trial period.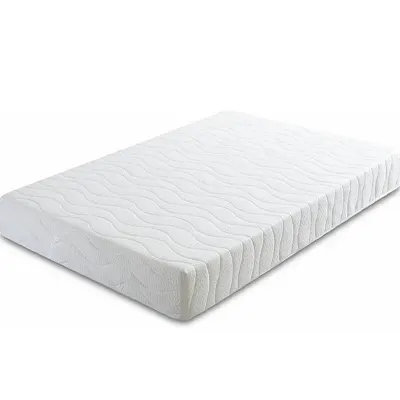 4. BEST FROM BED FRAMES & BASES: Lisbon Double Faux Leather Ottoman Bed Frame
2 in 1 – comfortable sleep and extra storage space.
You should know right away that this is not a premium bed frame, but it is great and costs less than £ 200 when on sale. You can't expect a lower price than this for an Ottoman bed. It is made of plywood and upholstered with faux leather but we like the quality of both materials even though they are not premium.
You can lift upper part of bed to reach the storage. Storage is really big. It is big enough for seasonal clothing and duvets. The bed looks nice and we think the signs of wear and tear will not appear soon.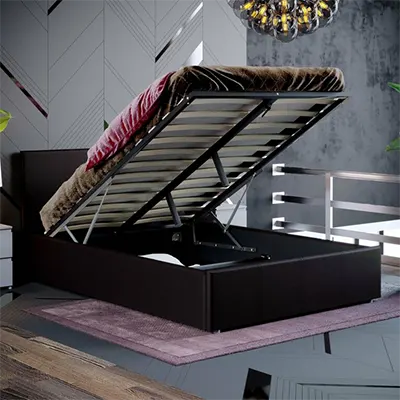 5. BEST FROM BABY COTS: Travel Cot With Changing Mat
Travel Cot With Changing Mat will make traveling with your baby much easier.
This travel cot is not suitable just for babies but for toddlers up to the age of 3 years. It is made so that everything is close at hand, and even has a storage pocket and changing mat. Changing a child will no longer be a nightmare on the road. 
Keep in mind that changing mat is suitable for children who do not weigh more than 11 kg. You can use Travel Cot With Changing Mat at home, it will be a great addition for nursery. The folding mechanism allows you to fold and unfold it very quickly. If you don't want to fold it, but just move it, it's also simple because it has two wheels with integrated brakes.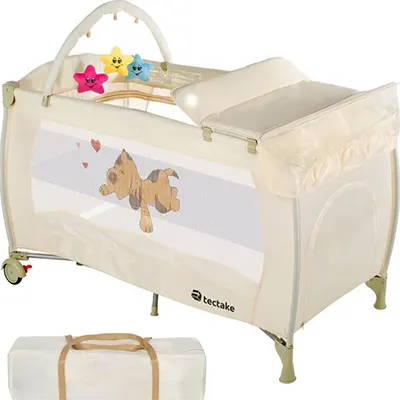 6. BEST FROM MATTRESS TOPPERS: 4 Inch Thick Air Flow Mattress Topper
Since it is 10 cm thick, this topper has the ability to give you whole new sleeping experience.
We find it a bit strange that the manufacturer decided to classify this as an orthopedic mattress topper, because it is not that firm. Microfibre filling is practically never firm. Nevertheless, this does not detract from the quality of this product.
It is very comfortable and provides additional support. We believe that the best performance will be shown on the firmer mattress. As the name suggests, it is highly breathable. Elastic corner straps keep it firmly attached even if you are a restless sleeper. It comes with 1-year warranty.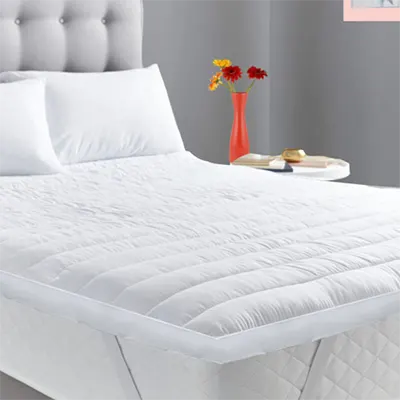 Tips for buying and using Mano Mano
The main tip for buying ManoMano products is to be persistent in your search. Don't end your search after checking the first page or after searching just for the main keyword. It may happen that you immediately find the ideal product, but if your search is too short, there is a chance that you will miss something.
When talking about using, it is important to follow the manufacturer's instructions, which in this case is one of the partners. Even if you already have experience with DIY projects, still read the manual in detail, use the appropriate equipment and later handle the product properly.
Spend some time searching for product, you can't go through thousands of products within a few minutes
Check warranty terms and trial
Follow the instructions for safe use, since that way you can not only take care of yourself but prolong service life of product.
The advantages of owning Mano Mano products
We certainly cannot mention a part of the advantages of owning Mano Mano products because each type of product and each individual product has its advantages. Since Mano Mano is a marketplace, then we need to combine the advantages, so we will try to do that.
Overall product quality is definitely a main advantage, because ManoMano only works with reliable partners. This means that you will get exactly what you want from the product, as well as that it will be good quality, durable ones. Delivery and support provided by the company are also great.
We can guarantee for every single product, but we guess 99,9% of products are high-quality
Free delivery is available for most products
Support is helpful and always ready to solve your problems or give you advice within day or two.
Who are Mano Mano products suitable for?
It would not be wrong to say that ManoMano products are suitable for literally everyone. How is it even possible? It is possible because there are so many products available. Of course, there are a lot of products that some will find unsuitable for some reasons.
But when you look at the entire offer, everyone will find something that they need and that suits them. So whether you are an allergy sufferer or have some other health problem or maybe a specific preference, you should search the website because chances are great you will find exactly what you need.
FAQs about your Mano Mano products
Final section of our review is part where you can find answers to the frequently asked questions about Mano Mano products.
Are Mano Mano products available only in the UK?
No, Mano Mano is not just for UK market, products are available in many other European countries as well.
Do I pay the delivery fee for Mano Mano products?
Free delivery services are included for most of the products.
Are all Mano Mano products brand new?
Yes, everything available is brand new, you won't find used items.
Does Mano Mano offer warranty on products?
Warranty and terms depends on the partner from whom you are ordering. Mano Mano has nothing to do with it.
Do Mano Mano products come with a trial period?
Again, same as with warranty, partners are deciding about trial period.
Does Mano Mano have customer support?
Yes, you should find "Get help" section and support will get back to you within 24 to 48 working hours.