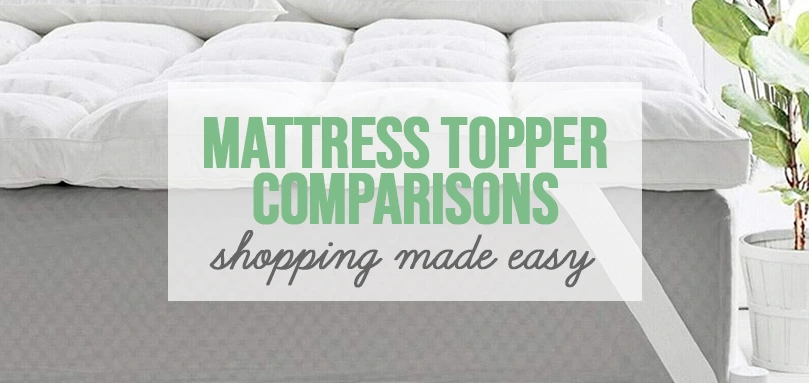 Our Mattress Topper Comparisons in 2021
As many of you may have known, a mattress topper is a thick pad that you place over your mattress. However it is not to be confused with a mattress pad. Mattress toppers are thicker than pads, provide more support and come in a wide variety of materials which you simply have to try. Mattress toppers are a great example for a frugal way to freshen up your bed. It doesn't have to be a new mattress or a bed base. A mattress topper gives a lot of support to your back and hips and you will definitely feel like sleeping on a cloud.
When to buy a mattress topper?
When it comes to buying a mattress topper, many people think of it as a good way to make an old mattress feel better. Indeed, you can put a mattress topper on a bed and it will feel newer and more comfortable. However, you don't need to buy a new mattress topper only when you feel that your mattress has become uncomfortable. You can prolong the quality of your own mattress if you protect it with a mattress topper, too.
How to know which mattress toppers are good for me?
If you need to find the right one, there are other things to take into consideration:
Are you sleeping alone or with a partner?
What is your default sleeping position?
Do you like to have a bouncier bed, or not?
Do you prefer to sleep on a firmer or a softer surface?
Are you having problems with back pains, neck stiffness and headaches?
All of these factors can influence your decision to buy a new mattress topper, and to solve all of these dilemmas you need to determine which type will suit you best. Mattress topper comparisons are the best when you choose to compare toppers of the same type. Why? Because you know that for example, memory foam isolates motion. That way it's great for couples, especially if there is one who's a restless sleeper. But, there are multiple brands which offer all kinds of memory foam mattress toppers, so which one to choose from?
Read comparisons and choose your pick. We're sure you'll find the best one for you. Reading comparisons is certainly not a waste of time, and it will save you a lot of money and mistakes.