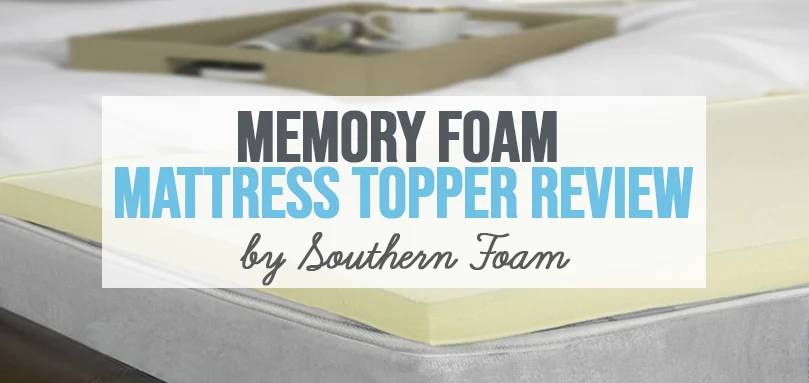 Memory Foam Mattress Topper by Southern Foam Review
Are you looking for an affordable, quality topper because your mattress is old, lost firmness and support, or it's simply uncomfortable? Do you have problems with posture or back pains? Well, if you do, you will be very interested in this review.
So, we came across a nice, foam topper that can be ordered in various sizes has a free delivery option and provides a high level of whole-body support. However, you may need to spend a few hours upon unpacking this topper to air it properly, since some chemical smell can be present.
The topper is made of a modern material, it's well designed and easy to wash. In general, it's a quality product that comes with a very reasonable price and definitely deserves a closer look. So, let's examine this item in detail, and what it has to offer.
Add a header to begin generating the table of contents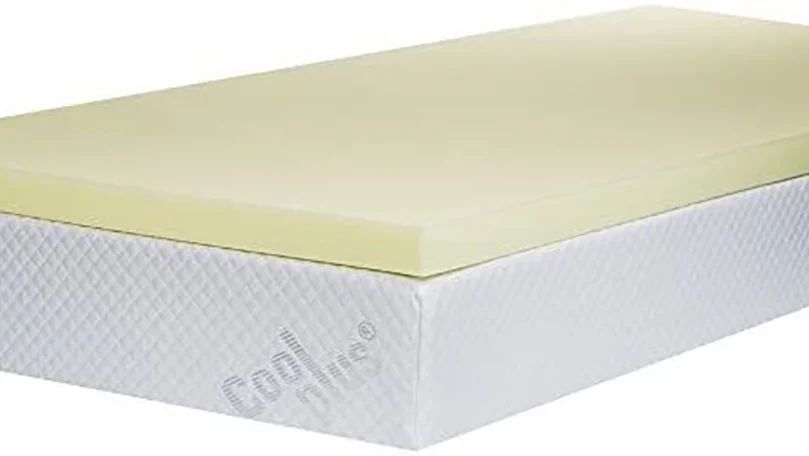 The Southern Foam is a family company from the UK, founded by Charles Flack over 3 decades ago. This company is primarily oriented towards the open cell polyurethane foam products manufacture.
This company produces various foam products, mainly for the mattress industry. But, they also manufacture foam products for other purposes. The company offers mattresses in various designs and various sizes.
Products of this company are tested, safe, affordable. Mattresses and toppers come with a free delivery option for the UK.
About Southern Memory Foam mattress topper
Southern Memory Foam Mattress Topper is affordable, easy to maintain topper that does provide a satisfying level of the whole-body support as well as a high-quality comfort. The topper is a great investment if you have uncomfortable, old mattress or a mattress that is too firm. Southern Memory Foam Mattress Topper will easily make any mattress into a comfortable one.
The topper is a smart choice for all people who experience pains or problems with back, shoulders or neck. People who have problems with recovery from back injuries or medical procedures, or those who have problems with posture, can benefit a lot from this topper.
The product can be used by those who are sensitive to allergies, dust-mites or have issues with seasonal allergies, but a nice hypoallergenic cover is advised in this case.
The topper has a modern designed, has high comfortability and due to its well-balanced firmness, it can be used by children and elderly.
The strong chemical smell can be present with this product, but, the topper can be easily aired. Also, one wash after the unpacking can be enough to get rid of the smell.
In general, the product doesn't require demanding maintenance and it can last for a long time.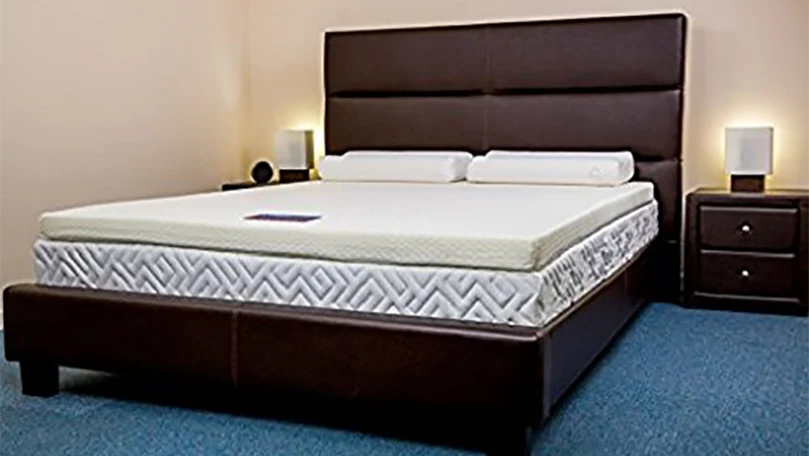 The material used for the manufacture of Southern Memory Foam Mattress Topper is polyurethane foam. This material is popular for the mattress and mattress toppers manufacture in general, and its quite suitable for it also since it provides comfort and support while meeting the health standards. Polyurethane foam is a great choice for mattresses and mattress toppers because it fulfils comfort requirements and secures safe, hygienic sleeping environment. Last but not least, products made of this material are easy to maintain clean and fresh. Sometimes, this material can absorb the chemical smell, so a short airing before the first use of this topper is advised.
In general, the Southern Memory Foam Mattress Topper offers a great support both for back and shoulders. It can be combined with all types of mattresses. For an additional support, if needed, it can be combined with foam pillows. It is a good choice for people who need extra back support because the topper secures healthy spine and whole-body alignment.
People who do a lot of physical work, athletes, people who suffer from back pain or shoulder pain and elderly can benefit the most from Southern Memory Foam Mattress Topper. Also, those who spend the most of the time working in the office, sitting in unhealthy positions in front of the computer, can find a much-needed healthy rest with this topper during the night. The big upside of this topper is that it can be combined even with uncomfortable mattresses and make them a pleasant, comfortable sleeping surface. So, in general, everybody from older children to elderly can find this topper to be a good and comfy choice.
Just as a support feature, this is also a big upside when it comes to Southern Memory Foam Mattress Topper. It can be used to rejuvenate old mattresses. It can be used to transform uncomfortable mattresses, or be used as an extra comfy layer for quality foam mattresses. If the topper is maintained with care, it shouldn't lose any of the comfort over the years. The material used in manufacturing this product secures a pleasant, gentle support for the whole body. There shouldn't be any issues with the comfort of this product whatsoever.
You would probably be more satisfied with this feature with Southern Memory Foam Mattress Topper then with other polyurethane foam toppers. This is simply due to the special design of the topper and the way the material is cut during the process of manufacture. This feature can be enhanced/reduced according to your demands by combining the topper with different kinds of mattresses.
In general, the breathability is not a downside of this topper, but it's also not his #1 super feature. People who have serious allergy problems should consider washing the topper more often than others. Especially, if they co-sleep with pets. Polyurethane foam isn't material who additionally absorbs odours or moist. The whole design of this topper is not primarily oriented towards high breathability (as some other hypoallergenic toppers are). So, to sum up, if you don't have respiratory issues, don't worry – this topper is breathable enough. But if you do, be sure to air it from time to time or wash it more frequently. The easier way to boost the breathability of this topper could be simply to combine it with hypoallergenic topper cover.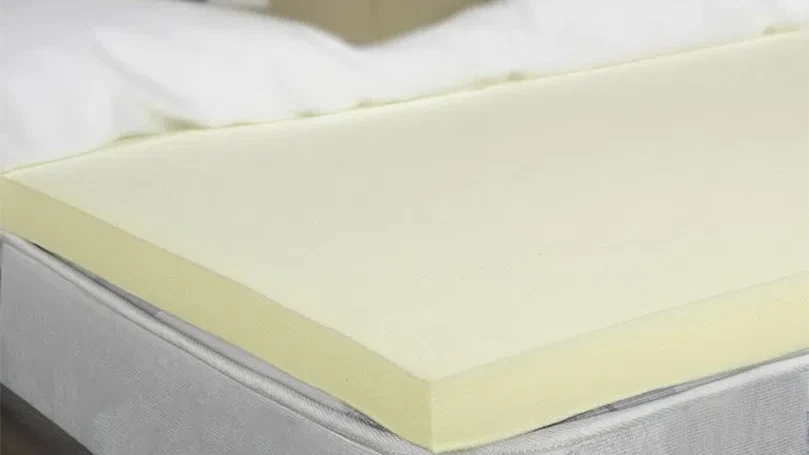 This topper does have chemical smell upon unpacking, but oftentimes this can be solved with an airing and washing. However, this smell can be stronger sometimes, so the topper may need a few days in order to lose the smell completely. This issue is a downside of this product, but it's not something that can't be sorted out in a few days' time.
The topper can last for a few years without any loss of quality if properly maintained. These mattress toppers are usually very lasting. They also prolong the durability of the mattress. Just be sure to follow the washing instructions for this product and you should be able to enjoy in its comfort for a long time.
Since you can combine this topper with all types of mattresses and still get great results, we can definitely say this product's price-quality ratio is satisfying. For a reasonable amount of money, you can "save" any mattress you have and make it comfortable sleeping surface. Also, for UK customers, the free delivery option comes with this product.
| | |
| --- | --- |
| MATERIALS | Made of polyurethane, easy to clean, air and maintain. The material is pleasant and provides both comfort and support. Stains are not too hard to remove from the topper. |
| SMELL | The topper can oftentimes have an issue with the smell. Luckily, airing and washing can fix this fast and simple. |
| PRICE – QUALITY RATIO | It's okay. |
Trial period, warranty, shipping details and refunds
Customers from the UK have a free delivery option for this topper. Also, no matter the size of the topper, all are shipped in a 100x30x30cm package.
For more information about warranty, trials or return policies you should contact company's customer support. They are available every workday from 9 to 4 or 5 pm (working hours differ on Friday).
| | | | |
| --- | --- | --- | --- |
| Size | Dimensions | Weight | Price |
| Single | 90 x 190 cm | 5.25 Kg | £39.00 |
| Small Double | 120 x 190 cm | 6.44 Kg | £43.00 |
| Double | 135 x 190 cm | 6.88 Kg | £46.00 |
| UK King | 150 x 200 cm | 8.25 Kg | £46.38 |
| Super King | 180 x 200 cm | 10.4 Kg | £65.00 |
After close examination, we can say that this product has only one downside. That's the chemical smell that is present after the unpacking. But, since this problem can be solved in a few hours, or a day or two tops, we can't really say that it's not worth buying for. The main feature of a good topper is a quality support and comfort, and this topper has it.
All in all, Southern Memory Foam Mattress Topper is a good choice for people who have back problems. It can be used on any type of mattress, it is not expensive and requires easy maintenance. Visit their amazon page and see for yourself, maybe this is the right product for you.