Mulberry Silk Duvet Review - Lightweight & Luxurious Duvet
When it comes to bedding, we often talk about silk bedding, covers and sheets, but what if instead of a duvet cover, we talk a little bit about a silk-filled duvet? Well, that's exactly what we're going to do here today. If that sounds interesting – stick around for our Mulberry Silk Duvet review.
Who is Mulberry Silk duvet for?
For a long time, silk duvets have been reserved only for the wealthy. However, now that they've become more accessible – anyone can enjoy one.
We don't see why anyone wouldn't want to give this one a try, but if we really had to pick the ideal person for this duvet, we'd say that someone suffering from allergies or respiratory issues would be an ideal person to enjoy this sweet and smooth silk fiber and its naturally hypoallergenic properties.
Add a header to begin generating the table of contents
What do we use this product for?
The main purpose of the duvet is quite obvious to everyone – we'll use it to cover ourselves when we lie down. But, if that's all that a duvet is good for, why even bother choosing between the different types.
Well, it's the differences between the duvets that dictate how we'll use them. For instance, a feather and down duvet won't behave the same as wool duvets, and due to these differences, they won't be used in the same fashion.
On that note, we can use the Mulberry Silk Anti-Allergy for:
Use it to prevent allergic reactions
Use it to get a good night's sleep
Use it to keep warm during chilly nights
Use it to stay cool during warm nights.
Features you should know about Mulberry Silk duvet
Now it's time for us to learn more about the defining features of this silk beauty.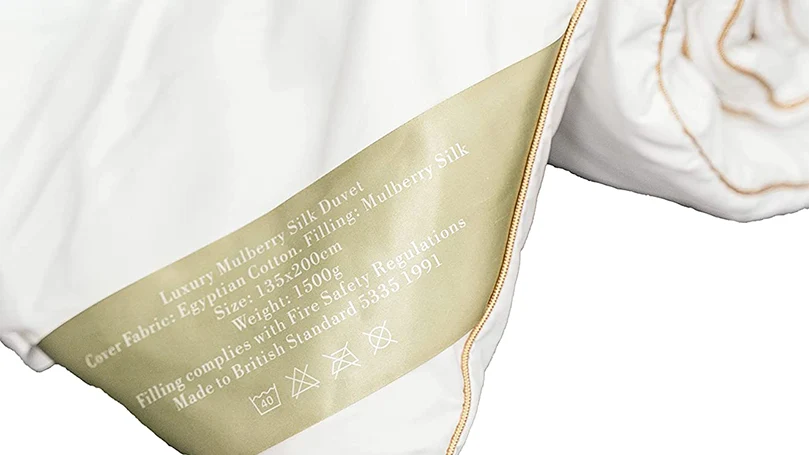 The defining feature of every duvet, including the silk duvets, is the tog rating. Tog rating defines how insulating the product is, namely how much body heat it traps in order to warm you up. In this case, we're looking at a silk duvet with a 9 tog rating.
At 9 tog, this silk duvet will be useful for the better part of the year, including some of the summer and the winter nights. After all, 9 tog will be too warm for a July night, as well as too cold for a December one.
230 thread count cotton-sateen cover
This lovely piece of silk bedding does not come encased in a silk duvet cover, which some might find strange. Instead, this one is encased in a luxurious 230 thread count cotton sateen cover.
Sateen cotton is known for being cool to the touch and letting the body heat pass through it, instead of retaining it, which will also add to the overall breathability of the product.
The cotton is also soft and gentle to the touch, and the overall quality of it is top-notch. However, since it is not removable, we would advise using an additional cover to tuck this silk duvet in.
100% long fibre Mulberry silk fill
Slik duvets, including the Mulberry Silk duvet we're reviewing, are filled with long silk fibres. This not only allows for generous filling, but also makes sure that the fillings are equally distributed all through the duvet The long silk strand fillings are also hand layered in long filaments, to ensure the longevity and durability of this luxurious piece of the silk bedding.
Breathable & naturally cooling
Silk is great at regulating temperature, which is why, even at 9 tog, this one can be used for the better part of the year. But, the silk strand fillings aren't the only reason why this silk duvet is breathable and cooling.
The cotton cover encasing the silk fillings is also naturally breathable and moisture-wicking, which is another reason why you could comfortably sleep under this silk duvet pretty much all year round.
In order for the silk-filled duvets to live longer, you have to do several things. You can either take the silk, quilt it into the cover, and leave it at that, or you could also make sure to hand-bound the edges to prevent the slippage of the silk filling to make sure cold spots never occur, no matter how long you use the duvet.
Most silk duvets are handcrafted, and that is also the case for our reviewee. It is handmade and handcrafted, to ensure the quality and durability of the product.
Just like any other piece of silk bedding, the silk duvets are also machine-washable, which makes them incredibly easy to maintain and look after. In this case, the entire duvet, along with the cover, is just to be placed in a washing machine at 40°C, and that's it. After you're done with washing leave your silk duvet to air dry. Don't place it in a tumble drier or take it for dry cleaning.
To make things even better, the Mulberry Silk Anti-Allergy Silk Duvet is covered with a 10-year warranty, so if the lovely performance of this product wasn't enough to help you sleep like a baby, maybe knowing that you have a 10-year warranty to rely on, in case something goes wrong, will.
Review of Mulberry Silk duvet
Mulberry Silk Anti-Allergy Duvet might just be one of our favourite silk duvets on the UK market.
If we had to sum up this silk duvet in a sentence, we'd describe it as light and soft as a feather and down duvet, with the exception of being resistant to dust mites and other allergens.
The Mulberry Silk Anti-Allergy duvet is an excellent product. It is cool and breathable when it has to be, but also warm and insulating if need be. In addition to that, thanks to the hypoallergenic properties of silk, this piece of silk bedding is a safe haven for everyone struggling with allergies or respiratory issues.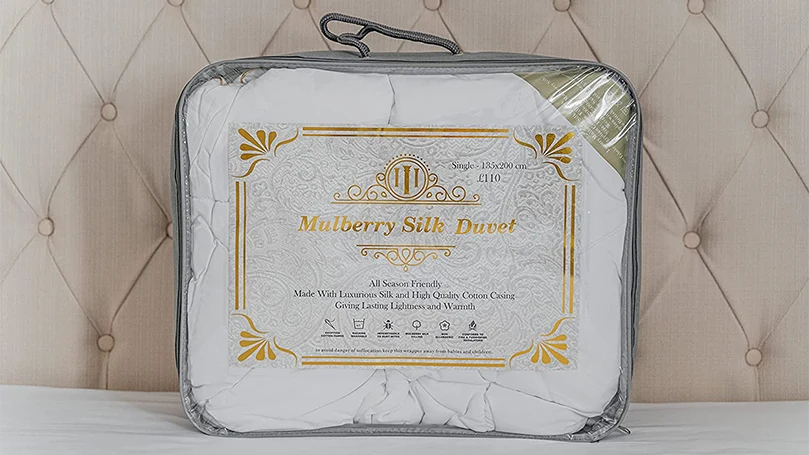 As far as how comfy this one is, well, that will depend on your preferences, how you like your duvets and whether you prefer the silk or not. What we can tell you, objectively, is that the Mulberry Silk duvet will gently hug and contour your body, and it won't feel snug or heavy. So, if you prefer a heftier duvet, then this one is not for you.
Now, on the not so great side of things, at this moment, you can only get this duvet in a size Single, if you get a bundle that includes a silk pillow. Other sizes are available as standalone products, and as a bundle with two silk pillows.
Type: Sateen cotton
Material: Long silk fibres
TOG: 9
Size: Double, King size, Super king size.
One of the best silk duvets on the market
Excellent durability
Lightweight and breathable
Warm and insulating
Anti-allergenic
10-year warranty.
Single size only available in bundle
It will not be warm enough for chilly winter nights
It will not be cool enough for very hot nights.
What we like about Mulberry Silk duvet
Truly one of the best silk duvets on the UK market
One of the most durable and long-lasting silk duvets on the UK market
Light and breathable, but also warm and insulating – whenever needed
It is anti-allergenic due to silk natural ability to repel allergens like dust mites.
What we didn't like about Mulberry Silk duvet
You cannot buy a Single-sized Mulberry Anti-Allergy Silk duvet as a standalone product
It won't warm you up enough on a very cold night
It won't be breathable enough for a steamy summer night.
What makes this product better than some other similar ones?
Silentnight 2800 Pocket Memory King Size Mattress is truly one of the best mid-range products we've come across. Stacking two layers of nearly full-sized pocket springs on top of one another might seem strange, but this mattress is proof that it was an ingenious move.
This pocket sprung mattress will not only award you with the best nights of your life, but it will also protect you from dust mites and other allergens, all while properly supporting your body regardless of the position you sleep in.
To top it all off, 2800 Luxury Pocket will easily outlast its warranty period, quite possibly even double it, and if all that doesn't make it a worthy purchase – we don't know what is.
How did we test the product?
Testing silk duvets is pretty much the same as testing some feather and down duvets, wool duvets or synthetic duvets. Just because this one is filled with silk threads does not mean it should get special treatment.
All jokes aside, we approached the testing as we always do – professional. We sought out to deliver you with an objective overview of the product, and not just crown this one as one of the best silk duvets on the market. To do that, we had to spend a least a few weeks testing this duvet – so we did.
Our new duvet arrived at the office only 3 days after we've ordered it, so at least a delivery fee wasn't for nothing. Once we've unpacked it and done a thorough visual and hands-on inspection, we've decided to move our testing to the bed.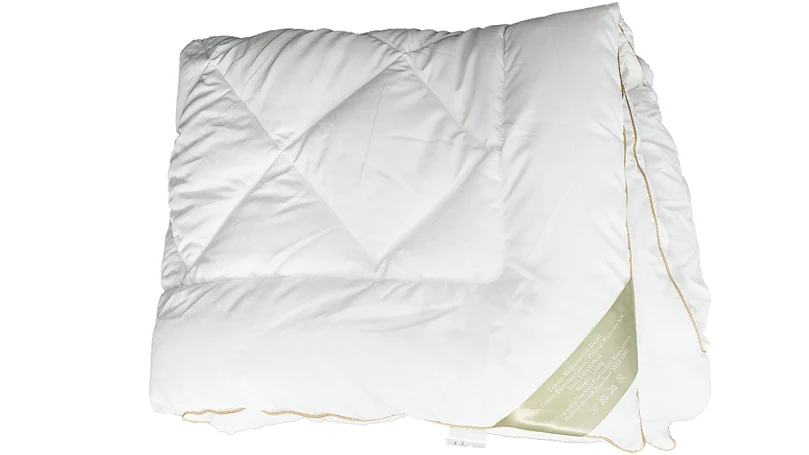 All of us had spent a few days and nights in bed with this Mulberry silk-filled duvet. During that time, we've tested in various, but controlled conditions, and in pairs with different bedding and mattresses. That allowed us to explore the full range of this Mulberry silk comforter, as our friends across the pond like to call it. Finally, after we've tested and experienced the duvet's comfort, breathability, body temperature regulation, as well as the overall quality of the duvet – we have sat down and wrote this review.
FAQs about your Mulberry Silk duvet
Now, allow us to wrap this review up by answering some FAQs.
Is the Mulberry Silk duvet hypoallergenic?
Yes. Both silk filling and the cotton cover are hypoallergenic and will keep dust mites and other common household allergens at bay.
Is the Mulberry Silk duvet a good all-season duvet?
It should be good for most seasons and a better part of the year, but if you truly want an all-season experience, you're going to have to look at different togs.
Do I pay for the delivery of the Mulberry Silk duvet?
Yes. You will have to pay a small shipping and delivery fee if you purchase this silk-filled duvet.
Does the Mulberry Silk duvet come with a trial period?
Sadly, you won't receive a trial period for any of the Mulberry Silk duvets, and this one is not an exception.