Nectar Weighted Blanket Review by The Sleep Advisors
Nectar weighted blanket immediately caught our attention because we noticed that it differs significantly from all other weighted blankets we have tested so far. So here is your Nectar weighted blanket review by The Sleep Advisors where you will find out what makes this product the best weighted blanket on the UK market at the moment.
Who is Nectar weighted blanket for?
Using a weighted blanket is good if you suffer from some of the very common disorders nowadays such as insomnia, depression, anxiety, obsessive-compulsive disorder (OCD), panic disorder, post-traumatic stress disorder (PTSD) or something similar.
In that case you can greatly benefit from using deep pressure therapy and Nectar Cloverlane weighted blanket can help you with that, because that is how weighted blankets work.
But Nectar Cloverlane weighted blanket is not for your only if you have some of these problems. Since it weighs 5 kg, which makes it one of the lighter weighted blankets, it can be used by anyone who likes the feeling of a heavier blanket.
Add a header to begin generating the table of contents
What do we use this product for?
We use Nectar Cloverlane weighted blanket to improve sleep quality as well as to evoke a feeling of relaxation every time we use it. The use of weighted blanket triggers a calming reflex in the body which makes it suitable for autistic people as well. So we use this product for a wide variety of problems, to make us comfortable and fall asleep faster. We use it for:
Treatment of insomnia, OCD or panic disorder
Reducing depression
PTSD treatment
Sleeping comfortably and snuggling during the winter.
Features you should know about Nectar weighted blanket
Now we will break down all those features the one who plans to buy Nectar weighted blanket has to know. This includes material, weight, maintenance and other essential characteristics.
It goes without saying how many benefits cotton has and why it is among the best materials in the sleep and textile industry in general. It is soft, comfortable, hypoallergenic and durable, among other things. But it is not the same whether you use 100% organic cotton or standard cotton.
Organic cotton is grown without chemical pesticides or harmful fertilizers, and accounts for less than 1 percent of total world cotton production. That is why products, such as this Nectar's blanket made from 100% organic cotton, are considered premium.
What is even more better is that all the cotton production is based on utilizing solar power, as Nectar Sleep wanted to ensure the sustainable manufacturing, without damaging our environment that much.
If you've had a weighted blanket so far or have read about this type of product, you have noticed that almost every weighted blanket has some kind of filling located in inner blanket that actually gives weight to it and outer cover for comfort. The most common types of filling are plastic poly pellets, micro glass beads and steel beads. There are also some other alternatives like sand and grains. But that is not the case with Nectar Cloverlane weighted blanket.
When you buy Nectar Cloverlane weighted blanket, you will not find any of these materials. And that's exactly what sets it apart from other weighted blankets on the United Kingdom market. Now then you wonder where its weight came from? The answer is tightly knitted cotton. It is created in such way that cotton gives it its full weight and that is why it looks like an ordinary blanket, except that it is heavier. This is really great because many customers have different complaints about filling materials.
40 Celsius degrees washing
Most weighted blankets are machine washable, some have removable, washable cover and some others are fully machine washable, such as Nectar Cloverlane weighted blanket. Since there is no filling material that can be damaged during washing, you can wash the entire blanket at 40 degrees Celsius. The manufacturer recommends that you do not always wash it, but that you spot clean as necessary. 
It is suitable for tumble dry on low heat, and the manufacturer also recommends that you hang it out to dry to minimize environmental pollution and to reduce carbon footprint. For the same reason, they recommend spot cleaning instead of machine wash, not because there are durability concerns.
Nectar Cloverlane weighted blanket is available in only one weight and it is 5 kg, which ranks it among the lightest weighted blanket for adults. It is recommended that the weighted blanket be between 5 and 15 percent of our body weight, and most customers choose it to be around 10% of body weight.
That's why Nectar weighted blanket will be light to many, but that doesn't make it unsuitable. Who wants a very heavy weighted blanket can look for another option, for example, Mela offers 9 and 11 kg of weight. But Nectar weighted blanket is also enough to feel the benefits of weighted blanket and you won't feel trapped under it.
The best weighted blanket wouldn't be the best if it did come without a convenient storage bag. You get a cotton storage bag that is high quality and recyclable, so there you will be able to store your Nectar weighted blanket when you are not using it.
Review of Nectar weighted blanket
Nectar Cloverlane weighted blanket weighs 5 kg and is made of 100% organic cotton. This is an overall completely eco-friendly product and it is OEKO-TEX certified. It differs from other weighted blankets because there is no filling, but the weight comes from tightly knitted cotton. It is therefore lighter than some other weighted blankets, but is heavy enough to positively affect disorders like insomnia, anxiety, depression and autism.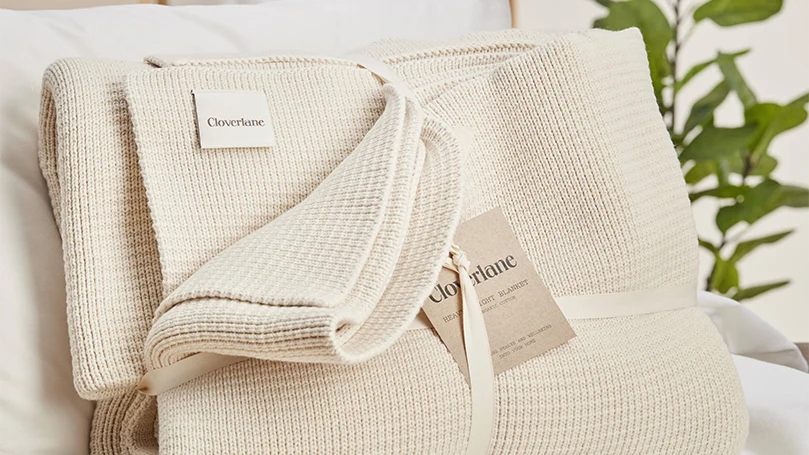 It is fully machine washable at 40 degrees C and you can tumble dry it on low heat. It is not recommended for children because it is too heavy for them. No wonder it holds the title of the best weighted blanket at the moment!
Material: Organic cotton
Size: 150 cm (width) x 200 cm (length)
Weight: 5 kg.
Eco-friendly
High quality craftsmanship
Machine washable.
Only one weight
Only one size
Expensive when compared to similar products.
What we like about Nectar weighted blanket
If all the products we use are eco-friendly like this one, planet Earth would be much less polluted
It is very comfortable because there is no filling like steel beads that you can feel while sleeping and that can cause noise
Maintenance is very simple because it is fully machine washable
Sustainable manufacturing 
Specialist synthetic weighted blanket, with deep pressure stimulation
Easily machine washed
Removes stress and anxiety
Good for restless leg syndrome.
What we didn't like about Nectar weighted blanket
5 kg is the only weight available, which can be too light for heavier people
The size is probably not suitable for couples
It is certainly not budget weighted blanket, which will deter some customers from buying, but the price is completely justified.
Check the alternatives to Nectar weighted blanket
Following are the two possible alternatives to Nectar weighted blanket you can find at the United Kingdom market. You can also find Silentnight blanket as well as Emma Hug blanket.
Silentnight Weighted Blanket
We really liked the feeling of sleeping under the Silentnight Wellbeing weighted blanket, whether it is a 6.8 kg or 9 kg model, primarily because of the glass beads filling and very soft, quilted microfiber cover. 
Breathability is good and it is hypoallergenic – thanks to the quilted microfibre cover. You can wash it in the washing machine at 40 Celsius degrees so the maintenance process is more than easy.
he overall experience was much-like with  Nectar's blanket so we kindly recommend this product as a replacement.

Here is our complete review of Silentnight weighted blanket.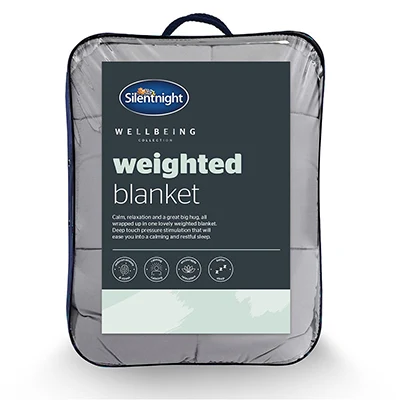 Free delivery
Hypoallergenic
Microfibre cover.
Cover is not removable
Only for adults
Not for hot sleepers.
Emma Hug Weighted Blanket
Emma Hug weighted blanket combines cotton, bamboo and glass beads to provide you with everything you need for great sleep quality. 
Weight is evenly distributed, a cotton and bamboo are soft and breathable. What makes this product special is the possibility to try it for 200 nights, which is not often the case with any sleep product except maybe mattresses. 
It is not a budget weighted blanket and you have to buy cover separately which is downside.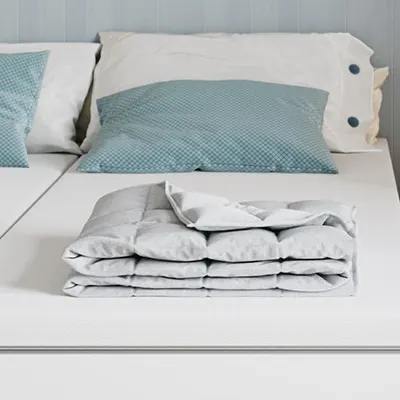 Design
200 nights trial
7 layers.
You have to buy cover separately
Sometimes too hot
One size and weight.
Consider Evercomfy Aloe Vera Duvet if you are buying Nectar weighted blanket
If we had to expand the list of the best weighted blankets made in a natural way, we would have to add this blanket as well. Evercomfy duvet is a not a classic weighted blanket, but rather an all-around and soft duvet. 
Wellsleep fibres are the heart and soul of this duvet because they are so soft and breathable. Wellsleep fibres will never make you hot. 
The addition of Aloe Vera makes this duvet very healthy and it is also 100% hypoallergenic. You can choose between summer and winter versions, 4.5 TOG and 13.5 TOG.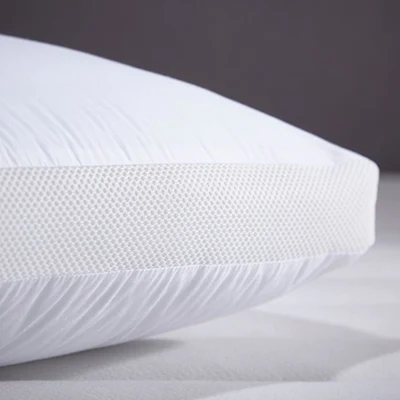 Aloe Vera infused
Machine washable
Breathable.
Not removable outer cover
TOG rating not for all seasons
No trial period.
What makes this product better than some other similar ones?
Nectar Cloverlane weighted blanket is one of a kind weighted blanket on the United Kingdom market, so there is so much features that makes it better than some other similar ones. First of all, it is made of 100% organic cotton in sewing facilities that run on 100% solar power. So you know you are using an eco-friendly product whose purchase does not increase your carbon footprint.
Also, it is a high-quality weighted blanket that has no filling, but tightly knitted cotton gives weight and makes it very comfortable to sleep with, because there will be no accumulation of filling in one part so overall it is best weighted blanket or among them.
How did we test the product?
Your Nectar weighted blanket will be delivered to you for free within 2 working days. If you want no contact delivery, the ordering process is the same, and inform the courier that you want to leave the product in front of the door. In case you have any problems during ordering or question, you can contact their support which is very helpful.
We approach the testing of each product with equal attention, but some are especially interesting to us, like this one. When it arrived, we quickly noticed the high level of craftsmanship. Due to the absence of the usual filling material, this weighted blanket is very strange at first. You will feel as if you are covered with a plain blanket, which is very heavy.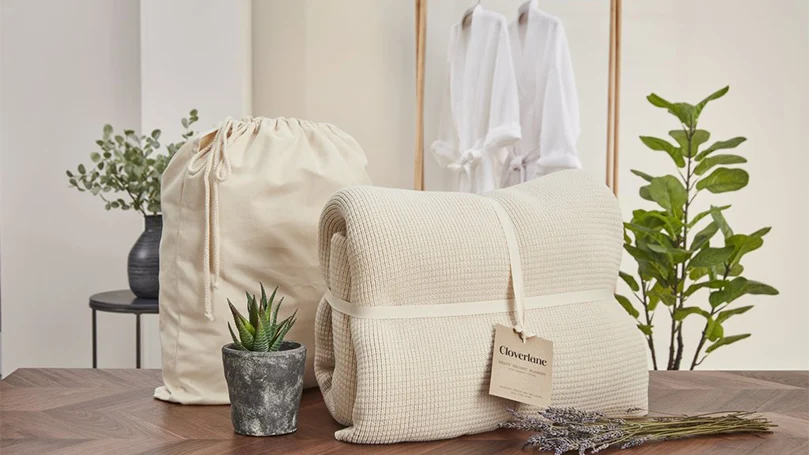 It was also very comfortable for us when we tested it for rest during the day while watching TV, as well as for sleeping at night. It's certainly not as heavy as some other weighted blankets, so you'll feel relaxed while you're covered in it, but you'll easily take it off when you want to get up. Breathability is very good.
Eventually we washed it and tumble dry, as part of our maintenance test, and we promise not to do it every time so as not to unnecessarily pollute the environment.
FAQs about your Nectar Weighted blanket
In our FAQs section we will do our best to give you some more useful information about Nectar weighted blanket.
Is Nectar Weighted blanket suitable for children?
Although it is not heavy for adult standards, this Nectar blanket still too heavy for children so it is not suitable for them.
Is Nectar Weighted blanket good for the winter time?
Whether it is good for winter time or not primarily depends on where you live and do you have central heating, but many customers will use it all year round.
What is the size of Nectar Weighted blanket?
Nectar Cloverlane weighted blanket is 150 cm wide and 200 cm long.