Do you need the ultimate combination of support, comfort and thermoregulation in one mattress?
Do you take no exception? Well, this product might be the ideal choice for you. With its combination of pocket springs, reflex foam, memory foam and thermal gel, OTTY mattress is one of the finest products in the market. Here we are going to talk about all of its components, and rate it for your pleasure and knowledge.
Add a header to begin generating the table of contents
OTTY is a British-based company situated it Leeds, which focuses on making mattresses, pillows and pet beds. Their goal is to make ultimate products at the right price. The founder of OTTY couldn't find the mattress that would fit his needs – to be comfortable, supportive, and affordable. That's why he decided to design it himself, and started a brand new company dedicated to it. Long story short, that's how we got OTTY. If you're interested, visit their website and see how professional and meticulous they are at their job.
OTTY is an innovative mattress concept which mixes all the crucial ingredients for the perfect night's sleep: comfort, support and temperature control. Luxurious memory foam adapts to your ideal sleeping posture, whilst cooling and Airflow technology prevent its high insulation from overheating the bed. You can check our OTTY Original Hybrid mattress review as well to learn more about one of the OTTY mattresses that we reviewed.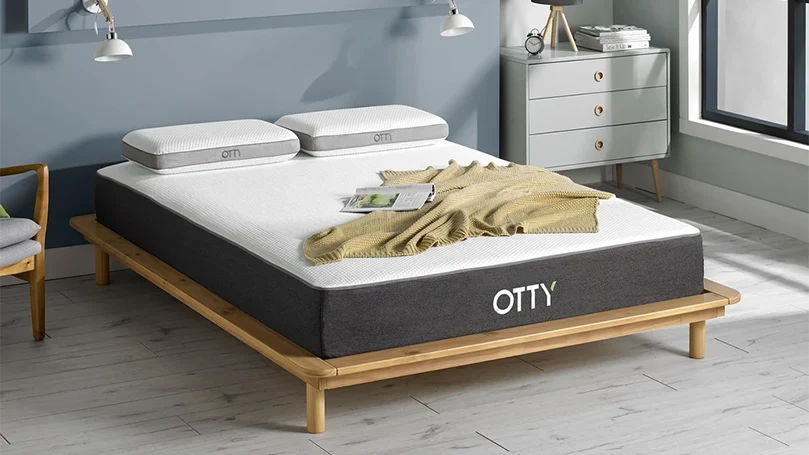 OTTY mattress combines supreme support, comfort and temperature regulation. The reason behind that is the structure of the mattress, which contains five layers. Base layer is made of high density foam which creates solid, sturdy base for the mattress, preventing dips and sagging, and ensuring longevity. The second layer is made of 2000 pocket springs, which offer optimal support and eliminate motion transfer. OTTY mattresses use a special 1.6mm gauge, 14cm long encapsulated pocket spring which is not only perfect for creating support, but also durable enough to last decades.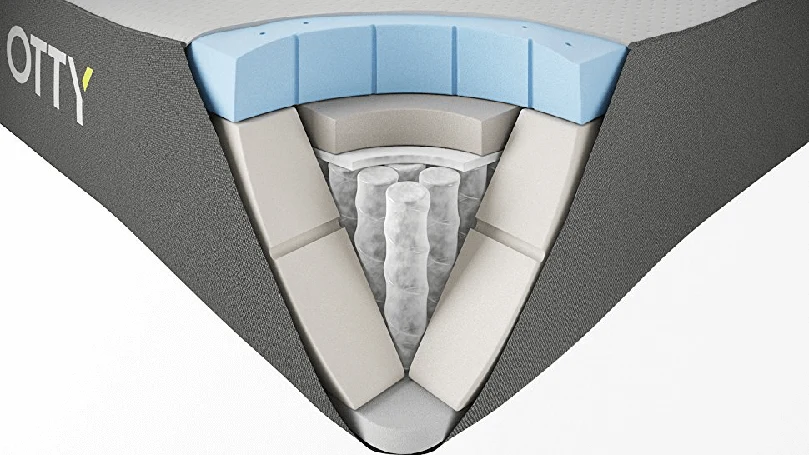 The next layer is luxurious reflex foam, which adjusts to sleeping posture, providing ultimate comfort. Top layer is Cool Blue Gel imbued memory foam, with pin-core technology which helps to regulate your body temperature. Above all, you have a removable and washable polyester cover, which is hypoallergenic and ideal for anyone with allergies to dust mites and dust particles. Let's add to all that a side support layer (which also serves as the airflow system), which lets air circulate trough all areas of the mattress, removing excess heat.
OTTY mattresses have great support, mostly thanks to its firm base and 14 cm of pocket spring layer, which contains 2000 encapsulated pocket springs. That allows OTTY mattress to be supremely supportive no matter how unusual your sleeping position is. Also, that makes them exceptionally good in motion isolation, so you won't feel if your partner is restless in their sleep.
OTTY mattress has not one but two comfort layers, made from high quality reflex and memory foam. Both of the layers are 3cm thick, and provide huge deal of comfort, cushioning your body and adapting themselves to the contours of the user. They are so comfortable that we were told at OTTY's that the biggest complain for the mattress was that some customers were late for work, because they couldn't (or wouldn't) get up in the morning! It's recommended for both infants and elderly, due to its supreme comfort.
Thanks to the pocket springs layer, the mattress is sufficiently bouncy. Not that you could use it as a trampoline, though, since two upper layers are made of reflex and memory foam, which muffles the bounciness a bit. The good old hand imprint test has shown very quick restoration of the original shape of the mattress.
OTTY mattress is highly breathable, with side support that also serves as the airflow system, letting air circulate trough all areas of the mattress, removing excess heat. Also, the topmost layer is made from high quality memory foam imbued with Cool Blue Gel, which regulates the temperature. So, heat retention is basically null, at least where it counts.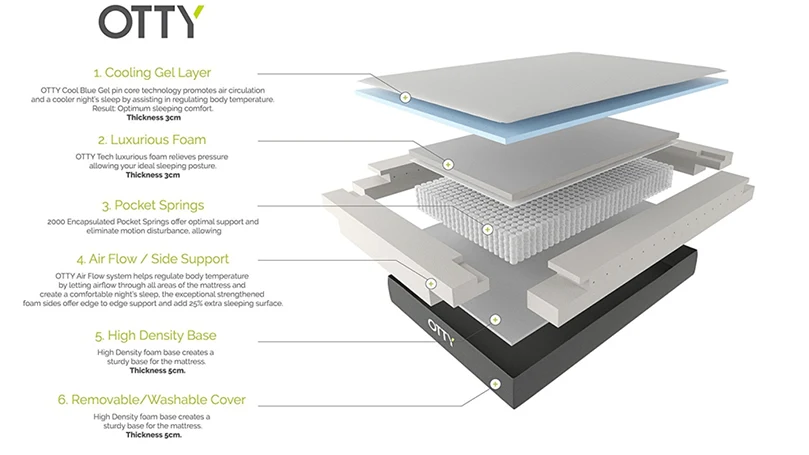 Some of the customers complained about the unpleasant and persistent smell, which retained even after couple of weeks. That usually happens due to built up gasses while the product is packed. Make sure to air it off every day and after a week or so the smell will disappear.
OTTY is so confident in the quality of their products they offer a whooping 10-year guarantee for them. As with all guarantees, that would present a minimal expected lifetime. However, if you maintain it well, this mattress might last even twice as long, which would make it an ideal long-term investment.
Starting price for the UK Single model is 349,49 £. That is quite a good price, considering the quality and durability of the product itself. Other available sizes are: Small Double, UK Double, UK King, Super King, EU Double and EU King. We'll get down to the details about them, like dimensions and price later in the review. But, before that, let's get down to our final rating.
OTTY offers a 100-days trial period for all of their products. If you're not completely satisfied, they'll pick it up free of charge and give you a full refund. Like we mentioned, OTTY gives a 10-years guarantee to their product, which is really a formidable amount of time. Delivery wise, OTTY delivers free, within a week, on weekdays and Saturdays.
| | | |
| --- | --- | --- |
| Size | Dimensions | Price |
| UK Single | 90 x 190 x 25cm | 349,99 £ |
| Small Double | 120 x 190 x 25cm | 429,99 £ |
| UK Double | 135 x 190 x 25cm | 449,99 £ |
| UK King | 150 x 200 x 25cm | 549,99 £ |
| Super King | 180 x 200 x 25cm | 649,99 £ |
| EU Double | 140 x 200 x 25cm | 499,99 £ |
| EU King | 160 x 200 x 25cm | 599,99 £ |
OTTY mattresses are one of the finest products on the market. They basically excel in every given category relevant to the sleep quality. If you need a mattress that is supportive, comfortable, cool to sleep on and relatively affordable (considering the estimated duration), OTTY mattress is the right choice for you. Start your 100-day trial today, and see for yourself.