Panda Bamboo Topper Cover Review by The Sleep Advisors
Everyone has at least once spilled water or some other liquid in the bed and then you have to remove the cover and wash it. But if that happens to you in the evening, for example, then you don't have time to wash and dry the cover before going to bed.  Plus, there is no way to dry out memory foam bamboo mattress without having a spill/stain on it. That's why Panda has a Bamboo topper cover in its offer, so you can buy a spare cover. 
Who is Panda Bamboo topper cover for?
Panda Bamboo topper cover is for all owners of Panda memory foam mattress topper. It is a great topper that is very durable and that is why you will use it for many years, but you will definitely need a new cover at some point.
Because you need to have one in reserve when an accidental spill occurs in bed or to replace the bamboo cover due to wear and tear. It suits perfectly all memory foam mattress topper products, though it is mainly made for memory foam bamboo mattress topper by Panda.
Add a header to begin generating the table of contents
What do we use this product for?
Since this bamboo cover is exactly the same as the cover you get when you buy Panda memory foam bamboo mattress topper, its purpose is the same. The cover is soft and breathable, so it's great for hot sleepers as well. Also, bamboo's amazing natural properties makes it hypoallergenic and antibacterial. We also use it to reduce wear and tear on the topper and to have a clean sleeping surface, as it is removable and machine washable. It can be used on any memory foam bamboo mattress as long as the dimensions are matching. 
Features you should know about Panda Bamboo topper cover
Let's go through the most important features you should know about this bamboo cover.
This bamboo cover is made of polyester, so although it has a small amount of gel-infused memory foam that improves temperature control, this cover further affects breathability. Because of all this you will not be hot while sleeping on any memory foam mattress topper or on a mattress topper Panda.
Also, the bamboo cover is so soft that you will be very comfortable sleeping on it, and it also gently protects your skin from irritation. You will easily notice how great the air flow is and that there is no heat retention.
Anti-bacterial & anti-dust mite
It is imperative that our sleep environment be clean. Whether you do not have any allergy problems or you are prone to allergies, you must not tolerate the appearance of mildew, mold, dust mites and bed bugs. Even a person who currently does not have allergies can develop them if he or she is surrounded by allergens while sleeping. Of course, the same goes for bacteria.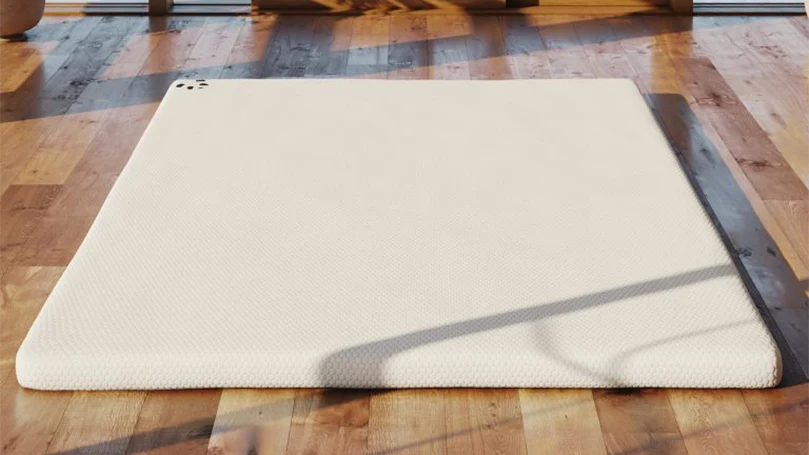 Unlike memory foam mattress topper that is made of gel infused memory foam, naturally hypoallergenic bamboo makes this cover antibacterial and an unsuitable environment for all micro organisms and parasites making it perfect for your bedroom. The memory foam bamboo combination is not going to get you got hot, which is important to majority of sleepers.
40% bamboo & 60% polyester
A mix of materials is often the best choice for covers, and so in this case. This sumptuously soft mattress topper cover is made of 40% bamboo and 60% polyester to combine the best of both worlds. Natural bamboo material is antibacterial and breathable and forms the outer layer. In addition, it is sourced from organic bamboo so we could confirm that the product's lifecycle from forest is true. The brand Panda is well-known for ethically sourced from organic examples meaning they operate in ethically sourced woods. The polyester is added to this cover as support layer to enhance durability and softness.
It would be desirable for each topper to have elastic straps. Elastic straps are there to firmly attach the mattress topper and thus prevent the topper from moving while you sleep. This is especially important for restless sleepers, because if the topper moves frequently then it will not be able to fully fulfill its function. Therefore, you can use basically this product on any memory foam mattress topper – just make sure that the dimensions are matching.
This cover contains elastic straps with which you will ensure that the topper is always in place and that you practically do not feel that you have put something over the mattress. Although straps are very elastic, they are also durable and strong.
The anti-slip layer is another level of security along with elastic straps so that your topper will not move once you put it on the mattress. You will easily recognize the anti-slip layer on this cover because it is coarse and has small rubber parts, that look like dots, which will further affect the prevention of slipping.
Eco friendly & sustainable
All Panda products are the favorite choice of all those who find it especially important to use eco-friendly products. Panda Bamboo topper cover is made of organic bamboo grown pesticide free and of controlled origin. This means that the forests that are the source of this bamboo are approved.
Also, throughout production, care is taken to reduce pollution. This memory foam bamboo product is also vegan-friendly and certified to Standard 100 by OEKO-TEX and this certificate guarantees that it is regularly and rigorously tested and no harmful substances were found during testing of this cover.
It is mandatory for a removable cover to be washing machine-friendly so you can wash and maintain it regularly, as we have mentioned many times that the cover gets easily soiled due to our skin shedding dead cells, sweat and more.
You can wash this cover in the washing machine at 40 degrees Celsius and then hang it until it dries. Do not tumble dry as this may damage it, but always allow it to dry completely naturally.
Review of Panda Bamboo topper cover
Panda Bamboo topper cover is a cover made for Panda topper and for protecting against skin irritation. Available in all sizes same as Panda topper, which includes both United Kingdom and EU sizes, this cover is soft and comfortable to sleep on. Also, it is very breathable, so you don't get hot while sleeping on it.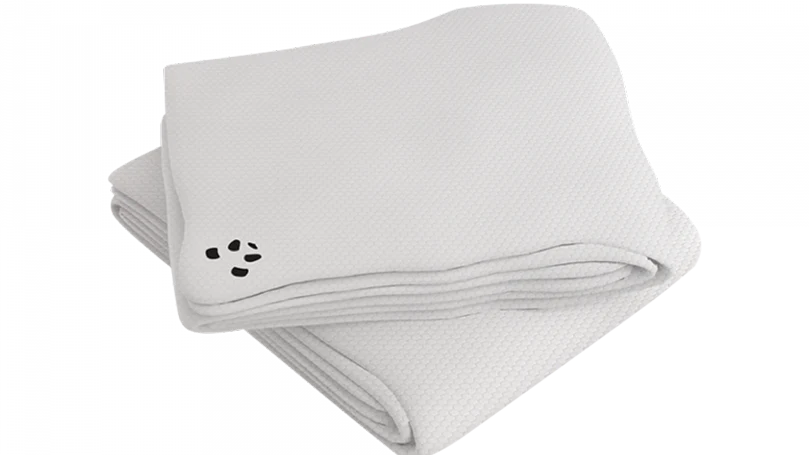 This product from Panda is made from a combination of bamboo, that is gentle on your skin, and polyester, and bamboo is grown without pesticides, under controlled conditions. Because of all this, as well as because bamboo needs a little water, this product is eco-friendly. Vegans can use it too. Cover is machine washable at 40 degrees C.
Breathable and naturally hypoallergenic
Inhospitable to micro organisms and gently protecting against skin issues
No trace of harmful substances and certified eco-friendly
Rigorously tested to check for toxic chemicals.
A bit of bamboo smell
Not suitable for tumble dry
Only fits Panda Memory Foam mattress topper, in fact.
What we like about Panda Bamboo topper cover
Panda Bamboo topper cover is very soft and comfortable
It is hypoallergenic bamboo, antibacterial and unsuitable for the development of all microorganisms, so it is also great for allergy sufferers and kids with asthma
Perfect for sensitive skin
Sustainable resource
Elastic straps keep it firmly attached to the mattress.
What We Didn't Like About Silentnight Miracoil Ortho mattress
Slight bamboo odour will be present when you unpack it
You won't be able to use it for another topper, or at least it won't be such a good fit.
Since it is a cover and not a waterproof protector, it is very expensive.
Consider Panda Mattress Topper if you are buying Panda Bamboo topper cover
Panda Mattress topper is one of the best toppers we have ever tested. Hydro-foam provides you with perfect comfort and support. Thanks to the gel infused memory foam as well as the breathable bamboo cover, this Panda memory foam topper is also suitable for hot sleepers.
You have 30 nights to try this memory foam bamboo mattress topper and delivery as well as return is free. You also get a 10-year guarantee for this bamboo mattress topper cover as well.
Do read our review on Panda Mattress Topper to learn more about it.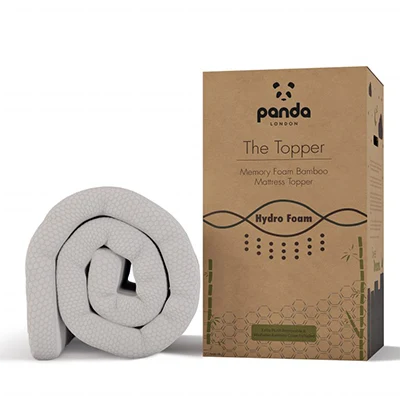 Orthopedically approved
Hydro foam for additional support
Well-known Panda memory foam bamboo combination
Naturally hypoallergenic bamboo cover
Free UK delivery & Free UK delivery returns
10-year guarantee
Capsules of cooling gel.
A bit of off-gassing
A bit more expensive when compared to similar products
No cot bed size available.
What makes this product better than some other similar ones?
When you are buying a mattress or a tpper, you might  want that it includes a removable washable cover. Some of don't have the naturally hypoallergenic bamboo covers so that's where your Panda Bamboo topper cover steps in. It is eco-friendly, vegan-friendly, soft, breathable and machine washable. All these features together make it overall one of the best covers on the United Kingdom market.
How did we test the product?
The most important thing when ordering Panda Bamboo topper cover is to choose the same size as your Panda topper. As the smallest cover size costs over £ 30 free delivery is included. You can expect it to arrive in 2 to 3 business days. You have a 30-night trial and the return of the product is also free if you are in the UK, although we see no reason why you would want to return this product, as you are obviously already pleased with the cover you got with the Panda topper.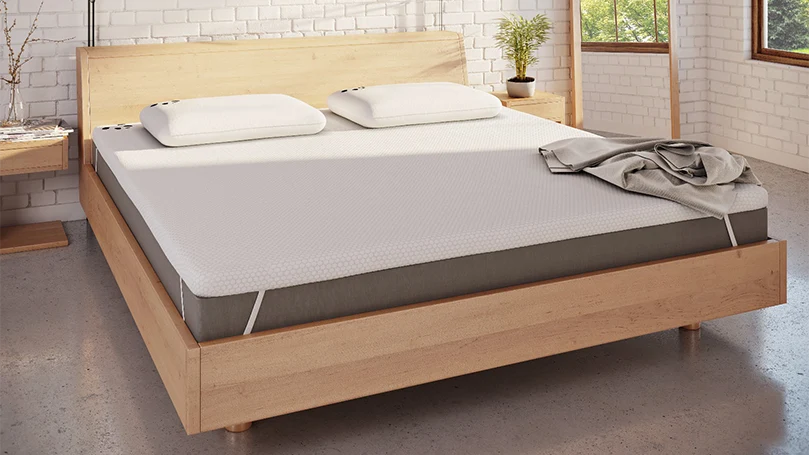 We unpacked our Panda Bamboo topper cover and aired it for a few hours to make the bamboo smell disappear, which is not very strong but you will still feel it without airing. Then we put it on our topper and of course since it is the original cover, the size is appropriate. Being a naturally hypoallergenic product, we gave it to one of our colleagues that suffers from allergies to test it. Did not have a single problem during the sleep!
There was no need to further test it compared to what we were doing when we tested Panda topper. The cover is comfortable and breathable, so you will be sure to be satisfied with its performance.
In the end, we washed it at 40 degrees Celsius and left it to dry, according to the instructions.
FAQs about your Panda Bamboo topper covers
In our FAQs section you can find answers to some of the most common questions customers have regarding this product that comes directly from forest to front door.
Is this memory foam mattress topper cover good for hot sleepers?
Yes, this foam bamboo mattress topper cover is very breathable and thus good for hot sleepers.
What is the size of this topper cover?
This Panda product is available in following 9 sizes: EU Single, Single, Small Double, UK Double, EU King, UK King,, King, Super King, EU Single, EU Double, EU king and EU Emperor.
Can I use Panda's topper cover on other mattress toppers except Panda's?
Theoretically you can, but this cover will fit perfectly only when you use it for a Panda topper.
How often should I wash my topper cover?
This is individual, but it is recommended that you wash it at least 1 to 2 times a month, and even more often. Parasites such as dust can ruin your sleep experience so wash it once or twice per month.
Where is Panda company located?
Panda London company is located in London.
How can I pay for this memory foam bamboo mattress cover?
You can pay via secure payments online or when the product is delivered to your door.