Panda Kids Luxury Memory Foam Bamboo Pillow for Toddlers
Toddlers are at a very sensitive age of development. Their bodies grow rapidly and their immune system is still forming. Due to this development factors, toddlers require a healthy environment and hazard free household. Presence of any hazardous chemicals or other harmful substances in toddlers' living environment should be strongly avoided. Their immune and respiratory systems are at a vulnerable stage, and they differ a lot from those of the adults. 
This is why Panda tried to design and produce a perfect pillow for toddlers. The one that is created from only safe materials and that respects healthy body posture. In this review, we are going to analyze how this idea went through. We are going to dig deep into all features of the Panda Kids Luxury Memory Foam Bamboo Pillow and rate his overall score.
This review is intended for parents of toddlers, as well as their family and friends who are interesting in buying a toddler pillow as a present. So, whether you are a parent or the friend of a family, in this review you can find everything you need to know about Panda Kids Luxury Memory Foam Bamboo Pillow.
The difference between toddler's and kid's pillow
Before we dive in deeper, we need to clarify the difference between the toddler's and kid's pillows. The biggest difference between these two is that a toddler's pillow ensures an appropriate support and comfortable sleep around baby's proportions while the body is developing. On the other hand, kid's pillow simply ensures adequate neck/shoulder support for your kids.  Therefore, you should give your toddler a toddler's pillow from 18 – 24 months old. Once the transition from a crib to a regular bed starts, it is the time to use a toddler's pillow.
Still, this is not a universal rule, but rather something that every parent should decide on his own. However, there is one definite sign that shows your toddler needs a pillow – the moment when toddler's shoulders become wider than his/her head. Realistically, there is no need for the toddler's pillow before this period.
We have reviewed both Panda memory foam Bamboo toddler's pillow as well as Panda kids memory foam bamboo pillow 4+ years so do not mix these two.
Panda became widely famous for their care for the environment and the use of the natural materials. All of their products are both eco-friendly and hypoallergenic. Materials that this company uses in manufacture originate from the forests of Southeast Asia.
The company believes that the bamboo viscose fabric is a perfect material for pillow and mattress production. This material is naturally anti-bacterial and anti-fungal. Plus, the material is highly eco-friendly. This material in the sleep industry doesn't induce any harm to nature and our environment.
About Panda Kids Luxury Memory Foam Bamboo Pillow
Panda Kids Luxury Memory Foam Bamboo Pillow is a hypoallergenic, safe, tested and health-oriented product. It is eco-friendly, breathable and durable. The shape of the pillow prevents flat head syndrome. Pillow's firmness level secures adequate support for toddlers' head and neck. Safe design reduces the comfortability of the pillow, but that shouldn't pose as a too big issue.
The pillowcase is a breathable and easy wash, while the zipper on the pillow is placed in a way that prevents harm. The design of the product is smart, modern and elegant. Panda Kids Luxury Memory Foam Bamboo Pillow is also a great choice for toddlers who have a sensitive respiratory system, a sensitive immune system, suffer from allergies or have sensitive skin or skin health issues.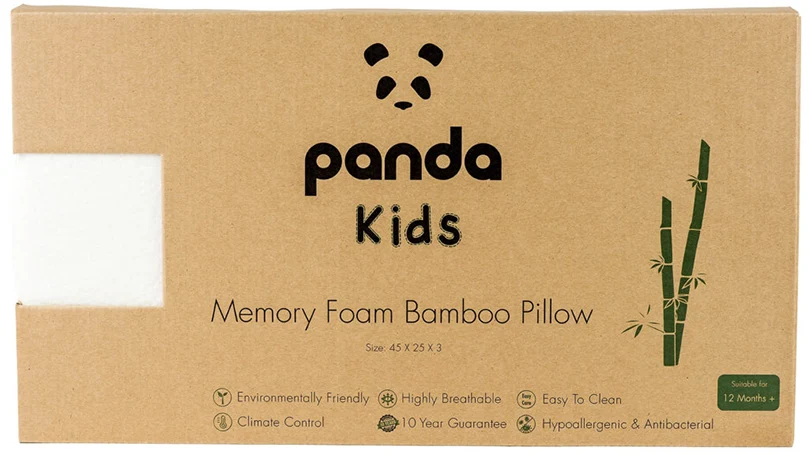 Panda Kids Luxury Memory Foam Bamboo Pillow is made according to OEKO-TEX standard 100. For those who are not yet acquainted with this policy, it means that the product in question doesn't have any health-harming materials.
The pillow is made out of bamboo memory foam. The material is super soft, hypoallergenic, antibacterial and antifungal. Also, the material is eco-friendly and natural. It increases the durability of the product and it's not prone to width reduction or the change in shape.
Thanks to the thickness level of bamboo-based fabrics and foam, this product is easy to clean. It airs quickly, dries quickly and it can be spot cleaned or whipped.
The curvy shape of this pillow is designed to reduce the risk of the flat head syndrome. This is one of the best and the most important features of Panda Kids Luxury Memory Foam Bamboo Pillow. The unique designed is tested, and the results confirm the high rate of prevention of this dangerous syndrome.
Now, besides this great feature, this Panda pillow also has a firmness level that is suitable for toddlers. Babies and toddler require sleeping surfaces that are firmer and more stable. The usual firmness level of pillows for the adults cannot be applied to the toddler pillow design.
So, Panda Kids Luxury Memory Foam Bamboo Pillow does provide adequate support for toddlers. It keeps their head, shoulders and spine in a healthy alignment.
This is the most sensitive feature of this pillow. While Panda Kids Luxury Memory Foam Bamboo Pillow provides support and secures a hypoallergenic sleeping surface, the comfort level can be discussed.
The pillow is flat and somewhat firm. This is done intentionally so that the product's health benefits can be boosted. But, at the same time, this does decrease the comfort of the pillow.
Now, what is actually deal with this? Toddler pillow needs to be firmer in order to be healthy, this pillow's design is a good choice. But, some toddlers may need an adjustment period to this pillow due to its unique shape. However, this doesn't need to be discouraging.
After an analysis of a great number of sleeping experience of various toddlers on this pillow, some optimistic conclusions were made. The major part of toddlers got used to the pillow during the first few nights. One part needed more time, and some didn't adjust to it at all. So, the fair conclusion here is that it all comes to personal preference.
Panda is aware that every toddler also has their unique taste, so the pillow comes with a 30 days trial.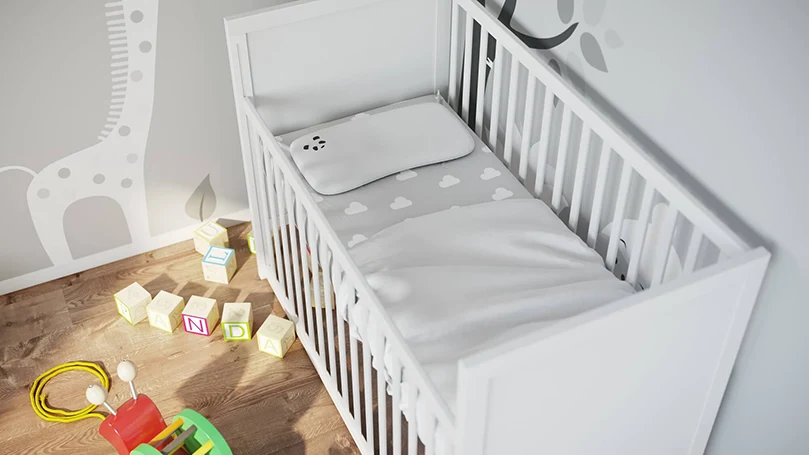 The breathability of Panda Kids Luxury Memory Foam Bamboo Pillow is this product's superpower! So, the pillow gets maximum stars in this section. The pillow is made of natural materials, it is highly breathable and hypoallergenic. If you are not quite familiar with hypoallergenic properties, make sure you read the benefits of the hypoallergenic materials at our blog section.
As an extra bonus, this product has a fantastic temperature regulation feature. It remains cool during the summer and retains warmth during the winter. The pillow doesn't absorb moisture or odors. Plus, the pillow is easy to maintain and you can wash the pillowcase at low temperatures.
The issue with unpleasant smell after unpacking is quite frequent with this product. Luckily, its easy to solve. Bamboo-based materials air quickly and the unpleasant smell disappears completely.
Panda Kids Luxury Memory Foam Bamboo Pillow falls into the category of highly durable sleeping products. The warranty on this pillow is 10 years. You can register for your 10-year guarantee here. Natural materials, especially bamboo-based ones, tend to retain initial shape and general condition for a long time. So, no worries about durability.
As one of the safest sleeping products for toddlers on the current market, this pillow comes at a seriously reasonable price. The pillow is breathable, supportive, well-shaped and eco-friendly. Issues may occur with comfort and smell. So, the price-quality ratio for Panda Kids Luxury Memory Foam Bamboo Pillow is just right!
| | |
| --- | --- |
| MATERIALS | Memory Foam pillow. The pillow's materials are bamboo-based, highly breathable, durable, hypoallergenic and eco-friendly material. The pillowcase is made of bamboo Fibre and polyester (40% Bamboo Fibre: 60% Polyester ratio). |
| SMELL | The issue with smell is frequent, but not unusual. Airs out quickly. |
| PRICE – QUALITY RATIO | Just right! |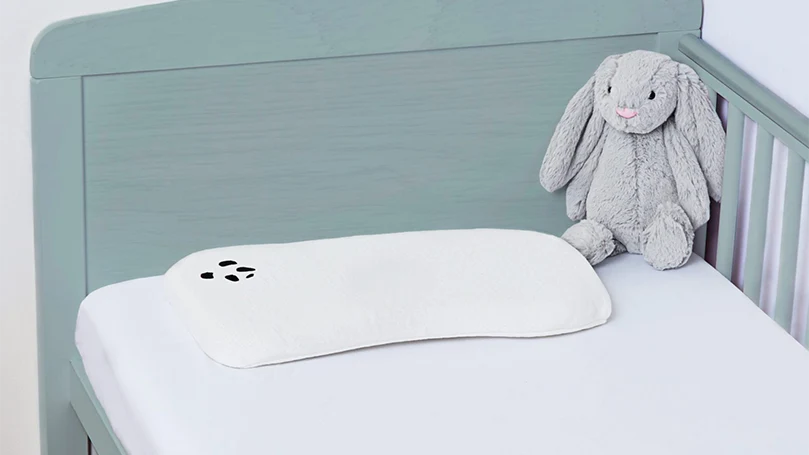 Trial period, warranty, shipping and refunds
Panda Kids Luxury Memory Foam Bamboo Pillow comes with 10 years warranty period and 30 nights trial. Panda products come with a free delivery for the UK, but this product may not qualify for it due to its price. Consider combining this product with your other order from Panda, or simply contact the customer support for additional help on the matter.
If your toddler has a difficult time getting used to this pillow, contact customer support and inquire about possible different versions of the product.
| | | |
| --- | --- | --- |
| Size | Dimensions | Weight |
| One size | 53 x 38 x 6 cm | 1 kg |
When buying products for their babies and toddlers, parents put safety and health concerns first. Panda Kids Luxury Memory Foam Bamboo Pillow is definitely one of the products that qualify as safe and suitable for the youngest. Now, for the finale of this review, let's revise what are the best qualities of Panda Kids Luxury Memory Foam Bamboo Pillow, and, what are some flaws.
The absolute pluses of this pillow are:
Breathability
Hypoallergenic materials
Proper support and the shape that reduces flat head syndrome
Eco-friendliness
Easy maintenance
Long trial period
Some downsides are:
Some toddlers may need time to get used to the comfort level
Issue with smell
All in all, Panda Kids Luxury Memory Foam Bamboo Pillow shows a safe, high-quality product. It is a great choice for toddlers who suffer from allergies, asthma or have sensitive skin. Also, Panda Kids Luxury Memory Foam Bamboo Pillow makes a great present! In addition, you can combine it with Eve baby cot mattress to give your toddler the best sleeping experience!