Panda Kids Bamboo Cot Mattress Review
You always want the best for your children, so when it comes to picking out the cot bed – things can get a bit overwhelming. To save you some trouble, we thought we'd give you a chance to read our Panda Kids Bamboo cot mattress and see for yourself whether this is the perfect choice for your little rascal.
Who is Panda Kids Bamboo cot mattress for?
Panda Kids Bamboo cot mattress is a cot/cot bed mattress aimed towards newborns and kids up to the age of five.
Like any other great cot bed mattress, Panda Kids Bamboo cot mattress is made from the highest quality, anti-allergenic memory foam. 
Both comfy and supportive enough, Panda cot mattress will help your little one go through a full night of restful sleep without getting all fussy and frowny, allowing both of you to start a new day with a smile.
Add a header to begin generating the table of contents
What do we use this product for?
A cot bed mattress is not like your regular mattress. Most of the time, a cot mattress such as this one from Panda will be both waterproof and slightly firmer, as all mattresses for small children should be.
On that note, you and every other loving parent can expect to use this mattress in the following fashion.
Use it as a perfect sleeping surface, fitting every standard cot and cot bed
Use it as a

mattress

for both your baby and a small child up to the age of five
Use it as a completely hypoallergenic sleeping surface, protecting your child from common household allergens that could harm their health
Use it as a brilliant transition

mattress

before introducing your child to a kiddy

mattress

.
Features you should know about Panda Kids Bamboo cot mattress
Now that we've gotten familiar with how we can use the Panda Kids Memory Foam Bamboo mattress – allow us to tell you a bit more about what makes this memory foam mattress great and different from all the others.
Panda Kids Bamboo cot mattress consists of six separate and diverse layers. Instead of multiple foam layers, Panda combined different materials and construction layers to reach the top quality. The top layer is a plush, removable bamboo cover designed for easy maintenance, temperature regulation, and unparalleled comfort. Underneath it, we have waterproof, nano-tech light and breathable layer, protecting the mattress from accidental spills and child-like mishaps.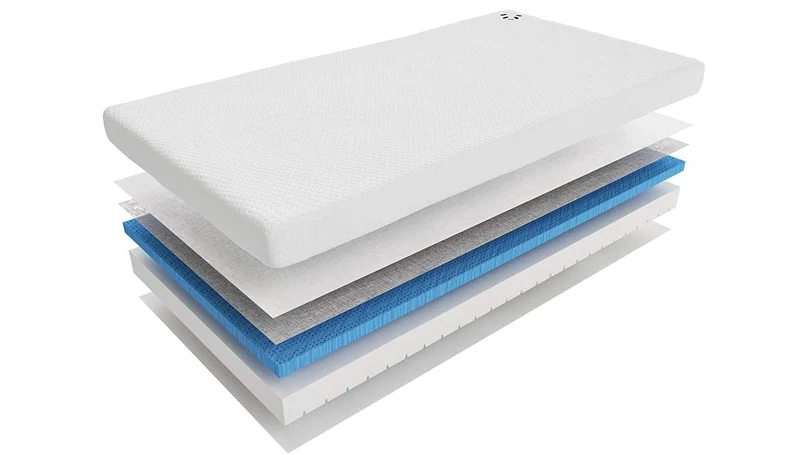 Next up, we have a breathable mesh internal protector, offering another layer of protection for the Hydro-Foam – gel-infused memory foam layer located underneath it. Finally, we have an AirFlow foam base, sitting on top of the Anti Slip layer, keeping the cot mattress securely in place, no matter how rowdy your child gets.
Hydro Foam - 3rd generation of memory foam
Panda has put in a lot of work perfecting their foams and memory foam layers so they had created hydro foam. The 3rd generation of memory foam, Hydro Foam, is the direct result of that hard work. This airflow foam layer is memory foam infused with miniature gel capsules. As is often the case with gel-infused foams, Hydro Foam prevents overheating, thus solving the biggest issue memory foam mattresses face. 
Apart from gel capsules, Hydro Foam also comes with symmetrical, equally distributed ventilation holes across the entire surface of the layer, ensuring proper air flow and a cool and pleasant sleeping experience. durable waterproof layer
Nano TPU waterproof layer
Wetting the bed is perfectly normal for children under the age of five, but what is not normal is having to throw out your mattress because of it. With that in mind, Panda equipped their Panda Kids Memory Foam Bamboo mattress with a thin, light, and waterproof layer created using the latest nanotechnology.
 Not only will this waterproof layer protect liquids from soiling and ruining the foam base of the mattress, but it will also inhibit the growth of bacteria and fungi, ensuring that your child sleeps in a perfectly safe and sound environment. 
A perfectly engineered foam base of a cot mattress is not only supportive but the airflow foam ensures that excessive heat is not trapped inside. AirFlow foam base of Panda Kids Bamboo cot mattress is great at two things – improving the airflow and equally distributing weight. Allowing for better air circulation at the mattress' core will allow your child to sleep peacefully during the night without causing them to overheat and get fussy. On the other hand, the brilliant pressure-relief and weight-distribution capabilities of AirFlow foam will allow your child to stay asleep in perfect comfort until the break of dawn.
Keeping the cot bed nice and clean is paramount, which is why Panda Kids Bamboo cot mattress comes with a removable plush bamboo cover. The removable bamboo cover is incredibly easy to keep clean. All you'll have to do is unzip it, toss it into a washing machine, and wash it at 30 degrees Celsius. Another neat benefit of dealing with bamboo is that the fabric will dry twice as fast as cotton, allowing you to wash and dry the cover in a matter of hours.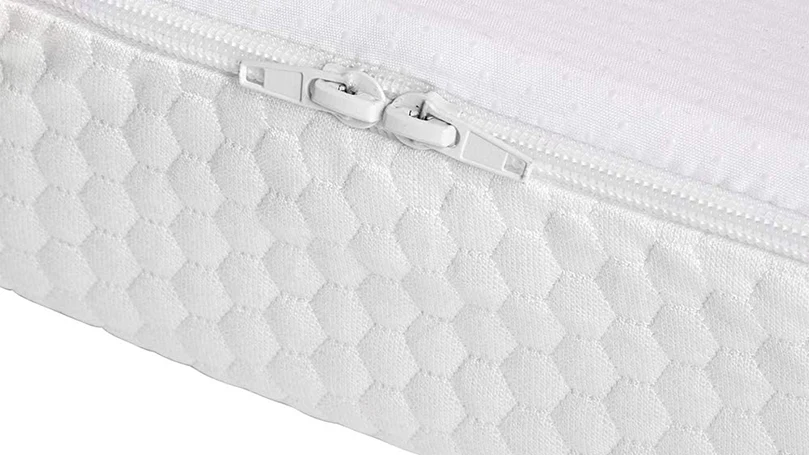 Also, you won't have to iron it, as bamboo is wrinkle-resistant as they come. What's also neat about it is that it is naturally thermoregulating. Bamboo fibres will keep your little one warm during the chilly nights and nice and cool during the warm ones.
We all know how children can get rowdy during the night or even during the day when they spend their time in their bed. Because of it, despite making their mattresses fit any standard cot bed, Panda decided to make the bottom half of their removable cover anti-slip. The bottom portion of the bamboo cover is embedded with micro-silicone grips that will stick to any surface, eliminating any unwanted movement keeping the mattress securely in place at all times.
Bamboo hypoallergenic properties
Bamboo fibres are not only naturally thermal regulating, but they're also naturally anti-allergenic and anti-bacterial. Bamboo fabric is nature's finest anti-bacterial fibre, and as such, it will protect your child from sharing the bed with all common household allergens like dust mites.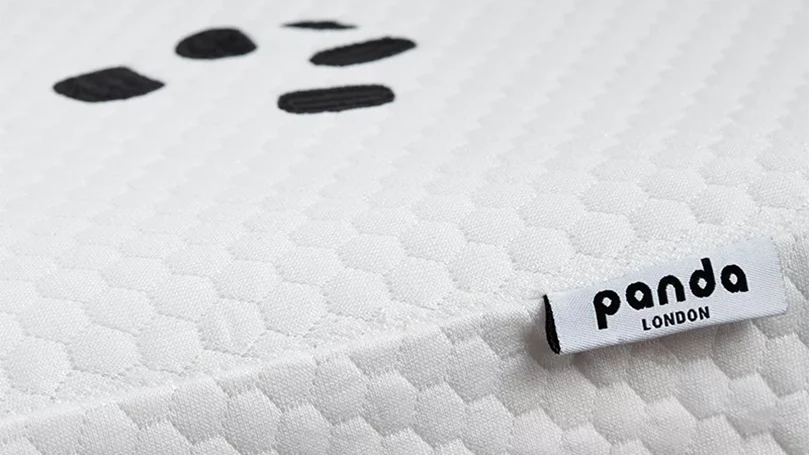 At the same time, a bamboo cover will also protect your baby from developing any allergen-related skin irritations or allergies. As such, Panda Kids Bamboo cot mattress naturally gives fantastic protection and therefore it is suitable for children suffering from eczema, sensitive skin, or hay fever caused by dust mites. In addition to bamboo's perfect ability to ensure optimal airflow, this surface improves air flow.
Sustainably & ethically manufactured
All materials used in the manufacturing process of this mattress are sustainably and ethically sourced and manufactured – starting with bamboo. Bamboo is one of nature's most sustainable resources, which is one of the reasons why Panda decided to equip their cot bed mattresses with bamboo covers. Additionally, manufacturing the bamboo cover requires over 60% less water compared to a standard cotton cover used by many other manufacturers.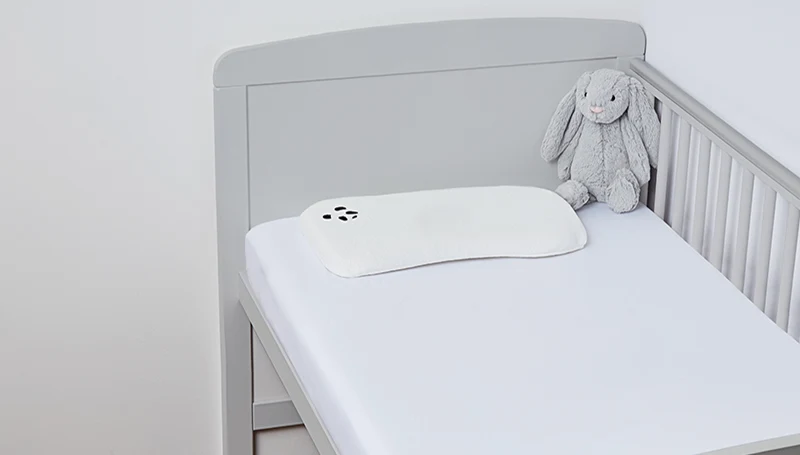 To ensure that every single piece of fibre used in the manufacturing process is perfectly safe for human use, Panda puts their products through rigorous testing and examination. As is the case with all their other products, Panda Kids Memory Foam Bamboo mattress is according to OEKO-Tex Standard 100 standard. 
Loosely translated, that means that every piece of this mattress has been tested for potentially harmful toxins and chemicals and has been proven completely void of any. As such, it is perfectly safe and suitable to be used by babies and children, even if they have sensitive skin.
30-days night trial & 5-year warranty
As a guarantee of the quality and longevity of their product, Panda grants you a 30-night trial and a 5-year warranty for their Panda Kids Bamboo cot mattress. If you are not happy with Panda Kids Bamboo cot mattress, you may return it within a 30-day period – completely free of charge. 
Panda will even handle the shipping costs. As for the 5-year warranty, if anything were to happen to your Panda Kids Bamboo cot mattress, that is not the result of direct negligence and misuse – Panda will issue you an appropriate refund.
Review of Panda Kids Bamboo cot mattress

Just from the looks of it, you can tell that Panda Kids Bamboo cot mattress is not your regular cot bed mattress. The cover is professionally stitched and built, sporting a nice honeycomb texture with a discreet Panda logo in the upper left corner. The zipper of the removable cover is nicely tucked away, so you don't have to worry about your child scratching, cutting, or in any other way injuring themselves with it.
The mattress is available in two standard sizes – cot and cot bed. The "cot" is 120×60 cm, and the "cot bed" is 140×70 cm. Both mattresses are 10 cm deep. We certainly weren't able to sleep on it, but from our years-long experience, we were able to determine that the foams used for this mattress are of the highest quality. They're perfectly comfy and supportive. They're bouncy and responsive enough not to limit your child's movement but also not as firm as to make your child uncomfortable.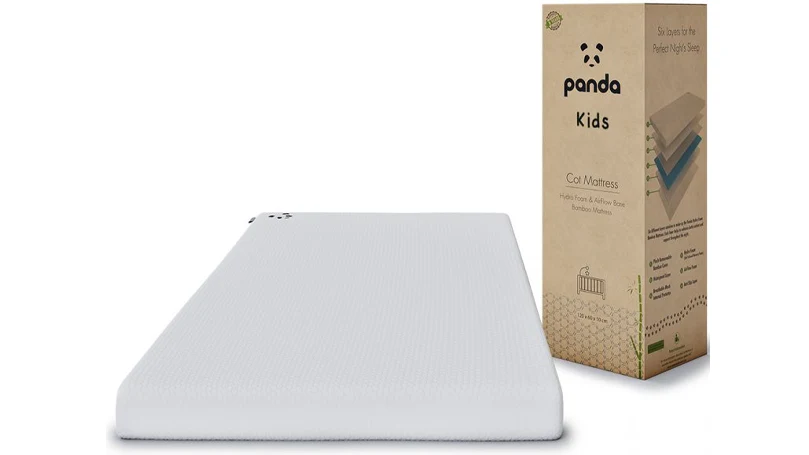 The waterproof nanotechnology layer does the trick, keeping the foams dry and stain-free, even after several spills. The cover is easy to remove and even easier to put back on. It is also very quick to dry, won't wrinkle, and it won't shrink even after repeated washing. Finally, the mattress will arrive at your door in a recycled and recyclable cardboard box, so if staying environmentally friendly is your jam – you'll get to do that as well.
Size: 120 x 60 cm; 140 x 70 cm
Type: Memory foam/bamboo
Depth: 10cm
Waterproof: Yes.
Excellent value for money
5-year warranty and a 30-night trial

Waterproof layer

Removable, machine-washable cover
Thermoregulation
Anti-slip bottom
Suitable for kids up to the age of five
Anti-bacterial and anti-allergenic.
A bit expensive when compared to similar products.
What we like about Panda Kids Bamboo cot mattress
A

kids' mattress

with all the features every parent and child could want.
Excellent build and material quality.
Seems durable enough to last for more than one child.
A

waterproof layer

is always a welcome addition to a

kids' mattress

.
What we didn't like about Panda Kids Bamboo cot mattress
The price tag might be the only thing to put shoppers off of this product.
What makes this product better than some other similar ones?
Most cot bed or kids' mattresses lack a feature or two, but Panda Kids Bamboo cot mattress has them all. It's comfortable and supportive enough for both babies and small children. It's anti-bacterial and anti-allergenic. It's thermo-regulating. It's waterproof. It's fitting for any cot bed. It's long-lasting and durable. What more could you possibly ask for? Genuinely one of the most complete, all-around kids' mattresses on the UK market.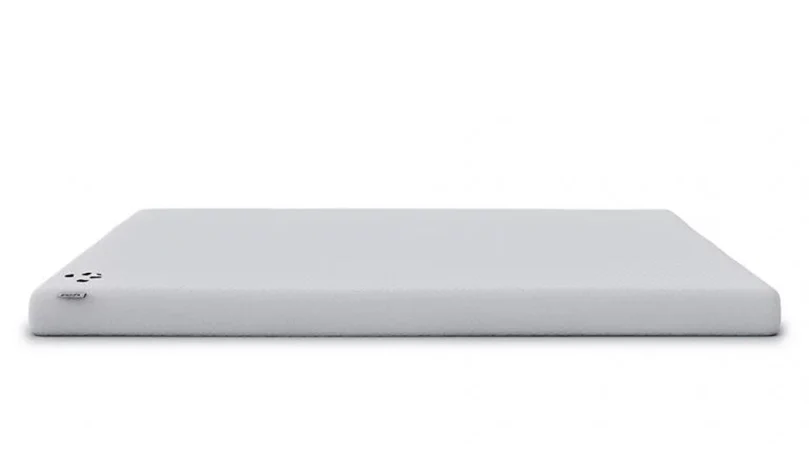 How did we test the product?
Before we could begin our tests – we first had to get our hands on the product. Fortunately, ordering Panda Kids Bamboo cot mattress was very easy. All we had to do was visit the website, place an order, and two days and one free-shipping later – the mattress was at our studio.
Testing the kids' mattress is not like testing any other mattress, topper, or sleep-related product. Since we can't very well lie on top of it or sleep on it, nor can we gather 'round children and ask them for opinions, we have to take to other testing methods.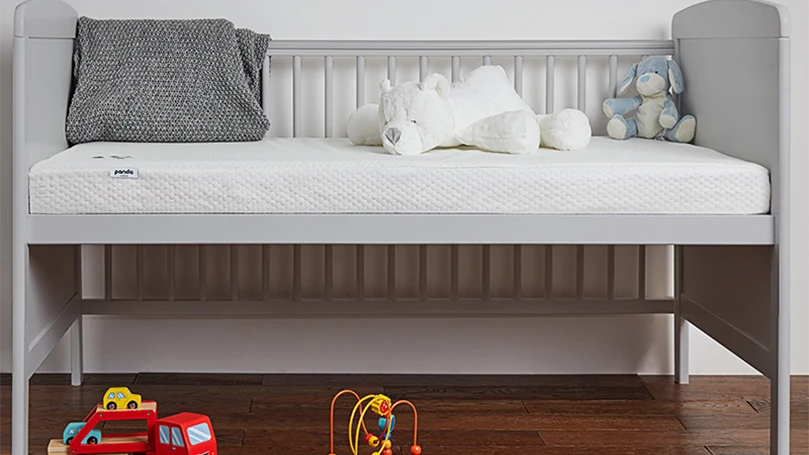 Naturally, we began with a visual inspection of both the packaging and the product to determine whether there were any damages. Fortunately, there weren't any. Everything was in perfect order. The stitching was great, the zipper was well-hidden and wasn't getting stuck, and the mattress felt sturdy and comfortable enough for a child. Also, we didn't get any foul off-gassing upon unpacking, which was great.
We tested the waterproof layer by spilling some water on top of the mattress and leaving it to sit there for a little bit. And, while the cover was noticeably wet – the foam wasn't. So, mission accomplished.
After that, we did some stress tests with our trusted roller in order to see how will the mattresses fare over time, and to no one's surprise – it did remarkably well.
A few cover removals and washes later – the testing was done. Then, all that was left to do was for us to write this review.
FAQs about your Panda Kids Bamboo cot mattress
In the end, we wanted to wrap things up by answering some of the most frequently asked questions submitted by concerned and loving parents all over the UK and the world.
Is Panda Kids Bamboo cot mattress made 100% out of bamboo?
No. The cover of the mattress is made from bamboo fibre, while the mattress itself is made from 3rd generation memory foam.
Does Panda Kids Bamboo cot mattress contain any harmful substances?
No. Panda Kids Memory Foam Bamboo mattress is completely void of any harmful substances, to which the OEKO-Tex certification testifies.
What is the appropriate age of kids for Panda Kids Bamboo cot mattress?
Panda Kids Memory Foam Bamboo mattress is made for kids up to the age of five. However, for safety reasons, we'd suggest putting the cot bed on hold until your child is at least four to six months old.
Does Panda Kids Bamboo cot mattress have off-gassing issues?
No. There will always be some form of foam odour present with memory foam mattresses, but to call a mild odour such as this one an issue would be a gross overstatement.
Does Panda Kids Bamboo cot mattress have an unpleasant bamboo smell?
No. There is no such thing as an unpleasant bamboo smell. Bamboo fibres are completely void of any odours – pleasant or unpleasant.
How long does it take for Panda Kids Bamboo cot mattress to expand fully after unpacking?
The mattress will come vacuum-sealed and wrapped, and it should fully expand in just a few hours.