Panda Kids Memory Foam Bamboo Pillow (4+ Years) Review
Choosing the perfect pillow for the youngest is not an easy task. But, it seems that Panda just made it easier with their Panda Kids Memory Foam Bamboo Pillow. After the company launched their Standard Bamboo Pillow, the Kids version followed soon after. Panda Kids Memory Foam Bamboo Pillow is highly breathable and comfortable pillow that is designed especially for children. Plus, the product comes at an amazing price, 10-year guarantee and a long trial period.
One of the first things that have to be pointed out about Panda Kids Memory Foam Bamboo Pillow is its amazing level of breathability. This feature makes the pillow a great choice for children who suffer from allergies or have sensitive skin. Data shows that up to 80% of children who are prone to asthma issues are also allergic to dust mites. More than 1 million children in the UK only suffer from asthmas, and around 80% of UK children experience an issue with eczema. Young children, even when are not highly prone to allergies, still are more sensitive to chemicals and various allergens then the adults are. Keeping a child's sleeping environment hypoallergenic and free from health-hazardous materials is of vital importance.
This said we are glad to present a review on a hypoallergenic, antibacterial and eco-friendly Panda Kids Memory Foam Bamboo Pillow. So, let's discover all cool things that this product has to offer!
Panda worries about their customers' comfort and health, but this company also worries about the environment. Products made of bamboo fibre aren't just good for the consumers, they are good for nature. Picking the material that is at the same time good for the people and for the environment and isn't too expensive sounds like a hard job, right? Luckily, Panda found the solution and brought it to us from faraway forests of Southeast Asia.
You can find a wide selection of products on Panda's website. From pillows, beddings to toppers, you can browse for a lot of interesting bamboo products. Prices are very affordable, and the company has a long guarantee and trial periods. Returning items is easy, and their customers support is very helpful and friendly. So, visit the Panda website and give a treat to you and to the environment!
About Panda Kids Memory Foam Bamboo Pillow
Panda Kids Memory Foam Bamboo Pillow is breathable and easy to clean pillow made from the naturally antibacterial material. The pillow is comfortable and its width is specially designed to suit young children.
Gentle foam reacts to the shape of the head and makes the pillow very comfortable, regardless of the sleeping position. The pillow is highly supportive and promotes healthy posture. The cover is easy to clean and airs and dries very fast.
Children who would benefit the most from this product are those who are prone to hay fever or different allergy manifestations and symptoms. Also, the product is very beneficial to children who easily get irritated skin. The pillow is very light with a compatible size, so it's quite practical for travelling.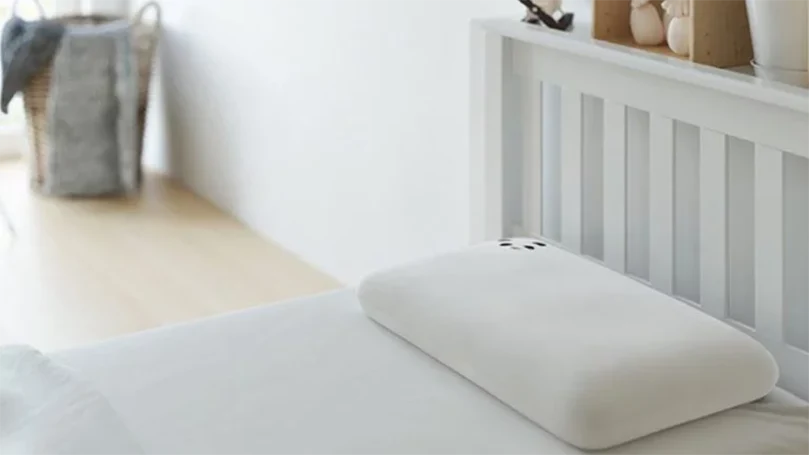 The pillow is made of memory foam and, of course, Panda's signature bamboo. This combination of the materials makes this product safe and quality choice for young children. Bamboo is highly hypoallergenic and can reduce the frequency and intensity of allergic reactions.
With its 10 cm of width and responsive memory foam, this pillow offers a high level of support for children. The pillow falls into a category of pillows with medium support: not too firm, not too soft, not too high, not too flat. The pillow nicely balances out healthy support and comfort. This makes it easy for children to get used to memory foam type of pillows.
The comfort level with Panda Kids Memory Foam Pillow is similar to one of the standard Panda pillows for the adults. Panda's pillow that is designed for toddlers is a bit faster and firmer. But, this pillow doesn't share these features. It resembles Panda's pillow for the adults and has more width and softness then the toddler pillow does.
Panda Kids Memory Foam Pillow is soft, tender and comfortable. It responds well to shapes and pressure. Due to this feature, it can be of great help to small children who toss and turn a lot at night.
All Panda products are breathable, temperature regulating and easy to air. The same case is with Panda Kids Memory Foam Pillow. This pillow is great for all children who have problems with allergies, asthma or sensitive skin. The cover is easy to clean and air. The pillow allows free airflow and reacts to the temperature. During the summer the pillow is cooler, during the winter it's warmer.
This product, same as some other Panda products, can have an issue with smell. It is not frequent, but it is possible. But, Panda Kids Memory Foam Bamboo Pillow's materials are breathable and easy to air. So, you can get rid of the smell very quickly and with no effort.
The product is very durable and Panda likes to point this out with their 10-year guarantee on this pillow. With proper maintenance, this pillow can be a part of your child's whole childhood. Fabrics made of bamboo are quite resilient and easy to keep clean. So, in this section, the pillow gets all stars!
Panda Kids Memory Foam Bamboo Pillow has a quite good price-quality ratio. The product is safe, tested, hypoallergenic comes with a free delivery, free trial and long guarantee period. Comfy and supportive, it can bring sweet dreams for many years, Also, the product is eco-friendly, let's not forget that!
| | |
| --- | --- |
| MATERIALS | The pillow is made of bamboo fabric, breathable and eco-friendly material. |
| SMELL | The issue with smell can happen with this product. |
| PRICE – QUALITY RATIO | Just right. |
Trial period, warranty, shipping & refunds
If you wish to return your Panda Kids Memory Foam Bamboo Pillow, you can do it quite easily, same as any other Panda product. Panda's customer support is very helpful and they will walk you through the whole process. The 
guarantee period
 for this product is 10 years. The trial period for Panda Kids Memory Foam Bamboo Pillow is 30 nights. Free delivery option for the UK is available.
| | | |
| --- | --- | --- |
| Size | Dimensions | Weight |
| One size | 53 x 38 x 10 cm | 1.36 Kg |
It's not easy to shop for children – you wonder whether the product is safe, whether the child is going to get used to it or even like it. With Panda Kids Memory Foam Bamboo Pillow shopping for children is much easier. First, the product is safe and good for overall health. Second, the memory foam is not too firm, so children can get used to a supportive pillow quite fast. And third, if your child doesn't like the pillow after 30 days, you can return it. But with Panda's logo, it will probably love it!