Panel Bed Frame - 101 Guide
When furnishing a new bedroom or remodeling an old one, choosing a bed frame is one of the most important things as it affects both the look and the functionality. Panel bed is very popular type of bed frame.
In most cases, the bed frame is the focal point of the bedroom. Not only because it is a large piece of furniture, but because it generally looks very attractive. However, it is necessary to know the importance of the bed frame is much greater than just aesthetic.
Bed frame should provide you with support, stability and last a long time. So when buying bed you have to choose the best type and pay attention to the many features of the individual model. Panel bed is one of the most popular and simple types, and in our guide you can find all the key information.
Add a header to begin generating the table of contents
What is a panel bed frame?
When you imagine a bed, the probability is quite high that you will imagine a panel bed frame even if you don't know that that type of bed frame is called panel. The category of panel beds includes a large number of beds, practically all of those which have a four-wall frame. It consists of a headboard, sturdy base for mattress support and two side panels. Unlike upholstered bed frames, these often come with a plain wood instead of an upper layer of fabric that is sewn into the headboard.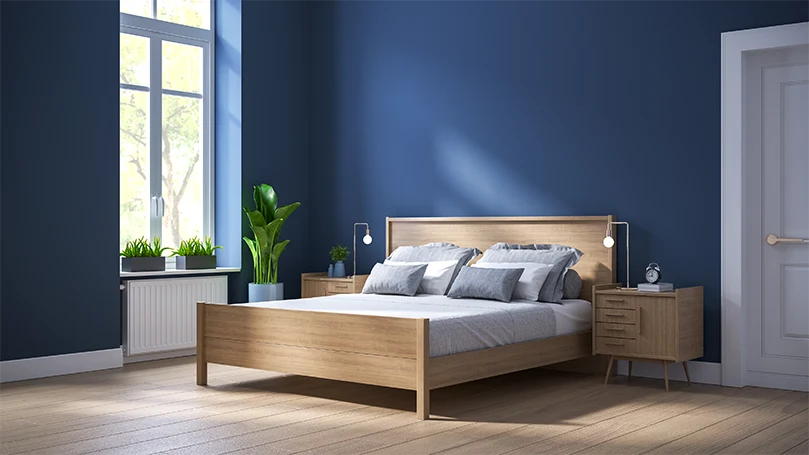 The headboard is most important for the look of the panel bed, so you will often see that the headboard is carved or decorated in another way. There are also panel bed frames with footboard but such models are not very common. Slatted is highly stable. Boxspring is not always necessary, and we'll talk about that later.
Both wooden and metal panel beds are available, but wooden ones are more often. You can choose the colour and style you want to fit into any interior. Panel beds are also great as space saving furniture because you can use the empty space below as storage.
What is the difference between a panel bed and a platform bed?
Panel beds are most often compared to platform beds, and since there are several major differences between them, it is not difficult to distinguish these two types of bed frames. The platform bed is much lower than the panel bed, practically sits on the floor and looks minimalist. Also, it rarely has a headboard and almost never has a footboard nor the side panels.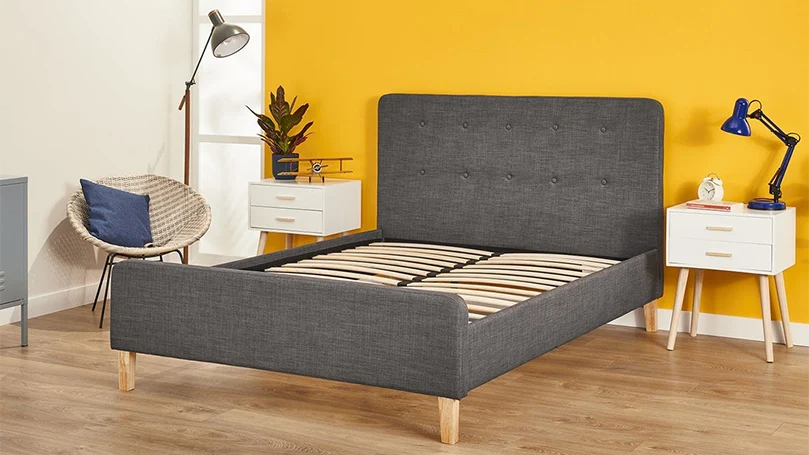 When you buy a platform bed you don't need to buy boxspring, unlike with a panel bed. Platform beds are usually a bit more expensive than panel beds and are chosen by those who have a smaller bedroom, while panel beds are a great choice when you have enough space and are not limited by budget. That shouldn't be a problem since panel beds are not among the most expensive bed frames neither.
What advantages does panel bed frame offer?
You remember we said that when you imagine a bed, you will probably think first of a bed that is a panel bed or very similar one. The reason behind that is very simple and clear. Panel beds are so popular because they have many advantages. It should also be mentioned that they hardly have any disadvantages, which is another reason that puts them at the very top of the list of best-selling bed frames. We are going to mention some of the most important advantages like number of parts and additional storage space.
Boxspring is not always required
Although in 90% of cases you will need box spring, there are models that are designed to support you and the mattress without the help of box spring. Our recommendation is to still take advantage of box spring to have the best possible night's sleep. But if you do not want to spend extra money on buying box spring, then you should know that this does not preclude buying a panel bed in the first place.
You will probably need to assemble the bed frame you buy. But you probably don't have enough skill or tools to assemble a piece of furniture that has numerous parts. So you will be happy to hear that the average panel beds have only a few parts. This means that with the help of one person you will be able to assemble it relatively quickly, even though you are not an expert. This way you will save money because you will not have to pay extra for the assembly.
This type of bed frame has been used for over 100 years, which means it was designed in another era. Of course the design is significantly adapted to 21th century, but the elegant style is retained. That is why it is a great fit for both modern and traditional bedrooms.
Storage space is not literally part of a panel bed as is the case when you buy an ottoman bed frame. There are panel beds that have drawers, but the storage space is usually empty space under the bed. And since this is a bed frame that is taller than some others, it gives a plenty of space for boxes.
What is the most common material for panel bed frames?
Panel bed frames are no different from other bed frames you can find on the UK market today when it comes to material. Almost all bed frames are made of wood or metal. Both materials have advantages and disadvantages, and also not every wood or every metal is the same.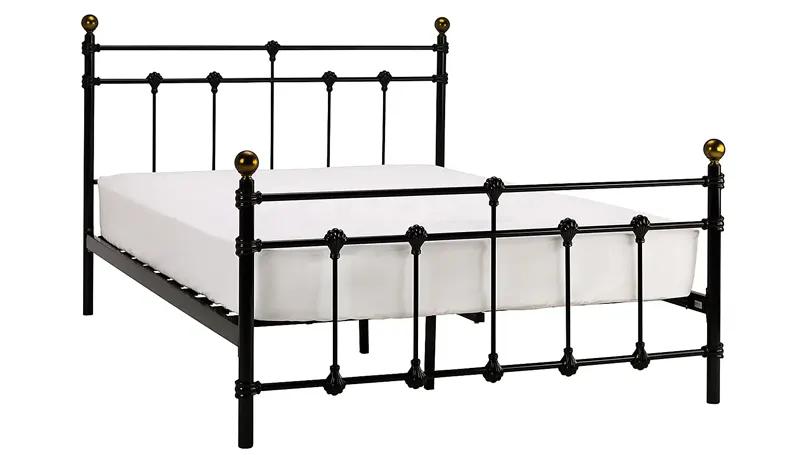 Hardwoods like oak and mahogany are more expensive and offer fantastic durability and attractive appearance, while engineered wood is cheaper but with significantly shorter service life. Metal bed frames are generally less different than wooden bed frames, but there are certainly differences in types of metal as well as in craftsmanship.
Conclusion - is the panel bed for me?
We assume that you will start furnishing the bedroom with a bed frame. If you did not plan to buy a bed frame first, then our advice is to do it that way because it will be the centerpiece of the whole room and not a closet or something else.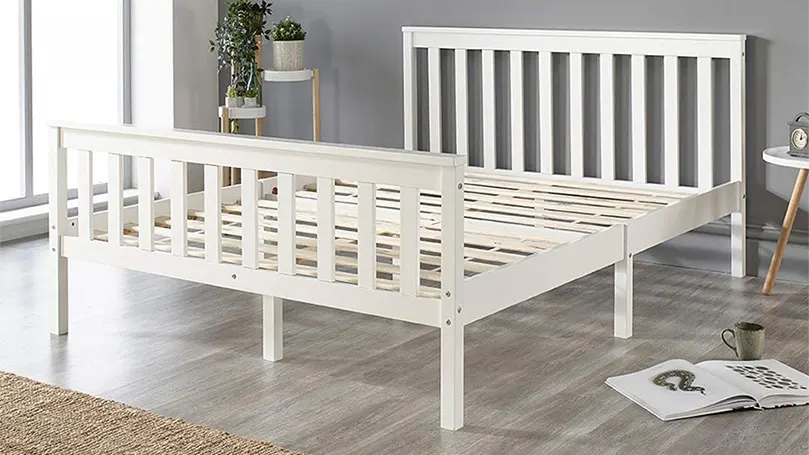 This will also make it much easier for you to choose a bed frame. When you imagine how you would like your room to look, whether sleek and minimalist or more luxurious with a big headboard, then this will significantly narrow your choice. If you don't mind buying a box spring, then a panel bed is a great choice because it is stable, elegant and you will have storage. If some other things are more important to you, then keep looking and comparing the panel bed with other beds.