The 5 Best Pillows in UK - Our reviews
Are you ready to meet the top 5 best pillows that you can order online today? This time we went on the quest to find a perfect pillow, the one that is comfy, breathable, soft, supportive and good for your skin. Does it really exist? How did our search go? What were all the things that we were looking for? What traits do these top 5 need to have? Let's find out!
IMAGE
PRODUCT
DETAILS

Size:

60 x 12 x 40 cm

Weight:

1.5 kg

Materials: Cover: 60% polyester, 40% bamboo fibre Filling: 3rd generation memory foam

View Latest Price

Size:

60 x 35 x 25 cm

Weight:

N/A

Materials:

Memory Foam & Microfibre

View Latest Price

Size:

66 × 42 cm

Weight:

N/A

Materials: Cover: 100% polyester removable cover Filling: Memory foam

View Latest Price

Size:

75 x 50 cm

Weight:

N/A

Materials:

Stratos (phase change technology applied to soft cotton)

View Latest Price

Size:

26 x 18 x 5 inches

Weight:

1.76 pounds

Materials: Cover: 100% cotton, polyester fabric lining, Filling: polyester microfiber

View Latest Price
10 Traits of a Great Pillow
Before we reveal the pillows that made it into our top 5, we will talk about the traits that a pillow needs to have in order to be a good pillow. There are many types of pillows on the market, duck down, memory foam, cotton, buckwheat, you name it. And it can all get a bit confusing. So, people often focus on the material when buying a pillow. They hear that, for instance, buckwheat is the best, and they go for it. But, the truth is, the material alone doesn't make the pillow great. The way the pillow is made makes the pillow great. So, instead of judging the pillows merely by their materials, we will judge the pillows by the benefits that they must provide. We realized that this is the best way. So, regardless of the material that is been used in its manufacture, a good pillow needs to have the following traits:
High comfortability – Number one thing that you should be looking for in a pillow is undeniable comfortability.
Great support for your neck – Neck pain is one of the leading discomforts that bad pillows cause. Don't let that happen to you. Neck pain is not just annoying, it's a sign of things that have a bad influence on your health.
Hypoallergenic materials – Even if you don't suffer from allergies, the hypoallergenic pillow can be a useful choice. Why? Because those types of pillows don't harbour any harmful or dangerous particles in them. Also, these pillows can be good for your skin and hair.
Durability – Nobody wants a pillow that will lose its shape soon. So, be sure to know what is your pillows estimated lifespan.
Easy maintenance – Pillows that are hard to maintain can really become a nightmare. We've all been there. The best ones are washable, or easy to spot clean in the least.
Soft to touch – Top layer of the pillow needs to be especially gentle. Your skin will thank you for that.
Reasonable price – There are many overpriced pillows on the market and it makes pillow shopping pretty annoying. It's never a bad thing to pay more for more quality. It's even better from a long-term point of view. But, overpricing is another thing and we will point it out immediately.
Eco-friendliness – It's nice to have a pillow made of materials that are safe both for you and nature. We highly support sustainable production and non-toxic manufacture of materials.
It's not smelly and it doesn't absorb odours and moisture – Many great pillows start their first day on the job with a bad smell. It's not the end of the world, but pillows that don't have it will always get a better score. Now, the real problem is if the pillow tends to absorb smells in general. You don't want that.
Cooling effect and/or high breathability – Last, but certainly not least, we come to the cooling effect. Pillows that are able to regulate temperature or at least not retain heat are especially desireable. So, if you want a really nice pillow, be sure to look for this trait.
Now, since we have learned what are the things that we are going to be looking for in pillows, let's start the countdown of our top 5 UK pillows!
Our top 5 picks for the best pillows UK Reviewed
Panda memory foam bamboo pillow
Panda company is one of our favorites and it's not because we're biased. We're really glad to see many new companies grow with sustainable resources and including new and different materials in the sleep market. As for this pillow, you know it – it's made of bamboo viscose fabric which is natural, breathable and good for your skin. So, let's begin!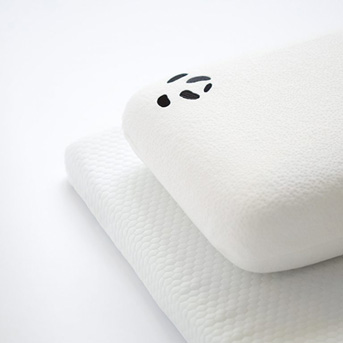 PROS
Highly comfortable.
Good whole-body support.
Breathable and hypoallergenic.
Doesn't retain heat, odours or moisture.
Eco-friendly – one of our favourite things about this pillow!
Pretty affordable for an eco-friendly and health promoting product!
CONS
Getting used to height and design of the pillow may need some time. Also, the pillow may need airing after unpacking.
OTTY adjustable memory foam pillow
The Otty pillow is made with promoting healthy sleeping postures in mind. It's supposed to be highly breathable and suitable for all sleeping positions. So, let's get into it shall we?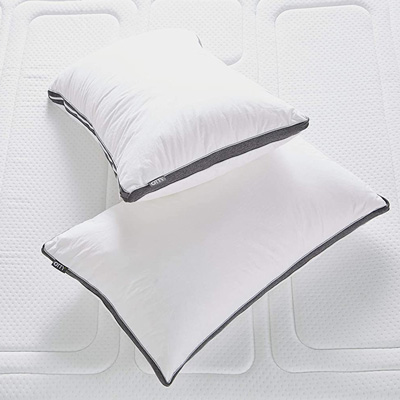 PROS
Very comfortable to sleep on.
Great for all sleeping positions!
Regulates temperature.
Provides great neck support and promotes healthy body alignment.
Breathable and hypoallergenic.
Affordable price.
CONS
Softness level may not be ideal for everyone. Although, the pillow is very comfortable.
If the Otty pillow seems like the right pillow for you, you can order it online on the Otty website – however, if you want to read a full review before that, you can find it here!
If you're looking for elegance, you're probably looking for eve. Eve pillow is also not only a looker – it has highly responsive high-quality memory foam and it falls in the category of some super affordable pillows. So, let's see what eve has to offer: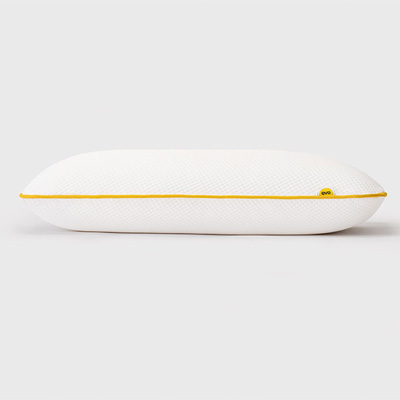 PROS
Great neck support.
Keeps its shape and has great responsiveness to pressure. Forget about fluffing with this baby!
Price is amazing.
Even though it's not too soft, it's very pleasant to sleep on.
It's durable – a good investment if you're looking for a long-time nighttime buddy.
CONS
Not particularly breathable.
The Eve pillow is one of many interesting products you can buy on the eve website. Make sure to read our review of Eve pillow before you decide to order it, too!
This pillow is a great option if you are having trouble sleeping on a warm pillow. Simba comes space-inspired temperature regulation and adjustable height and firmness.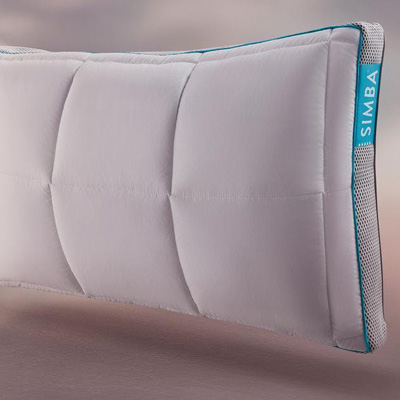 Comfortable and gentle to touch.
Adjustable pillow height.
You choose the side – duck down or microfiber! Pillow has two different sides that give you different sensations.
Breathability level is pretty satisfying.
One side of the pillow is hypoallergenic.
CONS
The price – the price-to-quality ratio is amazing but we have to point out that you might need to save up some money for a high-end pillow like this one.
The cooling effect isn't too strong. It's more breathable than actually giving a cooling feeling.
We've all probably already heard about Casper. Their top-of-the-line products are all over the internet and they're there for a good reason. If you're looking for a high-end pillow, you search will probably stop here.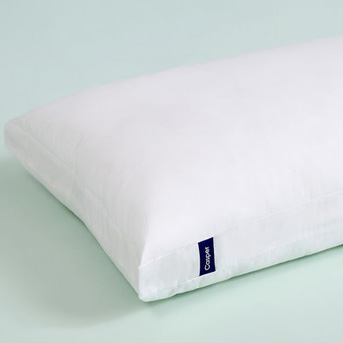 PROS

Very comfortable.
Gentle cooling effect.
Doesn't retain moisture or odours.
Great choice for people who want a soft and fluffy pillow, but don't want a down pillow.
It has a pretty smart design. The pillows are made like a two-in-one. Plus, it has a gusset inside that controls reactions to shape and pressure. So – quite a useful feature.
CONS
Not perfect for neck pain. It can help some people, but it's very individual.
Not hypoallergenic.
Visit the Casper website for more information, and if you want to learn more about this product you can also read our full Casper pillow review.
A search for a perfect pillow is not an easy one. Plus, there is one more aspect to it: The pillow that is perfect for one person doesn't have to be perfect for the next one. After all, preferences in softness, flatness, materials, they are all very individual. Having all this in mind, we picked five pillows that have, let's say, objective or "neutral" qualities. We were looking for health benefits, safe materials, smart designs and reasonable prices. So, as you have seen, our top picks were Otty and Panda. They fulfilled all of our criteria and ended the race as the best two. But, each one of these pillows is a winner for some happy sleeper!