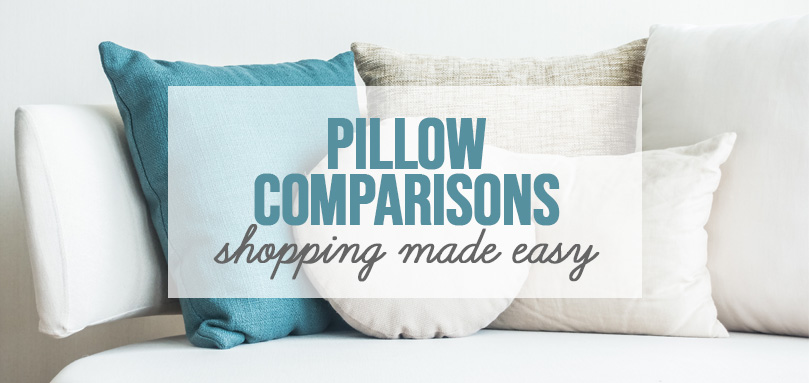 Our Pillow Comparisons in 2021
Buying a new pillow is hard. It's tough to let go of your favorite pillow and go on a journey to find a new one. However, there are times when you just have to say goodbye to your worn out, old and probably unhealthy pillow. If you're having trouble finding the right pillow, pillow comparisons are probably going to come in handy. When you're choosing a new pillow, you have to take various factors into account:
What are the materials used in the making of the pillow?
What is the filing of the pillow made of?
Is the pillow hypoallergenic?
Is the pillow resistant to dust mites and bacteria?
Do you sleep on your back, stomach or side?
Are you sleeping alone or sharing a bed with a partner/sibling/child?
Do you have troubles falling asleep/insomnia/anxiety?
Is snoring a problem to you or others around you?
Do you have headaches, back pain, or hip pain?
All of these questions might make someone's head spin. However, they are legitimate questions you have to ask yourself and your designated merchant to get the best deal and the best pillow that will suit your needs.
How to find the best pillow?
You might do some research online to learn about the best pillow brands and what they have to offer. You can learn much about them through reviews and reading other people's experiences. However, you have to have in mind that they might not have the same needs as you do. That's why pillow comparisons are very important.
Recommended reading: What's the Best pillow in UK? Our 5 picks
What can pillow comparisons show me?
Pillow comparisons can show you a lot. For example, if you have a memory foam pillow and were thinking of changing it up a bit and trying out a new material, a comparison is the way to go. You can see the pros and cons to all the different types of pillows. Pillow comparisons can also show you which one is better for your body, sleeping habits and posture. Keeping your neck and spine in a natural position is of utmost importance during sleep. We put our hips, back and neck through constant stress during the day, oftentimes we stand or sit in a bad posture, and that can cause a myriad of problems. From headaches, pains, stiffness and numbness in extremities and other, to more serious conditions like bad circulation and blood pressure. All of this, believe it or not, can be caused by a bad pillow.
That's why it's important to find the one that can give you proper support and help you get enough rest during the night. That way, during the day you will feel more energetic, positive, and be capable of reaching your goals more easily.
Why are we telling you this? Because we are The Sleep Advisors, after all. Here on our site you can read various reviews of all kinds of pillow brands, and of course, find pillow comparisons which will help you determine your right pick. We are here to help you get better sleep and all you have to do is find the right pillow.