Ravello Ortho Comfort Mattress Review
Ortho mattresses are often necessary for people recovering from injuries, elderly people with chronic joint pain, patients with deformities of the spine and athletes. But that doesn't mean orthopaedic mattresses are unsuitable for the general population. Ravello Ortho Comfort mattress attracted our attention because it looks like an ortho mattress suitable for almost everyone. We tested this product to prove our point.
Who is Ravello Ortho Comfort mattress for?
Unlike many other ortho mattresses that are too firm for side sleepers, Ravello Ortho Comfort mattress is for all types of sleepers. 
Whether you sleep on your back, stomach or side, a night's sleep will be comfortable on this mattress, especially if you have an average BMI. Also, it is great for combination sleepers, which are people who often change position during sleep.
It is hypoallergenic, so allergy sufferers can use it. Breathability is fine, we expect hot sleepers to have no problems.
What do we use this product for?
We primarily use Ravello Ortho Comfort mattress for support. We also use it for premium comfort and motion isolation since it prevents roll together.
We use it for ortho support
We use it for comfort
We use it for motion isolation
We use it for hypoallergenic features
We use it for soft cover feel
We use it to support British sleep industry.
Features you should know about Ravello Ortho Comfort mattress
Mattresses are the most complex sleep products and that is why they have a lot of features you should know more about. We will start with the springs that make up the core of Ravello Ortho Comfort mattress, and then we will talk about cover, firmness and everything else that is important to know before you decide whether to buy it.
1000 pocket individually nested springs
Ravello Ortho Comfort mattress core consists of springs, which is the case with the 99% of ortho mattresses. Compared to some other models, the springs inside Ravello Ortho Comfort mattress have a slightly lower spring gauge and that is why the mattress is not that firm, but rather medium.
Pocket springs are a premium type of spring system, because each spring works independently and so the whole mattress adapts to each part of your body. Each spring is encased in fabric. Some other advantages of pocket springs compared to classic innerspring mattresses are motion insulation and the fact that they are quiet.
Although you will probably put bedding and mattress protectors over it, the mattress cover is certainly very important to make you comfortable, but also because of its appearance and durability. This mattress stands out for its Belgian damask fabric cover. The material can be cotton, silk or something else, and what sets the damask apart is the weaving technique where the pattern is woven instead of printed. The cover on this mattress is very soft and looks nice, and due to the quality of the weave we expect it to retain its original look for years.
Although the height of the mattress does not necessarily mean that the mattress is great or on the other hand that it is low quality one, but it is definitely something you should check before you buy it. Memory foam mattresses are generally thinner because density of foam is more important then thickness, while hybrid mattresses need to be thicker due to more layers.
So you will be pleased to hear that Ravello Ortho Comfort mattress is 26 cm thick which is above average. The average is about 25 cm. The thickness of this mattress indicates that people with high BMI can also use it.
Whether a mattress is single sided or double sided is one of the mattress features that is often overlooked. Each mattress should be rotated every few months, but only double sided mattresses can be flipped and not just rotated. Double sided actually means you have two of the same sleep surfaces available.
That way you will prolong mattress service life because you will flip and rotate it, and then the other side that is not used at that time will have time to recover and there will be no permanent dents and wear and tear in general.  Keep in mind that handles are not provided on this mattress, although you can see them on the product image.
Tufted design for prevention of sagging
Pocket sprung mattresses tend to lose its shape over time if they are not tufted. But as you can see, there are tufts on the surface of Ravello Ortho Comfort mattress, which means that this mattress is traditionally tufted. All the layers are tightly connected and this will prevent sagging and loss of shape, so you can count on this mattress to have a long service life.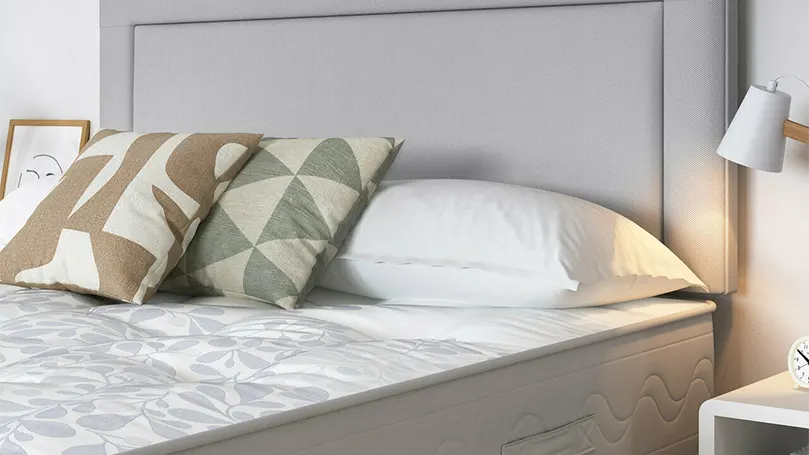 Since this mattress adjusts so well to everyone's body and sleep position, it is difficult to rank it on the firmness scale because everyone will have a different feeling on it. We consider it between 6 and 6 and a half on a firmness scale of 1 to 10 if you have an average BMI.
This places it among the medium firm mattresses that are equally suitable for side sleepers who have to sink into the mattress to some extent to avoid pain in the shoulder and hip, but also for stomach sleepers who need firmer support.
You probably found our review when looking for a mattress that is suitable for those who have problems with the spine and joints. Since the orthopaedist is a specialist for musculoskeletal issues, ortho mattresses are designed to provide the kind of support that will help you solve problems or at least cope with them more easily.
Orthopaedic support of Ravello Ortho Comfort mattress is top notch. You will feel that the mattress supports every part of your body, but also that you are very comfortable, both because the springs are not so firm, as well as because of the Eco Fibre layer that is implemented over pocket springs for comfort purposes.
British Standard Kitemark accreditation
It is always good when the product has one of the credible accreditations and certificates. Whether it is OEKO-TEX, Global Organic Textile Standard (GOTS) or some other. Ravello Ortho Comfort mattress carries British Standard Kitemark accreditation.
British Standard Kitemark is a UK product and service quality trademark. It is under the control of the British Standards Institution (BSI Group), the most respectable UK national standards body with a tradition of more than a hundred years and based in London. Kitemark guarantees you both that this product is safe and of good quality.
Review of Ravello Ortho Comfort mattress
Ravello Ortho Comfort mattress is 26 cm thick, medium firm mattress. Among orthopedic mattresses it can be considered softer, but generally speaking it is a medium firm, ideal for all sleep positions. It is one of the few ortho mattresses that is also suitable for side sleepers. It has 1000 individually encased pocket springs and provide support as well as motion insulation. The Eco Fibre layer is soft and breathable. The cover of Belgian damask looks premium and also gives that feeling when you touch it.
The mattress is tufted so you don't have to worry about the layers moving under you, it's very stable and durable. It has two sides to last longer, but no handles which makes rotating a bit challenging sometimes. It is accredited by the British Standards Institution.
Type: Orthopedic
Firmness: 6.5/10
Mattress depth: 26 cm
Warranty: 5 years
Size: Single, Small Double, Double, King, Super King.
What we like about Ravello Ortho Comfort mattress
Fantastic support without compromising comfort
Durability looks great, especially because it is double sided
Good for divan bed bases
Finest Belgian damask fabric cover is so soft and pleasant to the touch.
What we didn't like about Ravello Ortho Comfort mattress
It is more expensive than the average mattress on the UK market, but that is expected for ortho mattresses
It can be too soft for heavier stomach sleepers
There is no information available about the trial period, and if it comes without a trial that is a major downside.
What makes this product better than some other similar ones?
To begin with, fine craftsmanship is what makes Ravello Ortho Comfort mattress better than some other similar ones. Good quality components as well as the way it is assembled into one whole, using tufts. The next thing that sets it apart is firmness equally good for side, back and stomach sleepers. Finest Belgian damask fabric will surely attract your attention as soon as you look at this comfortable mattress. We believe this is durable product, which is very important when buying a mattress, especially a mattress that does not fall into the budget category, but is more expensive than average.
How did we test the product?
Delivery is free on orders over £ 100 when you are ordering from Bensons for Beds. They will even deliver it to a room of your choice. So all you have to do is make enough space for the delivery team. Before that, you need to choose the size, and you can't choose the color and firmness rating. If you do not want to pay all at once, there is a finance calculator available.
When the mattress arrived, we didn't notice any off-gassing, other than the usual smell of new products just unpacked from plastic. This was to be expected as it does not contain memory foam. We immediately inspected every part of this mattress, including both sleep surfaces to make sure there was no damage. If you don't notice damage right away, it can void the warranty, so be careful, new mattress is a big investment.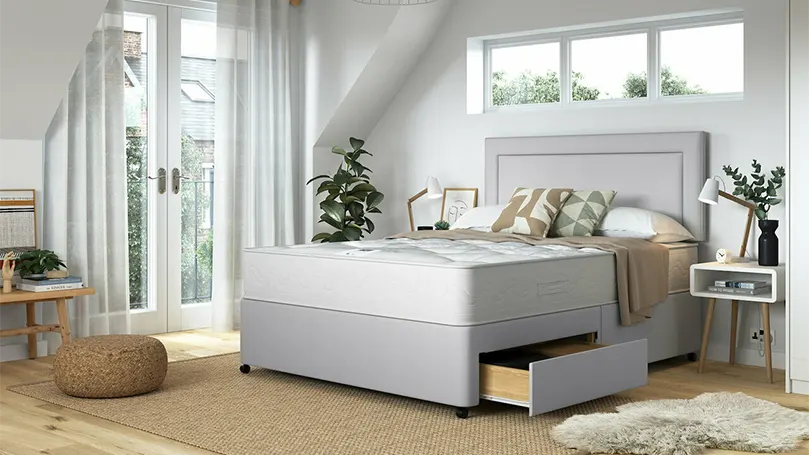 A durability test followed which showed excellent durability and then we started sleeping on it. It may sound like a quick and easy process, but it actually takes weeks. It is necessary for testers to get used to the mattress and then thoroughly examine it. Also, different types of testers must participate, such as hot sleepers, different sleep positions and allergy sufferers. We placed it on different bed bases such as divan beds to find out more about performances on different bases.
FAQs about your Ravello Ortho Comfort mattress
We hope you found all the information you needed in this review, and we'll answer some of the frequently asked questions at the end.
Is Ravello Ortho Comfort mattress good for side sleepers?
Yes, it is one of the best ortho mattresses side sleepers can buy in the UK, since many other ortho mattresses are too firm for that sleep position.
Should people with back pain buy Ravello Ortho Comfort mattress?
People with back pain should buy Ravello Ortho Comfort mattress because this kind of support is necessary to get rid of back pain.
Is Ravello Ortho Comfort mattress good for hot sleepers?
It is not the most breathable or cooling mattress out there, but we think it is good enough for hot sleepers.
Will Ravello Ortho Comfort mattress be good choice for couples?
Motion isolation is one of the main features of Ravello Ortho Comfort mattress so it is great choice for couples.