Scooms Merino Wool Blanket Review
Woven in Yorkshire, UK, at one of the world's top woollen mills, Scooms Merino Wool Blanket might just be what you were missing to get a good night's sleep. It's soft, comfortable and looks wonderful – but is it good? Let's find out! 
Who is Scooms Merino Wool blanket for?
If you want a blanket that you want to comfortably curl up under and sip some tea while it's raining outside – Scooms Merino Wool blanket might just be the right choice. 
Scooms Merino Wool blanket looks like a blanket your grandma used to tuck you in with when you were a kid, but what's even better – it feels like that as well. It is lightweight, soft as a cloud, and it will keep you warm during chilly nights.
Filled with the natural wool, it is going to be suitable for sleepers who are allergic to synthetic materials. At the same time, the quality craftmanship is the true sign of the genuine quality and durability. 
Add a header to begin generating the table of contents
What do we use this product for?
Whether you want to curl up under it all alone or cuddle with your loved ones – Scooms Merino Wool blanket has got you covered, pun intended.
Scooms Merino Wool blanket is what blankets used to be all about. Soft and warm, ideal for those days where you just need that extra bit of warmth to feel at ease. You can use this blanket to relax or nap under. But also, considering how lovely it looks, we can easily see it as an accent piece for your sofa or favourite chair.
It is not quite your bedroom-friendly blanket because of its small(er) form factor, but if you sleep alone and aren't too burly – it could just do the trick. The product is ideal for:
Comfortable sleep
Stress-free sleep
Staying cozy and comfortable
Anyone who has an allergy to synthetic materials.
Features you should know about Scooms Merino Wool blanket
For you to understand why this blanket is better or worse than some of the others – you first need to understand what makes it special. Well, it's these features.
As soon as you touch this blanket, you're going to be blown away by how soft and cosy it is. However, that shouldn't surprise you, given the fact that this is a 100% Merino Lambswool. 
Merino lambswool is known for being smooth and soft, thanks to its extra-fine fibres, ranging from 18 – 24 microns, but that is not all there is to this blanket. The Merino Lambswool is also very insulating and great at regulating temperature, as well as being naturally fire-retardant.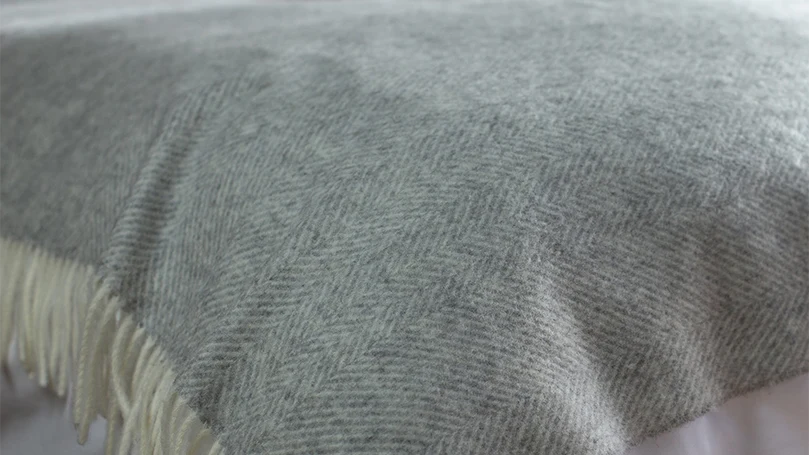 To top all of that of, all of the lambswool used in this blanket has been sustainably sourced from free-range, pasture-fed and non-mulesed sheep, so you don't have to worry whether an animal has suffered for your comfort.
As we've said, Scooms Merino Wool blanket is super-soft to the touch and very keen on your skin. Since the Merino Lambswool fibres are extra fine, the blanket won't ever feel scratchy or itchy, no matter how old it gets.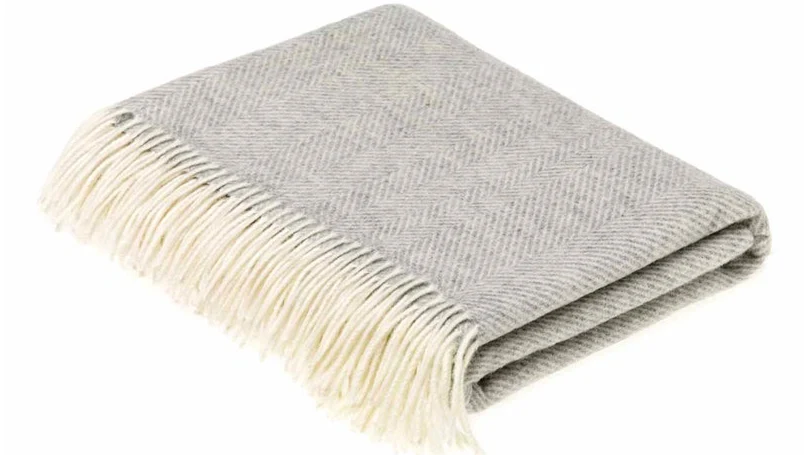 This is something that everyone will appreciate. More often than not, wool products cause irritation and itchiness due to their harsh texture, but not this one. This one feels as soft as cotton.
Scooms Merino Wool blanket comes in one size, 140 x 185 cm, but even at this size, the blanket weighs less than a kilo. To be exact, the Natural pattern colourway is 750 grams, and the other three are just 800 grams.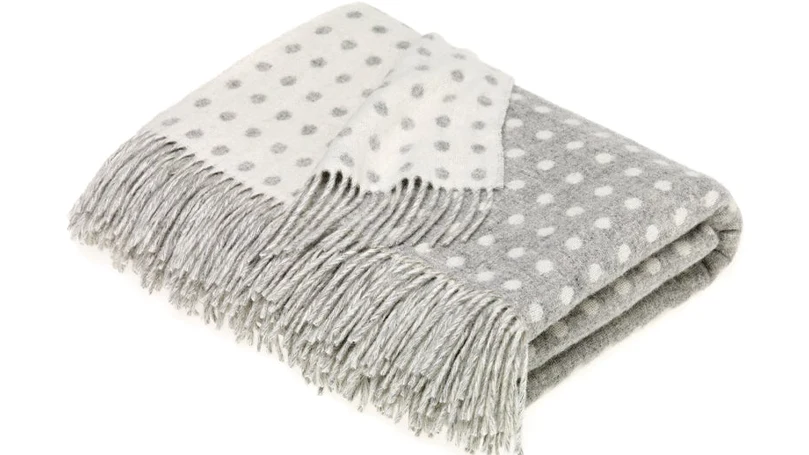 While this might seem awfully lightweight for a blanket, don't worry – it will still keep you warm. The lambswool is great at insulating temperature, so it will do a great job of using your own body's heat to keep you warm, and once summer comes along – it'll draw that same temperature away from you in order to cool you down.
Hypoallergenic and biodegradable
One of the many benefits of owning a lambswool blanket such as Scooms Merino Wool blanket is the fact that it is naturally hypoallergenic. Wool has always been one of your best friends when it comes to battling allergies, and this one is no exception.
Also, what Scooms does very well is make their products and packaging eco-friendly and biodegradable. Not only is the Merino Lambswool biodegradable, but the packaging in which the blanket arrives also is.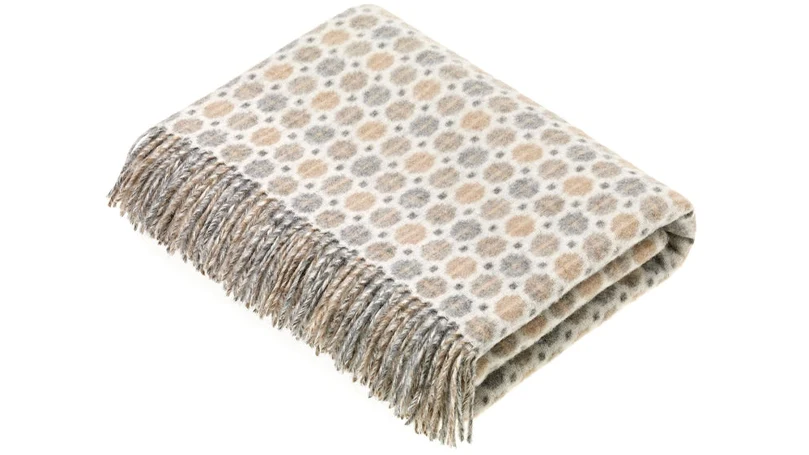 Instead of wrapping their products in ungodly amounts of plastic wrap, Scooms delivers theirs in an eco-friendly cardboard box, without any plastic whatsoever.
Another thing to keep in mind is that this blanket is not machine-washable, even though it is made from natural materials. Instead, whenever you want to clean this blanket, once or twice a year – have it dry cleaned. It is dry-clean-friendly, and even though it might be as convenient as washing it all by yourself, having someone else clean your blanket for you is not as bad as it sounds, right?
Review of Scooms Merino Wool blanket
All in all, this is a great product, as you can probably tell. It is made from high-quality, sustainably sourced Merino Lambswool, and you can get it In four (five, if you count the reversible, double-sided design of the Grey Spot) different, but equally beautiful designs.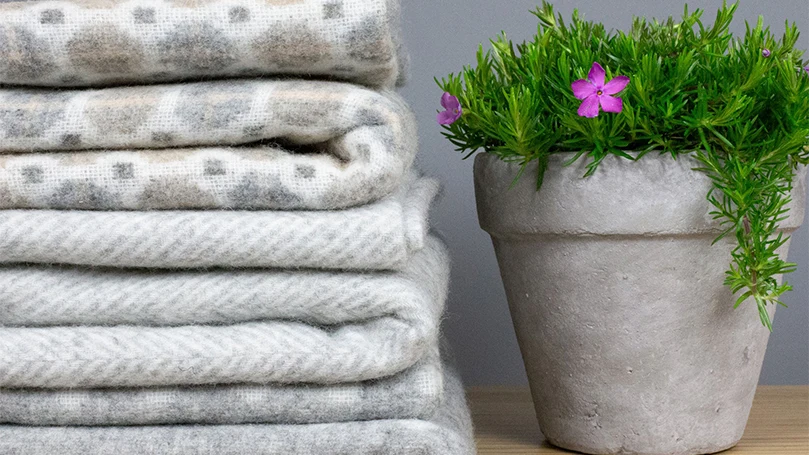 As we've already said, the blanket feels incredibly soft to the touch, and it is as pleasant on your skin as wool can be. It won't cause any redness, itchiness or irritation, even if you were to curl up under it, wearing nothing but your briefs.
It's lightweight, hypoallergenic, and comes in an eco-friendly package. In our book, this is a full package if we've ever seen one. However, sharing this blanket as a couple will be pretty much impossible unless you sleep on top of each other all night. As soon as that initial hug breaks up and you move to your side of the bed – one of you is going to end up uncovered.
Weights: 750g/800 g
Cover: N/A
Filling: Wool
Washable: Dry Clean only
Warranty: N/A.
Soft and comfortable
Suitable for all seasons
Hypoallergenic.
Only one size is available
Not ideal for co-sleeping
It will be too light for some sleepers.
What we like about Scooms Merino Wool blanket
As far as soft, lightweight blankets go, this is one of our favourites
Due to its lightweight nature, it could be your go-to blanket all year round
It's naturally resistant to dust mites and other allergens.
What we didn't like about Scooms Merino Wool blanket
It only comes in one size, which limits its versatility a little bit
Not big enough for two people to comfortably sleep under
It won't appeal to be people that prefer a heavier feel from a blanket.
Check the best alternatives to Scooms Merino Wool blanket
If you don't find Scooms Merino Wool blanket appealing, or you would just like to explore your options further, maybe you'll want to take a peek at our two alternative picks.
Scooms Double Hungarian Goose Down Duvet
Scooms Double Hungarian Goose Down duvet is a great alternative for several reasons. However, that's mostly because it comes in a 2.5, 4.5 and a 9 TOG option, that you could also mix and match any way you like, so that you have a perfect, goose feather and down-filed duvet during every month of the year. 
Filled with natural goose down, this is a super choice for allergy sleepers who want something to fight off the allergy. It is a great all-year option that does not come with a really high price tag.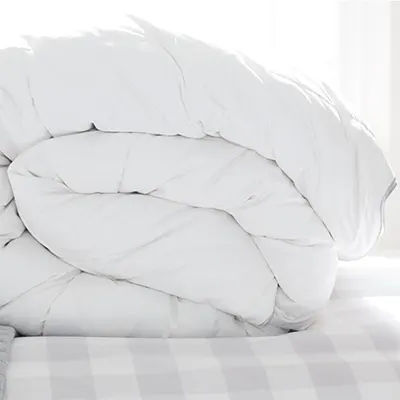 Very comfortable and breathable
Good for all seasons
Hypoallergenic. 
A bit on the pricier side
No warranty or guarantee
Too big for most washing machines.
If you prefer a cosier, hugging feeling from a blanket – Emma Hug Weighted Blanket could just be the right one for you. Quilted, filled with extra-fine glass beads and padded with microfibre and polyester, Emma Hug delivers a wonderful hugging sensation without being too hot or heavy. 
The hand quilting makes it look luxurious whereas the beads filling does not clump or move around while you are squeezing the blanket. Keep in mind that this blanket might be too hot for the summer days.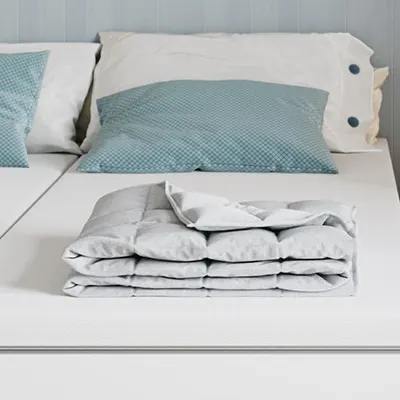 High-quality craftsmanship
7-layers of comfort
Simple, elegant design. 
Despite all efforts, the blanket is too hot for summer
Only one size
You have to pay extra for the bamboo cover.
Consider Snuggledown Goose Feather & Down pillow if you are buying Scooms Merino Wool blanket
You will need an equally lightweight and comfortable pillow if you get this blanket, and Snuggledown Goose Feather & Down pillow might just be it. Filled with 85% white goose feather and 15% white goose down and wrapped in a 230-threat-count cotton pillowcase, this medium-support pillow offers softness and fluffiness that only a real feather and down pillow could.
It is hypoallergenic and machine washable so it is a perfect pick for allergy sleepers. Wash it at 40 C degrees and let it dry on low heat to make sure there is no moisture left inside.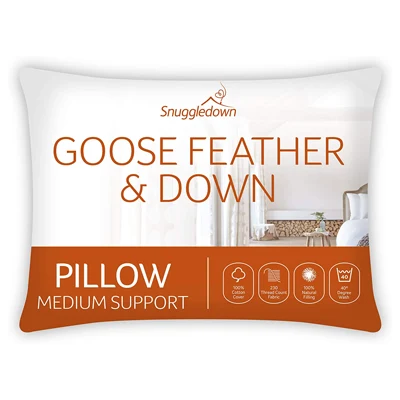 Soft and fluffy
Natural & hypoallergenic
Cool and breathable.
Absorbs moisture and odours easily
Not supportive enough for side sleepers.
What makes this product better than some other similar ones?
Scooms Merino Wool blanket is truly one of the best lightweight blankets we've ever had to pleasure to test. The Merino Lambswool is as soft as a cloud, and if it were socially acceptable to wear a blanket instead of clothes, we'd walk wrapped in this one.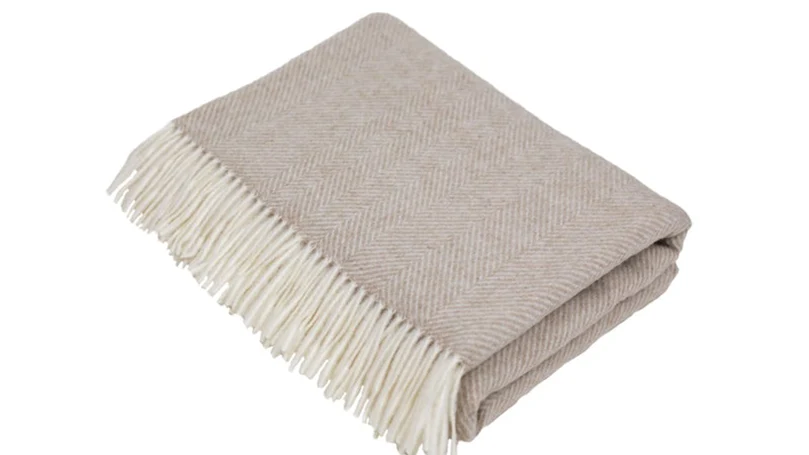 But also, the quality of fibres and craftsmanship you get with this product is exceptional. It is obvious how much work went into making this blanket. Scooms Merino Wool blanket not only looks and feels good, but is also capable of staying like that for a long time. A lot of wool blankets lose their softness and good looks even after a first wash, but this one did not.
All in all, if you're in the market for a product like this one, we're confident you won't regret getting your hands on Scooms Merino Wool blanket. It's just that good.
How did we test the product?
We're always chipper when we get to test and review Scooms' products. They are one of the only companies that offer free, next-day delivery across the UK, but not only that – they ship all of their products in eco-friendly, cardboard packaging free of any plastic wrap or foil, which is something we're very thankful for.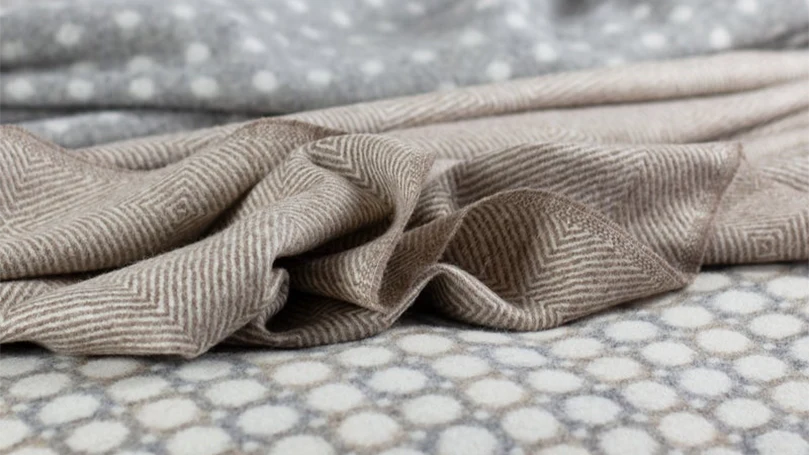 When it comes to the testing, it is pretty straightforward for a blanket like this. We mostly focus on things like craftsmanship, details, design, material, durability, and most importantly – how does the blanket feel.
As for this one, we've already told you how it feels, and how we feel about it. It won't be great for straight-up sleeping, especially in pairs, but if you just need something soft and comfortable to curl up under while you're reading, napping or relaxing in front of the TV – this is the blanket for you.
FAQs about your new Merino Wool blankets
In the end, we thought we'd answer some FAQs about Scooms Merino Wool blanket.
Are these Merino blankets made in the UK?
Yes. These blankets are made in Yorkshire, UK.
Are Merino wool blankets good for the winter?
They are pretty good. They're not as warm as some other, heavier blankets, but unless you like spending your time in a freezing room – this one should suffice.
How do I wash my Scooms Merino wool blanket?
You don't. The Scooms Merino Wool blankets are dry-cleaned only, so someone else will do the cleaning for you.
Does Scooms Merino wool blanket comes in different colours?
Yes, it does come in 4 different colour variations.