Sealy Millionaire Orthopaedic Mattress Review
If you're like most people, you spend about a third of your life sleeping. And if you're like most people, you hate your dinky old mattress. In fact, it's probably the only piece of furniture in your house that you truly despise. Thankfully, Sealy Posturepedic Pearl Luxury Pillow Top mattress is here to help out!
Once we got over that mouthful of a name, we thought to ourselves, "This is a mattress our readers might appreciate", let's give them a review. So, here it is. Hope you enjoy it!
Who is Sealy Posturepedic Pearl Luxury Pillow Top mattress for?
Sealy Posturepedic Pearl Luxury Pillow Top Mattress is for people who want a really comfortable medium support mattress.
It has a pillow top, which makes it extra soft, and it also has special technology that helps keep you cool while you sleep (we'll tell you about it later). It's also good for people with allergies because it's hypoallergenic and… Well, let's not give it all away now.
For now, all you need to know it checks all the boxes a regular sleeper would look for.
Add a header to begin generating the table of contents
What do we use this product for?
Pearl Luxury Pillow Top Mattress is, first and foremost, a mattress. But it's not just any mattress! It's a luxury mattress, which means it's extra comfortable.
It has a Posturetech Core Support spring system that helps distribute weight evenly and provides excellent body support and pressure relief. It also has a soft microquilted knitted cover and a pillow top for extra comfort.
Plus, it has Sealy Adaptive technology, which helps regulate your temperature and moisture level to keep you cool and comfortable while you sleep. And it's finished with Sealy Smart Fibres and eco-friendly Tencel for a cooler, fresher sleeping environment.
With all that in mind, we can:
Use it to get a good nights sleep
Use it to alleviate back pain
Use it to battle common household allergens.
Features you should know about Sealy Posturepedic Pearl Luxury Pillow Top mattress
Before we get to our review section, we wanted to tell you a few things about the features that make this mighty mattress stand out from the crowd.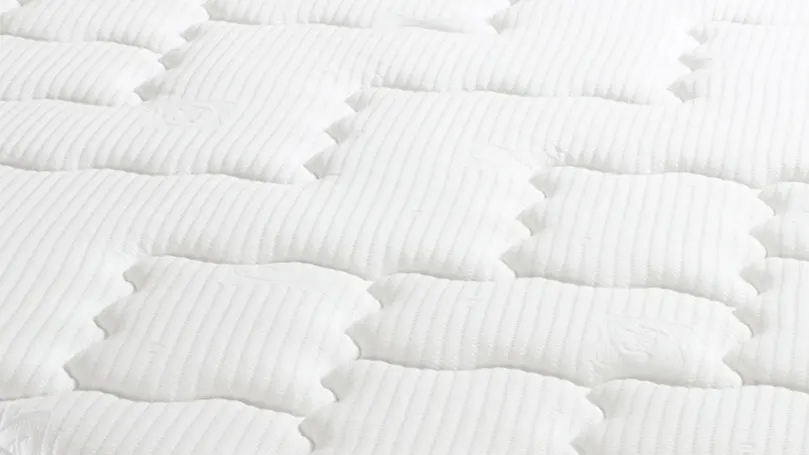 Eco-friendly Tencel fibres
Tencel is a kind of fibre that you will love sleeping on. It's soft and cosy, doesn't get hot, is very durable, and is eco-friendly. Sealy have used it in the Pearl Luxury Pillow Top mattress to help create a cooler, fresher sleeping environment.
Open coil mattresses aren't the crowd favourite and Sealy wanted to change that.
Their PostureTech Core support springs are specially designed to provide excellent full-body medium support and pressure relief. They also help distribute weight evenly, so you don't have to worry about feeling uncomfortable or waking up with aches and pains.
On that same note, they're not the best for motion isolation, but thankfully, this one comes with a pillow top we'll discuss in a second.
Hypoallergenic Sealy Smart fibres
Say goodbye to sneezing, coughing, and watery eyes! Sealy Pearl Luxury Pillow Top mattress is hypoallergenic, thanks to its Sealy Smart Fibres.
These are special fibres that help reduce common household allergens like dust mites, mould, and bacteria. So if you're allergic to anything (or if you just want to be extra safe), this mattress is a great choice.
Pearl Luxury Pillow Top mattress wouldn't be complete without its namesake pillow top layer.
This is an extra layer of softness that's been added to the mattress to make it even more comfortable, reduce motion transfer, and provide pressure relief, which is something pregnant ladies might thoroughly enjoy.
It's also great for side sleepers because it helps reduce the risk of developing pressure points around the core areas like hips and shoulders.
In other words, you won't need a mattress topper with this one.
Microquilted knitted cover
Pearl Luxury features a microquilted knitted cover.
This helps provide a smooth, consistent sleeping surface and also adds an extra layer of softness.
Unfortunately, it's not removable or machine washable, so you'll have to keep it clean and fresh by dabbing and wiping with a damp cloth. Or, just do what we like to do, which is use a mattress protector.
29cm of depth, with medium firmness
Pearl Luxury Pillow Top mattress is 29cm deep, which is above average for a regular mattress, but still within the reason. At 29cm, you'll be able to fit this mattress with a mattress protector or any regular fitted sheet.
As for firmness, we'd say it's on the medium side of things. It's not too soft or too firm – just right for most sleepers. And, we say most, because most doesn't mean everyone. At medium, this one's a bit too soft for most stomach sleepers, so there's that.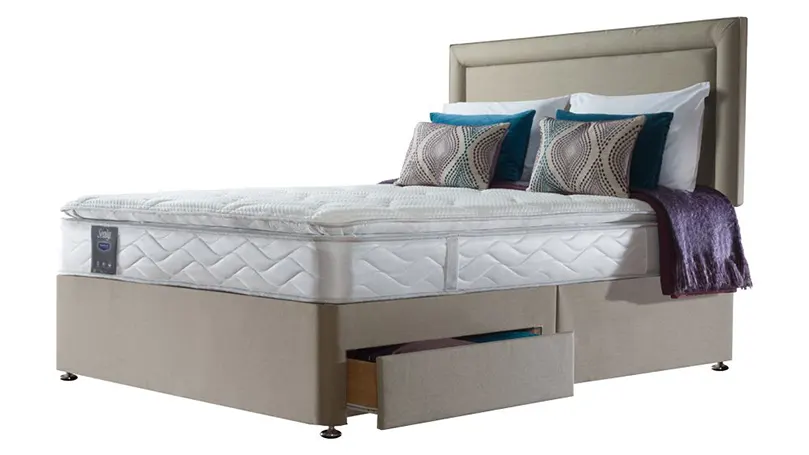 Pearl Luxury Pillow Top mattress is single-sided, which means you don't have to flip it – just rotate it head-to-toe from time to time. Once every three months should do the trick.
Single-sided mattresses are becoming more and more popular because they're easier to care for. No flipping means no extra work which we all love to hear.
However, there's a caveat. Single-sided also means "more prone to sinking". Since you can't flip it over and sleep on the other side, rotating will be your only line of defence when it comes to preventing body imprints
Thankfully, these coils are built to last, so we wouldn't worry about this if we were you.
Another neat feature that will save you some time are the rotating handles.
They're strategically placed near the corners of the mattress so you can easily grab and rotate it without having to drag or lift the entire thing.
We think this is a great addition, especially for single-sided mattresses because, as we said, they need to be rotated every now and then.
Pearl Luxury Pillow Top mattress comes with a 5-year warranty, which is pretty standard for most open-coil mattresses nowadays.
It's always good to have a warranty, just in case something goes wrong. But, we wouldn't worry too much about it because this mattress is built to last.
However, we have to note that this warranty won't cover for user negligence. It's simply there to protect your investment from manufacturing defects. If you end up being the one ruining the mattress, you can kiss the warranty goodbye.
Review of Sealy Posturepedic Pearl Luxury Pillow Top mattress
Okay, the moment we've all been waiting for – the review of the Sealy Posturepedic Pearl Luxury Pillow Top mattress.
Let's start with the design. In a few words – we love it. It's a traditional, yet ingenious take on making a comfy mattress. You get great support from all the coils and you dampen their stiffness with a pillow top. Essentially, this is a mattress and a mattress topper rolled into one. No complaints here.
As for the support and firmness – you get what you pay for. Sealy advertises this one as a medium-support mattress, which is exactly what this one is. It's adequately supportive so you don't sink into it, but at the same time, thanks to the pillow top, it's super soft and cosy. You will feel a bit of a sink, but nothing you wouldn't usually feel with a memory foam mattress, for example.
As such, this one's pretty much ideal for side and back sleepers. This one will comfortably tuck in your hips and shoulders, offering deep down support, even weight distribution, and keeping your spine properly aligned during the night.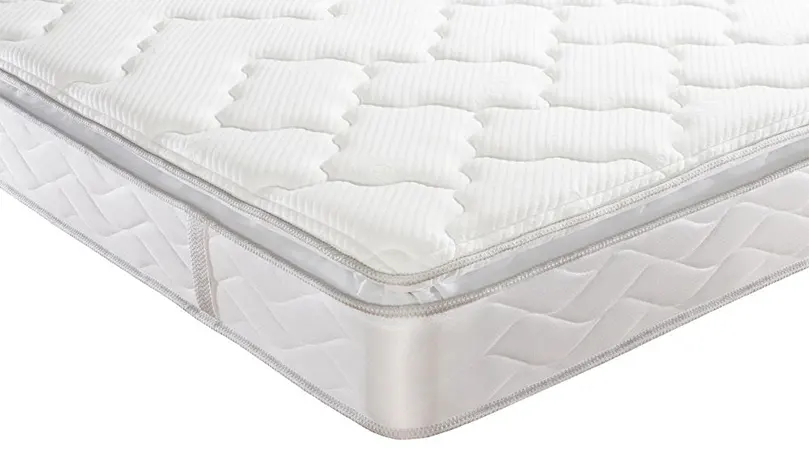 On that same note, if you're sleeping on your tummy – this one might cause you an issue or two. Chances are, your hips will sink into the mattress (not following the natural shape of your spine), causing you some lumbar aches after a few days or weeks, so we wouldn't recommend trying this one if that's your preferred sleeping position, especially if you weigh a few pounds.
Another thing to mention is that this one really nails breathability and keeping things cool. We kind of expected it, considering all the fibres and coils, but still – great job keeping things fresh.
One final thing to note is – you don't get a trial with this one. That is a big deal if you're still figuring out what kind of mattress you want. That's one thing that really stains the overall pristine picture of Pearl Luxury.
All in all, for a mid-range mattress, this one's pretty good.
Type: Open-coil w/ pillow top
Firmness: 5/10
Mattress depth: 29 cm
Warranty: 5 years
Size: Single, Small Double, Double, King, Super king, Super king zip and link (conjoined Single-sized mattresses)
Removable cover: No
Trial: None.
What we like about Sealy Posturepedic Pearl Luxury Pillow Top mattress
We really appreciate the Zip and Link option if you plan on using this one in a guest room and splitting it into two quality mattresses
Very cool and breathable, even for an open coil
It's not easy to, at this price, promise and deliver this level of quality; great value.
What we didn't like about Sealy Posturepedic Pearl Luxury Pillow Top mattress
Stomach sleepers will almost certainly find this one too soft

Not having a trial period limits your ability to test and experiment with this one

Not having a removable cover makes maintenance a bit harder than it needs to be
Despite not containing any memory foam, this one does smell a little due to fire retardancy treatment.
What makes this product better than some other similar ones?
This mattress has a super cosy pillow top, what more could you ask for?
All jokes aside, having a pillow top atop an open coil mattress is something we really appreciate. It helps with comfort and softness, while also somewhat offsetting that notorious motion transfer you get from conjoined coils.
How did we test the product?
As always, it all started with a simple order. As per usual, ordering the product was super easy. We filled in some detail, saw that we qualify for free delivery (because we didn't want or need Saturday delivery), and a few days later – we got our new mattress.
Once we unpacked the mattress, we took a whiff of a familiar smell (yup, this one's treated to conform to BS7177: 2008, fire retardancy standard), so we left it for two whole days to air out. The smell didn't fully dissipate after two days, but after 48 hours, it was nothing that fresh sheets couldn't mask.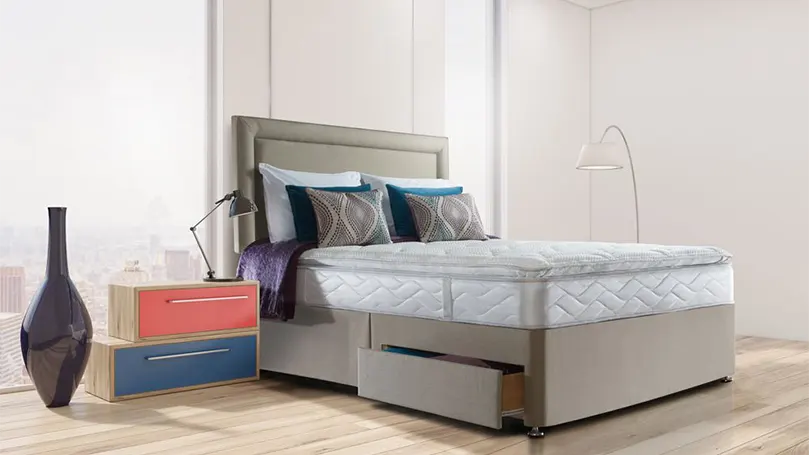 Upon inspection, we've concluded that the mattress came in perfect condition. The stitching was more than fine, the pillow top was secure in place, and the overall build felt excellent – which is what we expected from a handcrafted mattress.
After the initial impressions, we tested this product by sleeping on it for a while and seeing how it felt. We looked at how supportive it was and how comfortable it was. We also considered how cool and breathable it was. Lastly, we checked to see if there were any sinking or longevity problems with our trusted roller.
Thankfully, the mattress passed all of our tests with flying colours.
FAQs about your Sealy Posturepedic Pearl Luxury Pillow Top mattress
In the end, we thought it might be helpful if we answered some of the most frequently asked questions about the Sealy Pearl Luxury mattress.
Is Sealy Posturepedic Pearl Luxury Pillow Top mattress suitable for people with back pain?
Pearl Luxury Pillow top is most certainly suitable for people with back pain. It will offer both comfort and support, keeping your back nice and pain-free.
Should sleepers with shoulder/hip/neck pain sleep on a Sealy Posturepedic Pearl Luxury Pillow Top mattress?
Absolutely. This mattress can really help with shoulder, hip and neck pain because of its medium firmness and a cosy pillow top that alleviates pressure.
Is Sealy Posturepedic Pearl Luxury Pillow Top mattress good for side sleepers?
Yes. In fact, the Pearl Luxury mattress is best suited for side sleepers out of all Sealy mattresses. Almost perfect if we dare say!
How to wash/maintain Sealy Posturepedic Pearl Luxury Pillow Top mattress?
Since you can't remove the mattress cover and wash it in a washing machine, you can do the following: vacuum the mattress, spot-clean it with a damp cloth, or get it professionally cleaned.
Is Sealy Posturepedic Pearl Luxury Pillow Top mattress good for people with allergies?
Yes, absolutely. This Sealy mattress is fully hypoallergenic and approved by the Allergy UK seal, so anyone suffering from allergies can use this one without any issues whatsoever.