Silentnight Bamboo Pillow Review - Eco-Friendly & Allergy-Free Sleep
With the increase of the environmental awareness, natural materials have again started to be used more and more for sleep products. Bamboo is one of the most popular eco-friendly materials and there are companies, such as Panda, that use bamboo as primary material for almost all of their products. We have tested for you Silentnight bamboo pillow which is the only bamboo product offered by Silentnight.
Who is Silentnight bamboo pillow for?
The first important thing to say is that Silentnight bamboo support pillow is for those who sleep on the side and back. Loft, support and firmness are ideal for side and back sleepers, and we'll talk more about that later in the review.
Also, this pillow is for all those environmentally aware people who know how fragile our environment is and that we have to protect it immediately. And one of the best ways to preserve the environment is to use natural materials and to recycle.
Add a header to begin generating the table of contents
What do we use this product for?
We use Silentnight bamboo pillow for support, breathability and durability. This pillow is comfortable and has supportive core, and also naturally breathable and temperature regulating thanks to bamboo. We also use it because it is hypoallergenic and antibacterial, as well as because it is very durable. Since it is machine washable, we also use it to always have a clean sleep surface. In general, this product is ideal for:
Allergy sleepers
Back sleepers
Side sleepers
Eco-conscious sleepers.
Features you should know about Silentnight bamboo pillow
Let's take a closer look at most important pillow features you should know about. You certainly want to know more about bamboo parts, recycled filling and other significant things related to this pillow.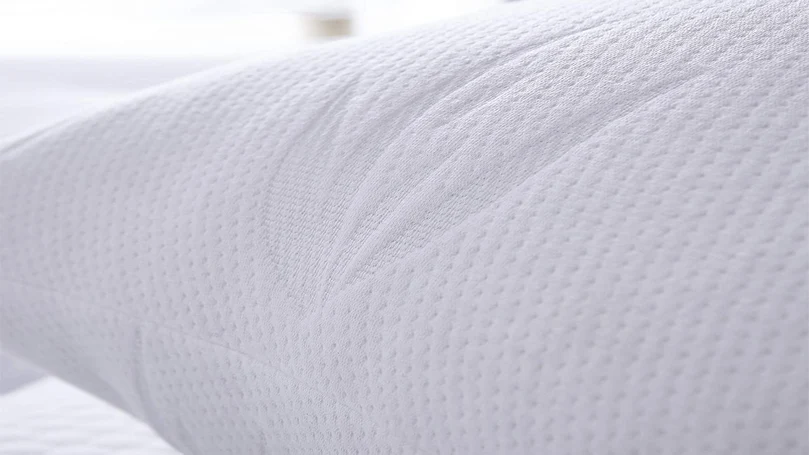 Knitted bamboo & eco fibre cover
This pillow is encased in a soft knitted cover crafted well and made of blend of soft bouncy fibres, more precisely bamboo and polyester blend, which we think is a really great mix.  The fluffy fibres bringing the comfort and softness are covered with the premium-quality cover. This cover is luxuriously soft and breathable, which is very important for a pillow. It will keep you cool in summer and warm in winter, but it also has many other great features.
Bamboo is known as incredibly durable material and same goes for eco fibers so you will not notice wear and tear on the cover for a long time and a great recovery wash after wash is noticeable. Also, both materials are 100% hypoallergenic, dust mites free and antibacterial, so this pillow can also be used by allergy sufferers. The bamboo fibers do not absorb oils from your skin which is one more advantage. Cover features a stylish embossed bamboo leaf motif, to always remind you that you are using an eco-friendly product.
Made of 100% recycle plastic bottles
Silentnight bamboo support  pillow is filled with hollowfibre which is a common synthetic material in the sleep industry. But this is not any hollowfibre, but a hollowfibre created from 100% recycled polyester obtained from plastic bottles. What you will feel is soft, light and fluffy filling, on which you will be very comfortable to sleep. A very clever way to get ultimate comfort, which is affordable and eco-friendly.
Medium firmness is the firmness that pillow manufacturers most often choose because it suits the largest number of customers. Bamboo support pillow Silentnight is a medium firm pillow that is closer to firm than soft pillows, we would say 6 on a scale of 1 to 10 but that also depends on the weight of the head and body frame in general.
This is an ideal firmness for side and back sleepers, who will thus receive the necessary support to keep their spine aligned, and they will also be very comfortable sleeping.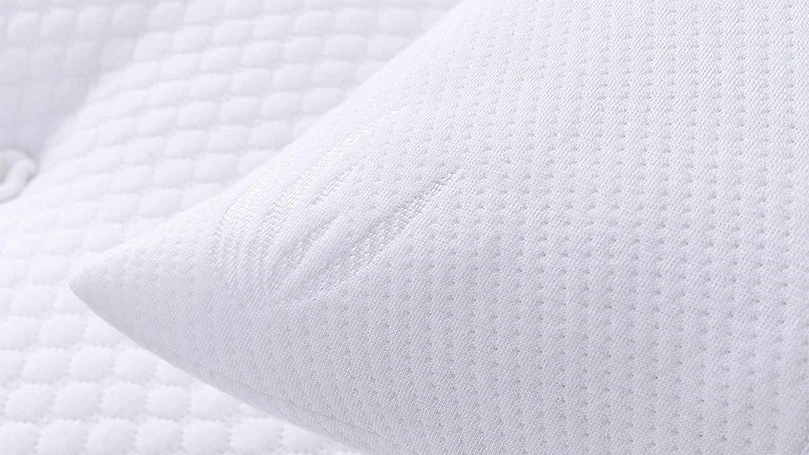 Silentnight bamboo support pillow can be machine washed at 40 degrees C. The cover is not removable, so you will have to wash the whole pillow every time, but since  incredibly durable materials are used, as we have already mentioned, frequent washing will not affect service life. And you will know that you always have a 100% clean pillow. You can tumble dry it but only on low heat setting.
The pillow comes with a 2 year manufacturers guarantee which is the UK sleep industry standard for pillows and most have a 1 or 2 year warranty. So you can be rest assured with your purchase.
Review of Silentnight bamboo pillow
Silentnight bamboo support pillow is medium firm pillow suitable for side and back sleepers, both because of the firmness and because of the loft. It is comfy and supportive at the same time, just what people sleeping on their side or back need. It is filled soft bouncy fibres made of recycled plastic bottles. The cover is made of polyester and bamboo blend. That is why the cover is soft, durable, hypoallergenic and breathable, as well as the whole pillow. Needless to say this is a 100% eco-friendly and vegan-friendly product.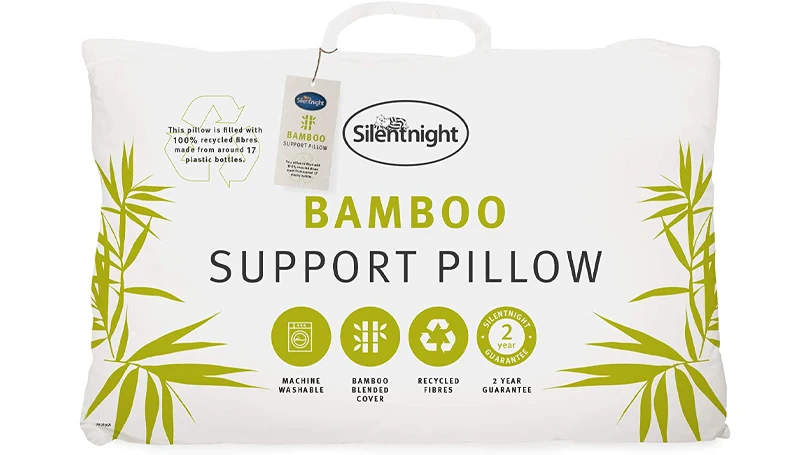 It is fully washable at 40 degrees C. It comes with a 2 year warranty.
Size: 74 x 48 x 4 cm
Material: Polyester; bamboo
Type: not adjustable height or firmness
Cover: Blend of polyester & bamboo; not removable.
Eco-friendly
2-year warranty
Soft touch knitted cover.
Not for stomach sleepers
Non-removable cover
Bamboo odour.
What we like about Silentnight bamboo support pillow
All materials used to make this pillow are eco-friendly
It is naturally breathable, hypoallergenic and antibacterial
Great balance between comfort and support.
What we didn't like about Silentnight bamboo support pillow
Unsuitable for stomach sleepers because it can't keep their head and neck in proper position
Cover is not removable
The characteristic bamboo odour is present in the beginning.
What makes this product better than some other similar ones?
Isn't it great when you use a pillow or some other sleep product that is comfortable for you and at the same time you know that you are helping to preserve our planet? By purchasing Silentnight bamboo support  pillow, you prevent at least 15 plastic bottles from ending up in the oceans and further increase the already enormous plastic pollution. This is definitely what sets this product apart from many others on the United Kingdom market, as it gives you a good night's sleep without costing the Earth.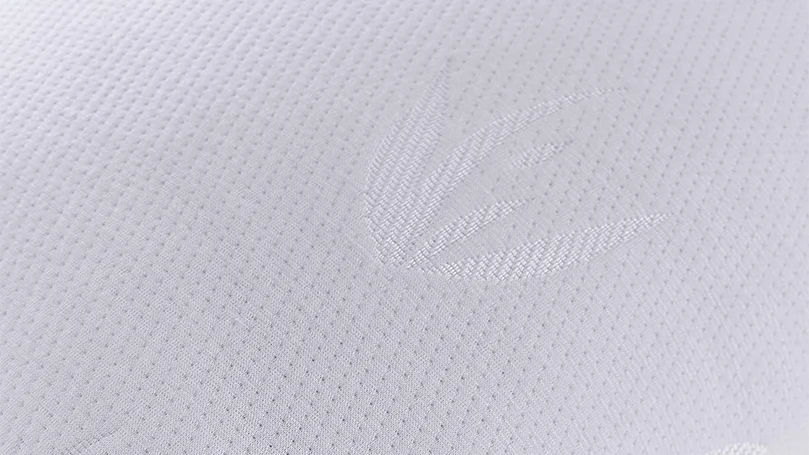 How did we test the product?
Silentnight bamboo pillow is available in only one size – 74 x 48cm, so the ordering process could not be simpler. It will be at your address within a few days and then you can start using it.
When it arrived, we washed it first, as the usual off-gassing was present in all new products as well as the characteristic smell of bamboo which cannot be characterized as very pleasant. Since the machine is fully washable and suitable for tumble dry, in a few hours it will be fragrant and ready to sleep on it.
We immediately liked how the cover is soft to touch and that you probably won't need a pillowcase, but you will sleep directly on this very nice cover. The pillow is a medium firm, as advertised and bounce is good too.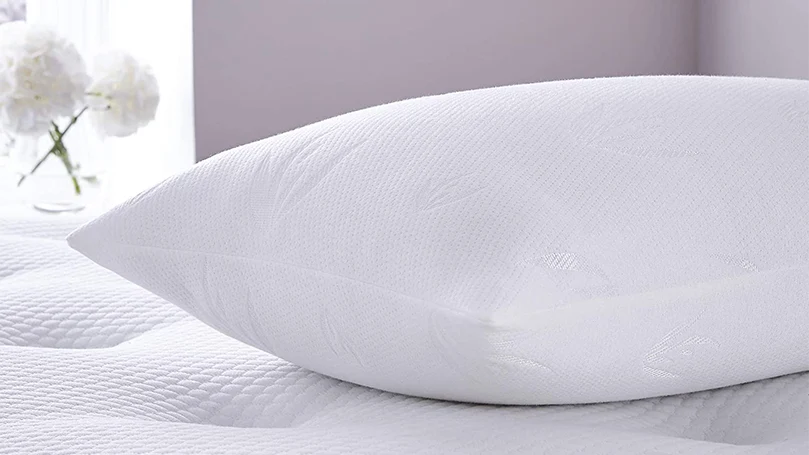 During the overnight test we were very pleased with the performance of this pillow. It is comfortable and at the same time keeps your head and neck in an ideal position, which will affect your whole body and wake you pain-free. At least when we talk about side and back sleepers, while stomach sleepers will not be so pleased and they should look for another pillow.
FAQs about your Silentnight bamboo pillow
Find out more useful information about Silentnight bamboo support  pillow in our FAQs section where we will give answers to what we noticed that customers are most interested in.
Is Silentnight bamboo pillow suitable for front sleepers?
No, it is not suitable for front sleepers because loft is too high for front sleepers and they usually want firmer pillow than this one.
Do I pay the delivery fee for Silentnight bamboo pillow?
Yes, you have to pay the delivery fee for Silentnight bamboo support  pillow since free delivery is for orders over 49 £.
How do I wash my Silentnight bamboo pillow?
It is fully machine washable at 40 degrees C on gentle cycle.